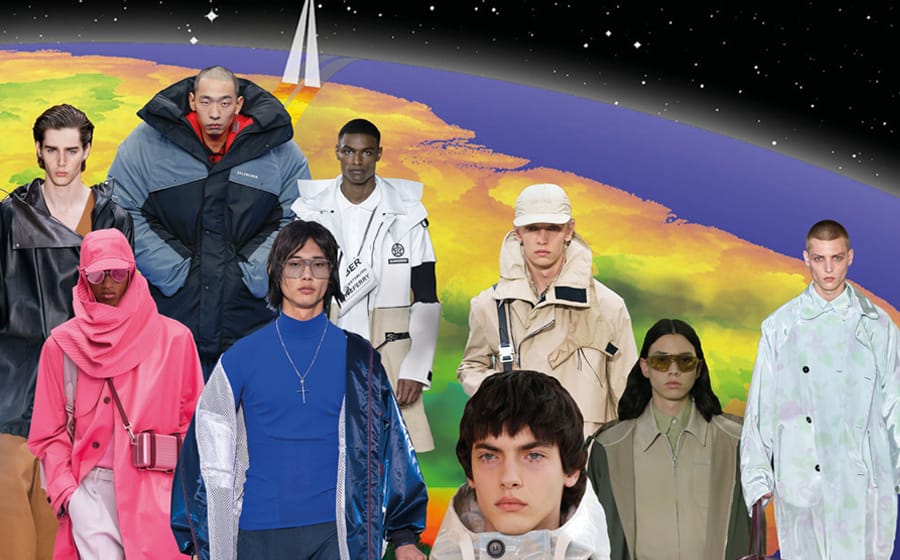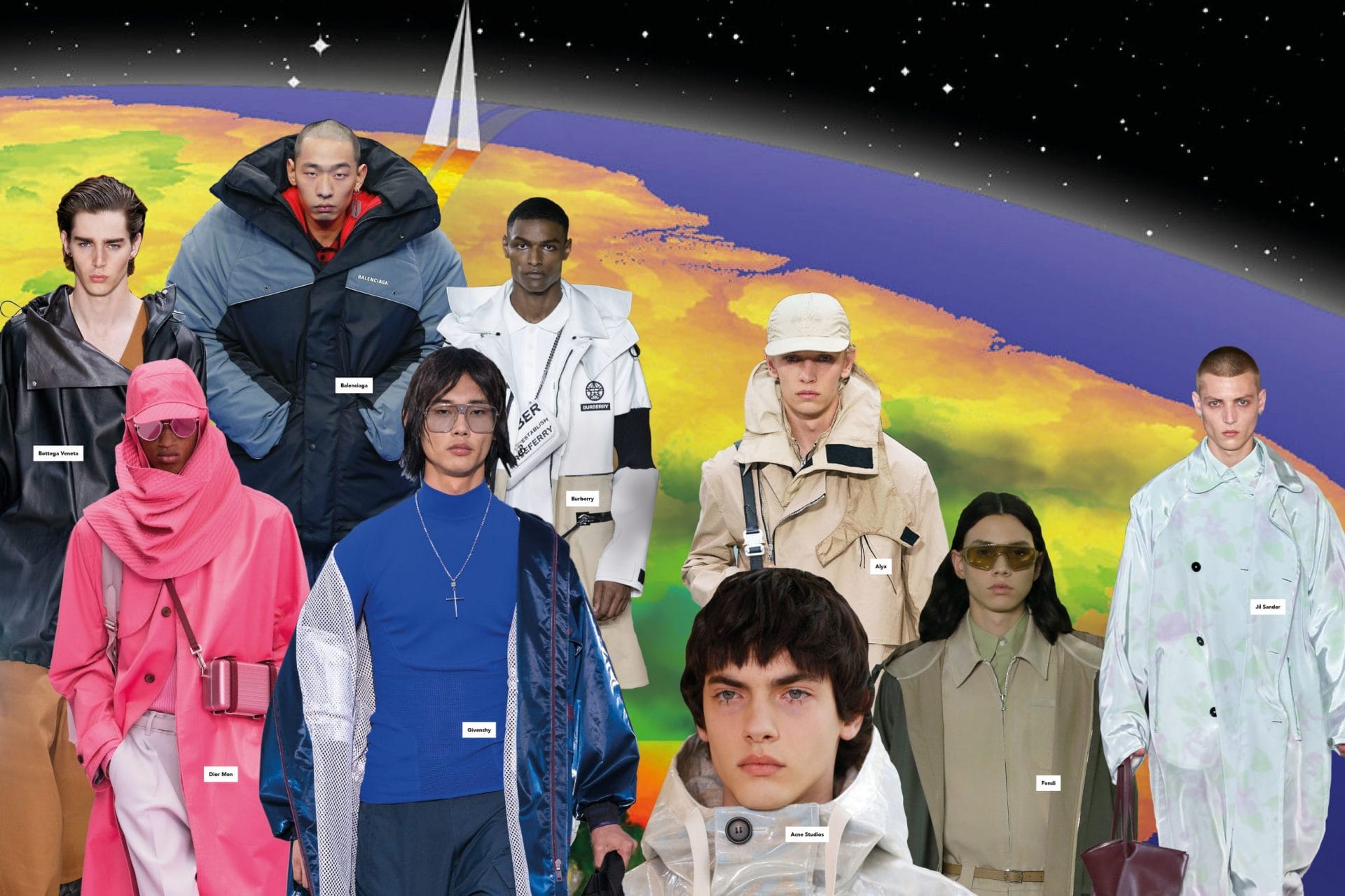 Back in January, the Bulletin of the Atomic Scientists announced that the Doomsday Clock has moved to 100 seconds to midnight, putting us even closer to nuclear annihilation since the Cold War. The truth is, the threat of worldwide chaos has become increasingly veridical, the ecology of our planet is doomed, tensions are high — the crisis has unraveled to a point of no return.
Fashion is spared no portion of this anxiety and it has mirrored a wider cultural shift towards escapism. The industry has always been challenged with amplifying authenticity and awareness while establishing a fantasy-like facade to create spectacles for us to hide behind. Now more than ever, as trends are increasingly becoming less singular and straightforward, there is a rising demand for fashion that challenges the mind and spirit.
Menswear is now much more dynamic, and as information is increasingly more accessible, we have now engaged in a compromise where both reality and fantasy are met. Theatricality is back with nods to the past and there is a steady rise of carbon neutral shows, but it would not have been the same if designers presented the collection two decades ago. The same applies to minimalism. Collections have strewed our perception of the less-is-more conduct by presenting a collection that is undoubtedly, more. Coherency is now much more dependent on ideas and reactions, and less of a consistent design element.
It is not hard to imagine why menswear has responded to current affairs by going in these directions for the season. Most, if not all, collections have been executed with both messages of joy and love with a retrospective to the past, and consideration and acknowledgment, even at the slightest, of the inevitable urgency of the crisis by adding elements from war and climate change in their designs — Military and utilitarian details are juxtaposed with nostalgia. It proves that in a time of high anxiety, the industry has to adapt between the trends and the news.
Fashion, at the end of the day, has a responsibility to remind people to hope, to live. That amidst all the chaos, there is always room to make the most of it. So take a moment to step back and realise one's vision of the future, discover what inspires him and consider that his destination.
Let's imagine this future and be in it.
__
Pictured Above: The Survivalist
The most unsuspecting trend that has paved its way into the Spring/Summer '20 collections is the rise of the "survivalist jackets". Long weatherproof anoraks are layered against tailoring and evening wear; silky synthetic materials juxtapose soft delicate wool — pairings deemed necessary in scenarios of up keeping one's pace of life while combating undesirable environments; imagine scenarios from dystopian films such as Blade Runner and Interstellar.
With gloomy reports of rising sea levels and the impending climate catastrophe, a weatherproof jacket will come in handy to withstand the uncertainties.
__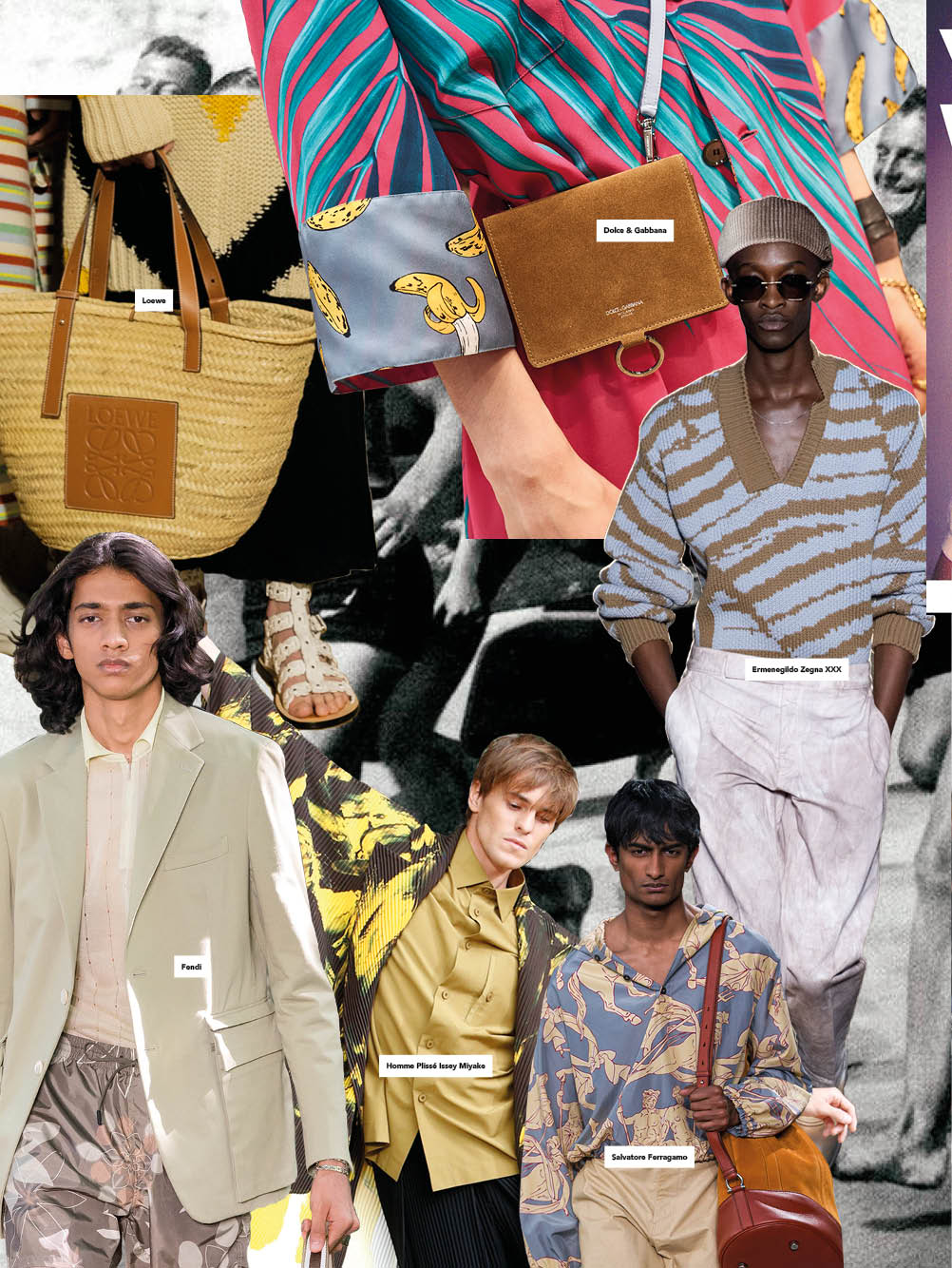 The Big Blue

We all deserve a holiday, but not all of us are able to afford such luxuries with our busy schedules. Consider taking it to the next level by dressing as if one is on a holiday all the time.
Take yourself to the beach during weekday nights with Fendi's tropical prints and shorts, and Men's Folio has to emphasise — short shorts. Pair Surf Wax America outfits with summer bags, such as the Loewe straw shopper, even for the most mundane grocery errand. Besides, with so much buzz about how much emissions are released with just a short plane ride, perhaps it's best to consider a greener mode of travelling.
__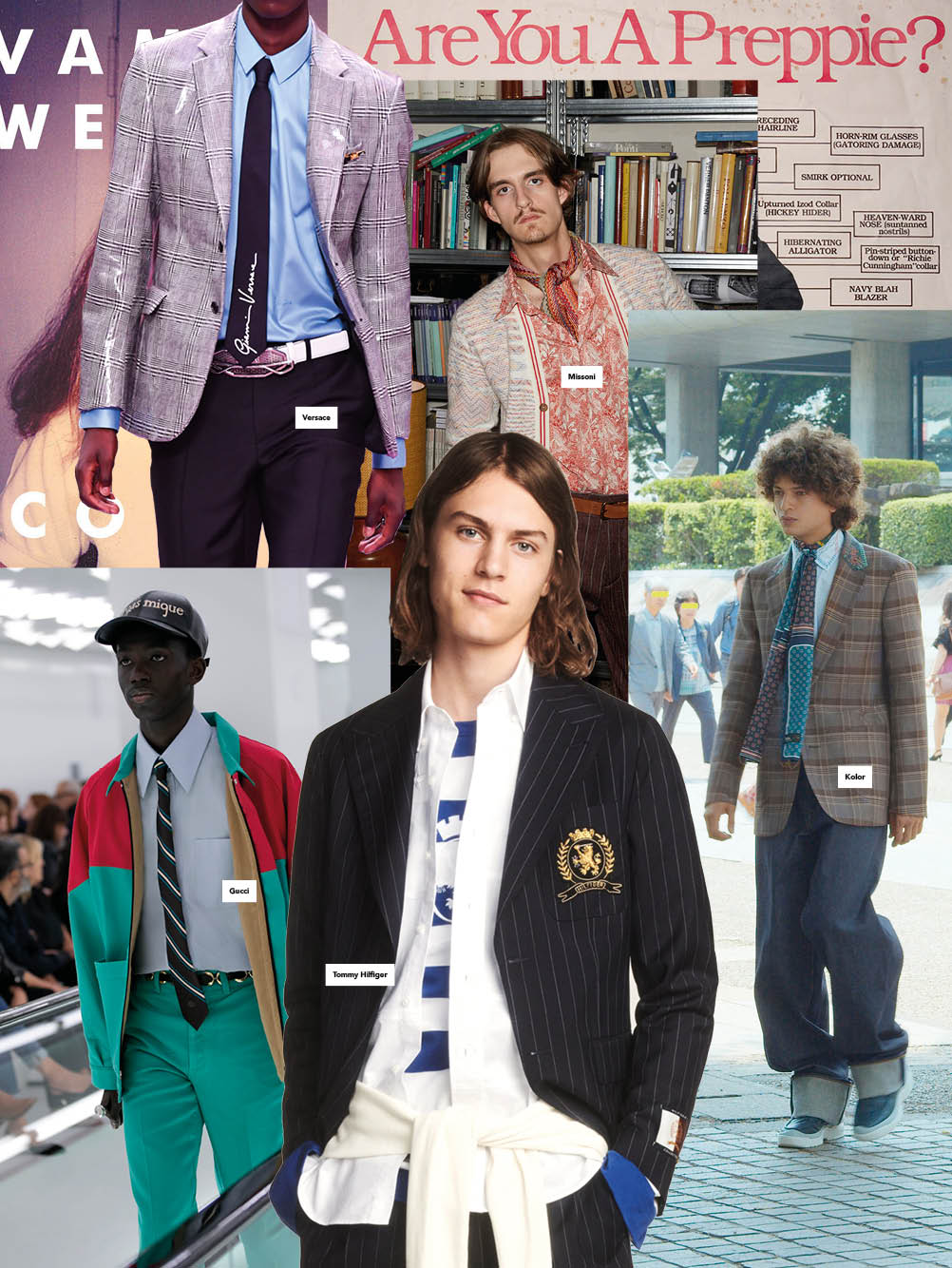 The Prep 2.0 
The best export of the '60s were the preps, or The Preppies. They were the glasses-clad, alcohol binge-drinkers and smirky personalities that were deemed a "disease" amongst college boys back then.
It was however, not easy being a preppie. Between the plaid printed jackets, the pastel coloured wool cardigans and the apparent lack of socks, preps had to maintain their dancing-style mannerism and elite social ranks — according to the 1984 film, Making The Grade. Jokes aside, the preppie look has been an iconic staple of the American wardrobe. In fact, the preppie look is now refreshed and unimaginably cool, according to Versace and Gucci — but only if one listens to Vampire Weekend.
__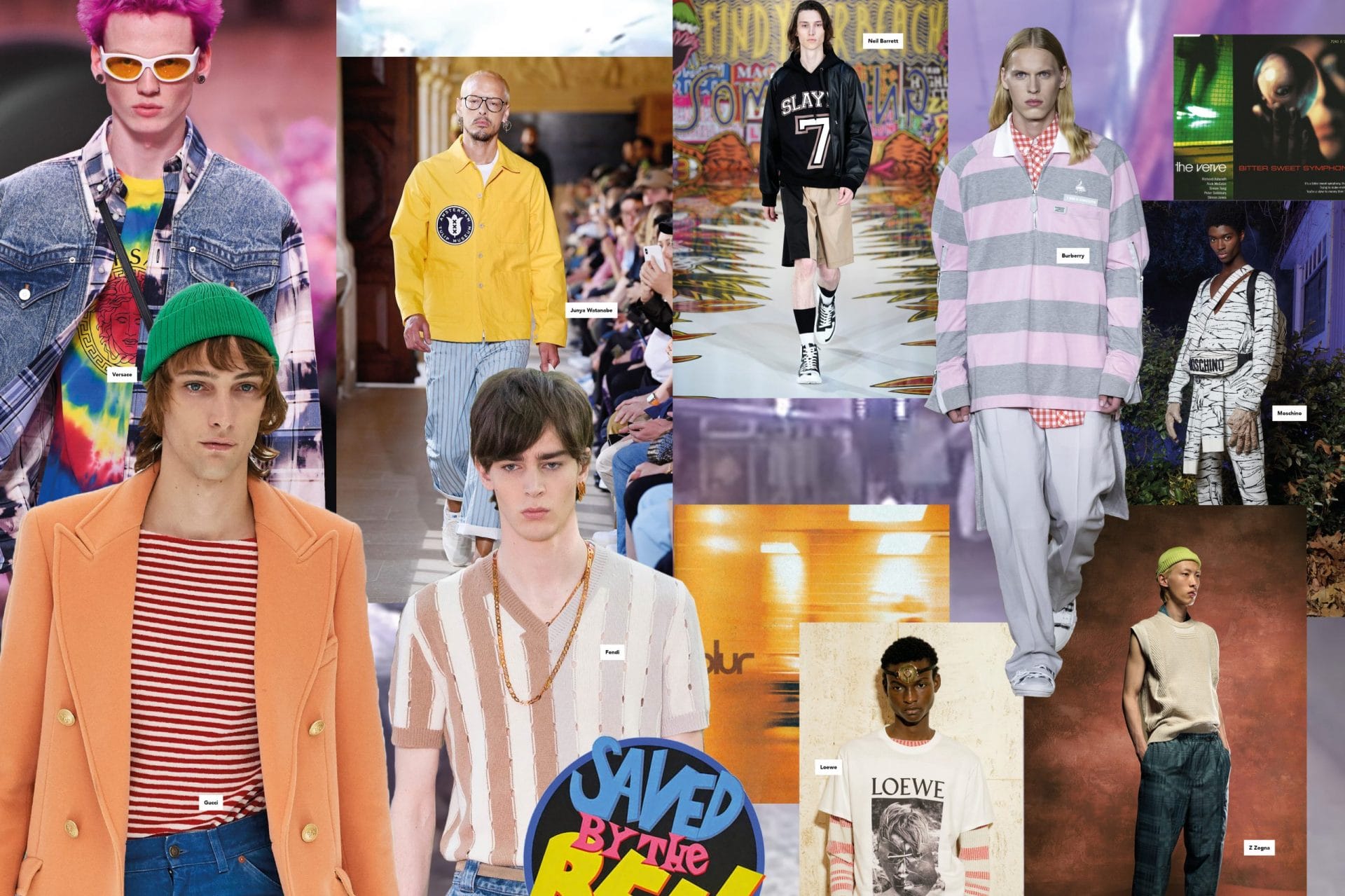 The Comeback Kid
If one has been to a mall in the 80's and 90's, he would have stumbled across a mall rat. They were the loud, disruptive teens easily spotted hanging outside of shops in malls across the world, with their portable Walkmans and indistinguishable gel-spiked hairstyles.
These mall rats were iconic. Rebellious yet never too impolite, angsty but also hopeful. Plaids and graphic tees were a go-to, while straight fit acid washed denim was king. They were the last true kids before the age of the internet, when teen magazines were in and Saved By The Bell was the best thing to watch on TV.  This season, the mall rats were revived with Prada's callback to its 90's sports line, as well as with Fendi's take on denim madness.
In fact, Singapore had their very own mall rats — The Centrepoint Kids, or CP kids for short. They were just as loud, rebellious and fashionable, although the general public often labelled them as hooligans and drop-outs. Studies on their behaviours were also made after much public complaints, but the result was just expected — they were simply teens doing teen things.
__

The Big Lebowski Shirt
The bowling shirt is a newfound staple to menswear despite having existed for more than seven decades. Famously depicted in the cult idiosyncratic comedy film, The Big Lebowski, the functional shirt we have all come to love is suitable for any casual occasion with its never-too-bulky silhouette.
Most shirts feature a distinctive reverie collar and is often stylised with bright colours and decorative patches — all for good reasons. Colours were used to differentiate players,  iron-on patches advertised their sponsors, while a reverie collar and a bigger armhole allowed players to swing their arms with ease so an oversized fit was necessary. And the best part. the spin-off to the original, The Jesus Rolls, has a 2020 release — so swing fast dude.
For Spring/Summer '20, the big lebowski shirt has evolved beyond functionality. Ermenegildo Zegna XXX threw a nod to the iconic shirt with an all black ensemble for an all day casual look.
__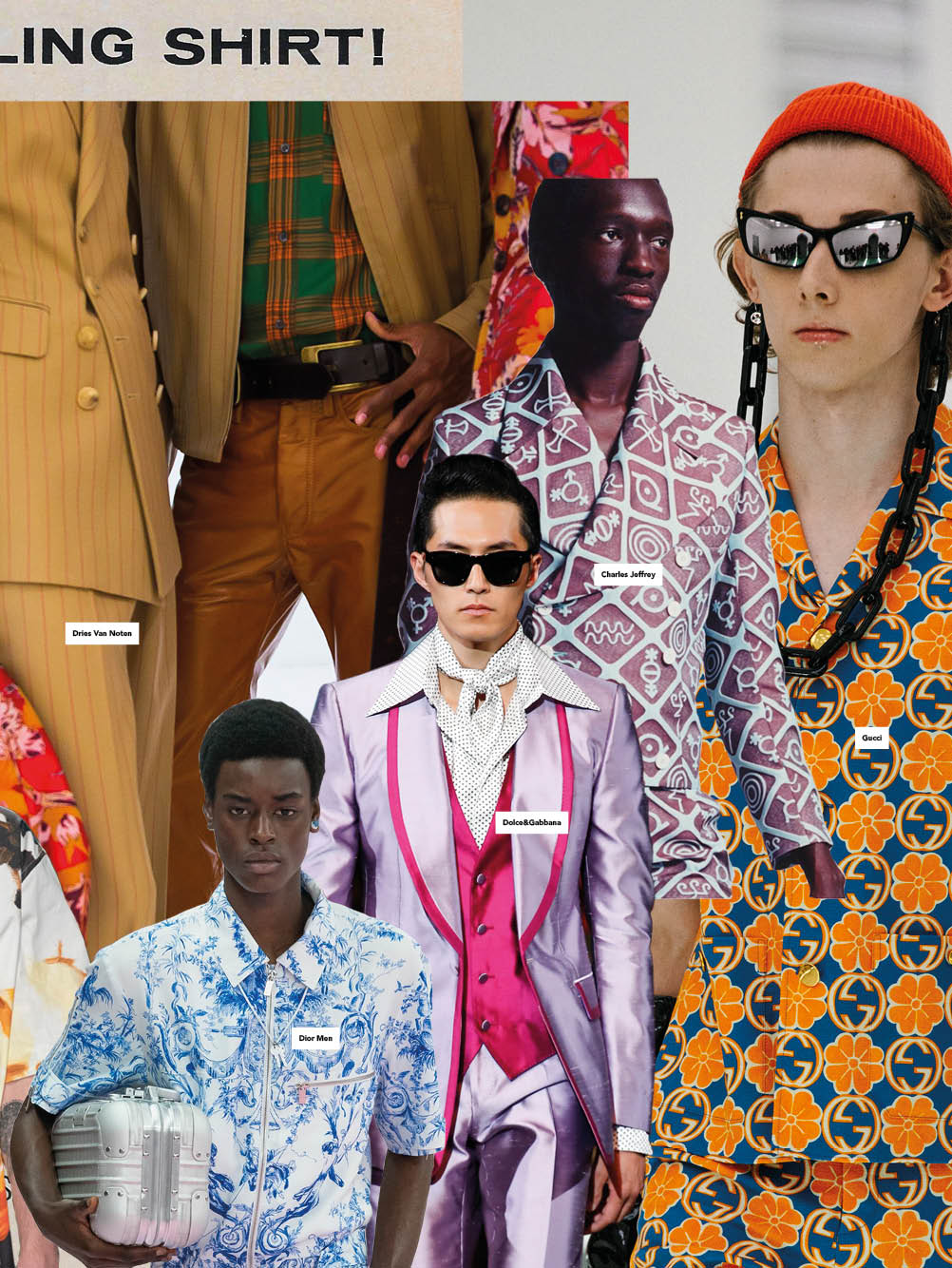 The Soultrain Effect 
Suggestive, joyful dancing over disco and R&B with perhaps the most beautiful people and fashion styles, soul train was a gift from the heavens. The American music-dance television program aired for 35 years and shaped a generation of black-led legacies across America.
Known for its hippie, trip-induced clothes with never too little art-deco prints and colours, the fashion of the show has influenced designers over the decades. In fact, its influence is still running high today, with Gucci's tribute to the eccentric colours and prints, together with Dolce&Gabbana's bold revamp of the American groove — evidence that the soul train line of bold and brass styles continues to dominate the contemporary, 70s-centric runways.
__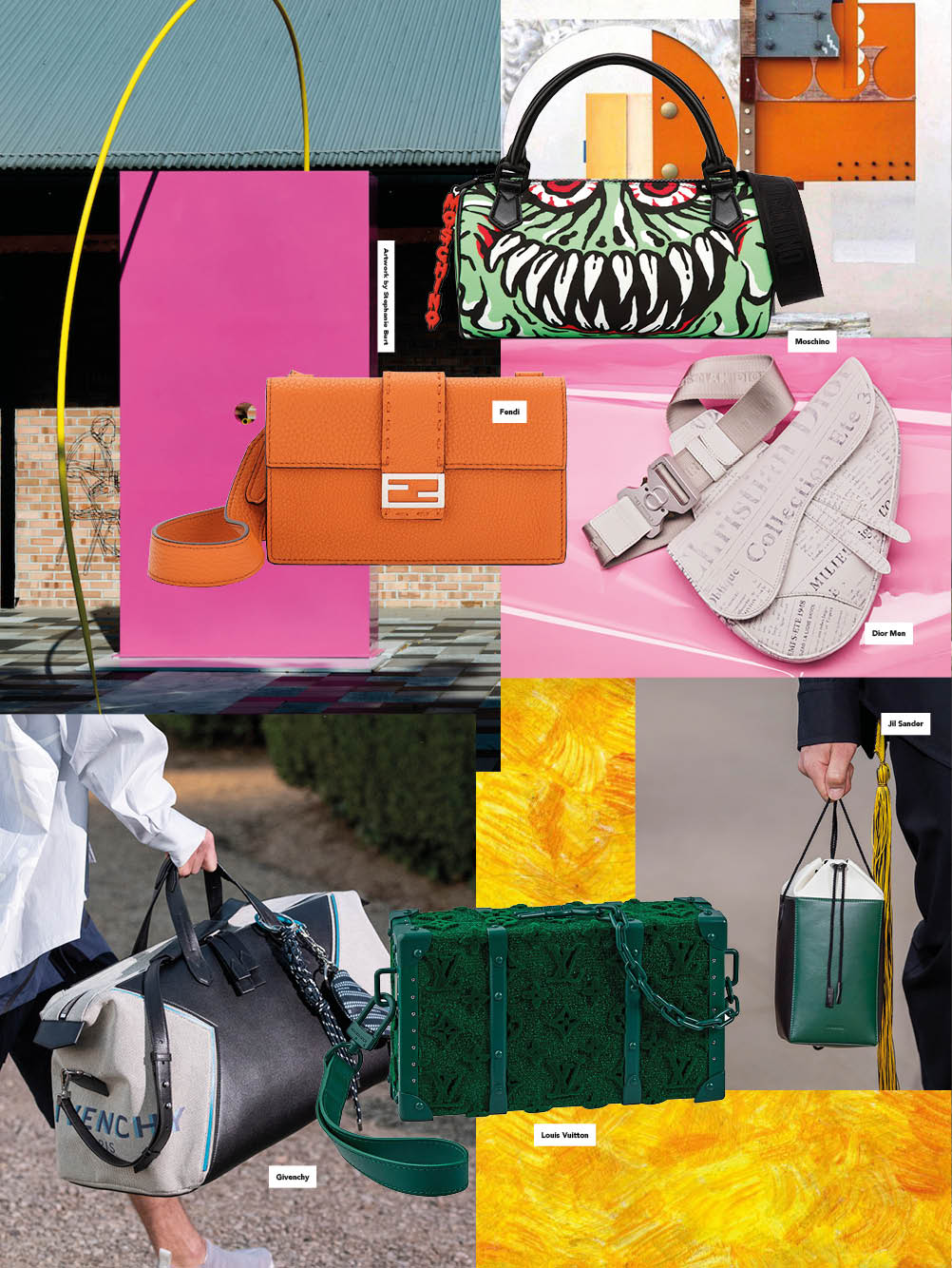 The Art Attack
If one thinks art is for the entitled and is never accessible, think again. Word has it that an Hermès Birkin is now a better investment than gold, and its value will only continue to increase.
As a matter of fact, designers are increasingly more art-centric with their bag designs. Post-modern and brutalism ruled high on the runways, with Virgil Abloh's insatiable monochromatic monogrammed cases, and Dior' Men's Neo-noir take on the saddle that would fit just right on a white pedestal at the Guggenheim.
Art is for the soul, sure, but we cannot deny the fact that it is also a form of investment. Bags are now much more expressive as well, and have become weapons of self-expression. As labels continue to look at art for inspiration, be a step ahead of them and buy a bag as if it was a work of art. There is no guarantee that it will be worth more than a banana taped against a wall, but it will sure last one for life.
__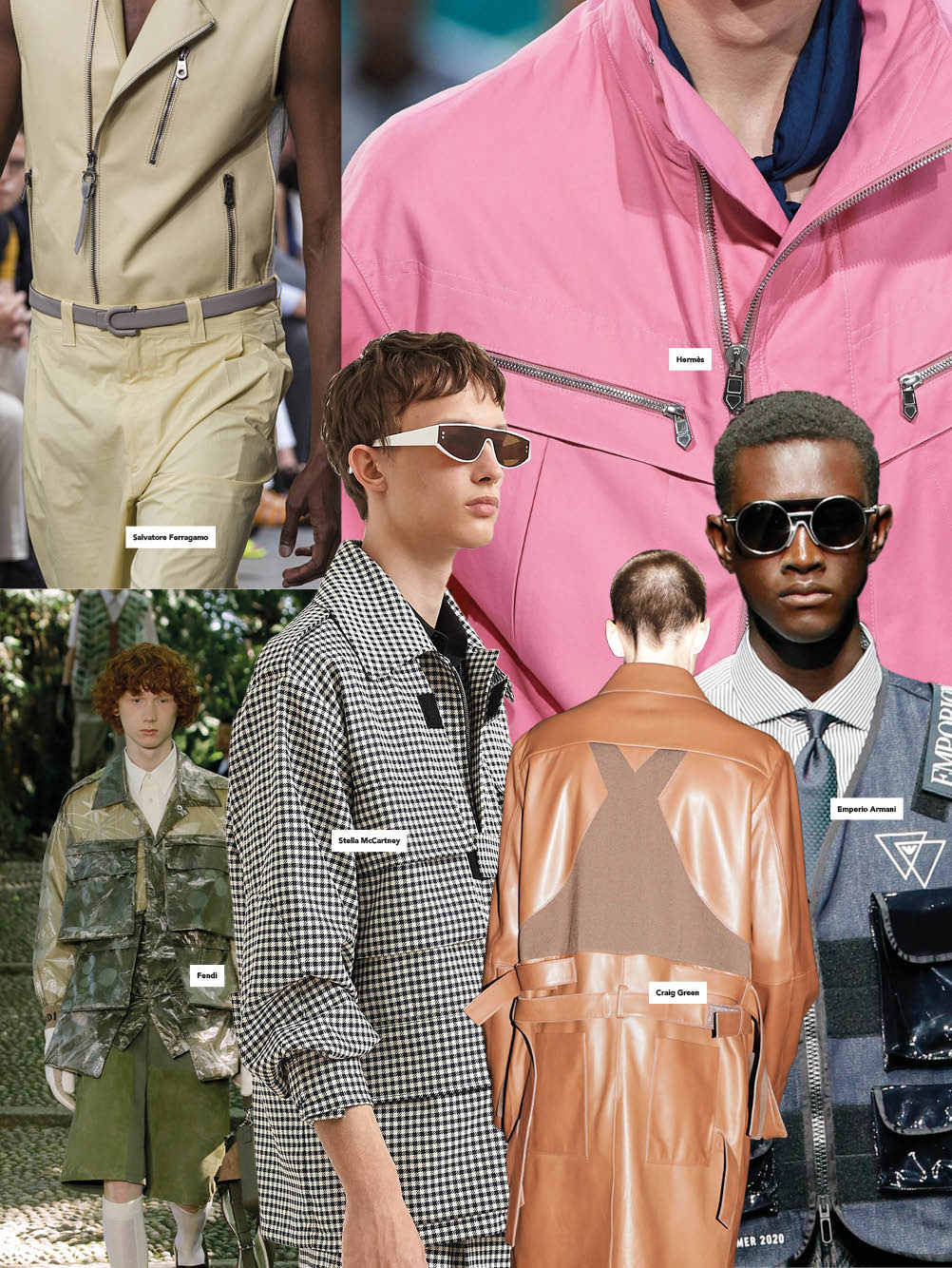 The Jacket Is Your New Bag
Pockets are essential for all and they are getting bigger with every new season. In fact, Singaporean men have been using their jackets in replacement of bags for years, and as cashless payments become more prominent in our daily lives, bags have increasingly become a styling item and much less for practicality.
Spring/Summer '20 features an explosion of pockets that are both big, practical and in-your-face. Louis Vuitton opted for large, pleated variants, Emporio Armani looked to military styles for inspiration, and Hermès had multiple pockets stacked atop each other, as if to say that a pair is never enough. As much as pockets are disappearing for womenswear, they are definitely here to stay for menswear.
__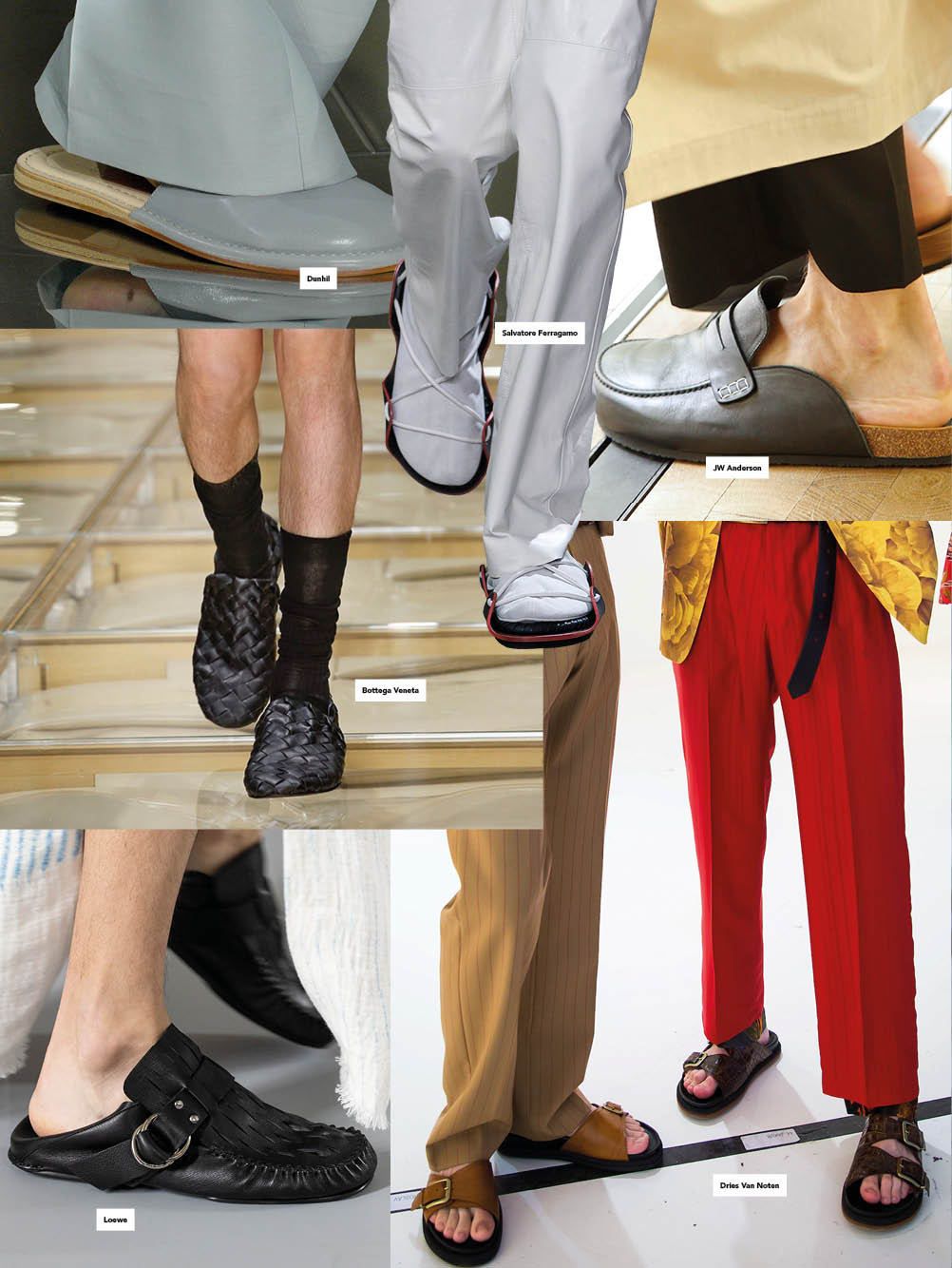 The Dress Down 
Nothing screams chaos as much as our hectic lives. Fashion has become more excessive than ever, with maximalism slowly returning into the runways, the excess is definitely getting more excessive. Chunky dad shoes were centre stage for the past seasons, and one rule remained constant  the more the better.
Instead, for Spring/Summer '20, menswear designers have rebelled and replaced the runway with footwear that are more sensible and considered. The arrival of the casual-yet-dressy leather slip-ons is a compromise for both the maximalist and the minimalist, and removes all the fuss of having to lace anything up. Bottega Veneta's woven leather slip-ons reigned, while Salvatore Ferragamo gave their own take on the easy going sneaker. Pair these shoes with Sunday trousers for an effortless dress-up.
__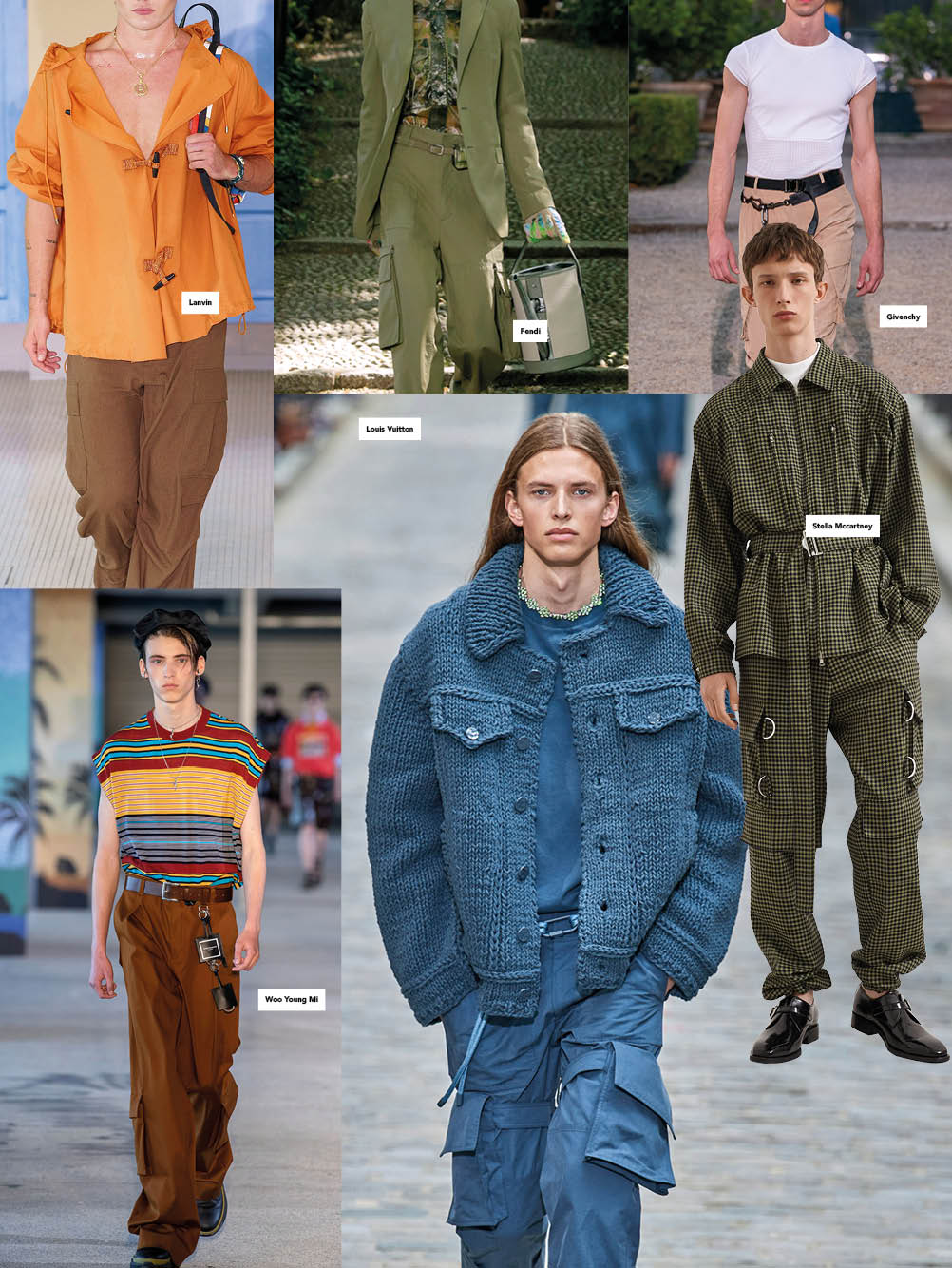 The Brother Nature Pants
Cargo trousers might irk a few heads and have struggled with a reputation of being the lazy and ugly get-go for most guys. Its prominence in fashion rose during the slacker movement of the 90s and celebrities were spotted on the red carpet pairing the trousers with chunky sneakers and slippers – Shia Lebeouf and Post Malone's red carpet cargo-hijack does not sit well with it either.
However, these hazel coloured pants were in fact designed for practicality, having been influenced by combat uniforms during World War I and II, the pockets were designed to conceal ammunitions and supplies, without the trouble of adding too much weight and knicknacks in a cadets' bag.
The only thing it needed now was a simple face-lift. A change in fabrics, from Givenchy's swapping of mundane cotton to an introduction of wool, and a stash of loud colours, just as we saw it at Louis Vuitton.
This story first appeared in the March '20 issue of Men's Folio Singapore. 
---