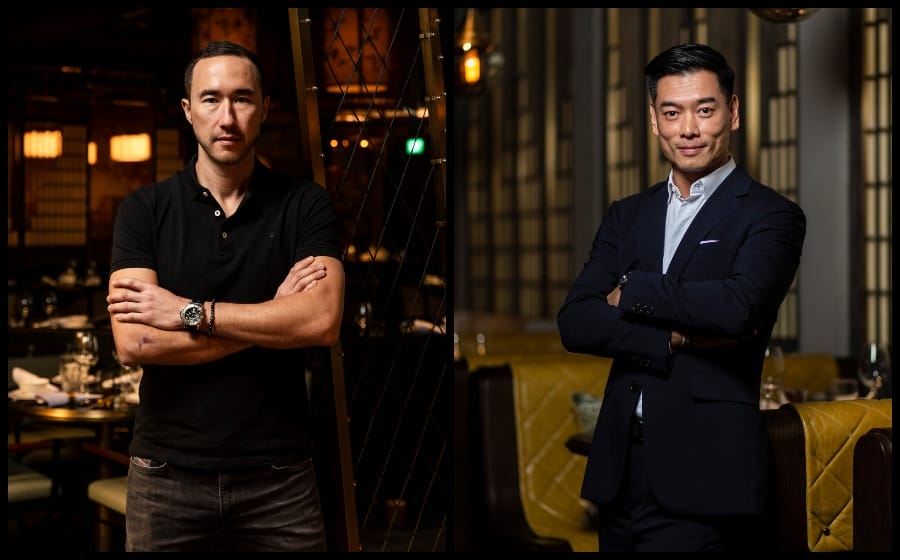 In the fourteenth instalment of #MensFolioMeets — a weekly column where we interview who's who and who's in the know — we speak to Malcolm Wood and Xuan Mu, co-founders of Maximal Concepts. 
No disrespect to hardcore food bloggers (you know, the ones who bring their own lighting set-up) or our fellow journalists who can go through three tastings in one night (seriously?) but our barometer for what makes a restaurant cool swings differently.
Good food is a given, a hideaway location is a plus and if it is adored by the country's local fashion industry, consider us sold. Here, we speak to Malcolm Wood and Xuan Mu, co-founders of Maximal Concepts on the Singapore edition of Mott 32 and what makes this Cantonese cuisine mecca fulfil the trifecta above.
—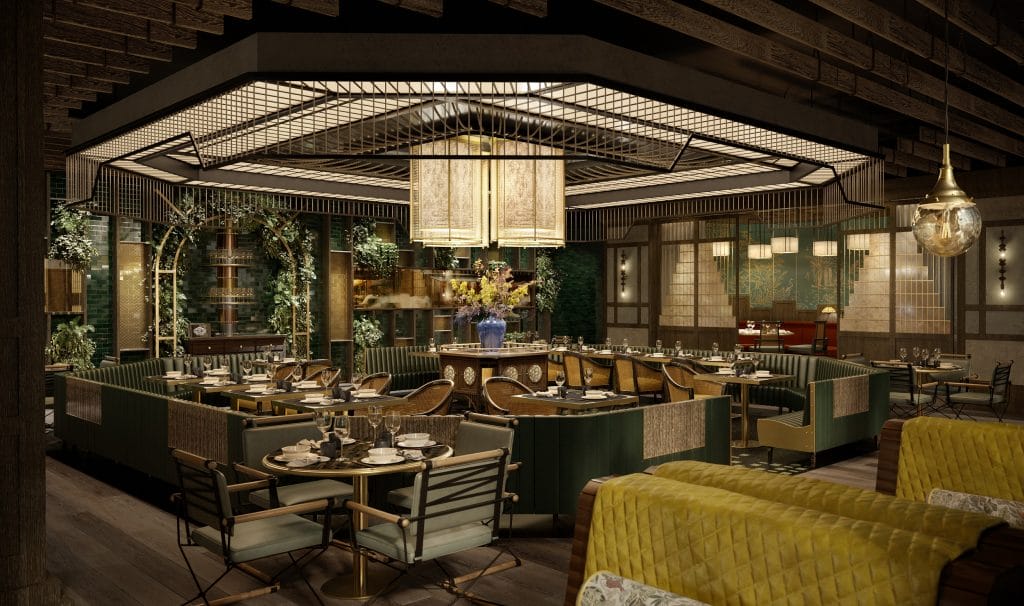 —
Hello! Mott 32 was originally the location of NYC's first Chinese convenience store and we're assuming that it was in an era that was pre-internet and Trump, how did you come across the name and why did it resonate with you?
Malcolm: We had this opportunity to do a restaurant in Central Hong Kong and we wanted to debut our heritage — Chinese food — and the relationship we have with it. We had a beautiful site that was a basement which made it very difficult to set up because it was down five flights of stairs and had no windows. We were like, "Wow! This is going to be incredibly difficult to pull off but if we can get this right, we can get the local audience to buy into it."
We wanted Mott 32 to feel like a Hong Kong institution that had been there for a long time and a place where Chinese people would come to because of the authenticity that's mixed with a unique factor .
So we were looking at different names and we came across 32 Mott Street, a location that founded Chinatown in New York. We thought that was really cool because it showed off how resilient Chinese people really are — their lack of fear to try new things and to travel to locations that were completely unfamiliar to them. That is what Hong Kong is about and how Chinese people are.
Truth be told, we also thought it was funny to call our restaurant a name that wasn't familiar to Hong Kong people. My grandmother even asked me why so.
But, we wanted to disrupt Chinese food and we knew that we didn't want banquet servings or white table clothes. We wanted to do food that we enjoyed on a weekly basis which was family sharing and a variety of dishes — Cantonese, Shanghai and a little bit of dim sum.
Our competitors were five star hotels which were not design spaces and we came in with this groundbreaking design, an equally good cocktail menu and a huge wine list in an environment where nobody experienced when it came to Chinese food.
That year, we won the interior design award for Chinese restaurants in the Interior World Festival for a Chinese restaurant in a basement with no windows.
—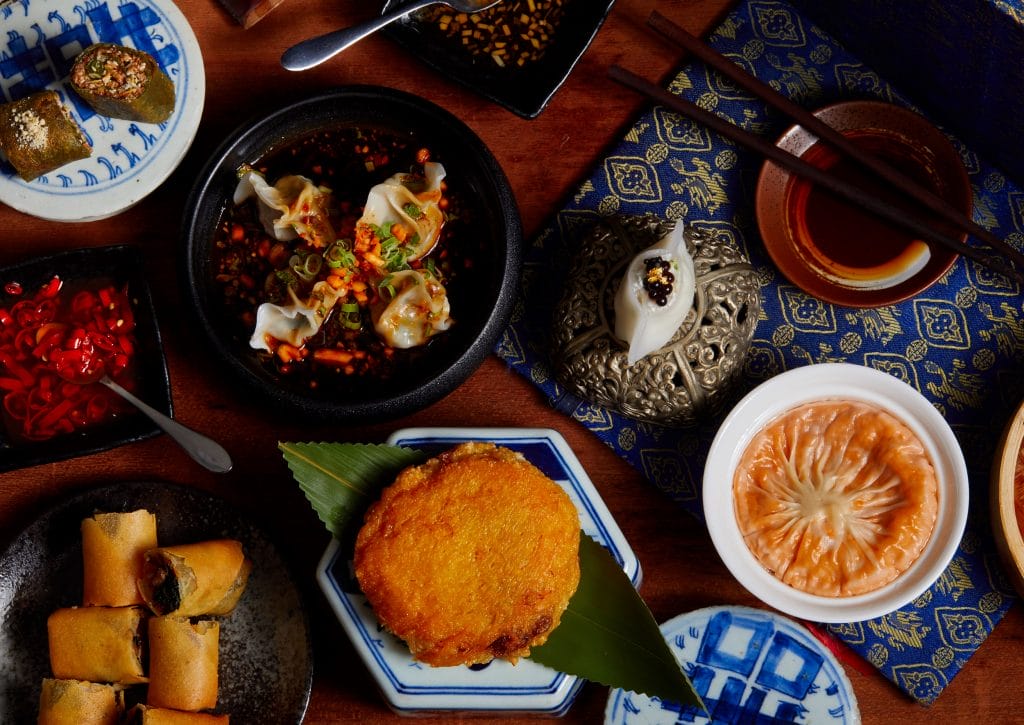 Assorted Dim Sum.
—
Mott 32 is known for serving "traditional but tweaked Cantonese, with inclusions from other regions in China", has the menu changed in Singapore?
Malcolm: There are some special dishes and we've changed 20% of the menu in terms of a few new dishes and the tweaking of some places. I think it's important to cater to different audiences. Another interesting thing is that these two cities are so interconnected and traveling between them is so easy. People have the same groups of friends in the two cities and we wanted to give Mott 32 an element of uniqueness.
A huge portion of the menu are fan favourites and Singaporeans love the food at Mott 32.
Xuan: Singaporeans love spicy food and hence, we added more spices to give it a bit more oomph.  There are more seafood dishes — for example, our Spicy Xiao Long Bao contains seafood instead of meat.
Malcolm: There's an important reason for doing that. You've got to go localised when you open in a new market and you have to source ingredients locally as well to be more sustainable. We know that Singapore have really great access to seafood and have different types of vegetables and spices. We looked through the existing menu to find out what could be sourced here and what are the additional items that we can add in.
—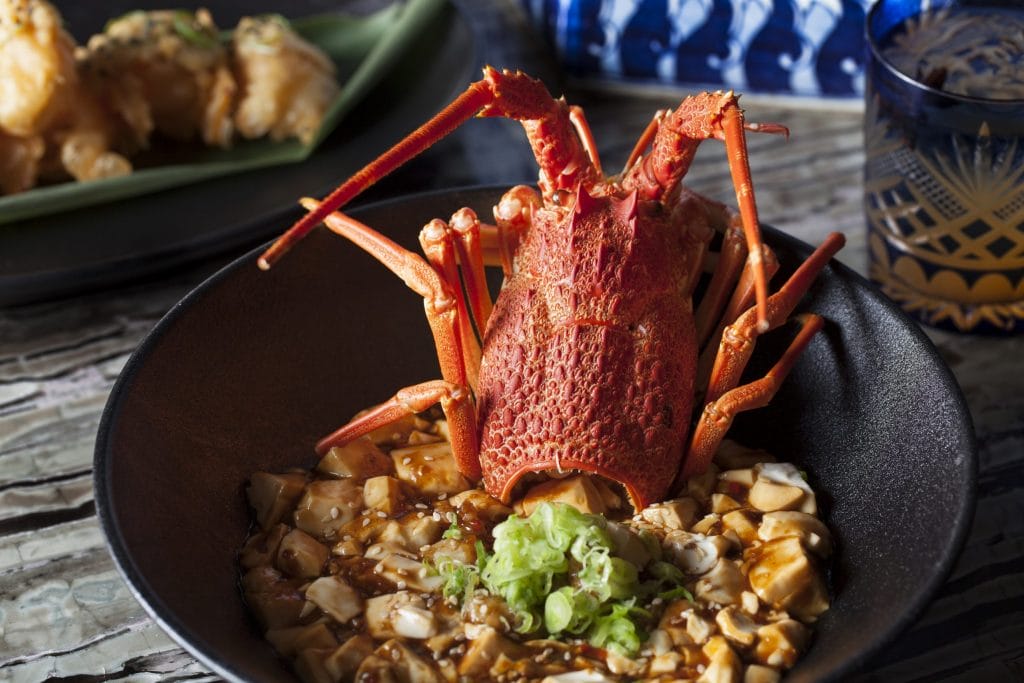 Signature South African Lobster Ma Po Tofu
—
Why Singapore as the next destination of choice? Have you heard the legend that an average Singaporean spends a sizeable portion of our paycheck on food?
Malcolm: Singapore chose us! A few things have to happen before we decide to open — an iconic location, a gateway city and a good partner.
—


—
Malcolm, you're big on sustainability and kudos to your films — A Plastic Ocean and The Last Glaciers — how does your brother nature attitude extend to Mott 32's concept?
We've recently adopted the use of Eco Spirits for Mott 32 because we realised that we were throwing away so many bottles behind the bar and then you order more in. We're the first guys in Marina Bay Sands to work with Eco Spirits.
They bring alcohol in vats and we refill the bottles with it. The vats are then collected and refilled which makes it a closed loop experience. It's the lowest carbon form of cocktails that are now available in the market.
We don't serve Blue Fin Tuna on our menus because it's endangered. Serving it even when it's farmed is promoting the consumption of an endangered species. 99% of people aren't actually eating the farmed variety. If we can get more people to eat Giant Garoupa — a fish that is farmed sustainably — that means we are doing our jobs.
Our lobsters are from Australia and not Vietnam. Yes, Vietnam is closer which means a lower carbon footprint but they are farmed and caught illegally.  It is very difficult to live 100% sustainably but you have to keep learning and adapting to what makes a change.
—
What is a small sustainable practice that makes a huge difference to you?
Malcolm: I can't just name one. Single-use plastics? No excuse not to get rid of it because that's a no-brainer.
Sustainability is a lifestyle. You constantly have to look for better products, sourcing and switching things out and looking at highly regulated markets.
—
Are you looking to include farm to table options to Mott 32?
Malcolm: It's incredibly difficult because Singapore is very similar to Hong Kong. We can in Vegas or North America and the ingredients used are 90% predominantly from the continent.
Most ingredients sourced here are from neighbouring countries and we are doing the best we can.
—


Wok-Fried Live Whole Crab (Black Pepper in Singapore Style)

Are there any dishes exclusive to Singapore and how were they cooked up?
Xuan: We have three exclusive dishes — Crab with Black Pepper Sauce, crispy Prawns with Oatmeal and Salted Egg and sugar Peking duck buns. The Black Pepper Crab is such an iconic Singaporean dish and we do it with our own technique — the way it's fried on the wok, the temperature of the wok and even how the chef flips it.
Malcolm: It's interesting that a lot of Dim Sum places in Hong Kong don't practice steps like timing the process of cooking Dim Sum. One of my favourite dishes is the Quail Egg Siu Mai — the egg is always hard boiled and we were wondering how to ensure that the meat is cooked while leaving the egg so soft that it breaks in your mouth. You have to leave it for a set amount of time in the steamer and then, you have to engineer a precise serving timing and how exacting the timing is when the waiter lifts the lid off the basket.
We are very respectful of traditional ingredients but what we do is to perfect technique and the style in which we cook it. We don't want to mess around too much with authenticity.
—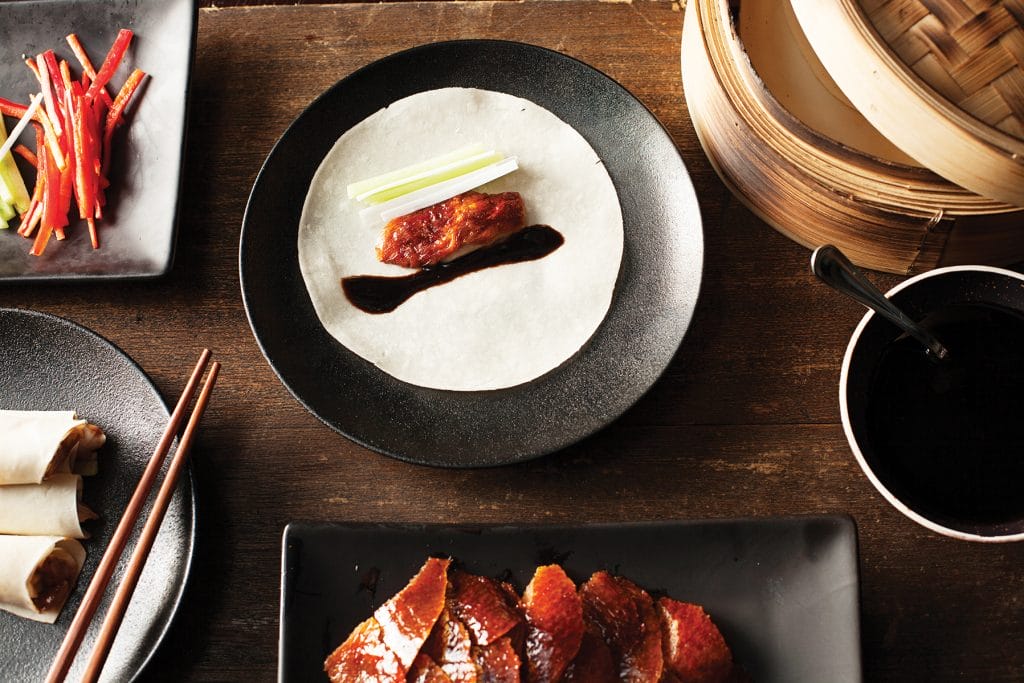 Applewood Roasted Peking Duck
—
Xuan, what are some things you'd want newcomers to know about the scene?
There are no shortcuts in the F&B industry. You have to do things to make your restaurant stand out with things like a great concept, quality and strong level of service. Especially so when there is so much competition now coupled with a high failure rate compared to other industries.
I think another thing newcomers need besides hard skills like balancing P&Ls, managing staff or executing day-to-day things would be passion. You have to build a restaurant with love, passion and knowing what people will enjoy.
—
What is the next F&B trend you foresee in this decade?
Xuan: Sustainability is the new trend and one thing I see in the future are restaurants constructed using sustainable materials — recycled towels, flooring and a complete ban on plastics. As the cost of such materials come down and reduces the economical problem, that'll be the next big thing. The solution needs to be cheaper than the problem. You have to care to make that investment.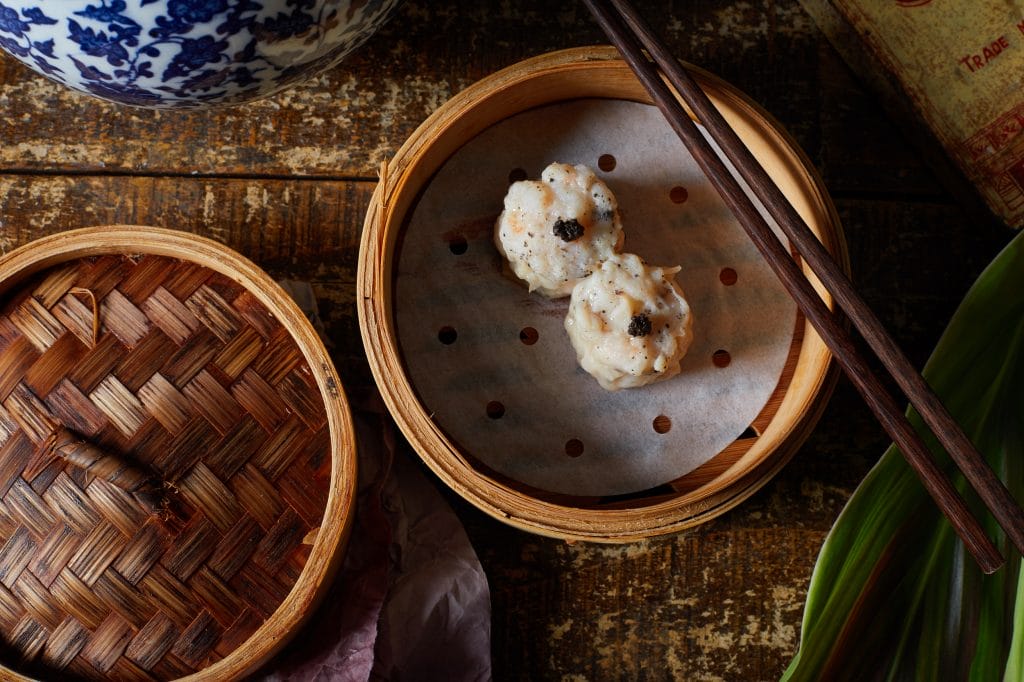 Soft Quail Egg, Iberico Pork, Black Truffle Siu Mai
—
Malcolm, is there a certain culinary technique or ingredient you hope returns?
I dined at Fergus Henderson's restaurant in London and the food tasted so good. I actually asked him too if he sous-vide his meats and he said no. He actually slow cooks his meats in a traditional gas oven for six hours to develop the flavour which can't be achieved with modern techniques.
One of the things I really like about what we do at Mott 32 is that it's so traditional. It takes so long to master using a wok and it's something you have to really put time into perfecting the end flavour. I'd like to see such older techniques — like the one Fergus Henderson employs — make a comeback.
—
In the name of journalism, we would like to enquire about any nonsensical things you guys have done before for the business.
Malcolm: We had a staff party once on Sheko Beach and I para-glided into it during sunset hour, sort of James Bond style. It was a complete surprise by the way.
Xuan: We once let our staff throw custard pies at our faces to vent their frustrations! Not so much an act of revenge but just for fun! We actually think of our team as a family.
—
This is a standard question we ask all guests on this column but what is the #1 most played song on your Spotify?
Malcolm: The problem with mine is that it's Freddie Mercury right now. I was spending a lot of time with my dad over Christmas and he loves Queen. He's age appropriate and it's better than what my daughter listens to — mumble rap.
Xuan: I just got married recently and one of the songs we played was All Of Me by John Legend! I actually proposed to my wife with the song playing in the background too.
---