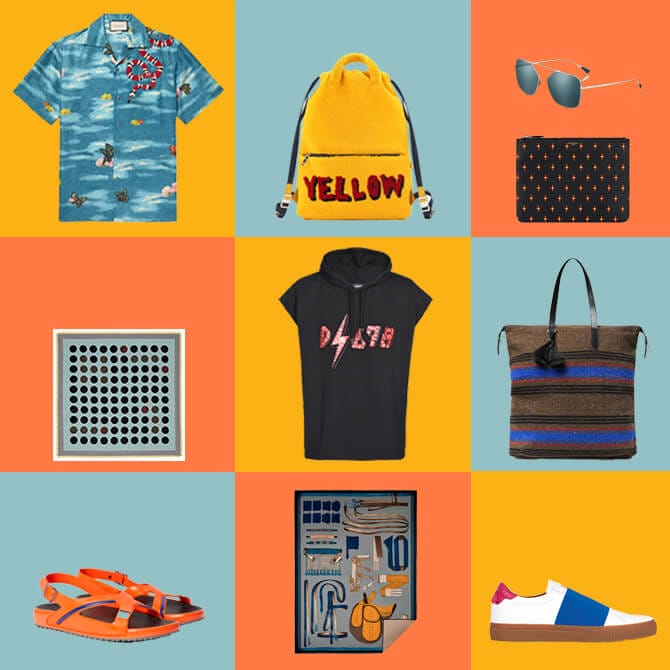 Planning to get whisked away to the beach of your dreams, or just want to escape from the suffocating heat? Turn to the promise of travel, and these stylish essentials straight off Fall/Winter 2017 runways.  
Gucci has updated the archetypal Hawaiian shirt with whimsical prints and embroidery featuring the brand's signature snake motif. Keep your look casual with a pair of tailored trousers, and layer over a plain white T.
Fendi presents one of the most optimistic collections, featuring a vibrant and lightweight rucksack — an ideal carry-all for travelling.
Plastered with the French label's  totem cross logo, this sleek and streamlined piece will hold all your essentials in style.
In a vibrant red-blue-and-white colour combo, this pair of fancy leather white sneakers make a versatile choice for those going on a short weekend getaway.
Add a dose of personality to any holiday get-up by wearing an offbeat scarf. 
If lounging by the poolside is part of your itinerary, this pair of neon sleek rubber sandals is the ideal vacay essential. 
These square-framed, pale gold tone shades with teal mirrored lenses lend a masculine touch with their geometric shape.
Unwind at a cocktail bar in Diesel's rock 'n' roll hoodie. Team it with Fendi's  swim shorts for a touch of vacation glam. 
Spending hours by the beach and soaking up vitamin D would be a fine idea it weren't for one thing: sand getting all over your belongings. Invest in a large, lightweight blanket cover for a sand-free tanning session. 
And of course, a roomy tote bag is a necessity for all your summer essentials: sunscreen, beach towel, and even your preferred bottle of wine. 
---