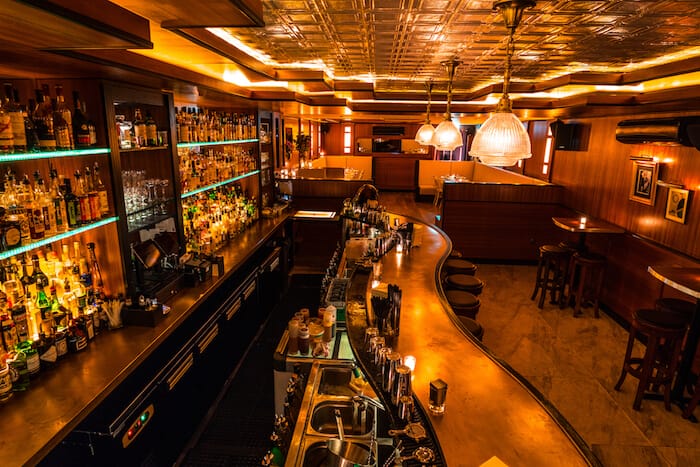 What with the constant resurrection of antiquated artefacts and bygone trends, we seem to be perennially infatuated with the past. Lately, our nostalgic sensibilities have led us to an unshakeable obsession with hidden bars. Or, as the illegal watering holes of the Prohibition era were called, "speakeasies". Following the tradition of their predecessors, these hidden bars are tucked away in shadowy corners or unassuming buildings, their identities concealed with misleading façades.
It's easy to see why these secret hideaways are so tempting: on our tiny island, the inevitable encounter of a crowd at our favourite hangouts constantly threatens to ruin our nights of escape from the stressful city life. Here, we reveal 10 ideal bars for you to stage your disappearing act.
Horse's Mouth
Pull back the curtain at the entrance of Uma Uma Ramen at the Forum Shopping Mall to unveil this intimate speakeasy. The shadowy Horse's Mouth is illuminated by paper lanterns, while hanging origami grace the walls with splashes of colour. This izakaya is as Japanese as they come: their friendly bartenders master special Japanese techniques to craft impeccable drinks with the finest Nihon ingredients and sake. A palette of flavours — classic, fruity, bitter — are precisely distilled in their cocktails, much to the delight of seasoned tipplers. Ramen-lovers are also in for a treat: the bar lets you order bowls of the savoury noodles from the adjacent ramen restaurant.
Horse's Mouth, #01-41 Forum Shopping Mall, 583 Orchard Rd, Singapore 238884, +65 6235 1088.
Manor Bar
It's hard not to feel like you're part of a secret society at Manor Bar. In fact, this cosy watering hole is so exclusive, it used to be invite-only. Previously located above dim sum bar Zui Hong Lou, it has since (discreetly) moved to the second floor of cocktail bar Nutmeg and Clove on Ann Siang Hill. It retains all the old-world charm of its previous abode: remixed Renaissance paintings hang upon dark green walls, and soft, warm lighting complement the polished wooden floors. You can just imagine the room shrouded in smoke from the cigars of dapper English gentlemen lounging upon the Chesterfield sofas. Manor abides by its one house rule — "Keep The Guests Happy" — with its wonderful bespoke cocktails and artisanal whiskeys of the highest standards.
Manor Bar, 10A Ann Siang Hill, Singapore 069789.
Manhattan Bar
On the second level of Regent Singapore, you will find a gem worthy of its luxurious setting: Manhattan Bar. The hotel bar was #11 of The World's 50 Best Bars last year, making it the top Asian establishment on the list. The rich culture and history of New York is infused into the bar's opulent, Gatsby-esque setting (think plum velvet seats and tan leather sofas), all-American food and drinks menu, which is inspired by the flavours of the city's neighbourhoods. Manhattan Bar was created as an homage to the Golden Age of cocktails — if that doesn't convince you to have a drink at this sleek bar, we don't know what will.
Manhattan Bar, 1 Cuscaden Road, Regent Singapore, Singapore 249715, +65 6725 3377.
Operation Dagger
Operation Dagger's deadly secret is its killer style — and drinks. At the intersection of Club Street, Ann Siang Hill and Ann Siang Road, look out for an unremarkable glass door. You'll know you are in the right place when you spot strange markings — a nod to Basquiat — on the wall above. As you'll soon learn, looks are deceiving: the industrial-styled space features a cloud of light bulbs, mirroring Jeff Wall's art installation "After 'Invisible Man'". The wall behind the bar is lined with apothecary-like rows of bottles, each indistinguishable from the other save for labels with cryptic scribbles. It is no wonder that the underground bar has once been named Singapore's Most Creative Bar. Operation Dagger was also #21 on The World's 50 Best Bars in 2016, and we can see why with their inventive house cocktails mixed with surprising ingredients (the names of The Bee Pollen and The Egg cocktails speak for themselves), artfully curated by executive bartender Luke Whearty.
Operation Dagger, 7 Ann Siang Hill, Singapore 069791.
Gibson Bar
At first glance, Gibson's sleek interior, complete with gold accents, might not fit the bill for those looking for a casual night out. However, bartender Aki Eguchi betrays the eccentric sensibilities that lie beneath the surface: dressed to the nines from the waist up, his look is completed with bermuda shorts and easy shoes. It's definitely an outfit that represents the personality of 2016's Best New Bar. While Gibson may not appear to take itself too seriously, careful attention was undoubtedly dedicated to their drinks. The range of cocktails — expertly mixed by the acclaimed Eguchi — encompasses all tastes, from classic to unconventional. For snacks, Gibson also offers raw seafood dishes that shouldn't be overlooked. Those familiar with Jigger & Pony will not be surprised to find a similarly rewarding experience at its sister bar.
Gibson Bar, 20 Bukit Pasoh Rd, Singapore 089832, +65 9114 8385.
28 HongKong Street
Aside from its address, 28 HongKong Street doesn't reveal much. It has zero social media presence; signages to help you discern which of the inconspicuous shophouses along the street it's hidden within is basically non-existent. However, this has hardly stopped the bar from getting worldwide attention. In 2016, it was named Asia's Best Bar and it clinched the 14th position on the list of the World's 50 Best Bars. Its urban American influence is evident: the bar is fashioned after New York lounges, plays a stream of laid-back hip hop classics and names its drinks after rappers. The menu is constantly updated with fresh, flavour-focused concoctions that are as thoughtfully crafted as the rest of the bar experience. Snacks — especially their Truffle Mac & Cheese Balls — are also worthy of a mention, having won the bar the title of Best Bar Food in 2015.
28 HongKong Street, 28 Hong Kong Street, Singapore 059667, +65 6533 2001.
The Library
In the mood for adventure? Try finding your way to The Library. It's anybody's guess what the façade of this cunningly hidden speakeasy, located on Keong Saik Road, will resemble at any given time; its past incarnations include a library and a tailor's studio. Entry into the bar requires a password that changes monthly and can be retrieved from their Facebook page. The quirkiness doesn't stop once you get past the disorienting mirrored door. The Library's famed unique cocktails are presented in equally creative — and amusing — ways: books replace coasters while glasses are traded in for mini bathtubs—complete with the rubber duck.
The Library, 47 Keong Saik Road, Singapore 089151.
Employees Only
New York's beloved Employees Only needs no introduction; its specialty cocktails and top-notch service catapulted it to international fame in 2015 as the 4th Best Bar in the world. However, New Yorkers would hardly be able to tell the difference when they step past the velvet curtains under a blinking neon sign that reads "Psychic" — on Amoy Street. Employees Only's Singapore offshoot — the only one in the world — is practically a carbon copy of the original: a phoney fortune-teller mans the secret entrance; bartenders don the iconic white jackets; the bar's marble flooring and timber panelling reflect the flagship's Art Deco interior. The establishment is even led by a trio of core members from New York. Be sure to try signature cocktails like the Provençal and Manhattan and their widely-raved about Bone Marrow Poppers and Hand Cut Steak Tartare. And yes, the bar has kept its tradition of serving complimentary bowls of warm, heartening chicken soup to night owls who stay until closing hours.
Employees Only, 112 Amoy Street, Singapore 069932, +65 6221 7357.
Spiffy Dapper
If you happen to be strolling past the shophouses of Amoy Street, keep an eye out for a sign that reads "Dapper Coffee". That's the name of The Spiffy Dapper's daytime alter ego. At night, however, the engraved doors of the coffeehouse become a time-travelling portal into a dimly-lit speakeasy from the 1920s with a backdrop of jazz tunes — and none of the pretentiousness. The winning combination of the bar's distinctive character, devil-may-care attitude and skilled bartenders creates a relaxed and welcoming atmosphere that is perfect for any night of the week. They also happen to have an extensive selection of gin and tonic: their "Sheik on the Level", made with gin, Turkish black tea, lemon juice and fresh-pounded cardamon, is a must-try.
Spiffy Dapper, 73A Amoy St, Singapore 069892.
B28
B28 dwells in the basement level of The Club, where it stores its highly prized collection of over 200 unique Scottish single malts. It goes without saying that the bar is already a cherished haunt of many a whiskey aficionado. Its weekly live jazz performances by notable acts of both the local and international variety have also drawn eager music enthusiasts. Neither group would argue that a night at B28 is one well-spent. After all, it's a classy affair: excellent drinks, sultry tunes, and lavish furnishings amidst a dark, intimate atmosphere. Spellbinding indeed.
B28, 28 Ann Siang Road, Singapore 069708, +65 6808 2180.
---