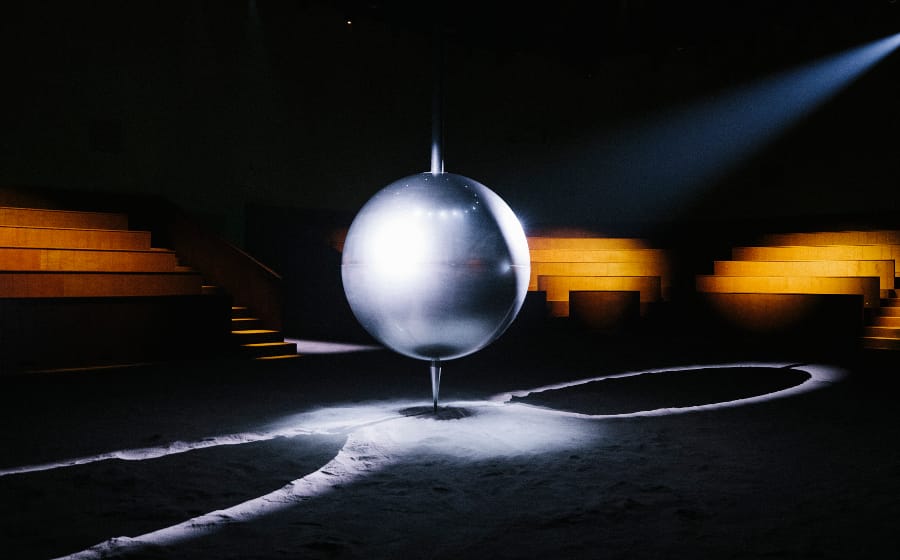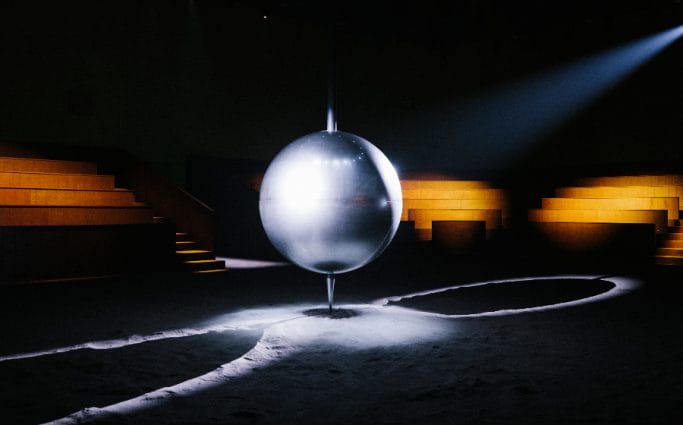 The innocent childlike scribble, "You are invited to my fifth birthday rave, Ale" on the French vintage postcard- style invitation serves to refresh the memory of every guest that this year was Alessandro Michele's fifth anniversary as the creative director of the Italian house, while ever so discreetly announcing that the Gucci Fall Winter 2020 collection was going to be a celebration to remember.

With celebrity guests such as Anderson Paak, Tyler the Creator, Kelvin Harrison Jr., Jared Leto, Mark Ronson, Phoebe Collings- James, South Korean singer Kai and Japanese rock star Miyavi filling up the front row, a giant Foucault pendulum (a 1851 invention devised to demonstrate the Earth's roation) swung back and forth at the centre of the show space at the Palazzo Delle Scintille.
At the same time, the pendulum also marked a distinct line in the sand beneath it. Once the models hit the runway, the pendulum seemingly started moving in random angles, depicting French physicist Léon Foucault's outline of a non-linear time — much like Michele's perception of fashion.
—

Instead of being nostalgic, the Gucci Fall Winter 2020 Collection wanted the audience to reminisce on an interesting period of time in their lives and to reflect on the established norms of masculinity through a collection inspired by Alessandro Michele's own childhood — a period perceived to bear no constraint on the notion of dressing up.
"Childhood is a freeing time, there are fewer labels [and] you can be yourself. When you grow up, you are told 'you can't do that [because] you're a boy and you're going to primary school'," he was once quoted saying.
What Michele does is not a stark contrast from what his past collections have been reverberating thoughout his tenure of five years.
Since his debut show, he has been tabling the cloud of connotations surrounding the preconceived notions of inclusiveness.
The first collection was soft yet powerful with a gender-fluid message and the conversation continues in the Gucci Fall Winter 2020 collection through pieces from one's pre-adolescence.
—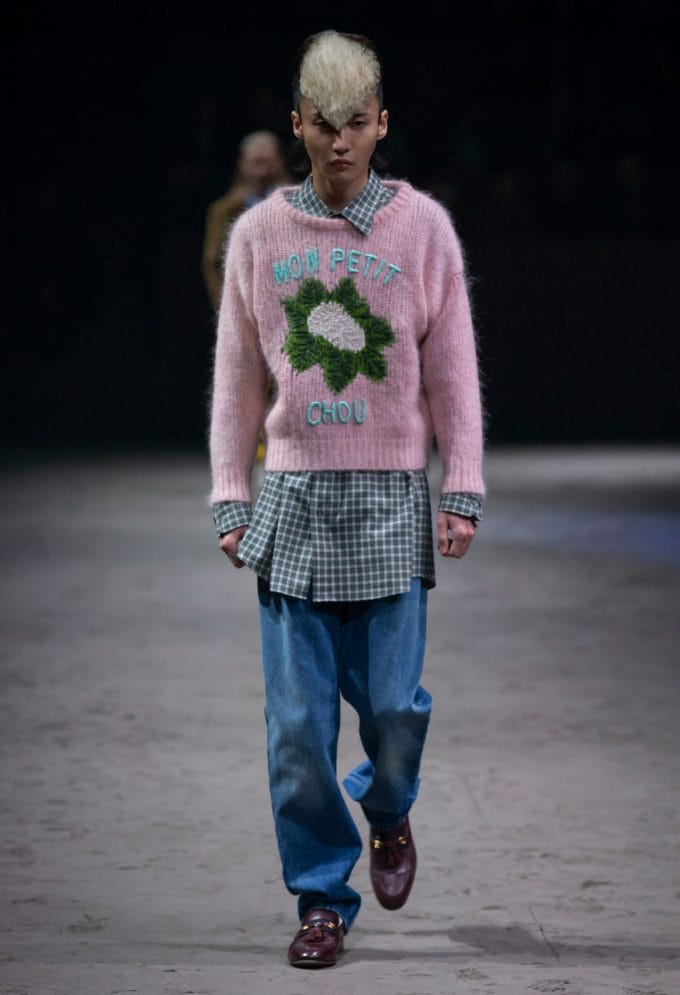 "In a patriarchal society, the masculine gender identity is often moulded by violently toxic stereotypes. A dominant, winning, oppressive masculinity model is imposed on babies at birth. Attitudes, languages and actions end up progressively conforming to a macho virility ideal that removes vulnerability and dependence.

Any possible reference to femininity is aggressively banned as it is considered a threat against the complete affirmation of a masculine prototype that allows no divergencies," stated the Gucci Fall Winter 2020 collection show notes.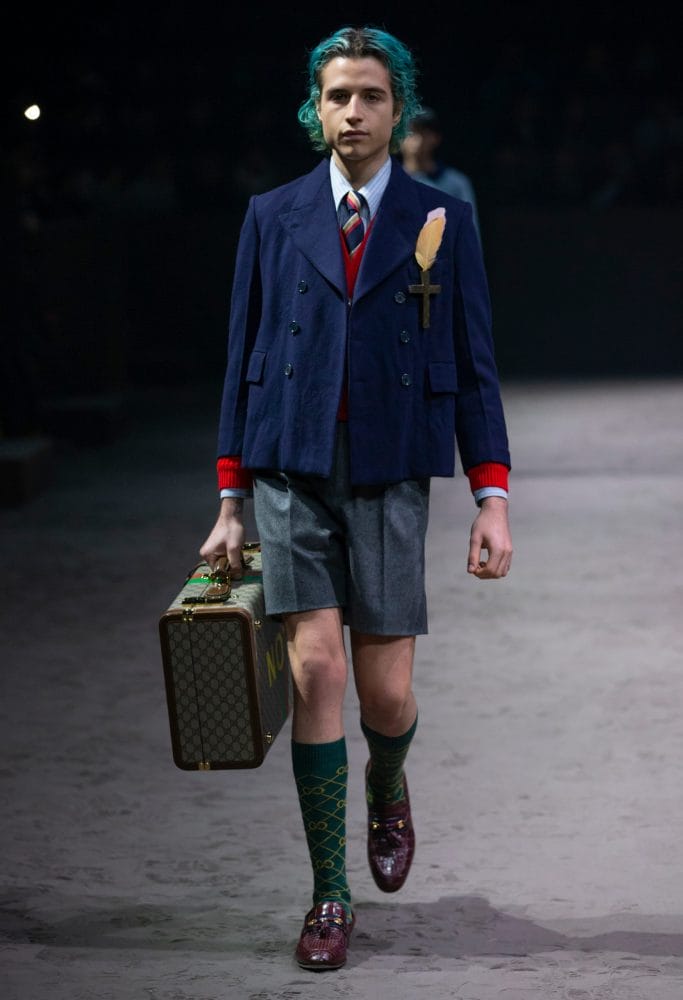 "There is nothing natural in this drift. The model is socially and culturally built to reject anything that doesn't comply with it. And this has very serious implications like toxic masculinity which in fact, nourishes abuse, violence and sexism. And not only that, it also condemns men themselves to conform to an imposed phallocratic virility in order to be socially accepted. In other words, toxic masculinity produces oppressors and victims at the same time."
The Gucci Fall Winter 2020 collection collection included a prim powder blue suit with knickerbockers (a form of men's or boys' baggy-kneed pants particularly popular in the early 20th-century United States), black leather school shoes, square-shaped metal bags and GG-patterned knee-high socks, as well as a baby blue gingham coat, a knitted sweater with the mantra "mon petit chou" and a couple of low-slung jeans.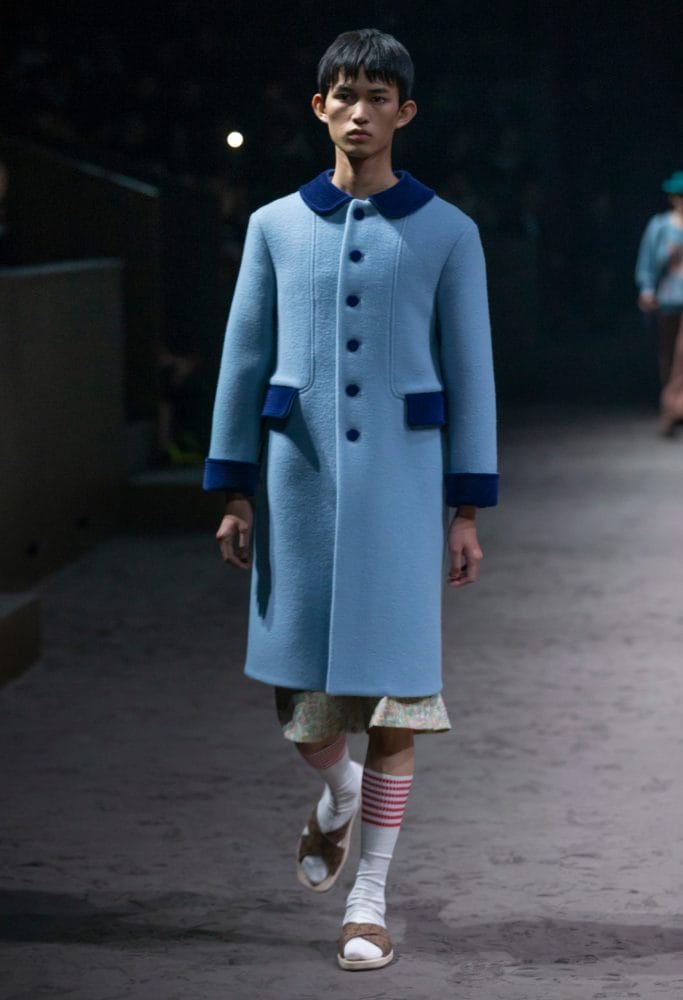 There were also oversized knits, a striking-looking leopard-print coat, metallic flares and grungy 1990s denim as well as a couple pair of jeans appearing soiled by the unmistakable green bruising of grass stains — a perennial laundry-day challenge for parents of boys — and not forgetting a few shrunken sweater vests.
The showstopper was a blue velvet blazer, especially so when it was finished off with a single, rebellious earring.
—
Other highlights of the Gucci Fall Winter 2020 collection comprised bags with the word "fake" on one side and "not" on the other, and T-shirts with the nouns "impotent/ impatient" and "thank/think".
The tidy silhouette of the Ultrapace R sneaker is updated with a performance-inspired look, featuring a more technological composition — a design expected to make its mark on mainstream sneakers like with the Rhyton. Accessories included bolero hats, animal pins and diamond chandelier necklaces.
—
For the Gucci Fall Winter 2020 collection, it was not just Michele's intention to coerce his audience into revising and reconsidering their old, learned conception of masculinity. Instead, he offered alternative interpretations about being a man in a world that is diverse and brimming with different elements.
No matter how open-minded and socially conscious we may think we are, it is our responsibilities to prevent stereotypes and prejudice from influencing our discernment process. "It's not about suggesting a new normative model but rather to release who was constrained by breaking a symbolic order, which is nowadays useless.
By turning back time and learning to unlearn, Michele have successfully communicated his message through an array of gender-refuting garments by swinging the pendulum back to our childhoods.
This story about the Gucci Fall Winter 2020 collection first appeared in the September 2020 issue of Men's Folio. 
---