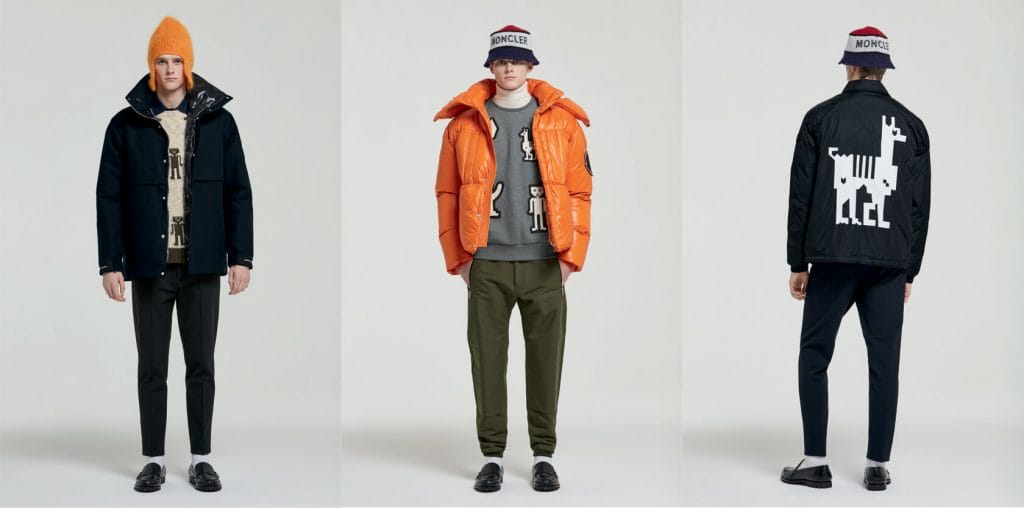 If there's one thing you can expect from Moncler, it's the unexpected. Whether it be haphazardly piecing weathered denim fragments together with puffer jackets or having an artist paint himself from head to toe to camouflage with detailed backdrops, the French-Italian fashion label never fails to try something new.
For Fall/Winter 2017, Moncler continues to surprise as it ventures into previously uncharted territory: the Preppy look. "The Symbol Man" collection takes cues from the American Ivy League campuses of the 1950s and '60s, where affluent college students roamed around in argyle sweaters and quilted jackets.
The result is an array of markedly fluid outerwear, from jackets to jerkins, made with heavy midnight-blue wool. Nylon laqué quilted jackets — Moncler's signature piece — are reimagined into various forms. On one end are slightly elongated sleeveless jackets; on the other, the jackets are more volumetric and rounded, which is emphasized by large applied pockets and particularly wide shawl collars.
The jerkins come in staple Fall colours such as light grey and military green, but this is Moncler, so of course the palette includes a touch of bright orange. The sweaters, however, express the label's offbeat personality through graphics — a key element of any Moncler collection.
Referencing the worldwide hippy culture of the early 1970s, turtlenecks and round necks are woven with stylized ethnic patterns borrowed from traditional folklore of Andean and Peruvian origins. Overlapping rows of patterns that resemble the classic French flag also hint at the brand's heritage.
If you only walk away with one item from the collection, let it be the undergrowth-green sport jacket with triangular basque. Featuring a distinctive, pronounced flaring that allows a peek at its contrasting technical lining, the jacket is a cool addition to any outfit.
---