Nostalgic influences have been reworked to fit into today's style paradigm, advancing a renewed perspective on menswear accessories. 
Valentino Sweatshirt, sweatpants; Prada Waistbag; Givenchy Waistbag; Gucci Waistbag
Strap In
Bumbags and fanny packs have been readily associated with grime and unsophistication. An unsought accessory that was often seen amongst fashion dumpster divers in the 90s. However, thanks to the unending influence of streetwear, these belt bags have been popularised and reclaimed as one of fashion's most covetable accessory. Often seen on rappers such as Skepta and A$AP Rocky, prominent Hip-hop and Grime artistes photographed in the cross-body bag have attributed to the rise of the trend. Also who can forget Louis Vuitton's highly raved Fall/Winter'17 collaboration with Supreme which saw the bumbags instantly wiped out by "fans". Along with the shift to gorpcore, it is no wonder the evolution of utilitarian bum bags have come full-circle, now designed to channel both functionality and luxury (see Prada, Givenchy and Gucci).
Dior Homme Jacket, shirt, pants, sneakers, pouch, skateboards; Gucci Bag; Loewe Bag; Burberry Bag; Balenciaga from Dover Street Market Singapore Bag
Totes Amazing
Everyone's go-to accessory — the tote bag— remains Spring/Summer'18 trending silhouette. Known for its practicality, the commodious carry-all has proved its worth as an all-season investment. Luxury fashion houses such as Gucci, Loewe and Burberry have tapped into this opportunity to rework the banal archetype into atypical structural styles and sizes, adorned with emblematic graphic elements.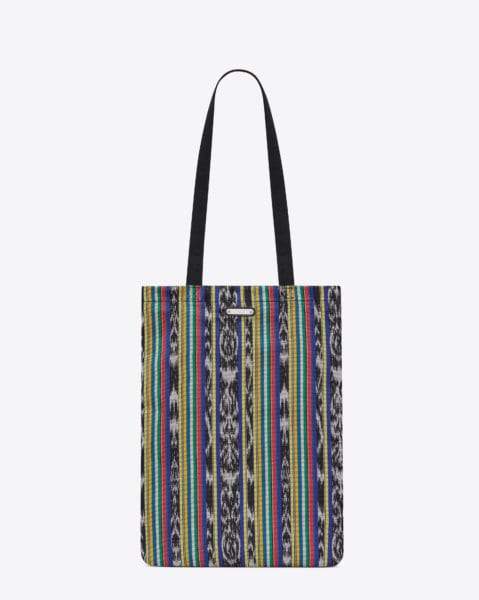 Dior Homme Sweater; Junya Watanabe MAN X The North Face from Club 21 Mens Jeans; Z Zegna Beanie; Burberry Scarf; Prada Socks, sneakers
Sneaker Nark
There is a beguiling factor surrounding "Dad" trends in menswear, it seems consumers attracted to Balenciaga's Triple S and Dior Homme's sneakers indulge in irony when it comes to high-fashion streetwear. They delight in big, bulky and elaborate styles reminiscent of the 90s while ensuring it is still highly functional. Miuccia Prada presented us with a two-toned futuristic-technical trainers teamed with velcro straps and high socks, a nostalgic addition that takes us back to classic primary school shoes.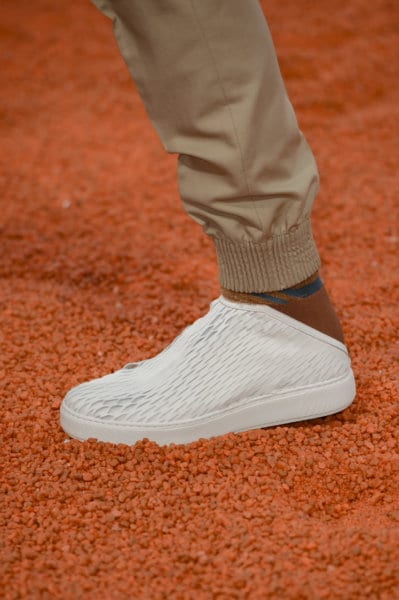 Kenzo Jacket, tank, pants; Gucci Socks, slides; Yohji Yamamoto from Club21 Mens Hat
Easy Access
Slides are no longer reserved for pool side hangs or impromptu trips to the grocers. These casual footwear styles have permeated to the luxury sector and evolved into men's sartorial slippers: Gucci took cues from its iconic Horsebit loafer and reinvented it to a leather soled sandal. First popularised by South Londoners but previously frowned upon as fashion faux pas, calf-length socks paired with slides are now de rigueur, glorifying the "tourist" and "roadman' aesthetic. Especially relevant to a climate of an all-year summer, a luxurious alternative to the classic Adidas Adilette comes in leather like the ones Fendi and Dolce & Gabbana offer.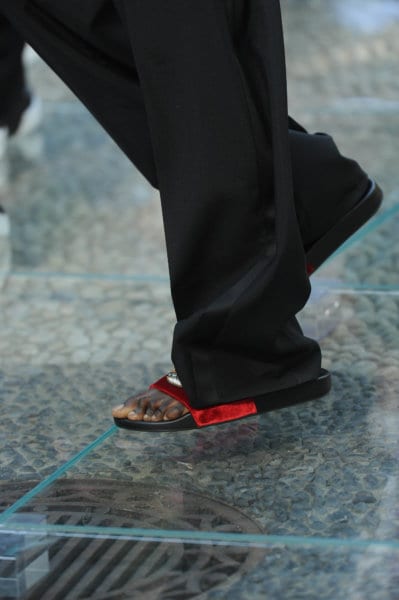 Calvin Klein 205W39NYC Jacket, turtleneck; Gucci Wolf head ring, bull head ring, rabbit head ring; Saint Laurent Bracelets
Stacked Deck
Throughout history, legendary punks and rockstars notorious for their rebellious and creative outlooks, were uninhabited with the expression of their individuality  through the clothes and jewellery they wore. Safety pins, metal chains and unorthodox charms were reworked to blend into their distinct styles, which inspired the cult trends, as seen with the popularity of Chrome Hearts, that remain relevant today.
Unlike women who use jewellery to complete an ensemble, men tend to stick to classic styles, such as the signet rings and watches, and wear with all their outfits. For Spring/Summer'18, men need to learn to ditch their fine jewellery for piled-on statement-making pendants and rings, and to experiment with timeless and whimsical styles of rockstars past. Alessandro Michele dreamed up costume-like rings and necklace pendants featuring wolf, bull and rabbit heads for Gucci's runway show, while Givenchy charmed us with rock 'n' roll layered chains for the ultimate badass sartorial attitude.
Photography Timothy Suen
Styling Belda Chung
Styling Assistant Raymond Yong
Grooming Priscelia Wong using Motives Cosmetics and Osis
Model Moritz H | Mannequin
---
Luxify listings
Powered by