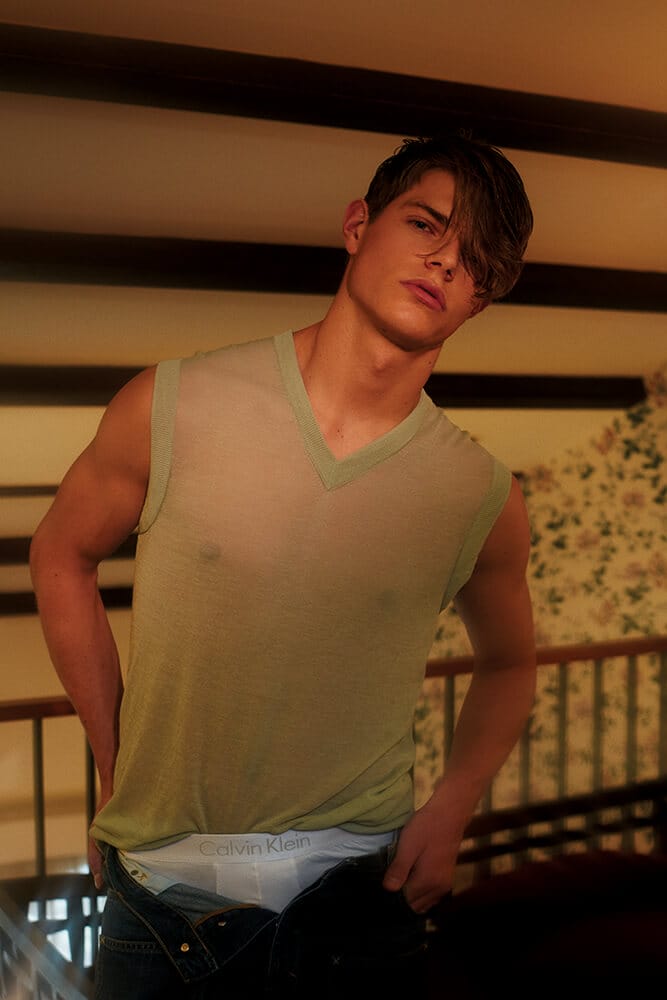 Whenever fashion introduces a healthy dose of flamboyance to the austerity of proper menswear, the inevitable question is raised: Is it "too gay"?
Judging from the Spring/Summer'18 collections, the outlook for menswear is literally looking brighter: exuberant Hawaiian shirts, tonal dressing in primary colours, glorious embellishments and lustrous fabrications. But throw a splash of pink, mid-thigh baring short shorts and like two skirts into the mix — coupled with menswear's recent embracing of effeminacy — and suddenly everybody's clutching onto their precious manhoods and denouncing the whole season as "Gaaaaay!" Sigh. And we thought the archaic ideas of masculinity had unravelled in the new millennium.
It gets worse when fashion's own conflate clothing with sexuality. During a 2015 interview with The Sunday Times, octogenarian designer Giorgio Armani notoriously commented that men shouldn't "dress homosexual", in what can only be fit of senility. Wtf is "homosexual dressing" exactly? Stereotypically, it points to flamboyance and camp excess, but the fact that transgressing the arbitrary visual codes of "manly dressing" makes one less of is simply the same imbecilic fallacy as saying any man exhibiting feminine qualities must be gay.
Clothes are clothes; a man can wear whatever he wants, even if it is something from a woman. Florid tropical shirts are "in the closet"? Tell that to vacation dads and overbearing "fun" guys. On the SS'18 runways, Thom Browne slashed jackets into capes and elongated shirts into fitted dresses, but it's not so much drag as an intelligent proposition of what menswear could conceivably be, while Rei Kawakubo delivered her signature one-liner about summer boys dressed in glitter shorts and sparkling jackets: "It's what's inside that counts!" The discourse on menswear has expanded, and even if it veers towards the fairer end of the homme-femme dichotomy, so what? Alessandro Michele made androgyny the talking point again, and Gucci is enjoying a renaissance like never before. The pussy-bow blouse finds new meaning on men.
Perhaps it's because the homoerotic undertones of fashion are becoming more apparent in recent times as the "gaze" shifted towards the male as a subject of objectification; everywhere you look, it's pecs up and abs out. Fashion, as Vivienne Westwood once said, is all about eventually being naked, and that's pretty difficult for men to think about when looking at other men. But sex sells; Beckham and Bieber's bulges move underwear because men desire the same package (no homo). And if a guy is comfortable enough to show leg in nut-hugging short shorts, what is the big deal? What exactly are you looking at, bro, that is making you blush? That goes the same for all the sheer, mesh and strategic cuts that flaunt the male form on the runway.
Speaking of runways, designers are under constant pressure to show new ideas and perspectives in their collections; no one can get away with presenting plainclothes unless they have the cult currency of Vetements. The playful subversion of menswear continues to be a mainstay in fashion simply because it effectively combats the banality of the subject matter, and for those who feel that fashion needs to butch up, there are already plenty of trends that appeal to the typical man's man — things like refreshed corporate dress, retro sportswear and adventure-based "gorpcore". It is also common for designers to use their collections as a space to express their own queer interests. Dean and Dan Caten sold Hawaiian shirts by dressing them on boys from a leather bar, while Sébastien Meunier (of Ann Demeulemeester) paid homage to Robert Mapplethorpe with silken dressing gowns the famed photographer literally wore. But references do not make clothing "gay" by association.
Fact of the matter is, fashion is not and never will be a heteronormative discussion. The reciprocal relationship between fashion and gay culture means that there will always be a part of menswear that will be here and queer, so get used to it. And while there is a difference between high fashion and the clothes worn by average Joes, the fact that men are starting to dress out of their comfort zones is really something to be celebrated.
---