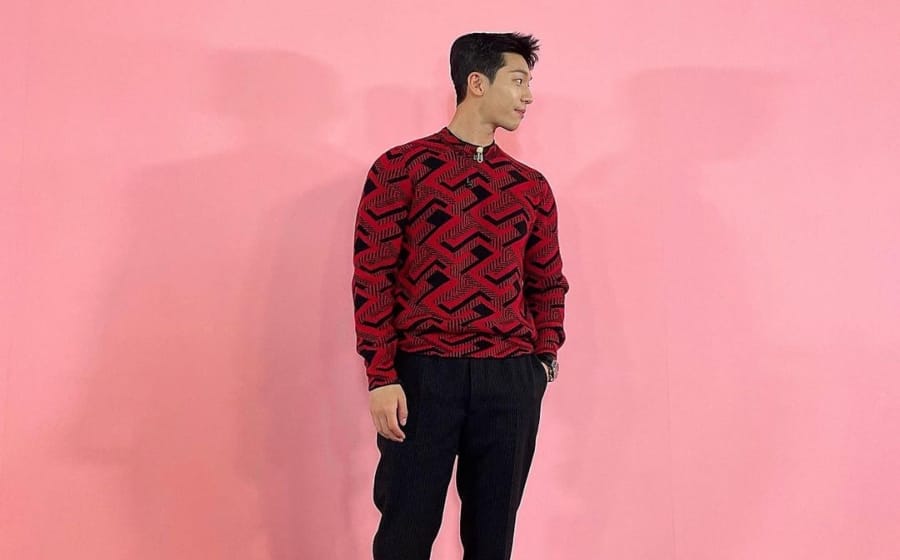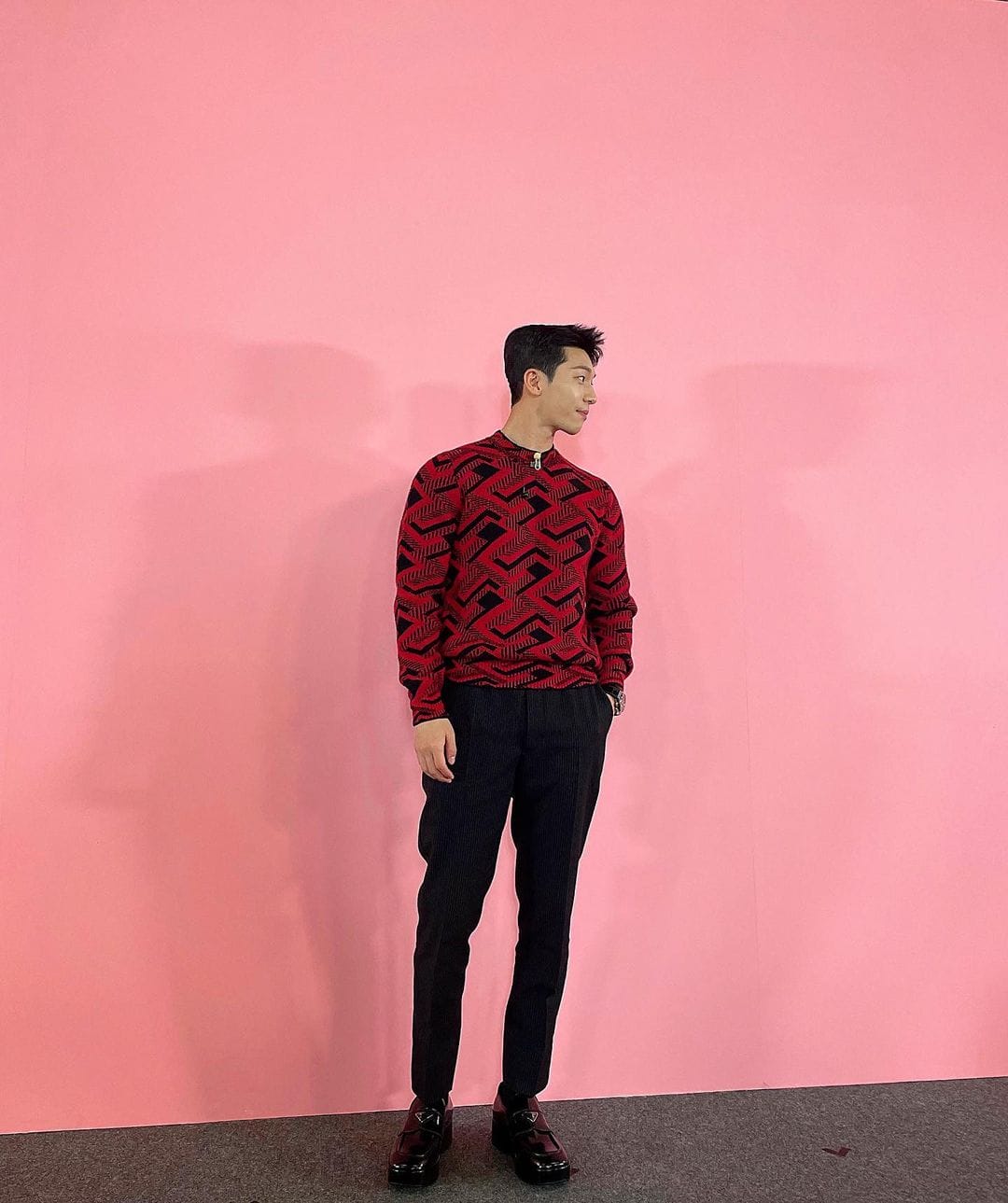 Wi Ha Jun — aka, the hot cop in Squid Game according to the Twitter folks — dons on a Prada graphic sweater.

When Miuccia Prada produces a print, it's often a sign of the times. Or more specifically, it telegraphs the exact mood she is in. The "ugly-chic" geometric prints of Spring Summer 1996 was perhaps, a response to the cold minimalism or hardcore-sex of the era. The Spring Summer 2011 minimalist-baroque banana print? A nod to the rising culture of streetstyle: pop one on and you'll get papped. Christophe Chemin's "An Impossible Love" from Fall Winter 2016? We're not entirely sure but then again, who doesn't love the fulfilling act of swapping tongues.
For Fall Winter 2021, the print-du-jour is simply called a "geometric jacquard motif with a sixties mood" as demonstrated by Wi Ha Jun above. What does it telegraph however considering that the collection was done by two maestros of fashion — Raf Simons and Miuccia Prada herself?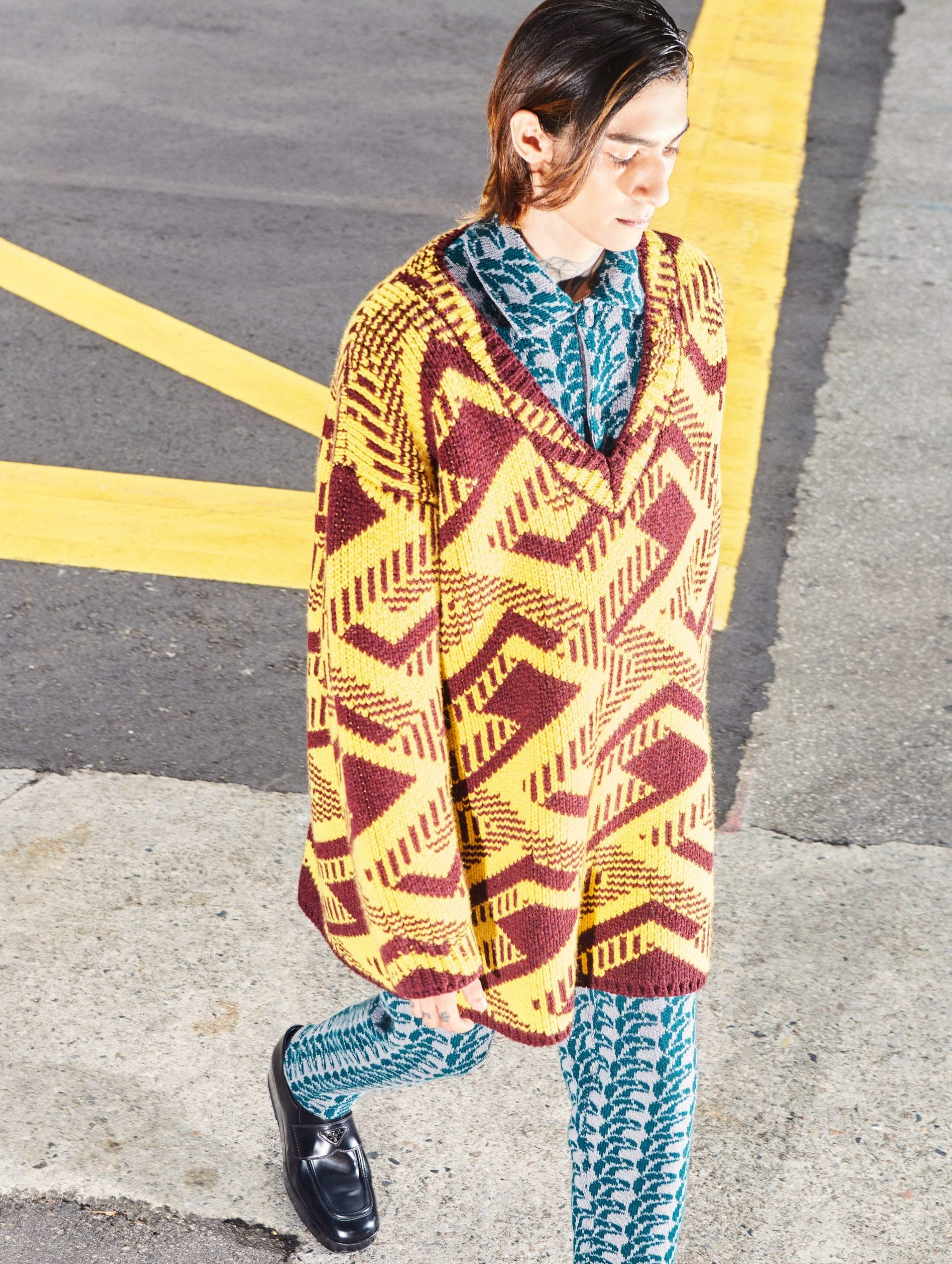 Another example of the Prada Fall Winter 2021 retro-graphic come to life: model Gilbert Diamond White takes it from a sleeper hit to the streets of Singapore in our September 2021 issue. 
View this post on Instagram

Perhaps, it could be said that the print is a reference to a point in Miuccia Prada's life where she felt like she came into herself, the era where she marched for women's rights in Italy. It could even be said that the orderliness of the print is a reference to how Prada creates herself. Its hardness of lines and consistent shapes a reference to the purity and orderliness that has been a consistent Prada aesthetic through the years.
Or if one just wants to think simply about it, a possible Prada print that has no intellectual basis around it. Simply put, something fun to wear next season.
Once you're done with this story about Wi Ha Jun and his graphic Prada sweater, click here to catch up with our October 2021 issue. 
---