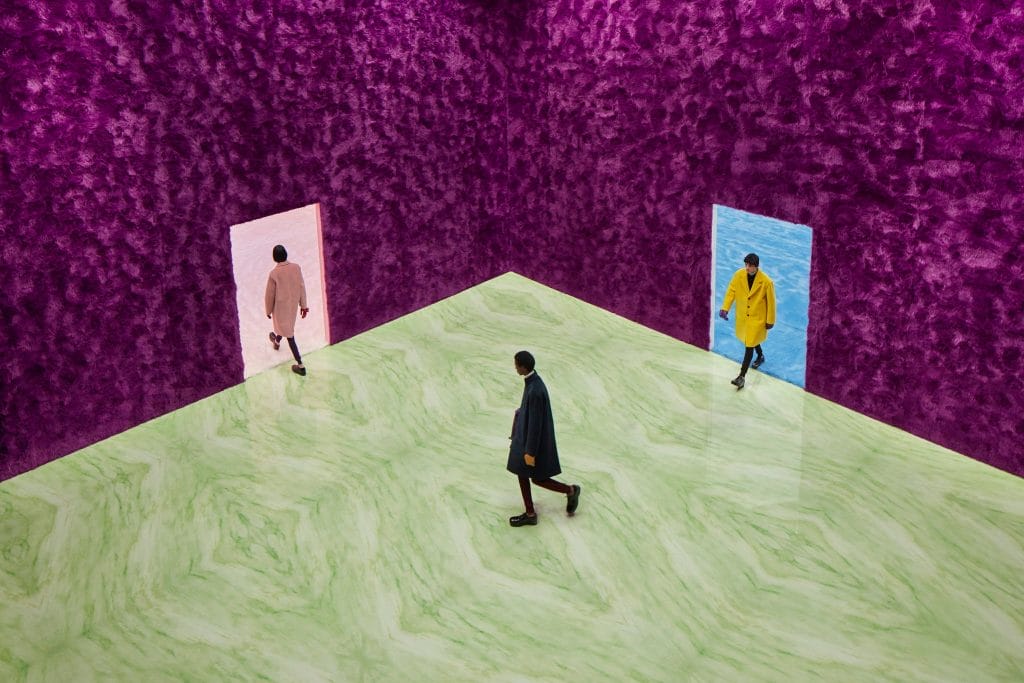 Culture and history has always inspired plenty of great fashion shows, but lately there has been something else taking shape within the fashion universe.
—
While the function of a show is focused mainly on creating an atmosphere that transports you to a world that informs the clothes, there have only been a few times where houses have successfully achieved this. The formula for each show has always been the same — present 60 to 100 looks in a runway with music so loud as if to drown out the real world.
By all means, you're looking at clothes set within an empty hall, how much more interesting can that get? To some, it might appear repetitive — and it is — but often one will discover a show that just works perfectly, without question or reasoning. It's the tale of these worlds the designers are trying to emulate that just makes some of the best menswear fashion shows wonderful to watch.
—

The rhythm to achieve this success derives from the storytelling of each show, where a simple examination would be that a good show is one that works just as well as a good film. The clothes become the characters, the music informs the build of emotions, the colours draw you in to specific feelings, and the set becomes script. The bar has been set high, and brands have invested a tremendous amount of time (and money) to create a show that will not only draw in fashion audiences, but those interested in art, culture and design.
A recent example would be the Prada Spring Summer 2021 womenswear show, where models in a yellow-soaked room walked between cameras voyeuristically looking at them. What made it work was the simple glances each model took to the cameras, with their names screened behind them. The result is a subtle nod to the technical fantasy of our digital age that is neither grotesque nor boring.
—
Sure, directors with the tenacity to draw in specific emotions and transpose the appetite of their audience often find themselves creating shows that were more memorable than ones who preferred to play safe. Most importantly, a great show is one that matures into a timeless piece of art. By considering its timelessness, its coherence to the fashion, its impact thus far, here are five of the best menswear fashion shows of the last decade.

—
Balenciaga Fall Winter 2017 

Demna Gavasalia's debut menswear show for Balenciaga in 2017 was met with much enthusiasm, after mixed-reactions for his debut womenswear collection just months earlier. This marked the first time a menswear collection was ever produced for the brand — a label that was previously focused on exclusivity and luxury from its couture heritage.
The key takeaway was its formality, and how the archetypes of real-life menswear dressing was slowly wrapped, distorted and critiqued. The show was complemented with a passive synthesised soundtrack and grey, diluted pleated walls — eerily resembling a recollection of American Pyscho's critique on modern masculinity and vanity. It is the first instance where both streetwear and luxury menswear met in the middle, a trend that has since improved the elasticity of what mens' fashion is capable of.
—

Maison Margiela 'Artisanal'

Before Harry Styles in a skirt became the utmost pinnacle of genderless dressing for men, John Galliano's tenure at Maison Margiela presented a collection in 2018 as what one could only describe as a "show with no rules" with gender-ambiguous models and artistic styling that transformed ordinary menswear into works of art. Couple that with a very technical and mind-bending soundtrack, and a set that sees watermelon dripping down an old cathedral.
—

Dior Men Fall Winter 2018

Kris Van Assche's final bow for his time at Dior Men was a call-back to his roots. Instead of the usual grand set-up at the Grand Palais in Paris, Van Assche opted for light sculptures and a "U" runway. Gone were the gothic scriptures. It was neither tacky nor flamboyant, with a concentration of styles that has developed into the core DNA of what Dior Men is today — wearable luxury.
—

Gucci Fall Winter 2018

It would be criminal not to include the fantastical Gucci Fall Winter 2018 presentation that blew the Internet. It was the collection that saw Alessandro Michele successfully crafting and remoulding Gucci with his intellectual designs, further pushing away the image of Tom Ford's sex appeal into a brand that is now more desirable and intelligent. Besides, the beheaded head pieces is still one of the biggest moments in fashion till this day.
—

Marni Fall Winter 2020

Call it buttertechno-heads or Berghain rave-wear, this recent Marni collection utilised a presentation format that is poetic, modern, and edgy all at the same time. With a large crowd of men dressed in rave-inspired clothes, the collection brings to life the current shifts in trends for menswear that is inspired by the next generation. The slow dancing set against ambient variations of techno is an emblem of the modern, youthful masculinity.
—

Once you're done reading this story on the five best menswear fashion shows of the last decade,  click here to catch up with our April 2021 issue. 
---