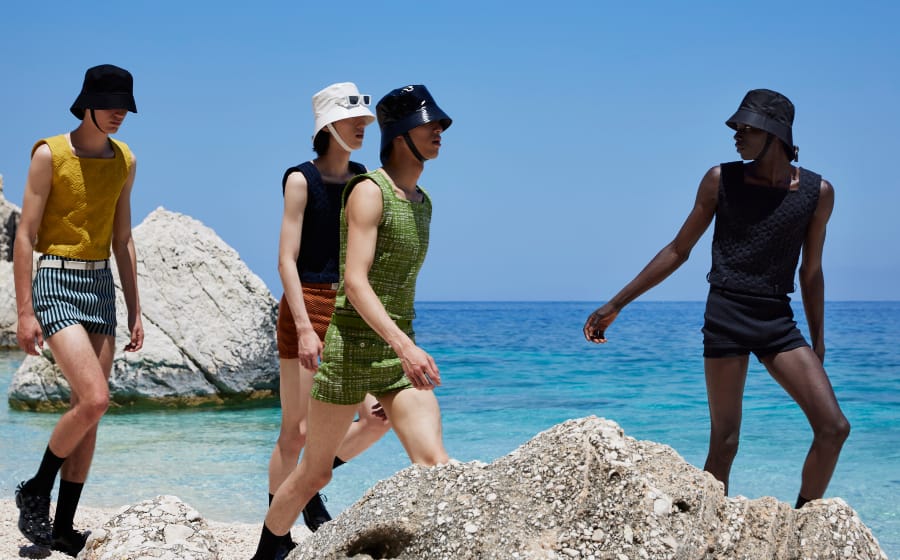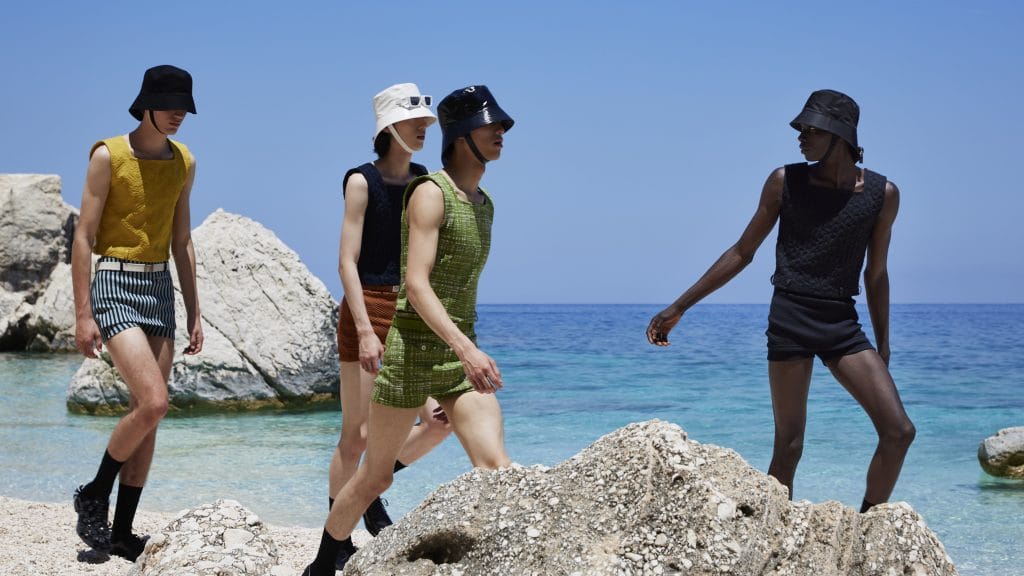 If the Prada menswear show last season was about touch and tactility then Miuccia Prada must have her mind on simple pleasures this Spring Summer 2022. And by simple, we mean primal pleasures — going to the ocean to soak up the sun, dancing to the rhythm of a beat without a care and because #trending is showing some leg. Body baring, if you will call it.
Let's not forget Miuccia's philosophy for design and specifically, her view on fashion. Fashion is made for one's life and it has to be useful. It has to make people feel better so that they can live better, pieces of clothing that helps them define their personalities.
In short (quite literally, actually), the act of wearing clothes has to be joyful.
—

However with Miuccia Prada being Miuccia Prada, this instinct for the Prada Spring Summer 2022 menswear show has become a strong showing of what makes Prada menswear itself, quite in a league of its own — Belgian shrimp fisherman bucket hats with triangular logo pockets (perhaps, a nod to Raf's heritage itself), no-brainer knits (again, a reference to Raf) and romper suits that are nod itself, to Fall Winter 2016's sailor collection.
Also, we are in the mood where we hanker for a new proposition next season, the show has skorts. Yes, skorts. Continue scrolling for our favourite looks.
—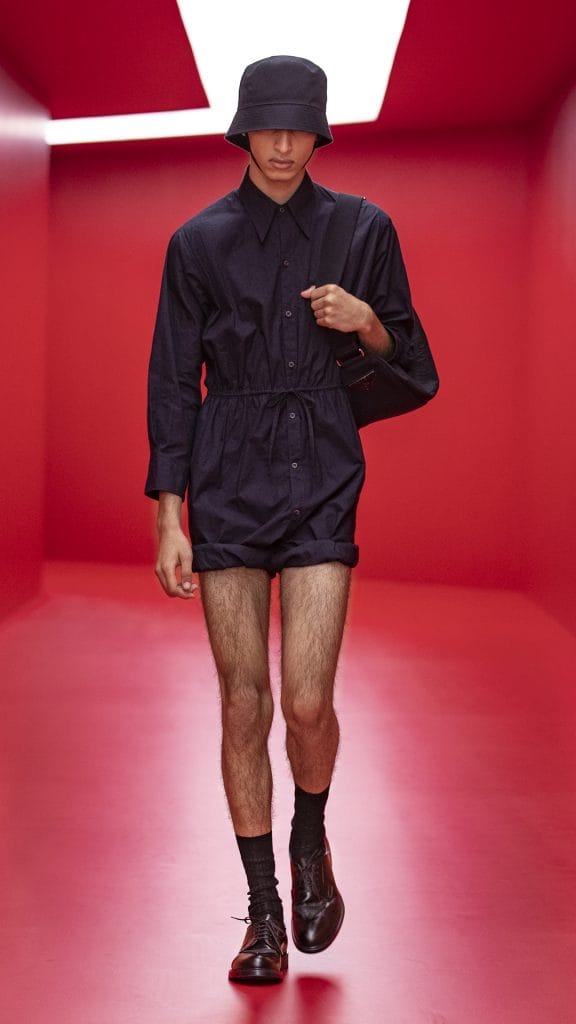 Look 1: A romper that looks as if it has been weathered by the elements, turned up ever so roughly to show some skin.
—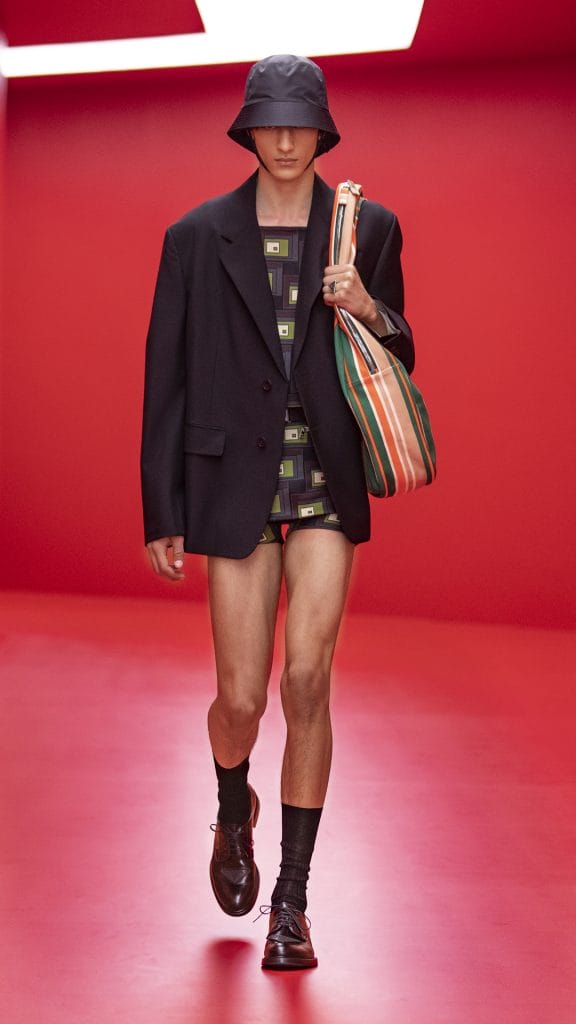 Look 4: While some industry insiders have called some of the looks in the Prada Spring Summer 2022 menswear show the "Miu Miu boy phenomenon", we are very inclined to agree.
—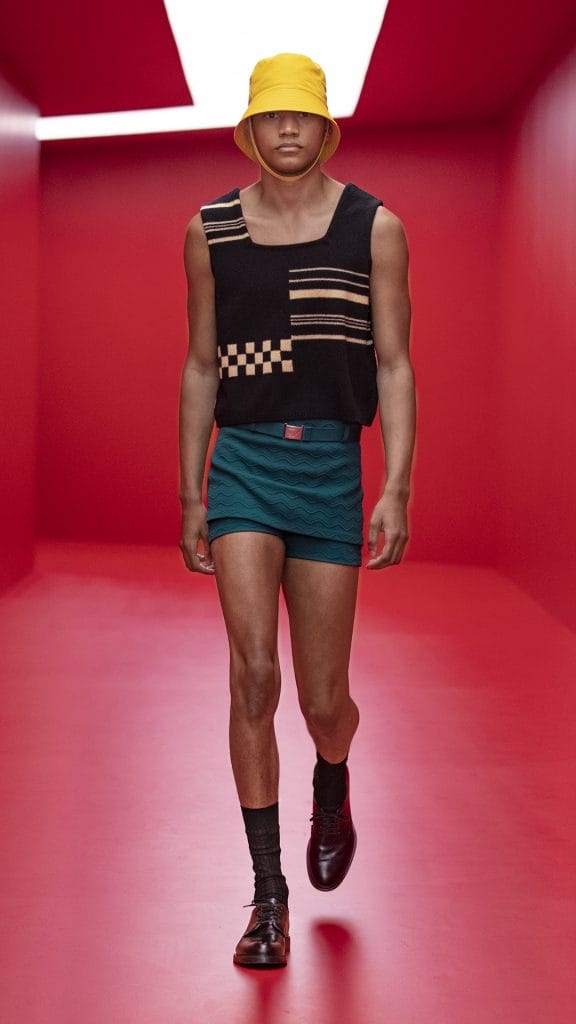 Look 22: A bucket hat that almost looks quite cerebral, a strap means one is literally ready for the fierce winds of the ocean.
—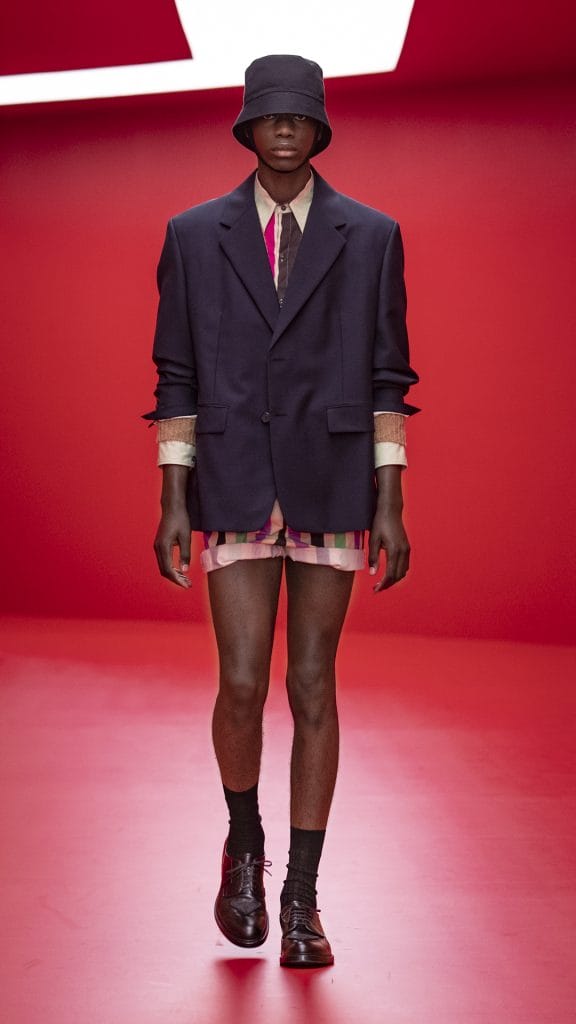 Look 17: Styling for Spring Summer 2022 the Prada way, anything looks spiffier with a pair of oxfords and black wool socks.
—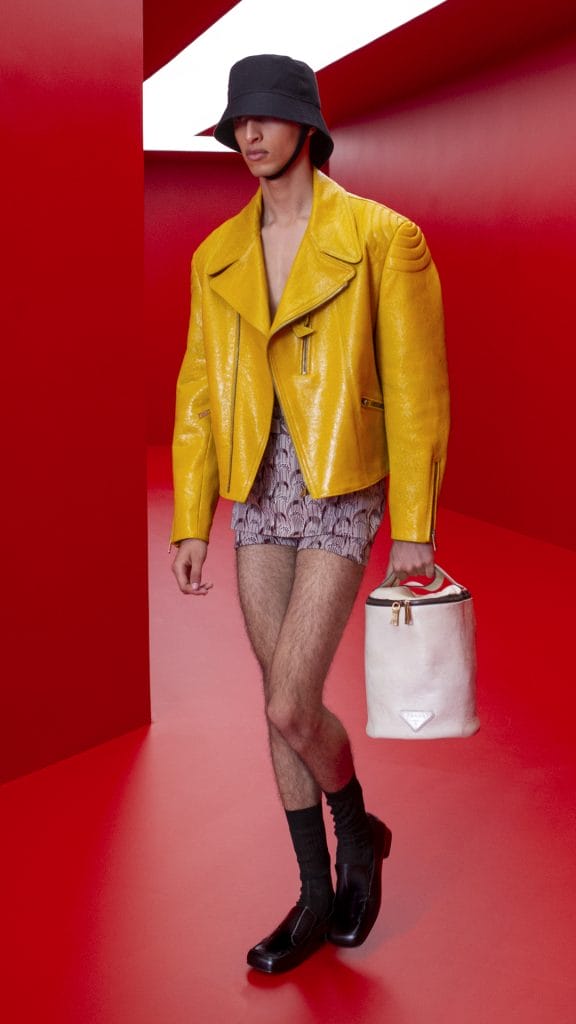 Look 22: Another key accessory of the season, a top handle bucket bag that is an elevated take on the classic fishermen accessory.
—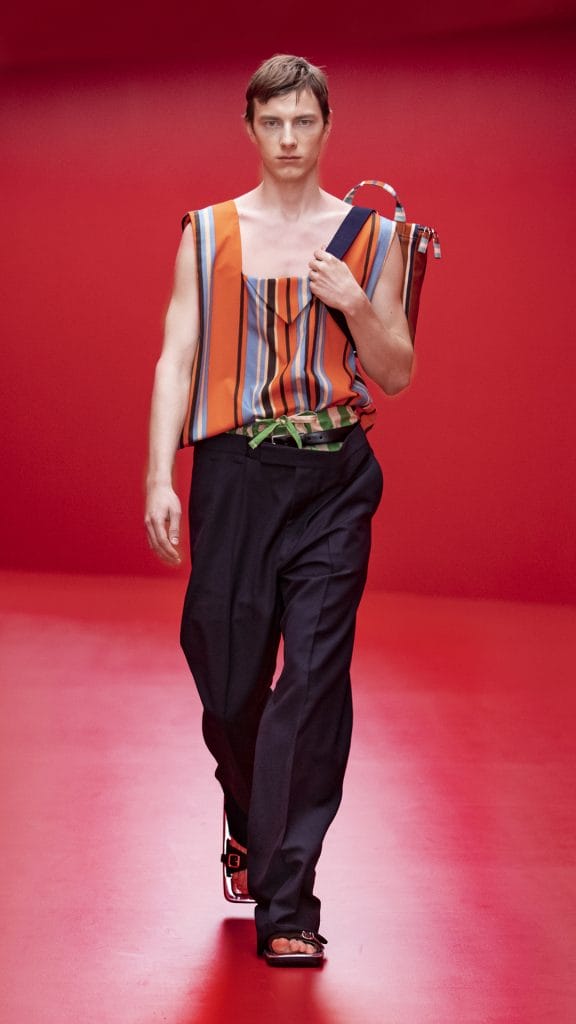 Look 26: Micro details make the Prada Spring Summer 2022 menswear show a hot take on trends. This time, it's the square low-cut neckline.
—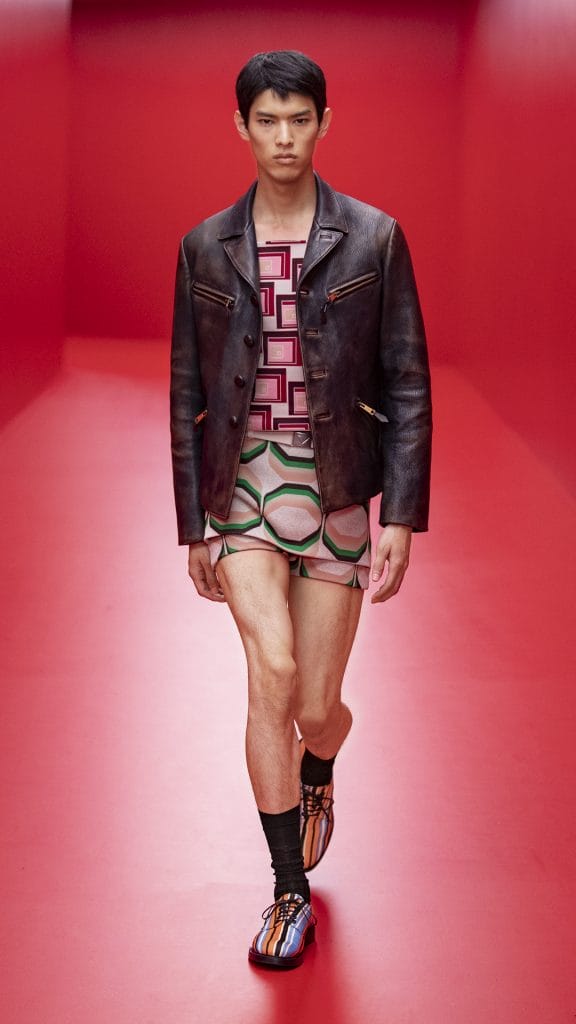 Look 28: Another "Miu Miu Boy" trope that has seen its way into the collection, a biker jacket that toughens up something soft.

—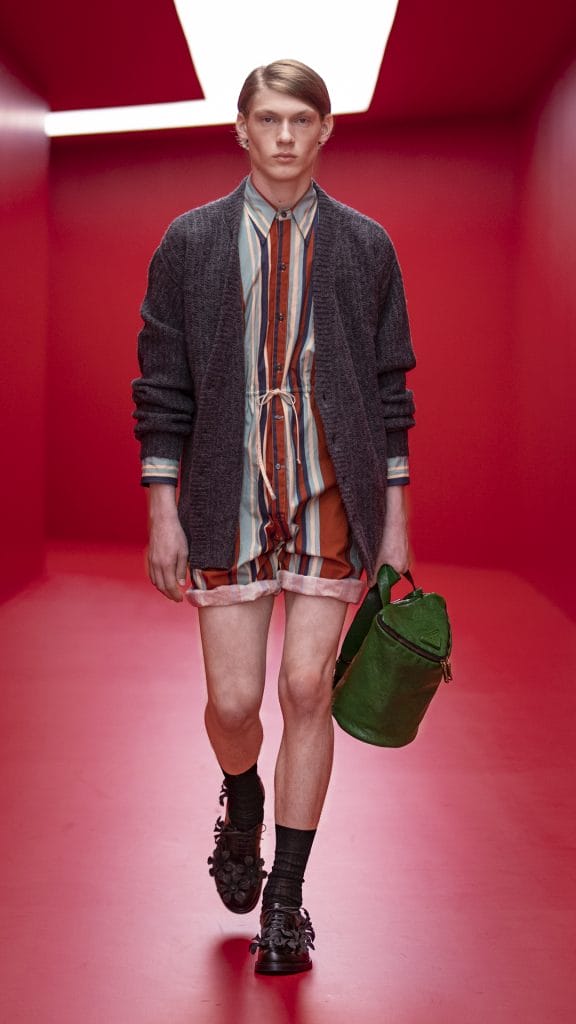 Look 31: Perhaps, it can be said that the Prada Spring Summer 2022 menswear show is a compilation of Miuccia Prada's favourite things — in this look, it's the nubby cardigan.
—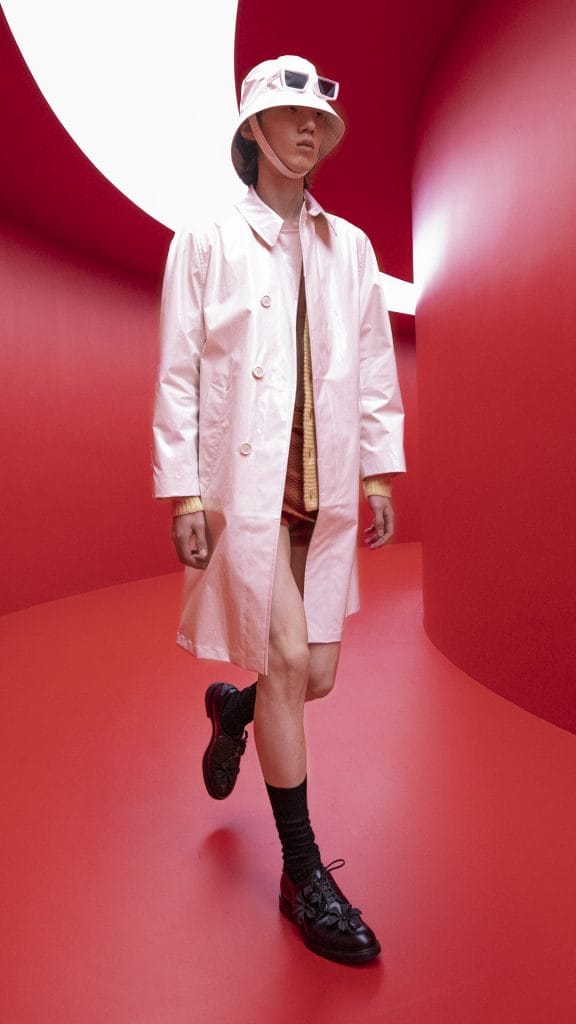 Look 33: The Linea Rossa sunglasses are back and ready to be introduced for a new generation of fashion fanatics.
—


Look 38: Utility without sacrificing form, the bucket hats from the show come with slots for one to slip his sunglasses into.
Once you're done with our review of the Prada Spring Summer 2022 Menswear, click here to catch up with our June/July 2021 issue. 
---