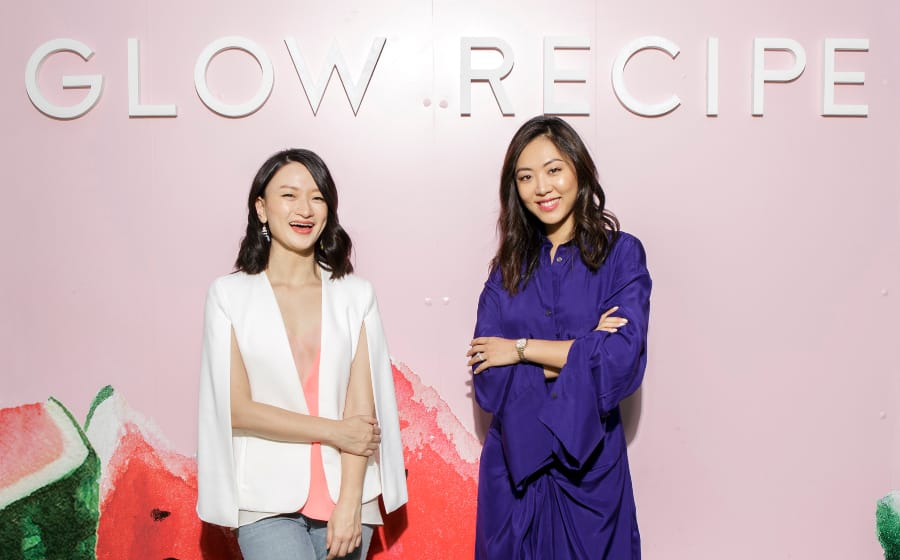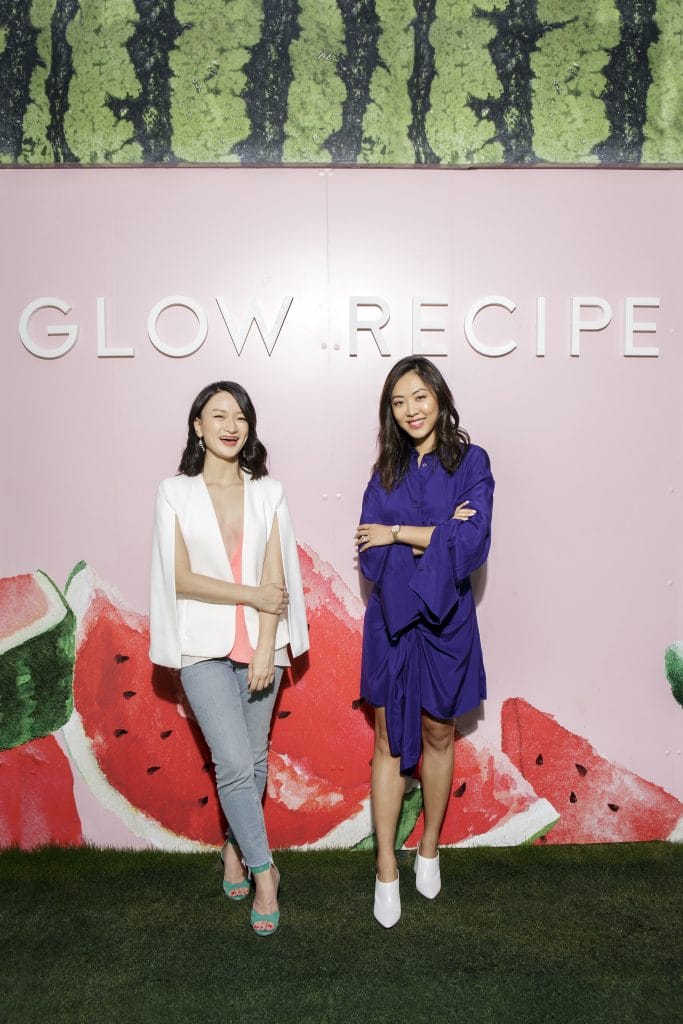 If you're an avid fan of the US reality show Shark Tank, you would already be in the know about some of the bizarre ideas that have come out of it. An "interactive squirrel-proof bird feeder" — barbaric much? A piece that attaches to your laptop and holds all your Post-It reminders? Has Miss Simonsen, the woman behind it not heard of the notes app? Or, how about a wooden alarm clock that begins cooking bacon at the time its set to go off? Ok fine, we'll think about it.
However, the proposition by Sarah Lee and Christine Chang — the co-Founders and Co-CEOs of Glow Recipe — was simple. Glow Recipe is as science driven as it is easy to use (hence, the term Skipcare). As pleasurable to slather on your face as it is results driven. And most importantly, is natural and not in an annoying GOOP-y way; instead, Glow Recipe is is a combination of strong natural ingredient stories and harsh-free formulations.
Here, the duo talk about how they got started on Glow Recipe and what makes their products just that damn good. And in case you're wondering, they didn't accept any funding. That's real boss energy.
—
About cold watermelon rinds being used to soothe heat rash is really cute but we're wondering, what else interested you about the fruit itself?
Sarah Lee: Watermelon is such a tasty, refreshing treat in general! We were inspired by our grandmothers and mothers rubbing cold watermelon rinds on our backs during hot, summer months, but saw what an amazing ingredient watermelon is for your skin. Watermelon is an antioxidant and vitamin-rich fruit that provides amazing skincare benefits.
View this post on Instagram

The vitamins A, C, and B6 in watermelon all work together to intensely hydrate, soothe inflamed skin and fight free radical damage to ward off fine lines, wrinkles, and dark spots. It has lycopene which helps protect the skin from UV and prevent signs of aging. It's especially helpful for those with combination, dull, skin types or acne-prone skin.
We had never seen this superfruit featured prominently in a beauty product before so we wanted to harness the power of this incredible, familiar superfruit in an overnight treatment.
—
Without being overly scientific about it, why did it take the Watermelon Glow Sleeping Mask 1,620 formulas to get right?
Christine Chang: All product formulations take many iterations to check all the boxes. We wanted to make sure that the Watermelon Glow Sleeping Mask would effectively and gently exfoliate and hydrate at the same time, have no residue on your pillow overnight, as well as feel and smell incredible on the skin.

At the time, there was no formula in the market that combined both these benefits in one treatment for a true post-facial result. Our chemists were telling us that it was impossible to do such a thing. We worked tirelessly directly with our labs in Korea to get to the formula we have today, while making sure it was great for all skin types.
It was a journey to get to the final Watermelon Glow Sleeping Mask, but we wouldn't change it for anything because we are so proud of where it is today.
—
What is also interesting is that the brand colour is a pastel pink but the packaging and typography looks unisex, this is actually quite a hard feat to achieve so can you take us through the design process?
Christine Chang: All of our glass packaging is inspired by the fruit or the story behind it. Our Watermelon Sleeping Mask is shaped like a melted ice cube as a homage to our grandmothers using the rinds to cool and soothe our heat rash from summers in Korea. This unique, undulating flowing shape is now the standard for our Watermelon Glow Mask, Pink Juice Moisturizer and Watermelon Toner.
View this post on Instagram

The sensoriality of the packaging alone contributes to the skintertainment™ factor to ensure a really enjoyable self-care experience across all five senses. Our Avocado Melt and Pineapple Serum packaging are inspired directly by the fruits — from the delightful indents of real avocados to the distinctive pattern of the pineapple fruit.
We don't believe in a gendered approach to skincare as we have a wide range of male customers that appreciate and enjoy our approach. Skincare is for everyone, regardless of gender, skin tone or type.
—
"Unexpected sensorial textures" are a given considering how we're always looking for the next big thing, but can you quantify this term in a Glow Recipe context?
Sarah Lee: We want skin care to be a form of skintertainment™, which is a term we actually trademarked to describe the sensorial experience. Sensoriality is a huge part of what goes into formulating the product — how the packaging feels in your hands, the smell of the product when it's opened, the transformative texture upon application, and more. Every Glow Recipe product has those elements in mind when we are formulating to make the experience as fun and "skintertaining" as possible.
Our OG Watermelon Sleeping Mask is a great example of this. The heavy glass packaging feels solid in your hand and is shaped after a melting ice cube to reiterate the cooling effect of the formula, as well as our watermelon rind inspiration. Upon opening, the refreshing watermelon scent envelops you. The texture is a water gel that really melts into skin upon application, without fear of transferring onto your pillow overnight.
—
We were honestly excited to hear about how Glow Recipe is promoting "skipcare" (cause #ain'tnobodygottime), is this something that informs the development of every product? Would the Sleeping Mask be the must-buy then?
Christine Chang: "Skipcare" is a concept we first learned through our beauty insiders in Korea and it's all about maximising hybrid products to do more for you. It's a great approach to saving time and money on your skincare. This hybrid concept of Skipcare definitely contributes to our product formulation, as all of our products have multiple usages. We've worked to dispel the myth of the 10-step skincare routine because that's not the reality of Korean people in general.
Our philosophy has always been about listening to your skin and taking it day by day. There's many external factors that contribute to your skin condition, whether it's the environment around you, your diet, your sleep schedule and more. As a brand, we believe that it's important to create a routine that works for you on a daily basis without feeling restricted to a predetermined skin type. Our products are created to have multiple uses for this reason.

The Pink Juice Moisturizer is a lightweight oil-free moisturiser that's great for combination, acne-prone skin but due to the extremely high 90% concentration of watermelon, it can be used as a serum step if your skin needs more hydration in your treatment step. The Watermelon Sleeping Mask is an overnight treatment, but can also be used as a 10-minute "flash facial" to ensure a smooth canvas before makeup application or applied on the areas of your face that require more pore-refining. Our Avocado Melt Retinol Eye Sleeping Mask is an amazing overnight eye treatment that targets fine lines and wrinkles for the under eye area, but also as a primer for a concealer-ready under eye.
All of our products have this type of multi-purpose hybrid approach and it's all about taking it day by day and finding what works best for you.
—
How did the both of you set out to expand the range to include Pineapple, Avocado and Blueberry? What's next?
Sarah Lee: When formulating new products, we focus on the skincare benefit first. We love our community for giving us honest feedback about what kinds of products they want to see from us! For our Pineapple-C Bright Serum, our customers wanted us to launch a Vitamin C treatment, so we thought about what superfruit would pair perfectly. We knew that Pineapple Juice is one of the most powerful forms of natural vitamin C so we harnessed that in the formula with a blend of Vitamin C to ensure maximum brightening effect.
View this post on Instagram

Avocado was the fruit we launched after Watermelon after hearing feedback from the community that they wanted a product that would be great for drier, more sensitive skin types. Avocado is an amazing, nourishing fruit that we use in our formulas to really address drier, dehydrated skin, while utilising an encapsulated form of retinol for gentle penetration into skin's layers over time.
This benefit-first approach keeps us really excited about innovation and new products coming down the line!
—
Lastly, just out of curiosity do you guys hire someone just to stir the vat of pulped watermelon?
Sarah Lee: Such a fun question! We loved taking our customers behind the scenes at our factory in Korea to transparently show how our beloved Watermelon Mask is made. We showed every single step that goes into the making of one Watermelon Mask and we hope that our community really enjoyed that inside look!
If you're bored, listless or just don't really want to do your work (especially after reading this story with Christine Chang and Sarah Lee of Glow Recipe), click here to catch up with our October 2020 issue!
---