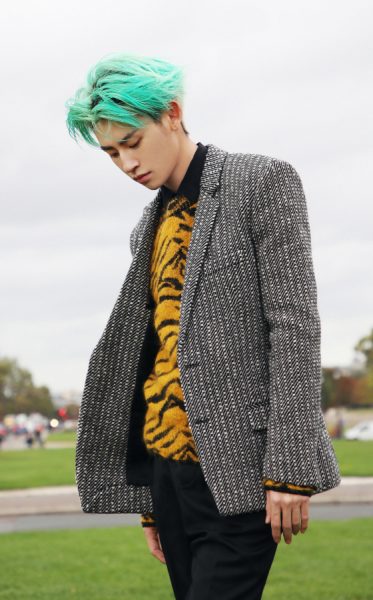 Men's Folio wants to pose this question — what were you doing when you were 20? Chances are, you might just be like us — imbibing like your liver is 18, on the bridge outside the old Zouk or playing Clash of Clans in your army bunk under the sheets.
Unfortunately, we're not all like Chinese rapper and dancer Wang Li Kai (better known by his stage name, Xiao Gui) of Nine Perfect. The 1.78 metre Fujian lad's achievements sound as sick as his single "Bingo!Ca$h" and in fact, he has actually rapped about it — he came close to winning The Rap of China (a reality show), eight million votes propelled him into a cushy seat at Kpop group Nine Percent's table, and in case you were wondering: yes, Li Kai is exactly like us.
He likes gaming, eating, sleeping and singing which makes the Men's Folio team smile because finally, we have something in common with a K-pop star besides being Asian. 
Pictured Above: A zebra jacquard sweater + a wool blazer + skinny trouser = it somehow always looks better on an Asian star than an American one. Sorry Biebs. 

—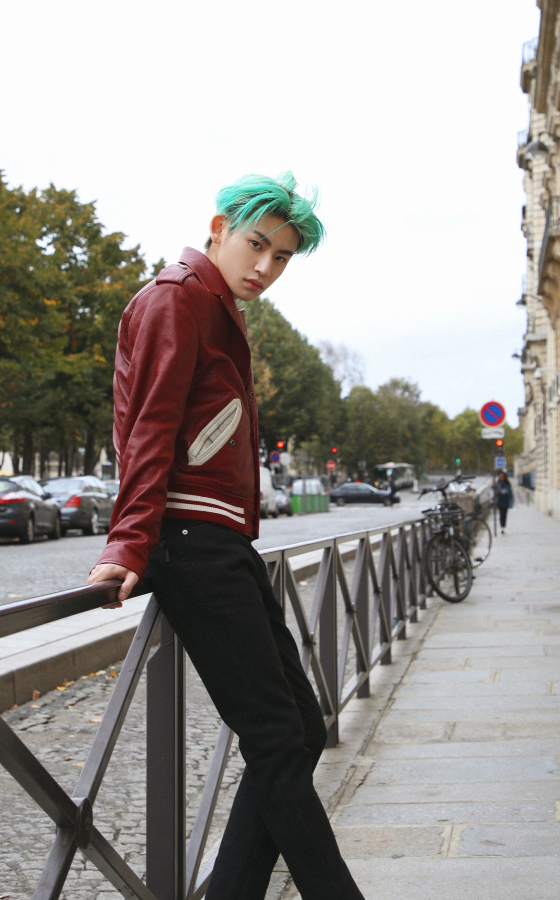 Pictured Above: Anthony Vacarello's leather bomber jackets are #HG material. This season, it comes in a handsome oxblood red.

Then again, one might be wondering, "Cool story, what is the point of this article?" Men's Folio is going to break it down for you — Korean stars always flex harder than their American or European counterparts when it comes to wearing Saint Laurent. It may be the fact that they're whipped into stylistically-better-than-thou shape or it might be because they aren't afraid to dye their hair into My Little Pony-esque colours. Take Lin Kai for example because he fulfills the tropes with his neon green hair, lanky frame and unabashed take on a bold print. Can you imagine Shia Lebouf rocking a zebra jacquard sweater? Nah. Can you picture Noah Centineoh rocking it? Yeah sure but not as hard as Lin Kai. 
One thing Men's Folio is going to put our money on though — rarely would you hear someone saying they emulate the style of an American star over a Korean one.  If one manages to find someone who says so, drop us an email. We'd like to take you out for a drink. A civilised one in a nice bar though because the Men's Folio team is approaching their 30s. Yikes.
---