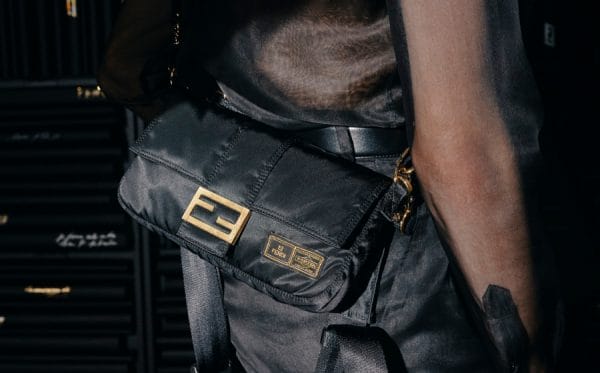 The Fendi Fall/Winter '19 collection is a celebration of dualism, where classicism meets futurism –  futuristic monograms and calligraphic memos from late designer Karl Lagerfeld were brought to life by creative director Silvia Venturini Fendi; classic silhouettes are redefined with antonyms of lustrous sheer fabrics layered with elegant wool and cotton. Most notably, the house icon, Baguette makes its debut in the men's collection as part of the Fendi and Porter-Yoshida & Co. collaboration. 
The partnership is one that defines and reflects Fendi's DNA of dualism – classic luxury working harmoniously with modern streetwear elements. Japanese luggage specialist, Porter-Yoshida & Co. brings a futuristic touch to iconic Fendi bags with its technical expertise in materials and knowledge in
urban streetwear.
—
The two bag styles in the Porter-Yoshida & Co. collaboration are the Men's Baguette sling bag and Peekaboo tote bag. The Men's Baguette stole the Men's Fall/Winter '19 show – a house icon previously only seen on the women's runway shows – with its debut. Along with the Peekaboo, two of Fendi's timeless classics are re-engineered and
designed specifically for men
in the refreshing collection.
A distinct difference between the Men's Baguette and the original is the specially reworked belt and buckle that allow it to be carried as a bumbag. The Men's Baguette
shoulder straps can also be adjusted
to have the bag sit nicely at waist level to be carried as a sling. On the other hand, the Peekaboo is designed similarly to a briefcase. The contemporary sac comes fashioned with a pair of front pockets and an inner zip pocket that stretches through the length of the bag, making it the ideal
gym-to-office-to-party bag
.
—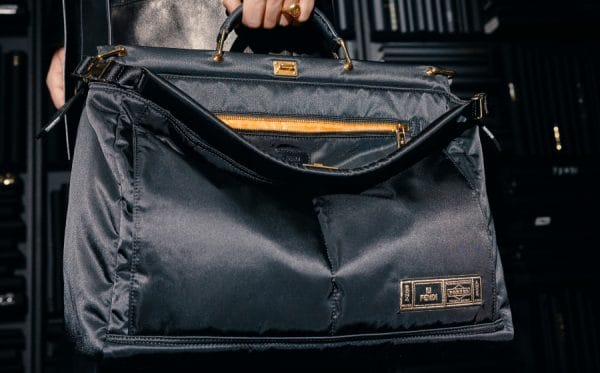 For Fall/Winter '19, the Men's Baguette and Peekaboo bags are constructed with Porter-Yoshida & Co.'s signature hardwearing nylon, while other house choice materials like the Selleria leather and fur also dress the icons in other reiterations on the runway. 
Available in various colours such as black, red, blue or grey, the bags exude luxury with the use of gold or silver hardware while incorporating technical materials. With the effortless blending of traditionally opposing traits – luxury and streetwear – the Fendi Porter-Yoshida & Co. Men's Baguettes and Peekaboos are some of the most
coveted bags this season
. 
---