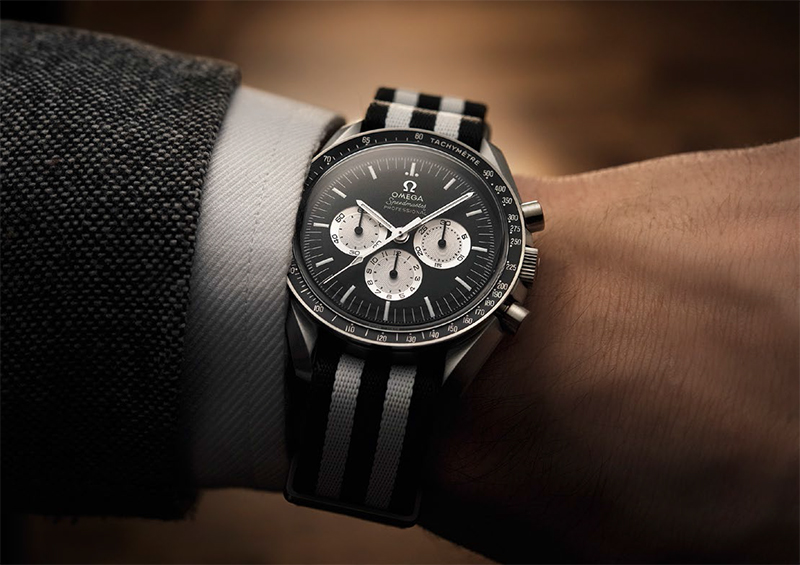 NEEDY FOR SPEEDY
On an otherwise typical Tuesday in January this year, a limited edition Speedmaster was made available exclusively on Omega's social channels, and within just over four hours, all 2,012 pieces were snapped up in a worldwide frenzy. Aptly named "Speedy Tuesday" after the initiative started by Robert-Jan Broer (founder of Fratello Watches), the watch was an unprecedented success, but more than that, it was a celebration of a phenomenon the Omega Speedmaster community has helped to grow. It's rare to see a brand embrace a hashtag from its followers so wholeheartedly, making this exercise truly "by watch fans, for watch fans".
Tell us how the Speedy Tuesday "movement" got started.
Robert-Jan Broer: I've always been captivated by the world's most beautiful and innovative timepieces, and one of my most beloved pieces is my 1967 Speedmaster Professional. One day back in 2012, a Tuesday as it happened, I casually posted a picture of the watch online with a simple "Speedy Tuesday" caption. From there, the idea began to take off. Soon after, my one post had become a weekly recurring feature that got the name "Speedy Tuesday".
Why do you think so many people have adopted the hashtag?
I think the popularity lies partly in the fact that the Speedmaster is an icon. It's the watch that was worn on the moon. And not only that, it's still a watch that people can purchase today for a reasonable price. I also believe that people started adopting #SpeedyTuesday because there's no commercial drive behind it. It doesn't require much effort to see that I — and the rest of our team — have a sincere interest and passion for the Speedmaster. But in the end, it's just a great watch. Even without the NASA story to it, it's a wonderful hand-wound chronograph with one of the most readable dials ever. Whether you have a beautiful collection of pristine vintage models or just bought one fresh from the boutique, everyone can join #SpeedyTuesday.
What's special about the Speedmaster community?
About 10 years ago, I went into a watch shop that had a display with a nice number of vintage Speedmasters. This display was located in the centre of the shop and there was actually a guy lying on the floor so he could see all the details of the watches. People go nuts over details. The store owner told me that "Speedmaster people" are a special kind of client. They're people who are all about the watches, not about the possible investment or the money involved. That summed it up quite well, even today. The Speedmaster community is all about watches, sometimes about the space programme as well, of course. But the community is super friendly and people tend to help each other out to find details, or help source specific watches or parts.
What's also important is the fact that Omega supports this community. Omega has a very active museum and archives department, which is there to document certain events, specific watches or to provide support to collectors who have questions. It's rather unique that a watch manufacturer goes as far as Omega does, but it is very much appreciated by the entire Speedmaster community.
What do you talk about most when you get together?
It's simply all about Speedmasters. We discuss details on various (vintage) Speedmaster references, talk about what our next "grail" (watch) would be, what we would love to see from Omega in the future and so on.
We also talk about the information that's out there and has been so well documented by Speedmaster enthusiasts. One of the first people to do so online was Chuck Maddox (who passed away in 2008) who deserves a special mention as he sparked my enthusiasm for the Speedmaster. His work is still out there and is still regarded as one of the best sources on the subject.
Do you think the community is growing?
Definitely. The number of #SpeedyTuesday tagged Speedmaster images is going up, as well as the demand for get-togethers. We organise them once in a while, sometimes with Omega, but I feel we could do (and join) more of them. Although it's fun to discuss and show Speedmaster watches online, nothing beats meeting people who are like-minded and talk watches. In this case, social media is interesting as it leads to meeting people and making the community a social thing.
You've even inspired the new "Speedy Tuesday" watch.
It's been fantastic to see Omega embrace the Speedy Tuesday idea and recognise its popularity amongst fans. I feel immensely proud that the  brand has created the watch and especially that it uses some of the vintage touches that we love so much. Apparently, it sold out in four hours, 15 minutes and 31 seconds.
DEEP IMPACT
Paneristi trumps other watch followings by virtue of its sheer size, enthusiasm and organisation. While they might be as critical as they're admiring, the online brotherhood has helped perpetuate the brand so much that Panerai even dedicated several special editions exclusively to them, including one (PAM532) that bears the inscription "Paneristi Forever" on its back. The community is characterised by boisterous get-togethers and legendary heroes — the former of which includes Alan "Hammer" Bloore, who managed to survive the trauma of a jet-ski accident thanks to the beauty of Panerai watches and the unwavering support of his Paneristi fraternity.
Interview by Celine Yap
How did you first discover Panerai?
Alan Bloore: In 1999, I ordered a book on military watches. All of a sudden, there was a picture of the [Panerai] Ref. 6154. I looked at the name and struggled to pronounce it, but the image of the watch was seared into my mind. Then I began to search the Internet for Officine Panerai. The feeling I had was pure arousal. I found a PAM23 for sale and bought it instantly. It arrived in a most beautiful package. Magnificent. But at 44mm, it was too big for me — well, what did I know. I then went back to the Internet and bought another one, the 40mm PAM48. When that arrived, it was perfection. I knew instantly it was special, and the more I read, the more informed I became, and the more I loved it.
What made you so passionate about Panerai?
I fell in love with Panerai for the visual, and stayed in love because of its history. The more I learned, the more I respected and saw its intrinsic value. I didn't just see a watch, I see brave men, the world's first frogmen… Panerai is so much more than just a watch. It's a GPS that guided me to my destiny and also to other like-minded people as insane as I am. It's crazy to think that someone can look at the lugs of a watch and think, "Sexy".
When I first joined Paneristi.com I was rather shy and never posted anything. Ultimately, I couldn't resist and posted pictures of the lugs with a comment that those are the sexiest things I've ever seen. Guess what? Someone replied, "Me too!" Thank God I'm not alone! There's at least one other person who thinks like me. And then, more replies came in. It's not just buying something and keeping it for yourself, but sharing with others, interacting and enjoying it together.
How did you grow your collection?
When you buy a first watch, you don't realise it, but you're already a collector. Generally speaking, a lot of people become collectors not because it was their intention. It just happened that way. Their intention was just to buy a nice watch, and then five years later, they have 10. There's always this wonderful feeling about a new watch.
Every time I buy a new watch and look at it for the first time, I'd go, "I cannot imagine anything more perfect." Six months later, I'd get another one and go, "I cannot imagine a more beautiful watch…" Ultimately, after my accident, it was this family that kept me smiling every day, kept passion in my heart, dreams in my mind, and a smile on my dial.
What are some of your favourite timepieces?
It's been 14 years since I started collecting Panerais. I have all of the vintage pieces, all of the pre-Vendôme pieces, and the rest are Richemont-era models. Every SIHH, I don't sleep for a week. Some watches I bought for their looks, some for historic significance, and some for their movement. For example, the PAM319 was a watch of many firsts. It's Panerai's first 47mm gold Luminor and first in-house rattrapante chronograph.
CONNOISSEURS' CLUBHOUSE
Interest-based social networks are immensely valuable for their ability to connect people who otherwise wouldn't be acquainted, and when Tom Chng found and bonded with his fellow horological enthusiasts on Instagram, he took the next step to make the virtual get-together tangible with his own Singapore Watch Club (SWC). Since it's founding in late 2015, SWC has quickly grown in strength to become a legitimate collectors' circle engaged in serious watch-sharing and erudite discourse, all with an ice-cold glass of beer in hand.
SWC has been active for about year and a half now.
Tom Chng: It's been extremely rewarding so far! I started the club to meet more like-minded individuals who share my passion for watches and I've met so many prolific collectors, learnt so much from them and together, our understanding and appreciation for the art of watchmaking has grown, alongside our friendships. We've not only gained insights into the technical side of horology, but also the business aspect of the industry especially production and marketing.
Is your motivation still the same as when you first started?
I'd say I'm even more motivated than when I first started! The community is growing very quickly and I'm happy that there are so many enthusiasts locally, even regionally, interested in the club. Having a good following on social media is also encouraging, and the support and recognition from brands, retailers and press keeps us going, for which we are thankful.
What about your ambitions for SWC?
Singapore has a highly educated, informed and mature watch culture, and collectors here are very discerning. I hope to continue this culture, reaching out to the next generation of watch enthusiasts and sharing with them the joys of this hobby. Ultimately, we're looking to heighten our level of appreciation for watches, sophistication as buyers, and mature together as a community. Watch collecting can be a solo hobby, but it's so much more fun and engaging with like-minded members. We aspire to be a friendly and united community, fuelled not only by passion but also friendship and growth.
Give us a sense of what your monthly get-togethers are like.
Essentially, it's just friends coming together and catching up over beers. The club is very active and members have new acquisitions regularly so we always get to play with new watches at the get-togethers. We also talk about the latest happenings in the watch industry and discuss what we like or dislike. Last August, we had a huge turnout of about 40 people, and among them were two very special guests, Anish (Bhatt) of WatchAnish and Su Jia Xian of WatchesBySJX. It was a great experience for members to meet and confabulate with such esteemed figures of the watch industry.
As a relatively newcomer, what sets SWC apart from other watch collecting clubs in Singapore?
We're fortunate to have the support and recognition from brands, retailers, press and collectors, and they've given us countless invaluable advice on the potential pitfalls that can happen to a community like SWC.
After all, other communities have come and gone. A treasured piece of advice that made the strongest impact came from Michael Tay of The Hour Glass, on the dangers of ego and entitlement. Communities have been torn apart due to unnecessary pride, competition and friction getting in the way of the hobby's enjoyment. Bearing these dangers in mind, we've put in place three core values to remind members to always be respectful of each other: Passion, Sincerity and Humility. We strive to be an affable fellowship and the doors of SWC are always open to earnest and modest horology enthusiasts.
Finally, what's the greatest satisfaction in having your own watch collectors' club?
The friendships, nothing else comes close. At the end of the day, SWC is a community and communities are driven by people.
---