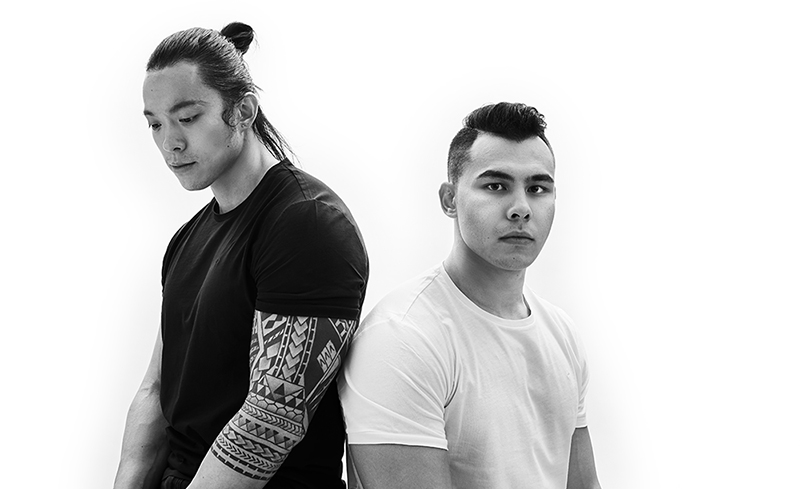 Love does not have to be linked to a romantic relationship. A shining example of love transcending heteronormative social constructs (that's sociology speak for "what society thinks", in case you missed it), is that of the bromance between the former President Barrack Obama and his Vice President Joe Biden. Their bond is one that has everyone wishing for a "brother-from-another-mother" who we can rely on. Men's Folio serves up a three-part Bromance series, exploring the dynamics and unique brotherhood/friendship of three local duos who transcend the ordinary.
Last but not the least, we present the inseperable duo/owners of Cut Gym, Mitchell Folkoff & Johnson Chen.
You were friends since secondary school.
Johnson: Basically we ended up in the same class on the first day of school and got to know each other through a mutual friend. I remember thinking he was really arrogant and he was swearing a lot — oh and he was really fat! — and I complained to my mum about being stuck with this guy for the next four years. The next day, the teacher seated me in front of him, and he tapped on my chair because he wanted me to check out this girl in the front — that's when we became friends. The teacher soon separated us because we were talking too much. [Laughs]
Sounds like you hit it off right away.
Johnson: We were hanging out all the time within the first week of school. We became teammates as well when I joined basketball (he was already in the sport), and there was an important moment when he broke his leg during a game.
Mitchell: I was hospitalised, got surgery, and was on medical leave for six months — and that was during my O-Level year. The school said that if I got poor results, I couldn't retake the O-Levels with them; I'd have to do it privately. Either that, or I'd have to retain another year. So I asked to be in the same class as Johnson (who was already a retainee), but they wouldn't guarantee it. We were a big basketball school — we won the championship and I was the best player in the country at the time…
Johnson: [Gives a look]
Mitchell: It's true! I was the MVP of our team, so it was an incentive for them to keep me back another year, especially since the standard of basketball dropped immediately after our batch. Eventually they agreed to put me in the same class as him, and I retained another year to do my O-Levels.
You're inseparable.
Johnson: Also, the junior colleges (JC) would have accepted us because of basketball. My parents would have wanted me to go to JC, and in fact a school has already accepted us, but he wanted to go to polytechnic…
Mitchell: I didn't want to wear a uniform anymore. I didn't want a regimental education. So we went to the same polytechnic as well.
What led you to become gym owners?
Johnson: He went into national service first, because there was a module I just couldn't pass — I took almost five years to finish it! [Laughs] But because of that I had a lot of time, so I was doing part-time personal training. When I completed my national service, he had just finished his first professional season with the Singapore Slingers, so I pulled him aside to set up our own place because I didn't want to work for others anymore. That was our first gym back in 2013, and now we've moved to Cut Gym which we started in January last year.
What's different about Cut Gym?
Mitchell: First, we've made it more of a boutique gym, so it's classier as opposed to what we were originally running. We've also upgraded everything to top of the line; better space, better equipment — we use Technogym equipment, which is one of two leading quality equipment distributors in the world.
Johnson: We're moving into corporate bootcamps as well.
Mitchell: There's quite a big demand for corporate team building and workouts, so we provide bootcamps with one or two trainers, either at our gym or around the vicinity.
Your slogan is "A tailored body".
Johnson: Nowadays there are so many sectors within the fitness industry — powerlifting, bodybuilding, CrossFit, aesthetic (weight loss) — so we don't believe in one generic program that works for everyone. Our trainers come from different backgrounds — some are bodybuilders, some are Muay Thai athletes — so we find out what the client wants for him or herself and advise them on the kind of training that's suitable for their body type.
Mitchell: Also, people have different learning curves; you can't have an eight week program for him and me and expect us to do the same thing. You need time to teach, especially for new clients who don't understand their bodies well. Everyone reacts differently to the same training or diet, so to have a standard program like what most gyms and trainers do, you're probably going to rush through it just to keep to the program. And without proper training from the beginning, bad habits are going to cause injuries in the long run.
How do you work together? Do each of you have different responsibilities, or do you collaborate on everything?
Mitchell: We work on the business development aspect of the gym together, consulting each other and deciding on the best course of action regarding its direction and where we want it to be down the road. As for the day to day…
Johnson: We're the same in terms of what we love to do, but we're very different personality-wise. He's definitely more serious and careful. He sees the numbers, so he tries to distance himself from the human aspect of the business. It's good that way; he plays the bad cop, while I play the good cop in managing our people.
Should best friends ever become business partners?
Johnson: What we believe is many people think they have best friends, when in actual fact they don't. If you've never been through tough situations together you'd never really know, and in business things will get rough.
Mitchell: It really depends on the dynamics of the friendship and individual personalities. If you can't handle stress or uncertainty, there's no way you can partner with anyone in the world. One day the business is amazing, the next day it's not — all at the flip of a switch
Johnson: When we struggled to make rent for our first gym, we got through it by playing on our Playstations. We don't think about things that are out of our control, and if you're both on the same page it makes it easier.
Perks of working together?
Johnson: Trust. A hundred per cent.
Mitchell: I don't think I could do a business with anyone else with both my eyes closed. Everyone says not to do it with your friend, but I don't understand how it's possible to work with someone you don't know and trust. You're going to have to constantly look at the accounts and inventory to see if anything's missing.
Johnson: It's natural for people to look out for their own best interests. It's rare to look out for the interest of the group, especially when times are bad. We've had to fire so-called "good friends" two years in a row because they were stealing from us.
Mitchell: Friends we felt we had an obligation to groom because they had the potential to be something good in the industry, and one day maybe even be a part of our business. Even then, with someone so close, they're still capable of doing that.
One aspect of fitness that's also found in friendships is challenging one another (to become better). Share with us how [the other] has improved your life.
Johnson: The competitiveness has always been there since day one, and it's not restricted to the basketball court. What makes our friendship different from most is you rarely find two big egos who can coexist together. It clashes, but for us it's fine.
Mitchell: We can pretty much be in a fight with each other on the court, but once the game is over we're back to square one. At the end of the day our competitiveness drives us, so I don't see how it's a bad thing.
Johnson: Most people can't handle it; we've lost friends because of it.
Mitchell: Maybe it's because we speak a certain way or are too blunt and straightforward, but at least you know what you get from us is real. There are no underlying connotations or agenda, we speak our minds most of the time and some people in this society can't handle it.
---