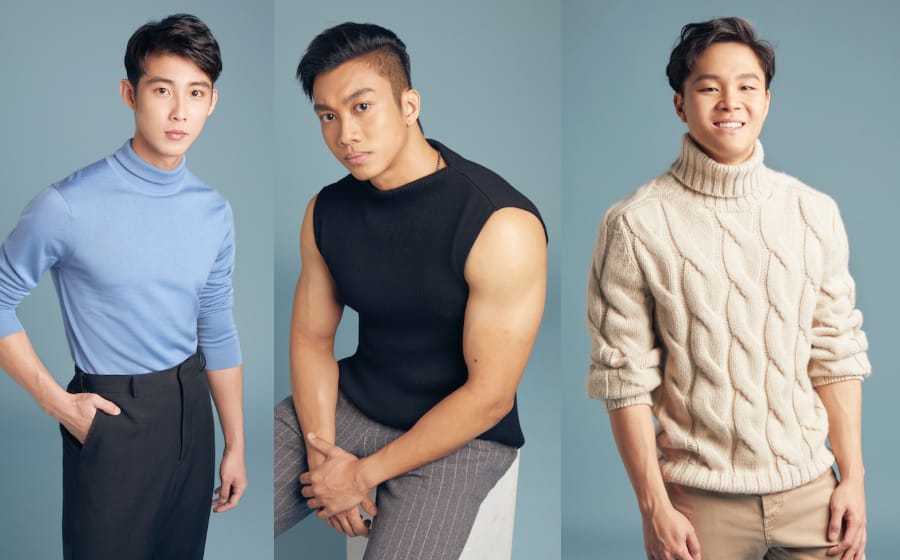 Blue, the hue of confidence; white, the fresh state of mental clarity; and black, the shade of power and strength — the colours form the LAB SERIES Rescue Water Series while their connotations represent the way Loh Kean Yew, Hass Ross and Pang Sheng Jun live their lives.
—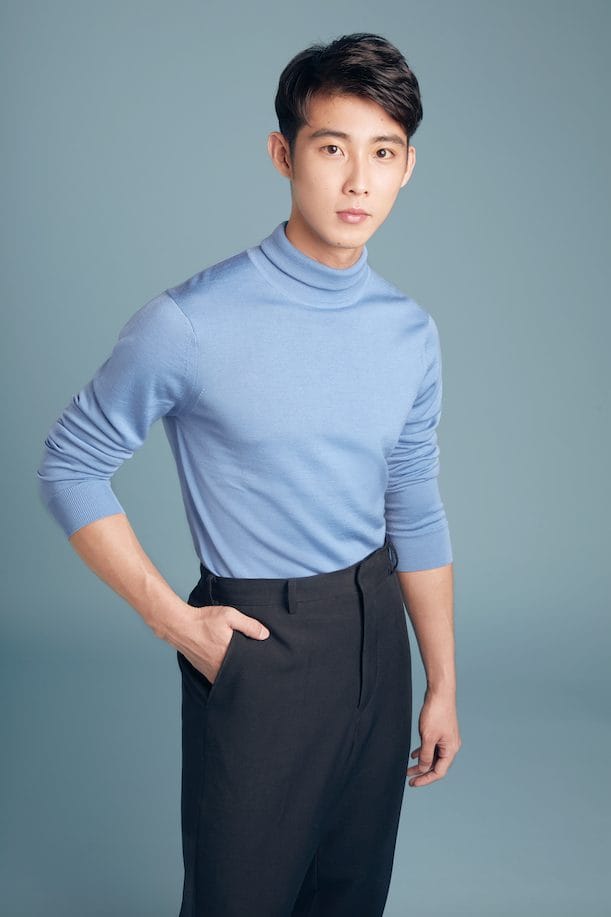 LOH KEAN YEW, National Badminton Player, @lohkeanyew
What have you been up to? I've been training six days a week with double sessions on four of those days. A few competitions have been cancelled. I was actually training for one that's slated for September in Taipei. Has every win tasted sweeter than the last? Definitely my 2019 win against Lin Dan in the Thailand Masters — the most memorable for me. What was the most important lesson you've learnt from one of your wins? Whenever I lose, I usually chalk it up to my impatience so I've learnt to have patience and to never give up. Once you give up, you'll lose without even trying. Every win for me has been a game in patience.
What would you like to tell your seven-year old self who was bullied for playing the sport? They can't bully me for long! [Laughs] The most responsible answer would be for him to fight back and challenge them. Is there a cause you'd like to champion? I hope that I can bring the joy of playing badminton to Singaporeans and people around the world. It really is a healthy sport because a lot of cardio, muscle building and eye-to-hand coordination is involved. What do you hope for in the future? An Olympic gold — something I've aspired to achieve since I was young. Hopefully, I can also consider retirement to spend more time with my family once I end my career but it probably means that I need to win a lot of competitions like Lee Chong Wei from Malaysia! [laughs] I'm most likely ending my career once I've gone to two to three Olympic games. Singapore Olympic badminton players usually just go to two games so I'd like to be the person who creates history.  Any advice for young aspiring badminton players? Dare to dream and work for it. Have the courage to dream big because you'll hit a limit if it's too small.
Despite your fast-paced schedule, why is it important to have a skincare routine? For sponsors, they look at skills. For anybody who wants to engage me in a commercial project, it's all about the face. Which is your favourite LAB SERIES product from the Rescue Water range? What if I told you they are all equally important because they are all linked? It doesn't work if you just wash your face and use a toner. Or if you moisturise without toning. Or even if you cleanse without toning or moisturising. What if you had to pick a product? The cleanser — imagine going out for one whole day and feeling uncomfortable that your face is dirty. As sportsmen, we usually sweat and get oily and once we clean ourselves, we need to keep hydrated. So it's important to have a product that helps to cleanse while rehydrating my skin.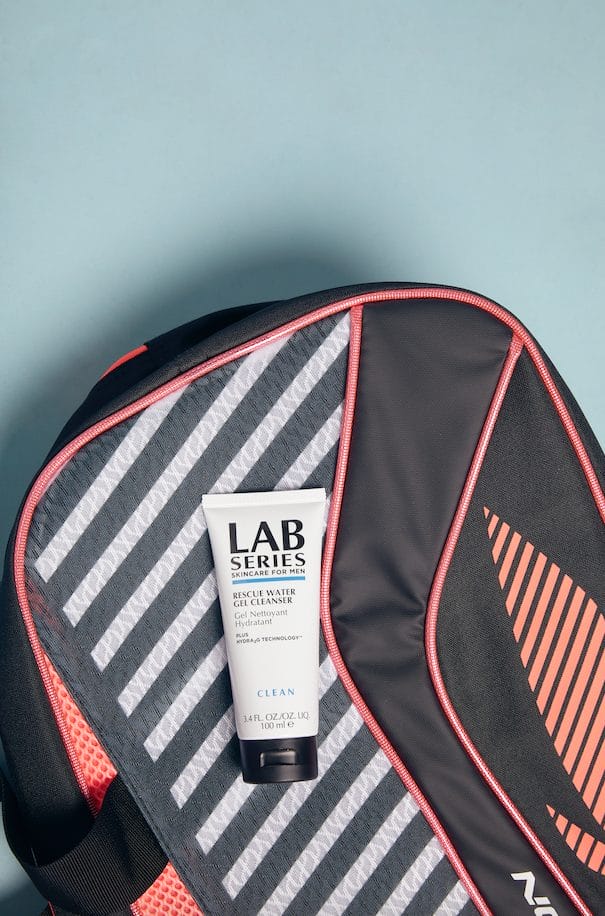 The LAB SERIES Rescue Water Gel Cleanser gently removes all traces of dirt, oil and pollutants while oat amino acids and a blend of humectants soften and conditions.
Loh Kean Yew is wearing a Sandro Wool knit turtleneck; and pants, stylist's own.
—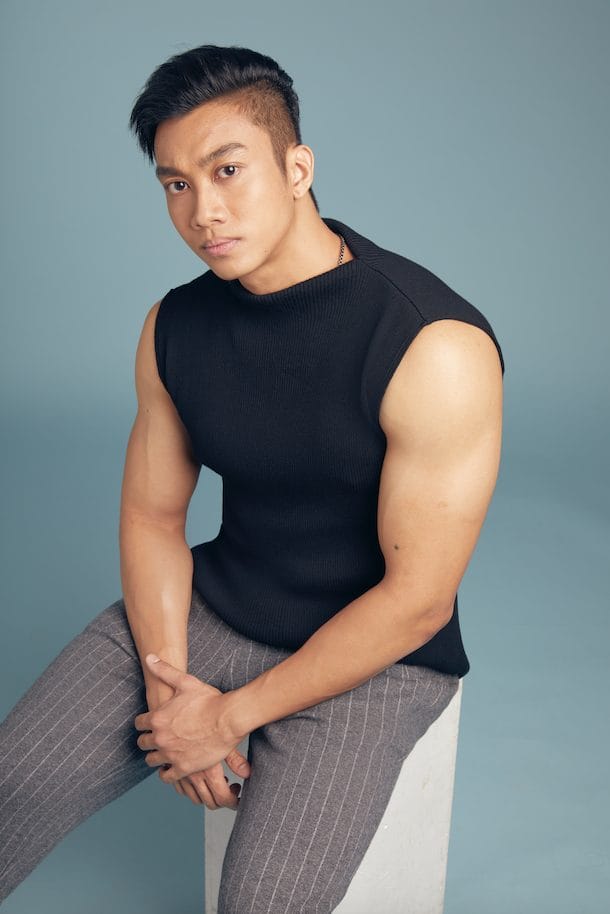 HASS ROSS, Part-Time Spin Instructor, @hassross
What have you been up to? I've recently graduated from university so I'm working full-time now. Apart from that, I teach spin class twice a week at OM Fitness. How do you apply what you've learnt from conducting fire fighting and physical training sessions to what you do as a spin instructor now? Back in National Service, I was a fire rescue officer where I also trained and groomed fire fighters to be operationally ready when they get deployed to their respective fire stations. What I learnt was to be vocal while having a leadership mentality on how to lead a crowd — two traits I use to conduct my spin classes by helping me to gain a voice. What was the most important lesson you've learnt as a fitness instructor? The most valuable lesson that I've learnt would be how to motivate others in changing themselves for the better. In a sense, I help others to become better versions of themselves and this in turn, has the same effect on me.
What would you like to tell your younger self? I would tell him to enjoy the moment and to not be overwhelmed with whatever that is happening. Enjoy the process, believe in himself and also, to believe that if he keeps doing what he loves and does best, he'll eventually get there. Is there a cause you'd like to champion? I was actually participating in a community programme where we mentored kids who came from less privileged families. We helped in terms of giving advice or helping them out with their schoolwork. Any advice for young aspiring fitness trainers? It's going to sound very cliché but trust yourself. The only person that can bring you to where you want to be in life is yourself.
The LAB SERIES routine revolves around three steps, do you have three steps before taking part in a competition? The first step would be to simply wake up in the morning and to motivate myself to have breakfast because sometimes, I might not have the motivation to train on that day itself. The second step would be to head to the gym with a buddy to support me and the third step would be to finish off my workout with a post-workout. Why is it important to have a skincare routine as a spin instructor? Having a good skincare routine not only gives you better skin but it also gives you a boost of confidence — when you look good, you really do feel good. Since your job revolves around speed, how fast do you like your skincare application? I like it to be as fast as possible — something that I can apply instantly after I shower. A maximum of five to ten minutes if possible! Which is your favourite LAB SERIES product and why? I actually like the Rescue Water Lotion a lot because it leaves my skin feeling clean and smooth — it looks more lively even if you're tired.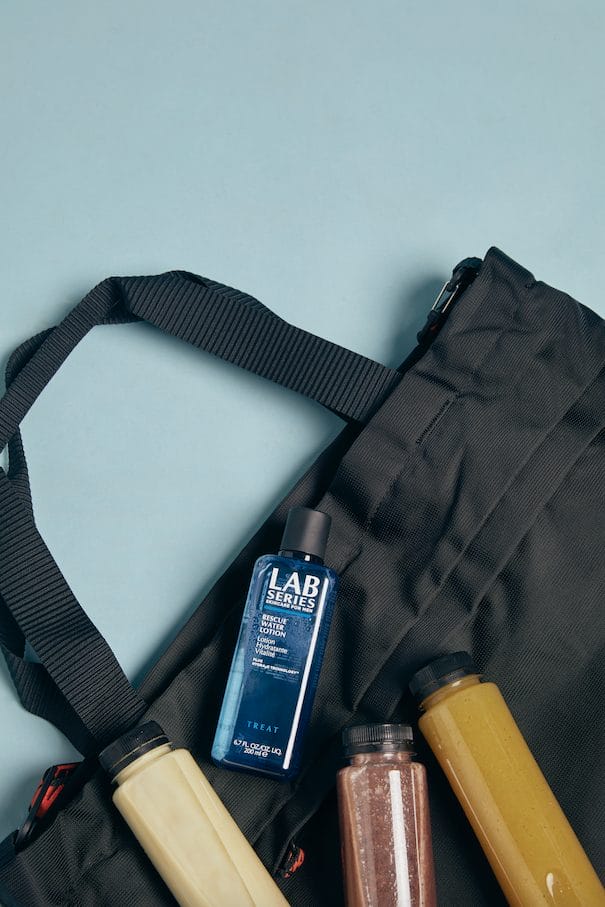 As a lotion and toner, the LAB SERIES Rescue Water Lotion absorbs instantly to hydrate skin and removes any remaining impurities when applied with a cotton pad.
Hass Ross is wearing a COS Wool knit sleeveless sweater and Brunello Cucinelli Wool sweatpants.
—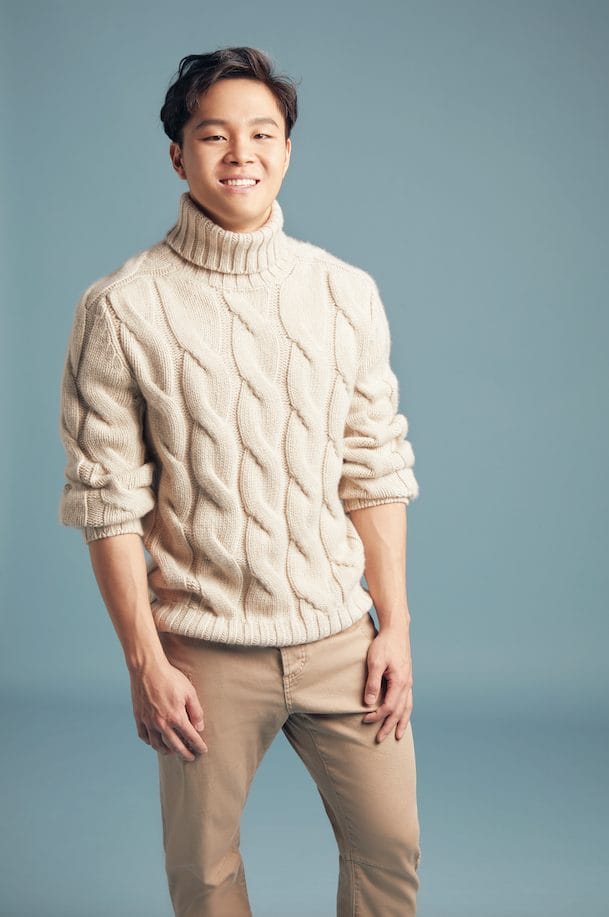 PANG SHENG JUN, National Swimmer, @swimpsj
What have you been up to? I've been working as a financial planner at Great Eastern and swimming at the same time. What was the most important lesson you've learnt from one of your wins? This one's a tough one. It would be that hard work always pays off but good swims don't always happen so if I were to talk about my non-wins, it'll be a lesson on what I can improve on. Has every win tasted sweeter than the last? Yes! For each win, I feel more relieved than feeling that it's sweet. One season of preparations takes about half a year so the minute I've won a race, I just feel relieved that this six months of hard work has paid off.
What would you like to tell your four-year old self who just started swimming? Keep swimming because you will get the opportunity to visit many places in the world that you'd never thought you'd visit. And of course, to keep up his passion for swimming. Also, that if he faces any obstacles in the future, that it's just part and parcel of being a sportsman so I don't want him to be too hard and critical on himself. Is there a cause you'd like to champion? To give every Singaporean equal opportunities just like how I got mine to pursue my passion. It might not be sports-related — it can be arts or anything. I'd like to champion a cause where people are emboldened to go against the norm and of course, to do what they truly love. What do you hope for in the future? It would be to qualify for the Tokyo Olympics next year. In the long term and when I eventually move on from swimming, I'd like to start my own family and I'd like to be financially sustainable to be able to take care of them and my own future family. Any advice for young aspiring swimmers? Never give up on your dreams even though you'll have bad swims, where you'll have times where you stagnate in your improvement but just know that you can always find something more in you to get better.
Why is it important to have a skincare routine as a swimmer? I'm exposed to waters with high chlorine content and thus, I have very dry skin. After trying the LAB SERIES Rescue Water series, my skin actually feels good post-application. I like the LAB SERIES Rescue Water Emulsion because it's not harsh on my skin and it doesn't hurt when I apply it on my skin. It has a very hydrating feel and leaves my skin without an oily residue.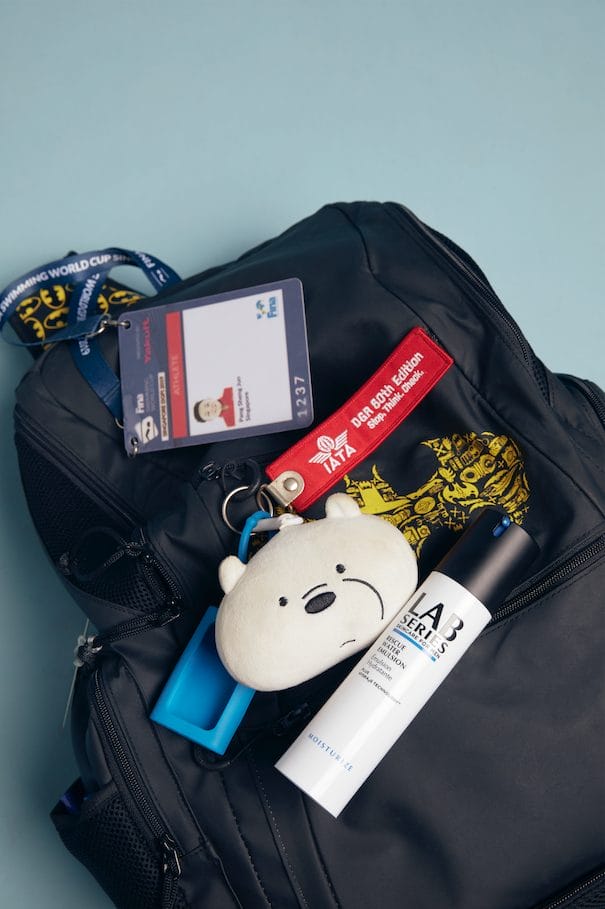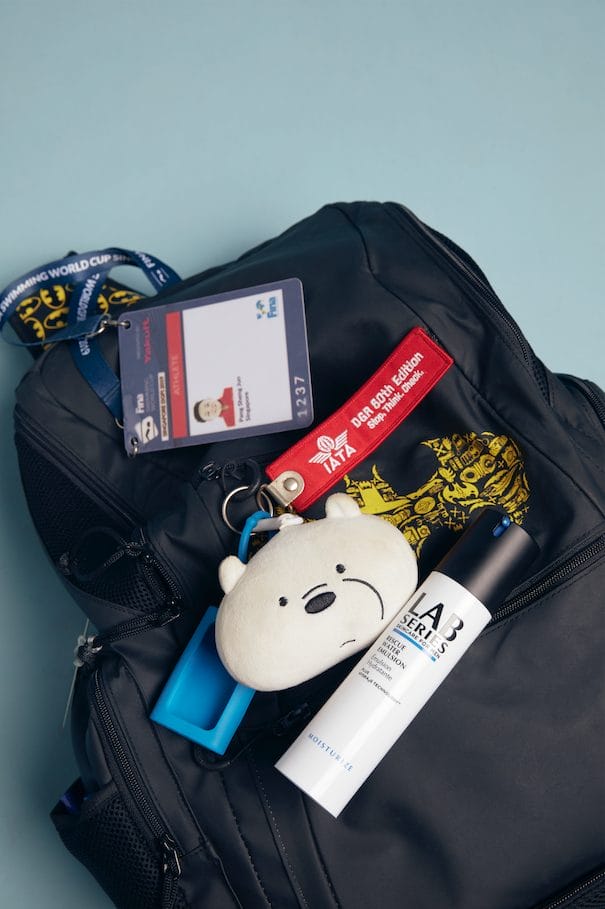 One use of the LAB SERIES Rescue Water Emulsion locks hydration in for 72 hours with hydrolysed rice extract and a blend of powerful moisturising ingredients.
Pang Sheng Jun is wearing a Brunello Cucinelli Wool sweater and corduroy pants.
—
Photography Jeff Chang
Styling & Text Bryan Goh
Styling Assistant Manfred Lu
Grooming & Hair for Loh Kean Yew, Pang Sheng Jun and Hass Ross Larry Yeo using LAB SERIES and Hanz de Fuko
Sign up here for your complimentary Rescue Water skincare trial kit today. 
---