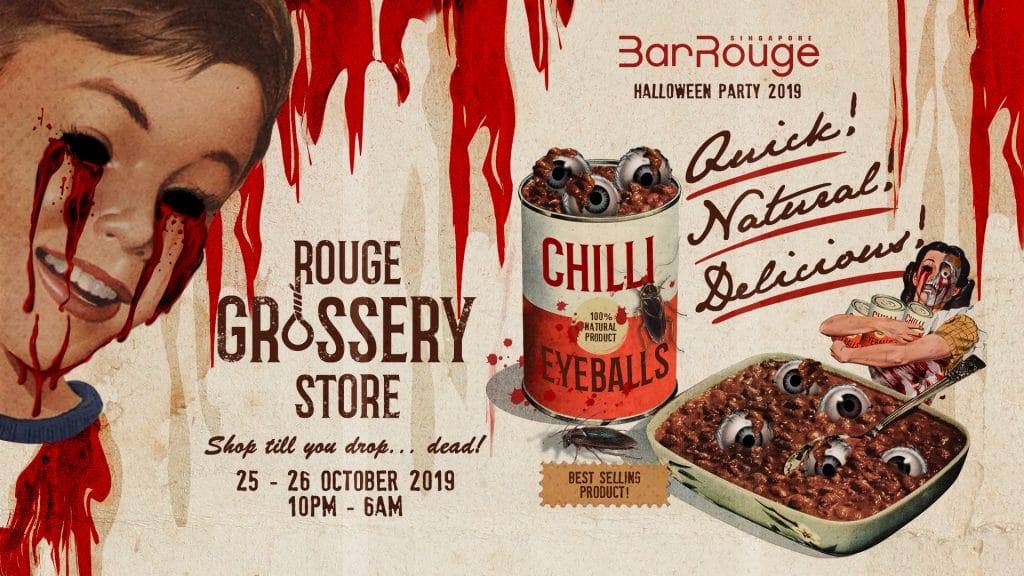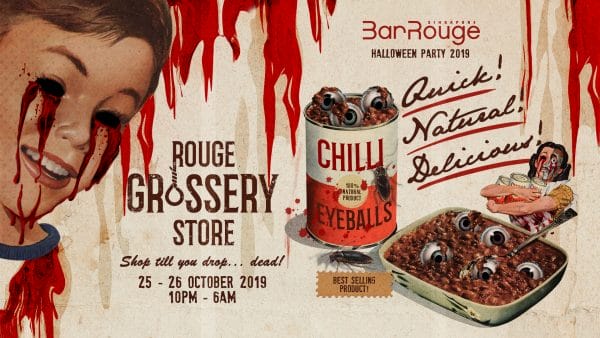 October has come around once again — this means we are nearing the one day in a year when binge drinking becomes a thing and the public indulging of your costume fetishes (google furries but not in front of your parents). While it is widely believed that Halloween traditions originated from ancient Celtic harvest festivals (Editor: Is it Midsommar?), the occasion now has become capitalised by conglomerates looking to cash in.
No hate from us though, we're glad that we have some places to party at and participate in one of the activities we've mentioned above (take a guess as to which one) — in fact, here are six.
Pictured Above: Bar Rouge – Rouge Grossery Store (Friday 25th and Saturday 26th October, 10pm to 6am)
If you're specifically looking to lean into the holiday's more "macabre" side, look no further than the upcoming event from Bar Rouge — transforming itself for two nights into the uniquely grim home of the Rogue Ripper.
Meet the Rogue Ripper in the bar's "cold room" where you will be presented the freshest cut of meats (Editor: MIDSOMMAR!), be careful that you don't end up being added to the meat supply though. Guests dressed to the theme have a chance to earn prizes as well. On Friday, the best-dressed guest will be able to safely leave the "cold room" with a 1.5-litre bottle of Grey Goose Magnum and on Saturday, they will win a one-night stay at Swissôtel The Stamford with breakfast for two and a bottle of Grey Goose.
Bar Rouge is located at 2 Stamford Road, #71-01, Singapore 178882.
—
CÉ LA VI Singapore – Dirty Circus feat. Cirque Le Soir  (Saturday 26th October from 10pm till late)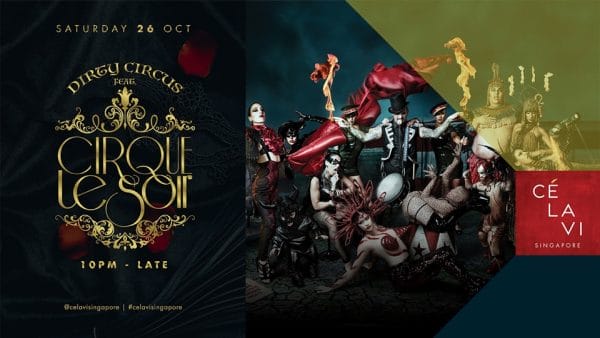 CÉ LA VI has an exciting event just for Halloween, that being Dirty Circus. A haunting and ethereal show courtesy of Cirque le Soir, featuring exotic dancers, fire breathers and other exciting performances, all set to mystifying beats by DJs Andrew Tang and MinGs.
There's no better time of the year to check out this apex of extraordinary and surreal (or you can just go to a Gucci store) — guests arriving in costume before 12 midnight will enjoy complimentary entry.
CÉ LA VI is located at Marina Bay Sands, Tower 3, Level 57, SkyPark1,Bayfront Avenue, Singapore 018971.
—
NINETEEN80 – Halloween Funhouse Weekender (Saturday 26th and Sunday 27th October from 9pm to late)


The retro arcade bar and discotheque has its own party for the occasion in the form of the Halloween Funhouse Weekender. Enter the bar with your funkiest costume for a chance to be served the prize of a bottle of champagne and a Singapore Comic Con hamper. Even if you don't win, there's plenty of fun to be had with the bar's trademark old-school arcade games, vintage-themed cocktails and hits from top DJs such as DJ Ollie'des, Andrew Chow, and Fadille.

NINETEEN80 is located at 21 Tanjong Pagar Road, #01-05, Singapore 088446.
—
MONTI – The Spooktacular Hour Chapter II : Heroes VS Villians  (Saturday 26th October from 10.30pm to 3am)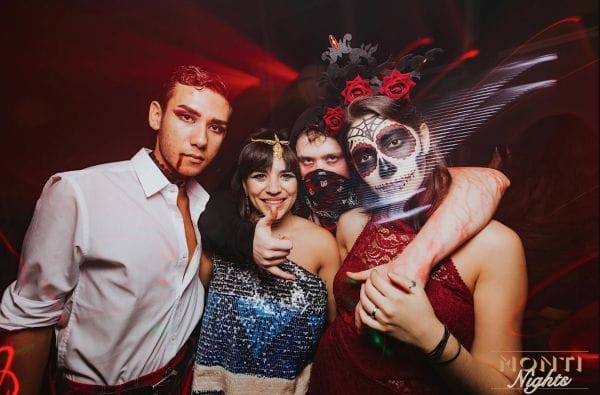 The waterfront lifestyle establishment MONTI is redecorating its interiors for Halloween in order to provide a creepy and spooky experience alongside its beautiful panoramas of the entire Marina Bay. A special reward even goes to the first fifty guests in the form of Kryptonite shots (it's green, it's dubious-looking and it is also delish).
Beyond that, this event is encouraging you to go in a themed costume — that of Heroes VS Villains. So, it's a perfect opportunity to bust out a costume of your favourite superhero or villain (aka take a shot every time you see someone in a joker costume). Once you've entered, you can enjoy 90s hits from DJ Red and DJ Leon.
MONTI is located at 1-Pavilion, 82 Collyer Quay, Singapore 049327.
—
Pinball Wizard – Fangtastic (Saturday, 26th October from 9pm to late)


This vintage, pinball-themed bar and club will be getting in on the Halloween fun with its equally vintage, vampire-themed Fangtastic event. The good people have come up with an eclectic selection of cocktails such as the psychedelic colour-changing Flower Power that uses butterfly pea-infused elderflower gin, apple, ginger, and a lemongrass concoction.
As for Fangtastic itself, one can expect music hits from the 00s or earlier, and Pinball Wizard will be giving out a free bottle of Grey Goose for the best Halloween outfit on that Saturday night.

Pinball Wizard is located at Sim Lim Square #B1-29, 1 Rochor Canal Road, Singapore 188504.
—
Smoke & Mirrors – Booze and Boos (Friday, 1st November from 7pm till late)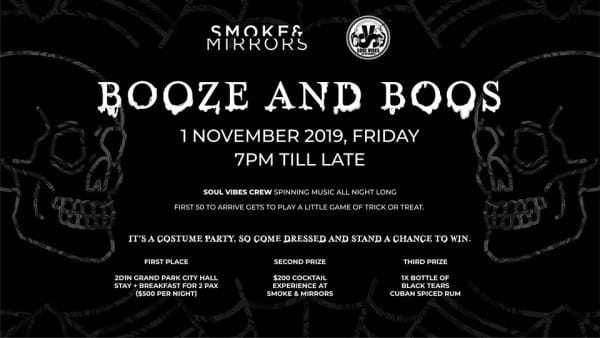 A classic Halloween staple comes in the form of a costume party, and Smokes & Mirrors provides the first on this list with exceptional flair. This bar is well known in Singapore for its spectacular panoramic views of the surrounding skyline, giving a spectacular atmosphere and scenery while you enjoy elevated drinks by Head Bartender Jorge A. Conde like El Patrón, made with Black Tears Cuban Spiced Rum, Italian Vermouth, and other top-notch cocktails.
Furthermore, should you costume be deemed the best of the best among patrons (there can only be one after all), you can stand to win a two days, one night weekend stay in a Deluxe Room at Grand Park City Hall worth SGD500.

Smoke & Mirrors is located at 1 St. Andrew's Road, #06-01, National Gallery Singapore, Singapore 178957.
---