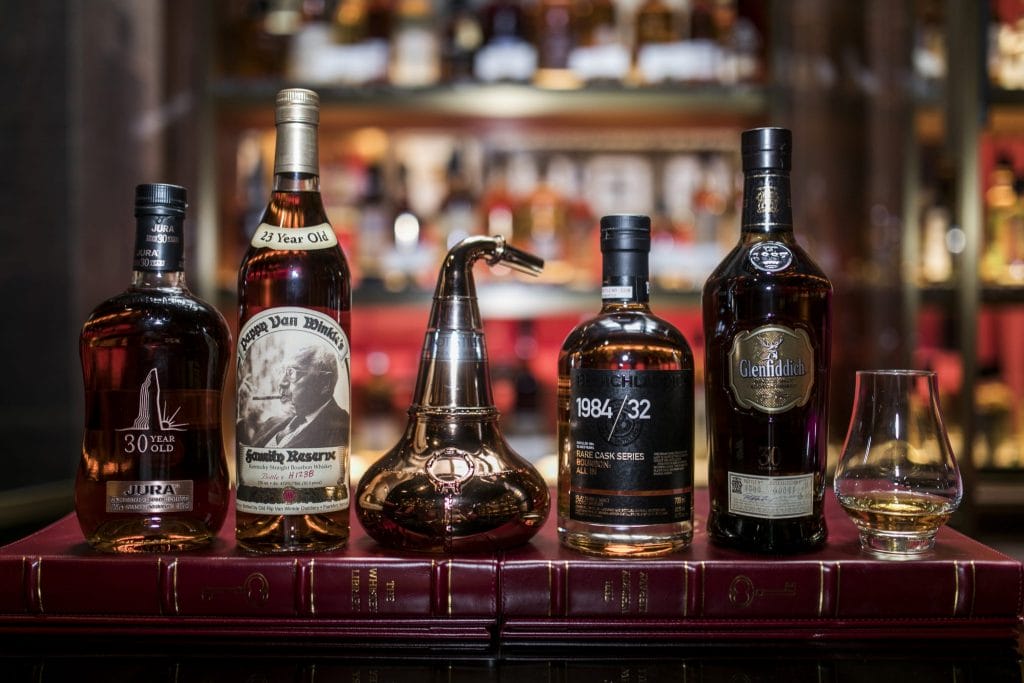 "Too much of anything is bad, but too much good whisky is barely enough," said American writer Mark Twain. Even Winston Churchill found water to be unpalatable such that he had to add whisky "diligently" to learn to like it. Whisky is undoubtedly the poison of choice for many due to its relative ease of being ingested (compared to other alcohol), the soothing warmth that it brings to the depths of one's soul and the good buzz that comes after.
In light of World Whisky Day this month (we have days for almost everything), we are sharing our favourite whisky bars for your Scotch and bourbon fixes.
The Whisky Library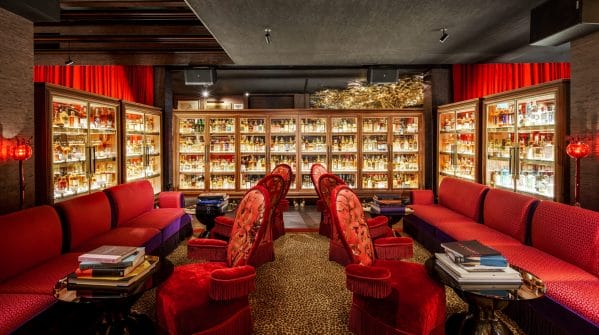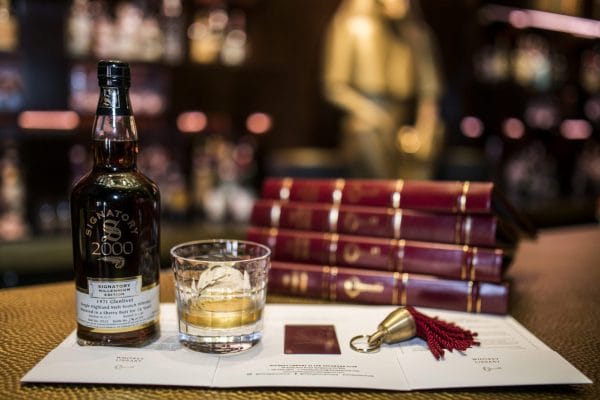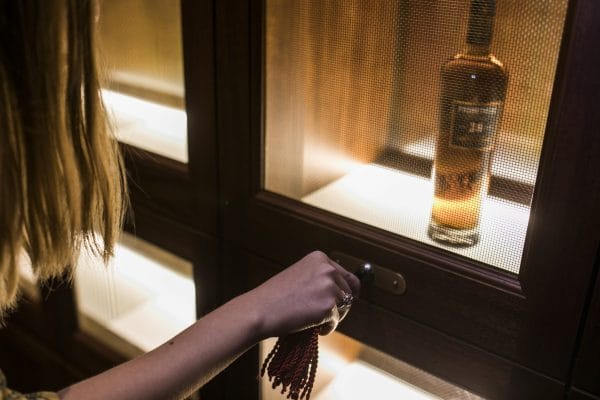 Channeling old-world glamour, The Whisky Library is ensconced within the ornate and luxurious interior. Curating over 1000 bottles of thoughtfully curated rare and refined award-winning whiskies from around the world, including Scotland, Ireland, Japan, USA and more. The Whisky Library comes with a Membership Programme specially catered for guests with a love for whisky. Members can indulge in exclusive experiences, such as curated Jazz stories, intimate theatre, book readings and will also be treated to savoury nibbles prepared by the hotel's chef de cuisine and bespoke elements such as artisanal ice and an international selection of cigars. 
The Whisky Library is located at The Vagabond Club, 39 Syed Alwi Road, Singapore 207630. Annual membership fee comes S$3,000, guests who sign up will also enjoy 10-room nights at The Vagabond Club (fully transferrable). 
La Terre 
An intimate location specialising in Japanese whiskies and wine, the Italian-sounding establishment features an interesting selection of new and old-word rarities, with most being served both by the glass and by the bottle. Stocking one of the more extensive collections of Japanese Karuizawas, La Terre's Japanese sommelier Daisuke Kawai also included crowd favourites like the Yamazaki, Hakushu and Nikka whiskies. 
Whisk yourself into the land of the rising sun when you enter La Terre, located at 11 Upper Circular Road, Singapore 058409 from Monday to Saturday, 6pm to 11pm.
B28
This one is for the whisky aficionados. Located in the basement of The Club, this secluded speakeasy is home to a whopping 200 different Scottish Single Malts. For those unfamiliar with the world of whiskies and single malts, the menu educates you on the correct way of ordering a drink. 
Find B28 hidden behind two heavy wooden doors just off 28 Ann Siang Road, Singapore 069708
La Maison du Whisky
Walking into the classy establishment, you are greeted with towering shelves of whisky, with an open bar right smack in the middle. One can expect a robust and comprehensive selection from around the world that can be enjoyed with the classy ambience that is perfect for a quiet get together. Also, if you're looking to collect rare collectable whiskies, La Maison Du Whisky is the place to start.
Park yourself at La Maison du Whisky if you're looking for rare collectibles, located at The Pier, 80 Mohamed Sultan Road, #01-10, Singapore 239013
Highlander
For an authentic Scottish bar experience, one needs to look no further than the Highlander. Just between us though, it is also our excuse to see men in kilts while enjoying the live band performances. Located at the Quay and Chijmes, the party central in the heart of Singapore, it's a great stop before you begin the night.
For the full Scottish experience, Highlander is located at 3B River Valley Road, 01-11, Singapore 179021 and 30 Victoria Street, B1-05, Singapore 187996 
The Auld Alliance
Luxurious plush leather sofas and bottles of liquid sunshine lined up on wooden oak shelves all ready to be enjoyed on the rocks or otherwise, make this the best place to kick off the weekend or wind down after a long day in the office. Armed with impressive Facebook reviews, knowledgeable staff and a strong selection – we can find no reason to stay away from the fine establishment. 
Indulge in a fancy glass or two once you step into The Auld Alliance, located at RendezVous Hotel Gallery, 9 Bras Basah Road, #02-02A, Singapore 189559
The Single Cask
Cafe and liquor shop by day, and whisky bar by night, this inconspicuous speakeasy is hidden in a little corner of Chijmes. The venue started off as a whisky distributor which stocked small family distillery whiskies and whisky replicas of lost distilleries that had since closed its doors. There are also plenty of delicious whisky cocktails that can slowly help introduce novices to the art of whisky drinking.
Tucked away in a quiet corner, find The Single Cask at Chijmes Caldwell House, 30 Victoria Street, 01-25, Singapore 187996
The WoW – World Of Whisky
Looking for a chic haven with a selection of the finest premium and rare whiskies? Welcome to the World Of Whisky, where one get to indulge in your favourite whisky while reclining on a plush settee accompanied by delicious à la carte tapas in a retreat-like setting. Don't let the location deter you from getting to The WoW, it's a short monorail ride away.
Be WOW-ed at Le Méridien Singapore, Sentosa, 23 Beach View, G/F, Singapore, 098679
The Wall
Step through the doors of The Wall Interior and one may find it looking somewhat familiar. Resembling the stores that can be found along Diagon Alley in the Harry Potter series, the bar offers alcohol and savoury meat. While there are no magic spells that can entertain one as you soak in the ambience, we must say that the marriage of whisky and authentic Japanese Sumiyaki, charcoal grilled meat and vegetable skewers certainly make up for it. 
Feel the magic at The Wall located at 76 Tanjong Pagar Road, Singapore 088497
The Beast Southern Kitchen and Bourbon Bar
There is only one thing more loved than whisky or bourbon – fried chicken. When combined in a meal, the results are mouth watering to say the least. Before we go off tangent and get lost in the world of delicious fried poultry, we must refocus and keep attention on the Bourbon. Armed with a healthy selection of Bourbon — the largest in Singapore in fact — one would do well to skip that gin and tonic and sample the Beast Smash that has Bourbon, lemon and mint.
Saunter in the belly of The Beast, 17 Jalan Klapa, Singapore 199329
Quaich Bar
If one is in search of a reason to visit the South Beach Hotel, then let the Quaich Bar be it. Through the doors of the bar — pronounced 'Quake'— is a wall of whisky that would make any lover of the carmel coloured elixir weak in the knees. Apart from the numerous labels offered, both from established houses and boutiques, Quaich Bar also hosts tasting sessions that help to educate those who are interested in appreciating whisky.
Quaich your thirst at Quaich Bar, located at Waterfront Plaza, 390A Havelock Road, 01-09/10, Singapore 169663 and  South Beach Avenue, 30 Beach Road, 01-16, Singapore 189763
The Flagship
Nothing sounds better at the end of the week than an Old Fashioned done just right. Located at Bukit Pasoh, the bar has an entire wall dedicated to, you guessed it, bottles and bottles of whisky. The classic Old Fashioned is the star of the show at this bar and with its 60s Dive Bar aesthetic as well as a timber counter, one can count on this being a watering hole he will enjoy.
Nothing is screams classic like a glass of Old Fashioned at The Flagship, 20 Bukit Pasoh Rd, Singapore 089834
---