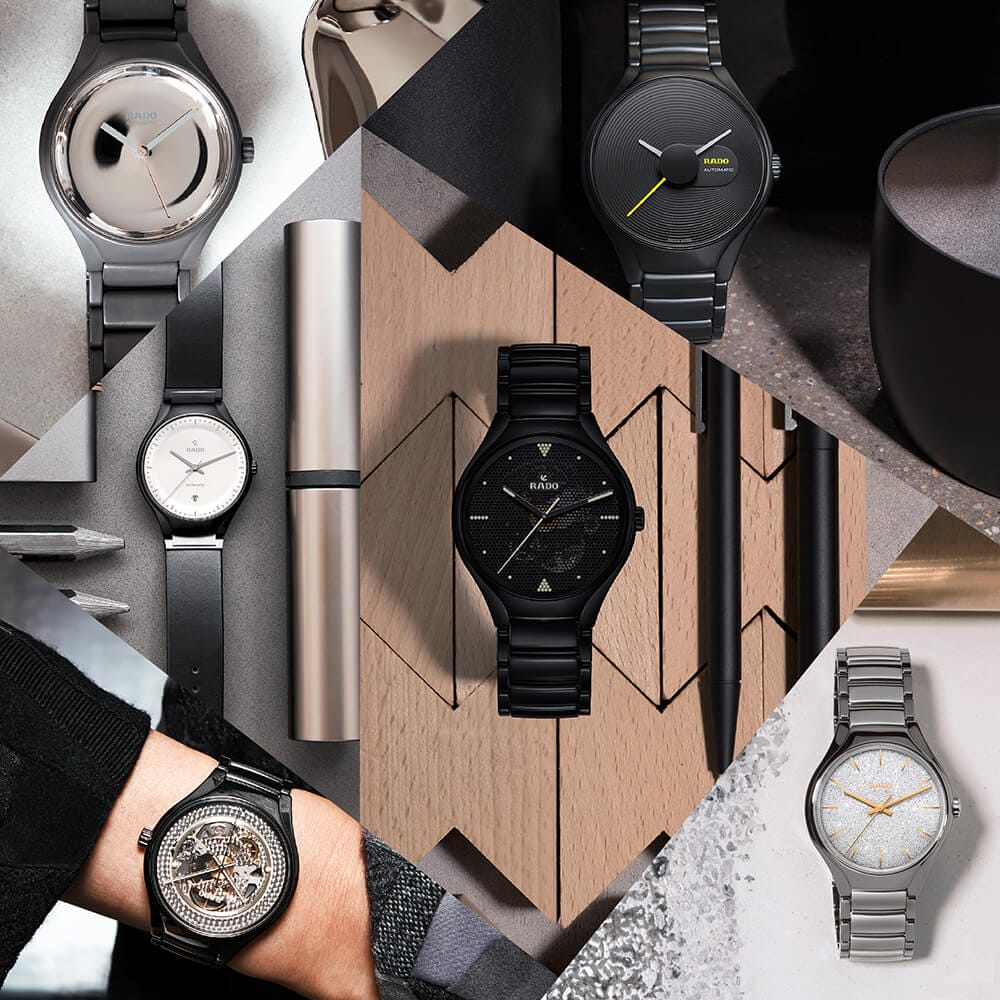 Besides pioneering the use of high-tech ceramic in watchmaking, Swiss watchmaker Rado is also known for being a major proponent of design-minded timepieces. The brand regularly collaborates with leading designers for its award-winning creations, and even runs the Rado Star Prize competition to promote the work of up-and-coming talents worldwide. With design so intrinsic to its DNA, it's no surprise that Rado announced an exclusive designers' series this year, where six indomitable creatives from around the world will each apply their singular vision to the signature True collection.
From serious aesthetic in the glitter-explosive True Blaze to innovative technology in the photosensitive True Shadow, the series combines various design disciplines with Rado's high-tech watchmaking to create stylish timepieces that stand the test of time. Here's a quick roundup of the individual watches:
True Blaze by US interior and furniture designer Sam Amoia is a veritable disco ball on the wrist. Its dial appears to be fully encrusted in diamond dust, but is actually solid metal that has undergone a galvanic treatment for a glitter bomb effect.

True Phospho by Swiss design studio Big-Game is a designer's take the skeleton watch. Its perforated dial provides a view of the automatic movement underneath, and the spaces even serve as indexes when filled with SuperLumiNova and arranged geometrically (think LED pixel displays).
True Cyclo by French industrial designer Philippe Nigro underscores the beauty of high-tech ceramic through carefully considered contrasts. Its matt black ceramic case is juxtaposed against a stark silver dial (which emphasises time) and paired with the only leather strap option in the series.
True Shadow by Japanese fashion designer Kunihiko Morinaga is the most conceptually avant-garde, harnessing the power of sunlight to hide in darkness. This is achieved through a photochromic filter on the dial, which blackens in the presence of UV rays. Once light fades away, the shadow disperses to reveal an intricate skeleton movement underneath.
True Face by Polish architect Oskar Zięta offers a glimpse at the world with a mirror on its dial. Made in polished stainless steel, the high-gloss surface not only reflects the surroundings, but also reveals a hidden rose-coloured finish on the underside of the hands.
True Stratum by Austrian industrial designer Rainer Mutsch plays with depth and dimensionality. Its monochromatic dial comprises of asymmetrically-arranged concentric steps to emphasise its third dimension. Further illusion of depth is achieved through a central black spot metallised on the underside of the sapphire crystal, which hovers over and casts its shadow on the amphitheatre below.
Limited to 1001 pieces each (1003 for True Phospho), the Rado True designers' series is now available at Rado Boutique, Marina Bay Sands, #B1-86.
---