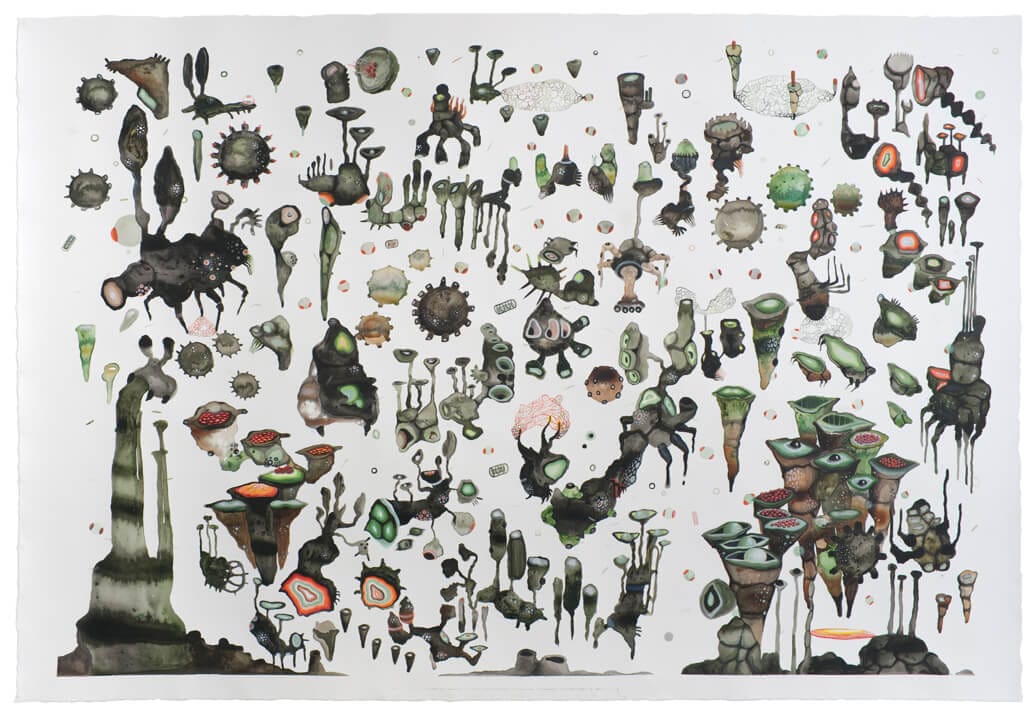 Art Stage Jakarta returns for its second edition on 11 to 13 August at Sheraton Grand Jakarta Gandaria City Hotel. The event continues to be driven by Indonesian art collectors: the fair is sponsored by Bank Mandiri; its Board of Art Patrons is spearheaded by President Deddy Kusama; and a new Board of Friends led by Maria Lukito has been established, representing Indonesian high society.
Lorenzo Rudolf, Founder and President of Art Stage Singapore and Jakarta, continues to build the two art fairs as premier events in Southeast Asia's art scene; the upcoming Art Stage Jakarta, in particular, zooms in on Indonesia's art scene. "Art Stage Jakarta 2017 offers visitors the platform to explore the artistic connections among Southeast Asian countries and discover cross-market opportunities," says Rudolf. "And of course, it presents an unparalleled experience of Indonesian contemporary art and personal encounters with the country's community of collectors, artists and galleries."
Two dozen Indonesian galleries will be present, with Jakartan galleries leading the pack. Tommy Sutomo, founder of Jakarta-based CAN's Gallery, says " The first edition of Art Stage was good for us and I believe good for everyone as well. We hope that the second edition will bring more collectors and institutions from abroad to Jakarta." He added that that he thought it was important for galleries in Indonesia — especially the ones in Jakarta — to support the event.
Additionally, galleries from Asia will be showcasing work by Indonesian artists. Hong Kong's Edouard Malingue Gallery will highlight Indonesian art collective Tromarama. Established in 2006 in Bandung, Tromarama is known for their multimedia work responding to contemporary urban culture. 'Mirage', one of the works at the booth, was presented at the Liverpool Biennale Fringe in 2016.
Many galleries will be making their comeback, following their success in the first Art Stage. This includes Semarang Gallery, which had one of the most interesting booths last year with work from Indonesian artists such as Eko Nugroho, Samsul Arifin and M. Irfan. "The first edition of Art Stage Jakarta showed that for the first time, Indonesia is capable of having an international-standard art fair," says gallerist Chris Darmawan.
With 50 galleries in attendance, fair visitors can also expect to discover the best of art from the rest of Southeast Asia. FOST Gallery, which had previously only brought the works of Jimmy Ong, will introduce a wider selection of their artists, like Heman Chong, Donna Ong and Wyn-Lyn Tan. 
Another second-timer is Mizuma Gallery, located in Singapore and Tokyo. "For this second edition of the art fair, we hope to introduce artworks by Singaporean and Japanese artists to the local audience, and to present works by Indonesian artists alongside international names," says gallery manager Theresia Irma. "As envisioned by Mr. Mizuma Sueo, the founder of the gallery, we hope to create a new vector of dialogue within Asia by promoting art and cultural exchange between Singapore, Japan, and Indonesia".
In the same spirit, Japan-based Whitestone Gallery will bring works of renowned artists Yayoi Kusama and Yoshitomo Nara. Masterpieces from Gutai Group artists such as Kazuo Shiraga, Atsuko Tanaka and Tsuyoshi Maekawa will be exhibited too. "We are also excited that Whitestone Gallery may bring to Jakarta a sophisticated Japanese aesthetic spirit," says exhibition manager Muchi Shaw.
On top of that, Art Stage Jakarta has unveiled the nominees for its inaugural Indonesian Award for Authenticity, Leadership, Excellence, Quality, Seriousness in Art. The 13 award categories will be judged by an "academy" of over 100 recognised individuals within Indonesia's art scene. Nominees include Tintin Wulia — Indonesia's representative for the Venice Biennale 2017 — for Best Artist, and Bandung-based Lawangwangi for Best Gallery.
Art Stage Jakarta 2017 features a forum on issues faced by countries in 21st century Southeast Asia. Other highlights include 'Off the Wall', an exhibition featuring urban art from Europe and Southeast Asia, as well as 'Transform and Undisplay', an interactive art project by emerging collective Double Deer that combines art, science and music.
Watch the teaser video below.
Visit Art Stage Jarkta's website for more information. 
---