Fourteen hours after leaving Singapore – two (delayed) flights, a two-hour transit at Seoul's Incheon Airport, and a one hour drive – I arrive smack in the middle of Okinawa, at the Sheraton Okinawa Sunmarina Resort. As I check into the newly refurbished, 30-year-old establishment (formerly known just as the Sunmarina Resort), I'm relieved to hear from hotel representative Naoko that there could well be direct flights available from Singapore later this year.
My sense of fatigue dissipates when I enter my room and peer out of the windows. The resort, as its name suggests, is surrounded by the Sunmarina Beach and a 400-meter stretch of fine white sand. Although man-made, the beach has been hailed not only as the finest in Okinawa, but in all of Japan. Perhaps the best part of staying at a centrally located Okinawan resort, is that the hotel will offer all the beach activities you would want to immerse yourself in: evening cruises, jet skiing, wind-surfing, wake-boarding, and even snorkelling at the famed Blue Cave. The temperature is typically comfortable all year round for such affairs, dipping to a cool 15°C in January and February. August is said to be the best month to visit the island due to the lower frequency of typhoons. Here at the Sunmarina, you could catch a romantic, picture-perfect pink sunset from one of two white lighthouses on the beach, before watching the nightly light projection shows that take place at the hotel's atrium.
Although I had heard much about the peculiarities of Okinawan cuisine, it is at dinner that I really begin to comprehend how the food differs from that of mainland Japan's. Nowhere else have I consumed such a deliciously sweet salad – of yellow carrot puree and bluish cauliflower, no less. Four different soil types, ranging from acidic to alkaline, allow a whole assortment of vegetables to be grown. Naoko, who is serendipitously seated beside me, reveals that much like Chinese cuisine, vegetables and pork are key ingredients of Okinawan delicacies. There is much less beef consumed here than in mainland Japan, she adds. Unlike the familiar ramen noodles, strands here are a cross between the typically thin ones and udon. It is well documented that because of the healthy food that natives here consume, the people have amongst the longest lifespan in Japan.     
Just a short drive away from the hotel is the Yomitan Pottery Village that is comprised of charmingly small houses, kilns and shops sprawling over a small hill. This is where can take a relaxing morning stroll, watch local potters at work, and purchase a practical Okinawan souvenir – a traditional bowl, cup or pottery piece typically decorated with floral or fish motifs. To truly appreciate the Japanese Prefecture's cultural complexities, a journey down south to the Shuri Castle, a UNESCO World Heritage Site, is required. With architectural influences from both China and Japan, the castle served as the centre of the Ryukyu Kingdom, which ruled from the 15th to 19th century. Due to its privileged position as an island kingdom in the South of Japan, the Kingdom maintained strong trade and cultural ties with China, allowing Chinese cultural customs to enter Ryukyu – explaining the predominance of red, Chinese-influenced sculptures and dragon motifs in the castle.
In close proximity to the castle is the American Village entertainment complex and burger joints like the famous Gordie's Hamburger. Explaining their presence requires a mini history lesson: In 1945, during World War II, the U.S. Armed Forces occupied Okinawa and built bases to launch attacks on mainland Japan. Today, more than 20 percent of the islands is still occupied by U.S. military bases, and nearly 50,000 soldiers and their dependents. Although their presence is not fully welcomed by the locals (there is a history of almost 6,000 crimes committed by these military personnel since 1972), it does present them with a multitude of business opportunities, as evident from the vast number of fast food joints and pre-schools in neighbourhoods.
On the other end of Okinawa, about an hour's drive away from the hotel, are a completely different set of attractions – including the beaches of Kouri Island (home to more pure white sand and azure blue waters), the Kouri Ocean Tower and its seashell exhibits, and the Bise Fukugi Tree Road that is a nature lover's paradise. But the top attraction here must be the Churaumi Aquarium – home to 77 tanks of ocean life, a stunning dolphin show, and an acrylic-windowed enclosure that houses two 8.6m long whale sharks and a rare black manta ray. The main enclosure comes alive at feeding time, when the whale sharks "stand" almost vertically for their fill of plankton, to the delight of visitors.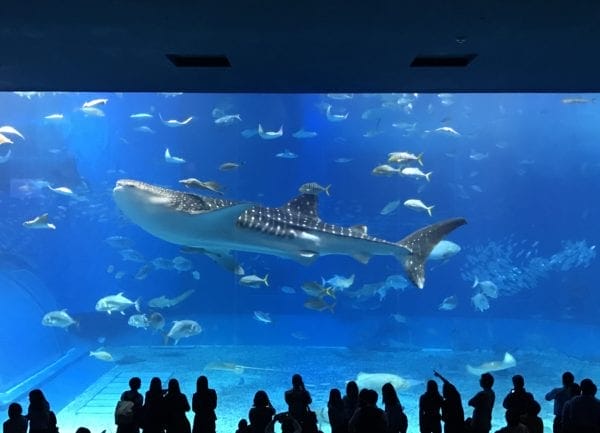 And at the end of a long day up north, a shabu-shabu dinner at Ufuya, in Nago City, is the way to unwind. The quaint restaurant, housed in a restored folk home that is over a hundred years old, serves the must-try, signature Agu pork of Okinawa. It is said that the Agu pig was brought to Japan from China over 600 years ago. And more importantly for diners, its meat is sweet and tender, has 25 per cent less cholesterol than traditional pork, and goes perfectly with Okinawa's Orion beer.
Find the full story in Men's Folio's February 2017 issue.
---