Seoul is a hyper trend-conscious city that has become a centre for fashion, design, and of course, art. The eclectic mix of old and new comes together with the dramatic mountains as a backdrop in this historic town. Rich in culture and heritage, Seoul has so much to offer art lovers. It may even be overwhelming for a newcomer as the frenetic art scene, with hundreds of galleries and a plethora of museums and art centres spreading across the sprawling metropolis, is by no means succinct or easy to navigate. Put on a pair of comfortable walking shoes, grab a T-money transport card and subway map, be prepared to walk some meandering hilly streets, and immerse yourself in the hustle and bustle of South Korea's capital. Here's our jam-packed guide to the best of what Seoul's art scene has to offer.
Bukchon Area
A cultural trip to Seoul must start with a blast to its recent dynastic past by visiting the royal palaces of the Chosun dynasty, situated in the old heritage area in the northern part of the city. Stroll through the gardens and palatial quarters to experience the origins of the Korean aesthetic. Meanwhile, for a more in-depth dive into Korean heritage, there is the National Folk Museum of Korea. Directly opposite the Folk Museum and conveniently sandwiched between the Gyeongbok Palace — the largest of the five royal palaces — and Changdeok and Changgyeong Palaces, is the National Museum of Modern and Contemporary Art (MMCA), Seoul branch. Opened in 2013, the museum focuses on introducing Korean contemporary art to a global audience, and is positioned to be like MoMA in New York City and Tate Modern in London. Big names in Korean art like Suh Do-Ho and Kimsooja are showcased here. As the museum has no permanent collection, you are guaranteed to see a fresh rotation of exhibitions any time of the year. With seven galleries and state of the art facilities, MMCA also offers a diverse range of movies, performances, and education programmes. The juxtaposition of old Seoul with the leading contemporary Korean art is certainly a treat.
The Samcheong-dong neighbourhood in the Bukchon area is known as the art centre of Seoul, and rightfully so as it is home to many swanky galleries and boutique shops. On your way out of the MMCA, head straight up on Samcheong-ro and find a maze of galleries and stores that recalls London's chic high streets. The highlights on this stretch are international galleries Arario Gallery, Hakojae Gallery, Gallery Hyundai, Kukje Gallery, and PKM Gallery, all with exciting exhibition programmes showcasing Korean as well as international artists such as Anish Kapoor who recently had a solo exhibition, Gathering Clouds, at Kukje Gallery. Also check out the nearby Kumho Museum of Art that rotates eyecatching international exhibitions.
For a pit stop, head to the charming Jinsun Book Cafe or Jang Jin Woo restaurant, which is started by a photographer, restaurateur and chef, on the top floor of the Print Bakery. A new brand of Seoul Auction, the Print Bakery makes collecting art more accessible to a wider public, offering limited edition works of renowned artists like Park Seo-Bo, Yayoi Kusama, Takashi Murakami, and Kim Chang-Yeol. Likened to shopping for a loaf of bread at a bakery, the Print Bakery exposes the culture of collecting to more people by offering reasonably priced artworks and lowering the bar of acquiring art.
MMCA
30 Samcheong-ro, Jongno-gu, Seoul
Print Bakery
52 Samcheong-ro, Jongno-gu, Seoul
Pyeongchang-dong Area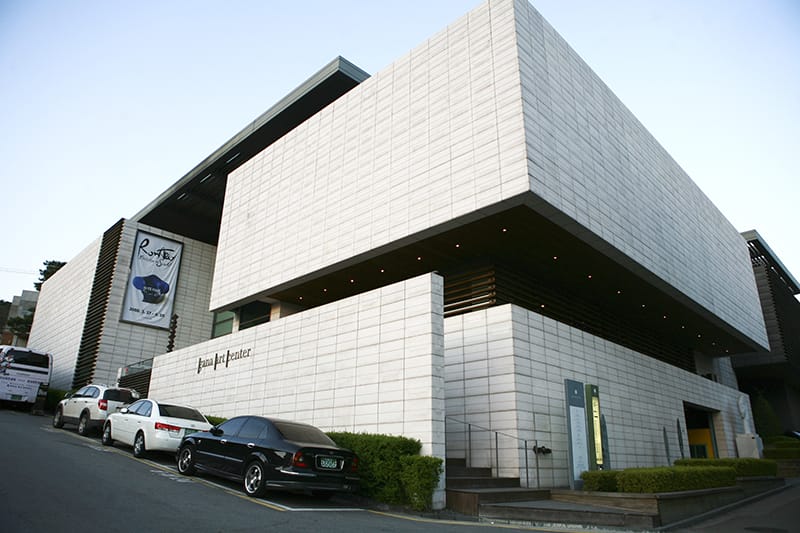 North of the Bukchon area is Pyeongchang-dong, a mostly residential area that is not usually on the tourist's radar, but totally worth the trek. This hilly neighbourhood, reminiscent of the slopes of Montmartre, is nestled at the foot of Bukhansan National Park where the views are simply breathtaking. While gallery hopping, you can take in the fresh air and appreciate the idyllic setting of what was once one of the most exclusive residential areas in Seoul — you can still get glimpses of posh mansions today. Showcasing the harmonious marriage of nature and art, the stunning Gana Art Centre, which is designed by renowned architect Jean-Michel Wilmotte (architect of Incheon International Airport), is one of the hotspots. It is a cultural hub and the largest exhibition space in South Korea that hosts art and design shows as well as outdoor concerts, plays, movies, fashion shows, and performance art. There is also an art shop as well as Wil Restaurant, which is an Italian joint that serves decent lunch specials.
Just beside Gana Art Centre, you can find the Total Museum of Contemporary Art, a private non-profit museum housed in a unique, quirky three-story building. Navigating through the museum is an interesting experience in itself — as you walk down the narrow tunnel-like metal stairs, you will be led from one room to another with a surprise waiting for you at each room. As a more experimental space, it also allows for international dialogue to take place and an opportunity to express diverse ideas through a variety of media.
Venture up the road and you will find yourself at the Kim Chong Yung Museum, a modern building housing the collection of the celebrated late sculptor, which the museum is named after. Referred to by some as Korea's Henry Moore, Kim was a pioneer and leading figure of modern abstract sculpture in Korea. The museum commemorates the life and work of Kim Chong Yung, presenting his large collection of thousands of sculptures and drawings in new perspectives like the Autumn 2016 exhibition, The Wife of a Sculptor, which brings together the works Kim produced of his wife — a poignant insight into his personal life and intimate relationship with his lover, confidante, and muse. In the other gallery spaces, the museum also exhibits works of emerging sculptors. The Kim Chong Yung Museum has an elegant café with wonderful views of the Bukhan Mountain. There are plenty of other galleries, artsy shops, cafés, restaurants, and even the Seoul Auction House that you can check out in the area.
Gana Art Centre
28 Pyeongchang 30-gil, Jongno-gu, Seoul
Total Museum of Contemporary Art
465-16 Pyeongchang-dong, Jongno-gu, Seoul
Kim Chong Yung Museum
30 Pyeongchang 32-gil, Jongno-gu, Seoul
Sinsa-dong & Cheongdam-dong Areas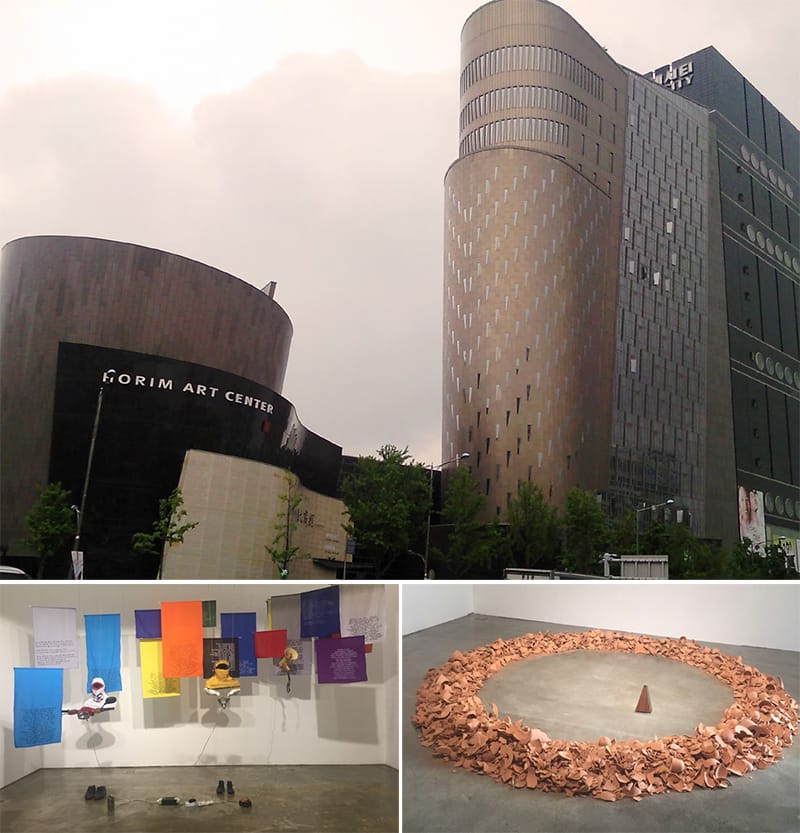 This affluent area of Sinsa-dong is known to be the famous Gangnam area as popularised by Psy's Gangnam Style. Don't feel bad if you feel underdressed because the elite fashionistas and trendsetters of Seoul are dressed to the nines on the streets here. High-end luxury stores and famous shopping districts like Apgujeong Rodeo Street and Sinsa-dong Garosu-gil can also be found here. Sinsa-dong and Cheongdam-dong are very commercial areas with many galleries to visit. One of the highlights here is the Horim Museum, a private museum that showcases traditional Korean art, such as ceramic wares, in an architecturally unique building.
In the Cheongdam-dong area, another space worth visiting is the SongEun Art Space, a cutting-edge gallery that delivers innovative exhibitions showcasing avant-garde artists from around the world. Recent shows include a comprehensive exhibition of Indonesian art collector Tom Tandio. Around this neighbourhood, there are plenty of other galleries, so walk around and you can find yourself visiting Lee Eugean Gallery, which is housed in a traditional residential space — don't be afraid to go up the stairs and let yourself in.
Horim Museum
651-23 Sinsa-dong, Gangnam-gu, Seoul
SongEun Art Space
6 Apgujeong-ro 75-gil, Gangnam-gu, Seoul
Yongsan Area & Heri Art Valley

Itaewon is the most popular place in Seoul for expats, with plenty of international cuisine, shopping, and a happening nightlife scene. For the art lover, the iconic stop here would be the Leeum, Samsung Museum of Art. The famous private museum exhibits the works of modern masters like Nam June Paik, Andy Warhol, and Mark Rothko, with three spaces each dedicated to Korean traditional art, international contemporary art and special exhibitions. Don't miss taking a photo with the mesmerising sculpture, Maman, by French-American artist Louise Bourgeois.
A bonus area for those of you who want to venture outside of the city, the cultural town of Heyri, about an hour's drive from Seoul, is a cool day-trip option. You can even take the Seoul subway to Hapjeong Station on Line 2 (Exit 2) and then take bus number 2200 to Heyri. Heyri is an artist colony and home to more than a dozen galleries and museums that are all housed in idiosyncratic buildings, making it an inspiring location for architecture enthusiasts — an art haven village.
Leeum, Samsung Museum of Art
60-16 Itaewon-ro 55-gil, Yongsan-gu, Seoul
Heyri Art Valley
70-21 Heyrimaeul-gil, Tanhyeon-myeon, Paju-si, Gyeonggi-do
This article is written by Christina Arum Sok.
---