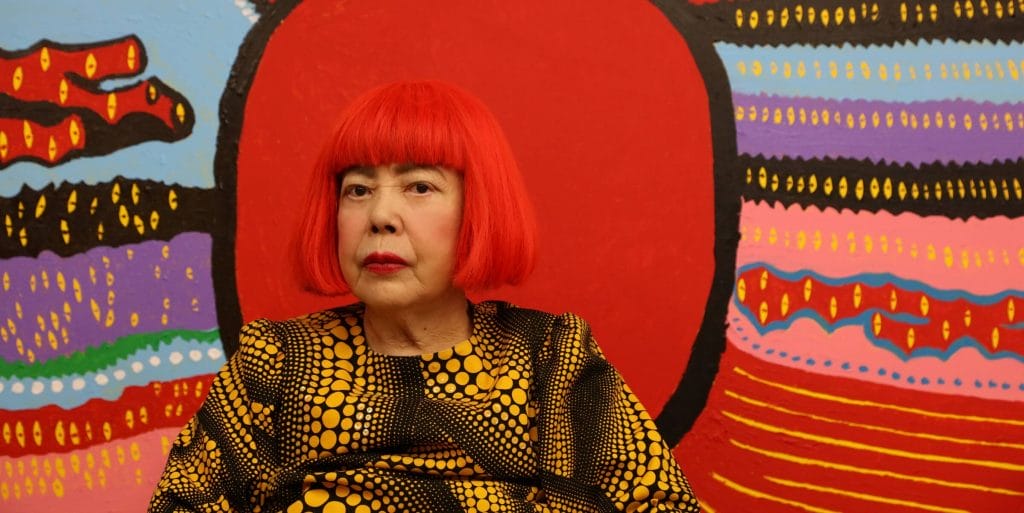 Yayoi Kusama is nothing short of the legend that she's been made out to be: the meticulous artist has shared her unparalleled vision with the world for over a staggering seven decades, and she doesn't plan on stopping anytime soon. To celebrate her ongoing retrospective, Yayoi Kusama: Life is the Heart of a Rainbow—the biggest that Southeast Asia has seen yet—at National Gallery Singapore, we take a look at some of the revered icon's defining qualities.
Polka dots rule her life
Her art may be peppered with key motifs such as pumpkins, but it is the polka dot that is most synonymous with Kusama's legacy. Since the tender age of 10, the humble spot has permeated a wealth of Kusama's works, earning her the moniker, the "Priestess of Polka Dots". Her obsession with the symbol, however, stems from unsettling origins: polka dots form the foreground of the traumatic hallucinations that she has suffered from since childhood.
"One day I was looking at the red flower patterns of the tablecloth on a table, and when I looked up I saw the same pattern covering the ceiling, the windows and the walls, and finally all over the room, my body and the universe. I felt as if I had begun to self-obliterate, to revolve in the infinity of endless time and the absoluteness of space."
Her art explores infinity and beyond
For Kusama, the dizzying repetition of dots also symbolize the erasure of identity, the path to becoming one with the universe. While it is also expressed through her intricate Infinity Net paintings, her vision of "self-obliteration" is probably best realized in the mesmerising Infinity Mirror Rooms. There, suspended orbs of light are endlessly reflected by mirrored walls, immersing you in the sublime—and terrifying—illusion that you are standing in the middle of a kaleidoscopic abyss.
"Our earth is only one polka dot among a million stars in the cosmos. Polka dots are a way to infinity."
The world is her canvas
Kusama's signature polka dots have appeared on a myriad of surfaces, sometimes filling entire rooms. For the Singapore Biennale in 2006, she transformed trees along Orchard Road into striking red figures covered with white spots. She has also painted on bodies – both her own and of strangers – as part of her notorious "happenings" that took place around New York in the late '60s. Through her art, Kusama meticulously recreates the world as she sees it in all its surrealism.
She is no stranger to fashion
Many will be familiar with Kusama's collaboration with Louis Vuitton in 2012 – a whimsical, not-for-the-faint-of-heart collection of dotty handbags, apparel and accessories. But Kusama's relationship with fashion goes beyond that. Back in the 1960s, she founded the Kusama Fashion Company in New York, offering avant-garde garments and textiles, and even designed polka dotted dresses that were sold at Bloomingdale's.
Her love for art knows no bounds
Outside of fashion and art, Kusama has dabbled in countless other mediums, including novels, poetry and film. While this offers us more glimpses into her fascinating mind, Kusama's tireless devotion to creating art is largely a way for her to drive her inner demons out. It is also fuelled by a love for life, as portrayed in her ongoing series, "My Eternal Soul". What was originally supposed to be a collection of a hundred paintings now boast over 500 artworks, bursting with ideas and vibrant colours – a testament to the artist's undying creativity.
"I have always been in awe of the wonder of life. This strong sense of the life force in artistic expression has been my belief as an artist and it is what supported me and gave me power to overcome feelings of depression, hopelessness, and sadness."
YAYOI KUSAMA: Life is the Heart of a Rainbow will run until 3 September at the National Gallery Singapore. Get your tickets here.
---