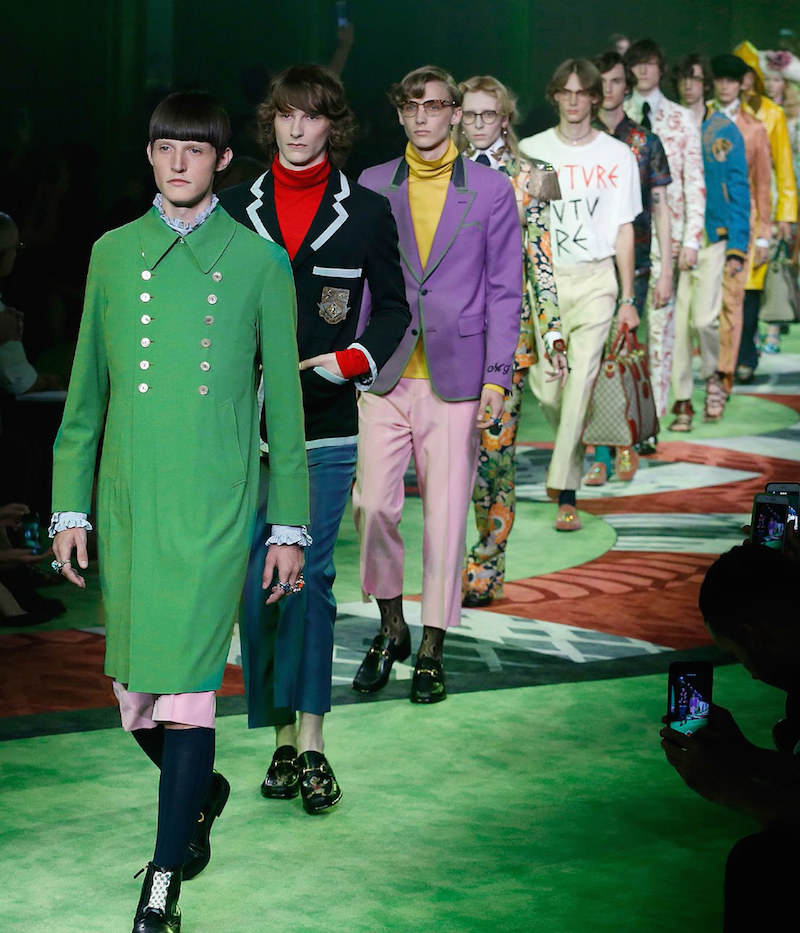 With its super-sized shoulders, zesty shades and statement hiking gear, Spring/Summer 2017 will leave no one unnoticed.
TREND SPOTLIGHT: BIG SHOULDERS

The season sees the revival of the 1980s big-shoulder look. This time, the detail is updated with sharp, modern tailoring – think smart suiting meets American rugby players. That's what Balenciaga did to its entire collection, ranging from dinner suits to bomber jackets. The super-sized shoulder pads will surely broaden and emphasise the masculinity of any man.
TREND SPOTLIGHT: CAMOUFLAGE PRINTS

This season, camouflage prints are back in full force and are the staple for several fashion maisons, including original camo proponents like Givenchy, Dries Van Noten, and Valentino. Though traditionally seen on heavy fabrics, the pattern has been utilised with the season in mind, on lightweight fabrics. Givenchy's urban take sees dollar bills repurposed as part of camouflage, and with the eye of the Illuminati emblazoned on utilitarian coats and parkas.
TREND SPOTLIGHT: WORDY EXPRESSIONS
You know what they say: fashion is a means of expression. And designers are taking this more seriously than ever with the words, statements, and slogans of the season: "future", "brilliant", and "so what do you feel?". Decorating T-shirts, sweatshirts, and hoodies, they're your ticket to updating your casual wear now. Have a question, or something you're simply bursting to say? Well, wear it and never go unseen, or unheard.
TREND SPOTLIGHT: STONE HUES
The colours of the season are undoubtedly "stony" – hues that are a little white, a bit grey, and quite close to sandy beige. Shown by many designers, the slate-like shades graced the runways in different forms: on jackets, shirts, and even patterned trousers. The new neutral is your ticket to an effortless, coordinated look that isn't jarring to the eye.
TREND SPOTLIGHT: LEMON PARTY
The exuberant, in-your-face colour popped up on the runways by surprise. Issey Miyake lets you wear it as a subtler accent on shirts, while Hermès serves up casual canary coordinates. And for the bold at heart, there's always the full-on Paddington raincoat from Gucci.
TREND SPOTLIGHT: WILD ANIMAL PRINTS
Admittedly, animal prints are nothing new. But this season, designers are really getting wild. Blousons, trousers, jackets, and more got covered with the patterns of savannah beasts. And it's not just leopards and jaguars we're talking about. From zebras to giraffes, wildlife has truly taken over the season.
TREND SPOTLIGHT: STRIPES
Checks have given way to another classic pattern this season. Stripes – in every direction, size, and colour imaginable – dominate the Spring/Summer 2017 collections. The most popular stripes with designers now? Vertical, thick, deckchair types that are favoured by labels like Fendi and Marni.
TREND SPOTLIGHT: CAPS
A natural progression for the evergreen athleisure trend, it's almost a no-brainer that the baseball cap is everywhere on the Spring/Summer 2017 runways. We see the sporty chic headgear in myriad colours from A.P.C., Acne Studios, and Balenciaga. Wear the new It-accessory with casuals or use it to freshen up your tailoring.
TREND SPOTLIGHT: VIBRANT BACKPACKS
The modern man is always connected (cue power banks, wires, and dongles) and on the move. What better way to carry all these essentials than with a backpack? This season, rucksacks are both stylish and functional. Breaking out of the mould, labels like Bally, Paul Smith, and Gucci inject theirs with vibrant colours and patches.
TREND SPOTLIGHT: TECHNICAL OUTERWEAR
Another way to hike up your casual style quotient this season: Prada's or Lanvin's luxed up trekking gear like windbreakers and parkas, in an assortment of shapes and sizes. With or without hoods, the many variations of technical outerwear can be styled by tying them to the waist, or layering them unexpectedly over smart tailoring.
---