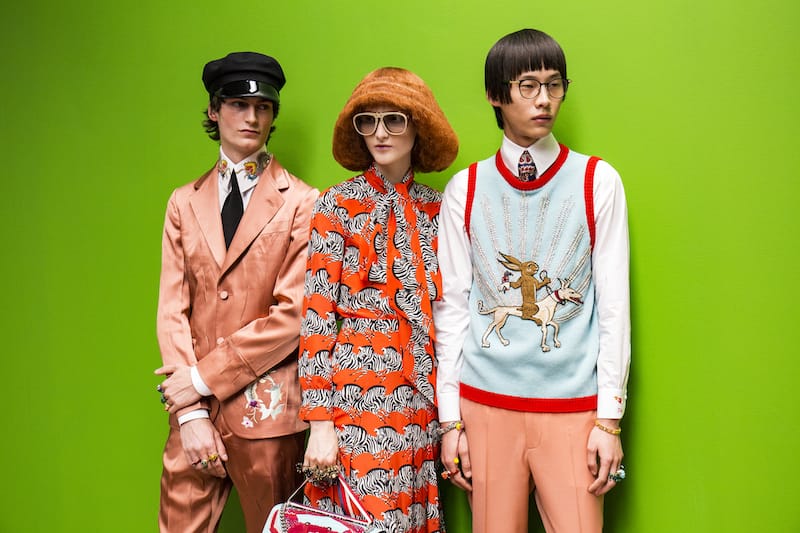 Because Gucci has combined its menswear and womenswear shows starting with the Fall/Winter 2017 collection, this Spring/Summer 2017 collection notably marks Alessandro Michele's last standalone presentation of menswear. Blurring of gender codes is still very much evident in the collection, but what's new here is that Gucci's creative director is expounding his idea of travel.
This Neo Vintage line is based primarily on the idea of individualism and personalisation — sticker-like patches cover a hiking-inspired backpack, with the patches featuring addresses of Gucci stores all over the world. The signature Gucci tiger head, previously seen on drawstring bags or Princetown slippers, meets the season's Donald Duck motifs to show that this is a collection dedicated to a cool, modern voyage.
Many of the garments themselves are classically travel-savvy: slouchy knits and turtlenecks in Crayola colours, and versatile bomber jackets and trench coats sprinkled with Michele's taste for embroidery and unconventional shades.
Shoes — always key accessories in any Michele show — are highlights of the Spring/Summer 2017 collection. The Harry sandals are new lace-up styles that feature quirky fish-shaped soles and laces in Gucci's signature navy and red combination. There are also buckled rubber sandals — charming childlike footwear made edgy with a gold tone tiger head detail and studs. The brand's now signature Lawrence slides receive a luxurious upgrade with materials like quilted silk and embellished velvet — doubling up as the perfect on-plane slip-ons and evening shoes.
---