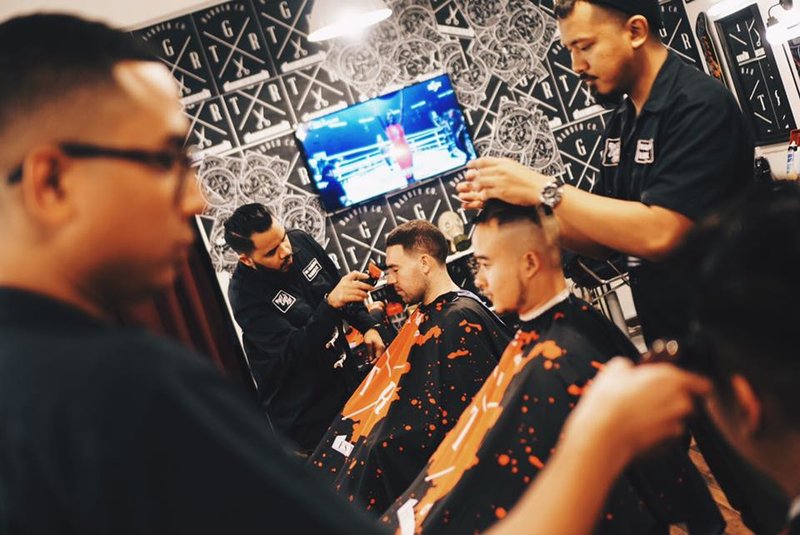 Grooming trends come and go. But if the rise (and fall) of man buns or the 'lumbersexual' look is any indication, it's safe to say that men today are putting more effort in looking their best. And if you've got an unruly hair or beard to tame,  you'll be in very good hands at these barber shops in Singapore. 
Truefitt & Hill
Established in 1805, Truefitt and Hill holds the Guinness world record for the world's oldest barbershop. Paying homage to their original store along the streets of London, this barber's interiors are dressed in mahogany accents and quilted armchairs. It's as if Truefitt and Hill is a time capsule of old world charm. Famous past patrons include the British Royal Family and Winston Churchill! 
Truefitt & Hill, 9 Ann Siang Road, Singapore 069690, T. 6223 5263.
Hounds of the Baskervilles
Elementary my dear Watson, elementary. Well there's nothing elementary about the skills of this barbershop. Hounds of the Baskervilles is home to immaculate haircuts, as well as a tattoo parlour. This Old English inspired barber is hidden along the hipster hideout Bali Lane. Hounds sure isn't forgetting their Sherlock Holmes namesake—all barbers are dapper in bowties and suits. 
Hounds of the Baskervilles, 24 Bali Lane, Singapore 189860, T. 6297-1197.
We Need A Hero (WNAH)
Need a hero with grooming? Check into the male counterpart to popular female services Strip and Browhaus. Its interior is reminiscent of a 1960s diner, and it's the first and only of its kind that provides all-rounded male grooming and retail experience. Other than your usual haircuts, WNAH offers body waxing, eyebrow shaping and even shoulder massages.
We Need A Hero, 57 Eng Hoon St, Block 57, Singapore 160057, T. 6222-5590.
Premium Barbers
Remember those candy-cane-coloured barber poles? Premium Barbers at Somerset has one of those, along with park benches. The first-ever barber shop concept store in Singapore, Premium Barbers offers not only a quick nostalgia fix, but also a spa treatment for tired urban males. This extended service consists of a foot spa— perfect after a long day of shopping at Orchard.
Premium Barbers, 360 Orchard Rd, Singapore 238869, T. 6735-0107
Sultans of Shave
Inspired by classic British barbershops, Sultans of Shave prides itself on having a manly ambience for men to unwind after a long day. Sultans of Shave boasts lush waiting areas with luxe leather sofas for you to sink into while waiting your turn. With one of its location smacked right in the Central Business District, Sultans of Shave is a convenient stop for the up-and-coming 'sultans' of the business world.
Sultans of Shave (Flagship), 11 North Canal Rd #02-01, Singapore 048824, T. 6222 0201
Empire of Steel
Offering a mix of old school and modern cuts, Empire of Steel is 100% about the patrons. Founder Sean Ong is equipped with over 10 years of grooming experience, and will tailor each haircut to each gent. With wood floors and a minimalist interior, Empire of Steel gives off a comforting atmosphere, and you can sip whiskey from the bar area while waiting to get a new 'do.
Empire of Steel, 220 River Valley Rd, Singapore 238278,  T. 6733-0220
Jermyn Street
Located in an Amoy Street shophouse, Jermyn Street is modelled after the original Jermyn Street in Westminster London — known for being a men's enclave. The barbershop embodies its spirit by upholding the traditions of grooming, and the shop reflects this vision with in its combination of street style and heritage. Decorated with chesterfield sofas, Jermyn Street even has a stage for live acts as well as a private room for functions. 
Jermyn Street, 108 Amoy St, Singapore 069928, T. 6220-4010
The Panic Room
Quirky huh? This eclectic shop sits atop a coffee shop in Geylang. One of the few places in Singapore stocking a slew of male grooming products, The Panic Room is quite the opposite of what its name suggests. Exuding fun, this shop even has an arcade machine!
The Panic Room, 311A Geylang Road, Singapore 389350, T. 8228-9063
Grease Monkey Barber Garage
At first glance there's only one word to describe this bespoke barber— badass. Grunge-y and rugged interiors perfectly compliment the Grease Monkey's exterior of a motorcycle warehouse. Even the barbers dress in garage uniforms! The parlour is almost always full, so make sure to make an appointment with them before venturing into this grooming jungle. Greaseakes appearances at festival pop-ups, keep an eye out!
Grease Monkey Barber Garage, 15 Mayo St, Sinagpore 208312, T. 8717-1515
Deep Cuts
Hidden in an attic of a shophouse at Kampong Glam, Deep Cuts is a no-frills barber. This quaint barbershop has interiors reminiscent of a bachelor's pad, which marries greatly with their utmost attention to all patrons, earning them a tip of the hat. 
Deep Cuts, 61 Kampong Bahru Rd, Singapore 169368,  T. 9852-1184
Autocutt
Vintage interiors and automobile signs greet you when you enter this establishment. Featuring a team of barbers from Thailand, Malaysia and Singapore, this little hideout is where pompadours and undercuts are made. Notably, Autocutt makes its own grooming products, including its own pomade. It was also recently present at the iLight Marina Bay event as a barber pop-up. 
Autocutt, 68 Yio Chu Kang Rd, Singapore 545569, T. 9186-1233
The Golden Rule Barber Co
First opened in 2014, The Golden Rule Barber Co is a spacious barber shop residing at Race Course Road. Electric guitars and memorabilia graze the walls, perfect as conversation starters while you get your grooming fix. The industrial interiors gives the shop a cool-gritty vibe. Grooming services include your standard bear sculpting and hot towel shaving. 
The Golden Rule Barber Co, 188 Race Course Road, Roberts Lane, Singapore 218570, T. 6341-7291
---