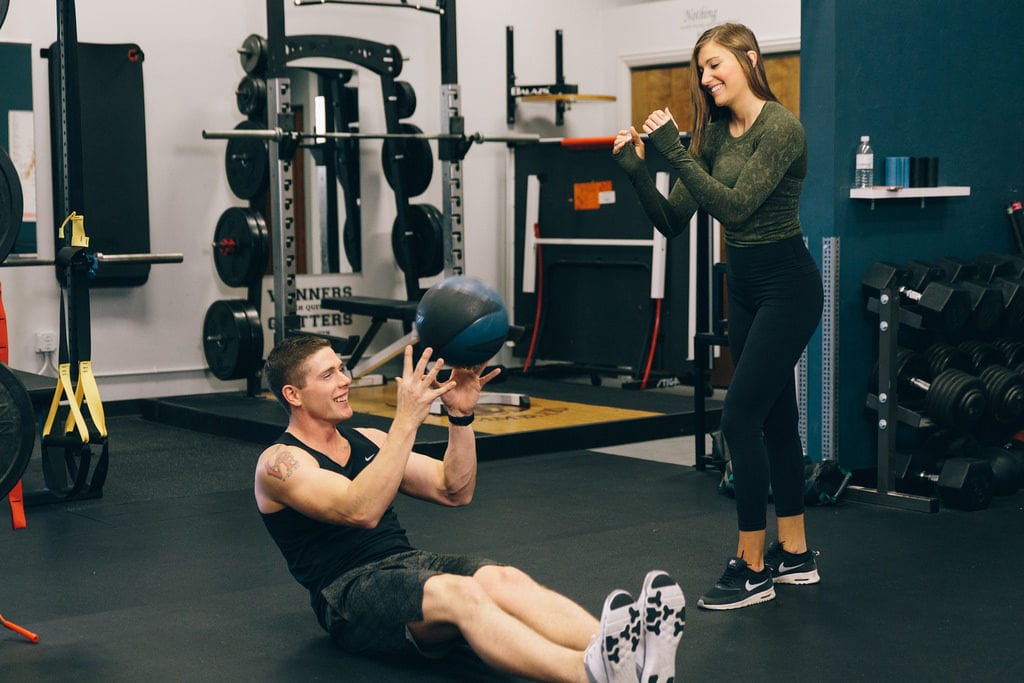 We have all been there: Making a New Year's resolution to keep fit and then slowly slipping off the bandwagon. You start off steadfast and resolute, chowing down healthy salads and trying a new fitness regime. But as the days progress, you start finding yourself indulging in more cheat days. Then, before you know it, you have fewer reasons to keep those promises you made to yourself. Blame it on the long work/school hours and the lack of sleep and energy, but we all know that you're losing your motivation.
Men's Folio is here to help, with our selection of fun fitness classes in Singapore that will reignite the spark and keep you motivated to stay healthy and fit in 2017.
Cut Gym
If you have serious fitness goals to achieve, be it for health reasons (i.e strengthening an injured knee) or to achieve a chiseled body for aesthetics, the trainers at Cut Gym have just the perfect customised plan for you. Coming from different backgrounds, ranging from sport science experts to Muay Thai boxers, the trainers here believe in no cookie cutter regime for everybody. Lessons are fun, adrenaline-pumping and push you to your limits, each session tailor-made to suit your needs. The first session involves a sit-down talk with your trainer to find out about your previous injuries, experience and lifestyle habits, followed by a set of exercises for your trainer to observe and analyze what your body needs. Trainers here use a combination of weights, circuits, and even martial arts to help you slim down, tone or gain muscle so your body does not get used any one workout type. Each session is an hour long so you could still get on with your day without any disruptions.
PS: You know you are in good hands when your trainer is Lucas Lim, the winner of the 2016 Manhunt.
PPS: We've interviewed the founders of Cut Gym, Johnson and Mitchell which you can read over here.
23 Teo Hong Road
Ritual Gym
Also called the "30-minute" gym, Ritual prides itself on its fast yet efficient gym concept. Enter the gym, change, exercise, shower and leave, all within half-an-hour. Located at two prime areas, Raffles Place and Holland Village, the gym caters to busy workers on the go. So no more excuses for you not to workout. Trainings are designed around the core principles of HIIT (High-Intensity Interval Training), which aims to keep the heart pumping through simple yet intensive workouts and helps the body reach a fat burning stage called ketosis. Workouts are different each day and have three different levels of intensity which can be increased or regressed as and when you prefer. The gym is open from 6.30 am to 8 pm if you are looking to start your day with an invigorating workout. Bookings are made easy through their mobile app, just sign up and show up. Best of all, there's no need to pack a gym bag as they provide workout clothes, plenty of towels and a spanking shower room for you to change. They have a smoothie bar as well for an after workout treat, which you definitely deserve.
Quote 'MENSFOLIO' for a 25% off your first trial package.
11 North Canal Road, #03-01, 048824
17B Lorong Liput, #02-01, 277747
CrossFit Mobilus
A CrossFit workout is anything but easy. In case you don't already know, it is a branded fitness regimen created by Greg Glassman. Based on functional movements, the workout involves a mixture of gymnastics, weightlifting, plyometrics and calisthenics. Definitely a serious regime for the ones who are looking to get stronger, fitter and faster. Mobilus is located right beside Canvas and looks like an adult playground for fitness junkies. Classes are conducted in a small group, each with a buddy to spur each other to their limits. The Workout of the day (WOD) is different each day so expect your body to be subjected to rigorous training. Professionally trained coaches would be there to provide step-by-step guidance and tips to improve your performance.
The Riverwalk 20 Upper Circular Road, #B1-10/16, 058416
Crossfit Tanjong Pagar
As Crossfit is gaining more traction in the local scene, we see Crossfit boxes (they don't call themselves a gym) popping up in the CBD to cater to the working adults. Boasting a large training space, Crossfit Tanjong Pagar has all the equipment you need. The fitness services they provide ranges from personal training to boot camps. Top certified CrossFit trainers are friendly and offer plenty of insights, tips, and advice to help you attain your personal best. Also, Singaporean Olympic weightlifter, John Cheah conducts his own weightlifting classes for those looking for a challenging yet rewarding sport. Together with the gym comes UFit Clinic, a group of physiotherapists, nutritionists, and psychologists to ensure the members physical and mental well-being, providing health services such as podiatry and foot care, prenatal training and meditation classes.
Keppel Towers 10 Hoe Chiang Rd, #01-04/05, 089315
---