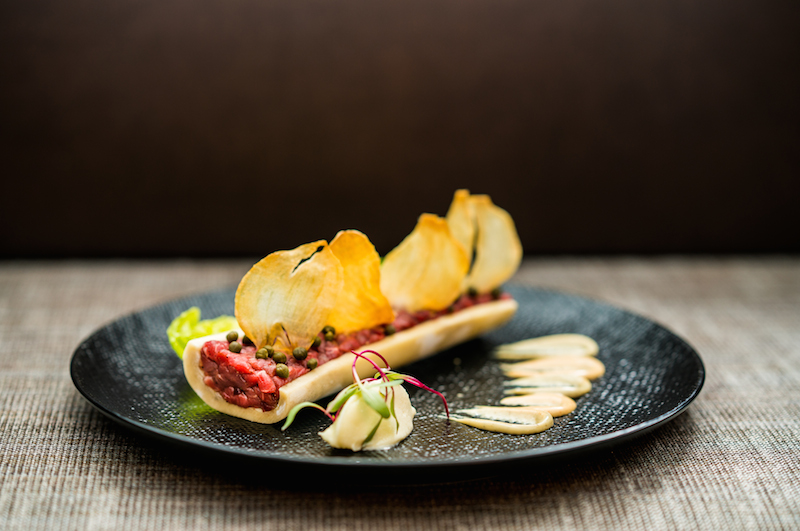 Sitting atop a newly restored heritage shophouse along Singapore River lies Braci (Italian for "embers"), an Italian restaurant and speakeasy. It's quietly tucked away from the bustle of Boat Quay, and its interior is strikingly New York loft-like: warm, inviting and decorated with chic custom-made wooden furnishing and ambient lighting. The casual-luxe establishment has a 16-seat open-kitchen area and a 30-seat bar, and serves progressive Italian dishes and classic cocktails with modern twists. Much of the restaurant's influences come from the owner's personal travel experiences, with every dish and cocktail created thoughtfully and in keeping with his Italian heritage.
If you fancy a tipple before your meal, the rooftop bar boasts an amazing view of the towering buildings surrounding it. When you're at Braci, why go for the plain old gin and tonic when there's the refreshing G&Tea, a marvellous blend of three different gins (Marconi, Bombay Sapphire and Monkey 47) with lemon ginger tea and Erasmus Bond Dry Tonic. If you prefer a fruitier concoction, the Bramble packs a sweet punch with Bombay Sapphire, lemon and a blackberry ice ball. Should you feel a little peckish after the alcohol, the restaurant offers some tantalising bar bites. Tuna Cheek Sliders with smoked peppers and pearl onion, and Beef Satay with truffle and parmigiano are great options.
When it's time for your meal proper, head down to the open kitchen area, where chefs create dish after dish swiftly. As its name suggests, Braci's menu is inspired by charcoal, and this is the main cooking technique used in its kitchen, which features a shichirin grill and a Josper oven. Try the Hand Dived Scallops with ham, served in a pool of creamy almond milk, and the al dente Pork Tortelli that rests on a smooth bed of carrot cream and blueberry jus. We also recommend a portion of the Seabass with eggplant parmigiana and saffron sauce. Round off your meal with the indulgent Gianduiotto, a mélange of three different types of chocolate, glazed in Frangelico cream and sprinkled with golden hazelnuts.
Braci, 52 Boat Quay, #05-01/#06-01, (S) 049841. Tel: +65 6866 1933
---