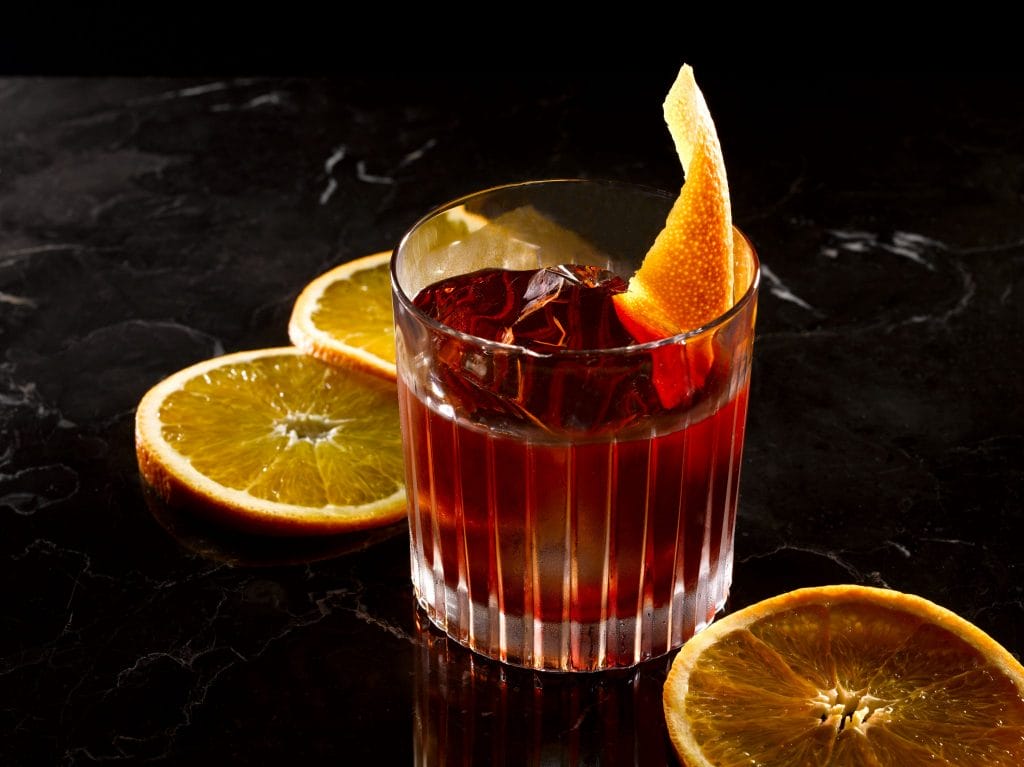 While writing for a magazine is definitely on the more enviable spectrum of jobs in terms of the interesting things, people and events that you get to experience, meet and attend, trust us when we say that we fully empathise with those fighting off the Monday blues.
So here's a spot of good news for you: Negroni Week 2016 officially begins today all through to Sunday the 12th of June, and it brings with it a wonderful chance to enjoy dozens of this classic cocktail from over 20 bars. Rest assured, all this drinking will not simply fulfil the futile purpose of drowning your sorrows, but will also be part of the international drive to raise funds for various charity organisations. But before you rush into the fray of the second Singapore edition of Negroni Week presented by Campari, here are 10 things that you should know about Negronis and all the ways you can play around with it. 
Amber Spring by Samuel Sim from KITE
1. What makes a Negroni
The classic negroni recipe consists of three equal parts of gin, vermouth and Campari, and is served on the rocks, with a twist of orange peel garnish. This week, expect to see plenty of different spins on the Negroni, including changing up the proportions in the original, or doing completely different takes on the drink.
2. The Americano came first
The origin behind the this popular cocktail is pretty much unknown, but the most widely-spread story is that it was born in 1919 when a certain Count Camillo Negroni walked into a caffè and asked the bartender Fosco Scarselli to amp up his Americano by swapping out the soda water with gin. Scarselli also exchanged the lemon garnish typically used for the Americano for an orange one in order to signify that it was a different drink. Since then, the Negroni has become a favourite in bars across the world.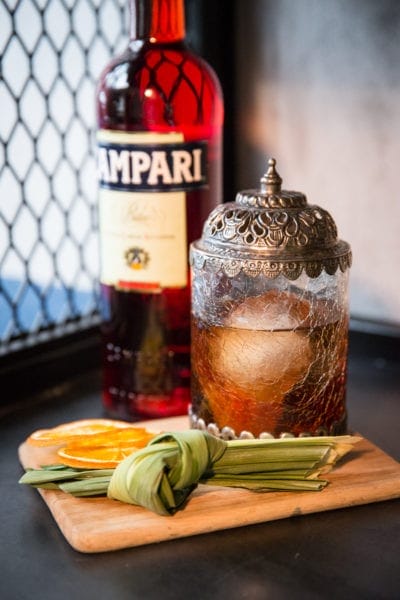 Nazgroni by Naz Arjuna from Bitters & Love
3. Pack in more flavours
A trick to adding flavours into your cocktails is through infusion, basically soaking an ingredient inside alcohol such that the flavour is imparted into the liquor. Several of the participating bars are playing with the gin component in that way, adding putting pandan and lemongrass (Bitters & Love), holy basil (Long Chim), sorrelade, mancino rosso, hibiscus cinnamon ginger (Bago at Lime House), and even ginseng (Ah Sam's Cold Drink Stall). Nutmeg & Clove's Beyond a Negroni, takes a different approach with its sweet Vermouth, infusing it with lemongrass, cardamom and cloves, before adding a dose of smoky Lapsang Souchong tea and Kewra water. However, we're guessing the favourite is going to be the Alessio "Signature" Negroni at Bread Street Kitchen, which consists of bacon-infused dry gin, Campari, Punt e Mes, and a dried bacon garnish. 
4. Swap out ingredients
Speaking of changing out the typical Negroni ingredients for others, there are plenty of other innovative blends you can try out during the week. Sugarhall's Kingston Negroni pays tribute to Jamaica by using Rum Nation Jamaican White Pot Still Rum in the place of gin; Vasco features Mezcal in the Mexico '70; Oxwell & Co uses Sloe Gin and Tawny Port in their Slip It Sloe rendition; Bull's Eye #101 by Jigger & Pony opts for Wild Turkey 101 bourbon, Red Bull, and two dashes of Absinthe; LongPlay's Choloni adds a distinct Peruvian flavour with the use of Pisco; and Waku Ghin will serve up a Red Mt. Fuji with Japone Sakura Liqueure.
5. Heat things up
Some people can't get used to the idea of warm cocktails, but if you're up to try it, Tess Bar & Kitchen is serving up a floral twist of the Negroni. With a temperature that is calculated to soften the harshness of the alcohol, the T'groni is made from equal portions of Bankes London Dry Gin, Campari, and a Noilly Prat Dry Vermouth tincture made with meticulously selected house-blends of Dilmah chamomile, green tea and jasmine flowers, and garnished with fresh jasmine and orange peel.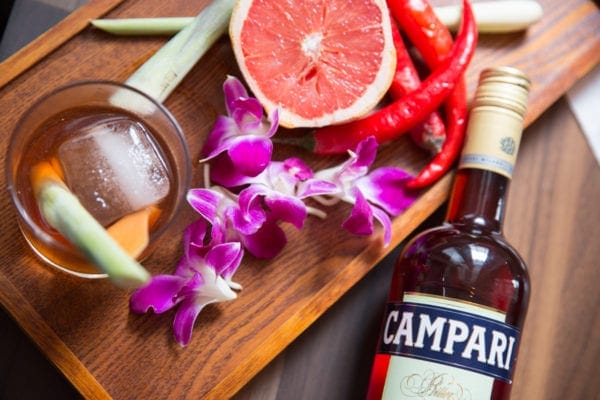 Spicy Italiano by Nicholas Lim from Jekyll & Hyde
6. Some like it spicy
In support of the Make A Wish Foundation, Nicholas Lim from Jekyll & Hyde decided to increase the tastes of citrus and spice to complement the bitterness in his Spicy Italiano, and throws the drink instead of stirring it to bring out the bubbles and open up the flavours of the drink.
7. Add some fizz
Those fond of the taste of bubbles on their tongue would probably favour the variations of the Americano available during Negroni Week, one of which is the Sbagliato Rossa at Manhattan Bar, which substitutes the soda component with champagne to uplift the bittersweetness of the Campari and vermouth. The Garibaldi Frizzante by FOC, on the other hand, not only carbonates the drink with a CO2 charger, but also adds a Cynar artichoke liqueur, Crème de Cassis and fresh grapefruit juice for a unique taste. 

Garibaldi Frizzante by Shafik from FOC
8. Combine the classics
Face it: the Negroni is a hard-hitting drink, and it does take some getting used to. To balance out the heavy bittersweetness of the typical Negroni, Manhattan bar's Camillo Sour and Secret Mermaid's Negroni Sour use the refreshing lightness of lemon juice and egg white to ease out the flavours, making the drink more accessible to those who are still training their palate to appreciate Negronis. Manhattan also offers the Dirty Negroni, adding the olive brine element more typical to a salty Martini to add complexity and give your tastebuds a spin. 
9. Age it in a barrel
Whisky lovers, never fear. While you're sure to be able to get your hands on a Boulevardier or two, where whisky takes the place of gin, you probably don't want to miss the Barrel-aged Negroni served up by CÉ LA VI, just the drink to have as you appreciate the skyline from the top of Marina Bay Sands.
10. Totally reinterpret the drink
Just when you think you've seen it all, our creative bartenders will slap you in the face with something completely new. Take The Breakfast Club by Logan Demmy from 28 HongKong Street, for example, which is fashioned after a hearty American breakfast: Campari, Laird's Bottled in Bond Applejack, cold brewed coffee, ginger syrup and orange garnish. And even though some may argue that a Negroni without Campari is really no Negroni at all, do pop by DB Bistro for a taste of The Bittersweet, which mixes Rittenhouse Rye Whiskey with Punt e mes, Aperol, and Lillet Blanc for a smooth yet substantial tipple.
---