The last time we entertained the thought about using a powder wash, it was probably in the mid noughties when the Fancl Cleansing Powder was a thing. It was basically just a plastic container that contained a powder which foamed richly to really get into the pores to remove dirt and sebum. What then makes the powder washes from Singapore brand BHuman that great then?
Well firstly, it is a a 100% plant-based enzyme powder cleanser that has zero water footprint. Secondly, it has four times the cleaning power as compred to its contemporaries because its powder formula is specifically formulated to clean. The latter, is often diluted with water. Thirdly, it does not strip the skin's pH barrier while being sustainable because it is refillable.
Here, Yeeli, the founder takes us through the benefits of powder washes.
—
Hi Yeeli, what were you doing before BHuman and how has this shaped the good work you're doing?
For me, the lightbulb moment to creating BHuman is not a moment, but a lightbulb "series of events".
During the late 2000s through to 2014, we were living in Shanghai and our kids were still very young at that time. Quite naturally, when one lived in an environment where we checked the air quality index daily or conversed about trustworthy brands of water to use for the household, you find your "tribe" of people who cared about the environment. 
During those years in China, I worked with a French agency that advised the packaging launches of major FMCG and luxury personal care brands. This was when I discovered the ugly truth about the beauty industry: it was producing 80 billion pieces of single-use plastics every year. This figure has since doubled and is closer to 150 billion today.
View this post on Instagram

This really hit home when we moved back to Singapore where we are just a few hours flight from some of the most beautiful beaches in the world (Maldives, Bali to name a few). I witnessed firsthand the amount of plastics that are ending up in landfills or our oceans, and wanted to do something about it.
Armed with beauty industry connections, and a clear case of #plastikophobia (an apt term created by social impact strategist Laura Francois, my mentor at TaFF's The Bridge Fashion Incubator), I decided to apply what I learned about systems thinking and circular economy and created BHuman.
—
To be honest, I think part of the product appeal is in how beautifully it is designed. Was this tough for you?
Thank you, Bryan. I had the privilege of analyzing the shopping behavior of millions of shoppers during my days at the French agency. Research shows that packaging is one of the strongest factors that influence purchase decision, whether it is at shelf or online.
The color, shape, material, design, and branding all play an important role to influence consideration and ultimately purchase. P&G calls this the "first moment of truth".  A lot of it happens at the subconscious level. I know that for BHuman, it was critical that we get this right. I was able to combine my expertise in human behavioral science and a love for design to BHuman. I am so glad you like the design.
View this post on Instagram

Design plays an important role in sustainability. I love this quote – waste is a design flaw. In nature, there is no waste. I know that if our design is beautiful and the material used is durable, chances are consumers will hold on to it and find ways to repurpose and reuse it. The journey has not been easy. As a small company, it is hard to find factories that are willing to work with our high-quality requirements and low production volumes. But we don't give up easily and through a lot of hard work and grit, are able to give our consumers the best.
My parents taught me from young "quality is remembered long after price is forgotten".
—
What about the formula of the cleanser then? What makes is that fantastic to use? 
All our cleansers are clean and green. I like how one of our customers described our face wash, "you are basically washing your face with a flower! It's plant-based and gentle."

Your face is probably one of the first things people notice about you. It is also the thing you see when you look in the mirror every time. It has a powerful impact on our emotional and mental well being. Blemishes can undermine a person's self-confidence and quality of life. Easy doesn't mean simple. The reviews we received from customers all over the world make the hard work we put into making this cleanser worth it.
—
Is there any way perhaps, you're planning to engineer the brand to be even more sustainable? What is next for Bhuman then?
We discovered a funny thing after launching BCLEAN – it turns out that not everyone washes their face regularly. We learn that a handful of people do not even wash their face, they just rinse it with water!  From day one, we want to focus exclusively on cleansers because this is a category both men and women use – as opposed to expanding into other categories like moisturizers or serums.
We feel that it is the best way to "move the needle" and have a positive impact on the environment, to get more people to adopt a sustainable lifestyle.
View this post on Instagram

We are launching our next range bättre on Kickstarter on August 31. Here is a sneak peep at the campaign video. Shampoo has one of the highest penetration rates of personal care products – meaning almost everyone washes his/her hair. Less than 10% of plastics in the bathroom gets recycled. bättre bottles are 100% aluminum, an infinitely recyclable material. Aluminum has one of the highest recycling rates everywhere in the world, it is where your soda cans go when you're done with it.
We know bättre is going to make an even bigger difference! Sign up here to get notified of our launch and grab some limited bundle deals during the first 48 hours of the campaign!
To engineer this to become even more sustainable, we are 'going naked'. Our face range had an external kraft paper cylinder tube. Our customers tell us they love the aluminum bottle, but the external packaging is still single-use, and they would rather we go without it. After all, aluminum is not only strong and light, but impact resistant! We have such smart customers!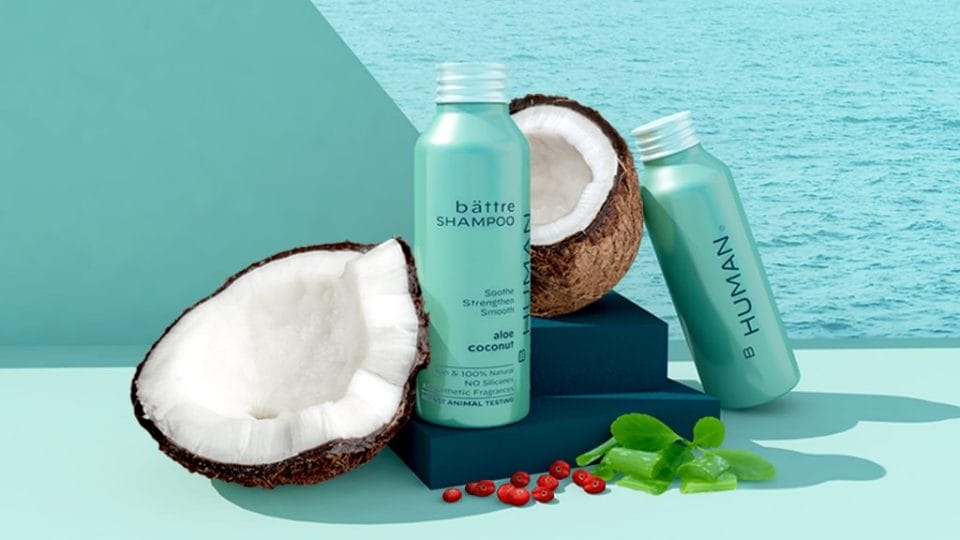 Our water-activated shampoo will be low in carbon footprint, vegan, 100% natural and free of all the nasties.  For those who care less about sustainability – hey no judgement here – switch to bättre because it is a beautifully formulated hair wash that is good for your hair and scalp in a gorgeously designed bottle.  It is also leak-proof, making it a nice-looking companion on your bathroom countertop, trips to the gym and weekend getaways.
Just like with our BCLEAN face wash, we plan to make the bättre powder available at planet-friendly zero waste grocery stores such as The Social Space and Unpackt.
—

Curiously, if you could put a song behind Bhuman, what would it be?
Better Together by Jack Jackson!
Once you're done with this story about the benefits of powder washes according to Yeeli of Bhuman, click here to catch up with our August 2021 issue. 
---
RELATED ARTICLES