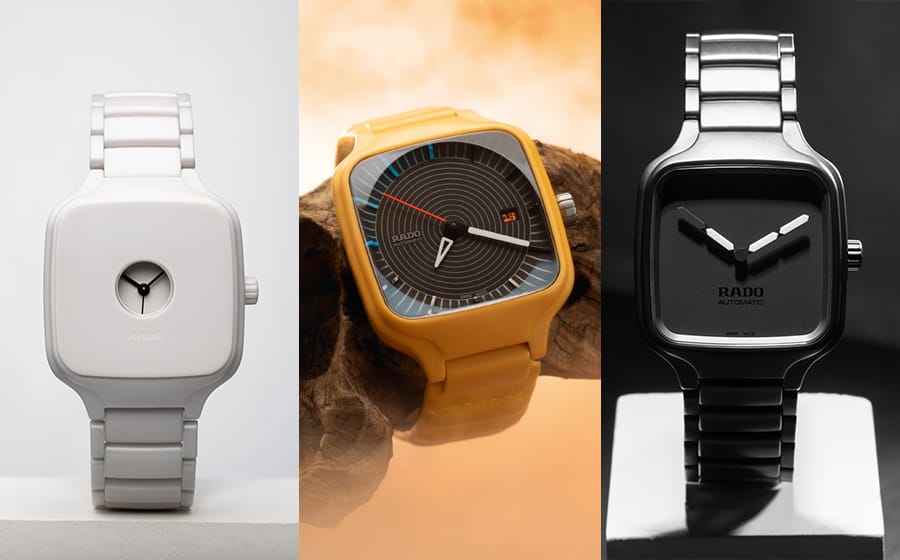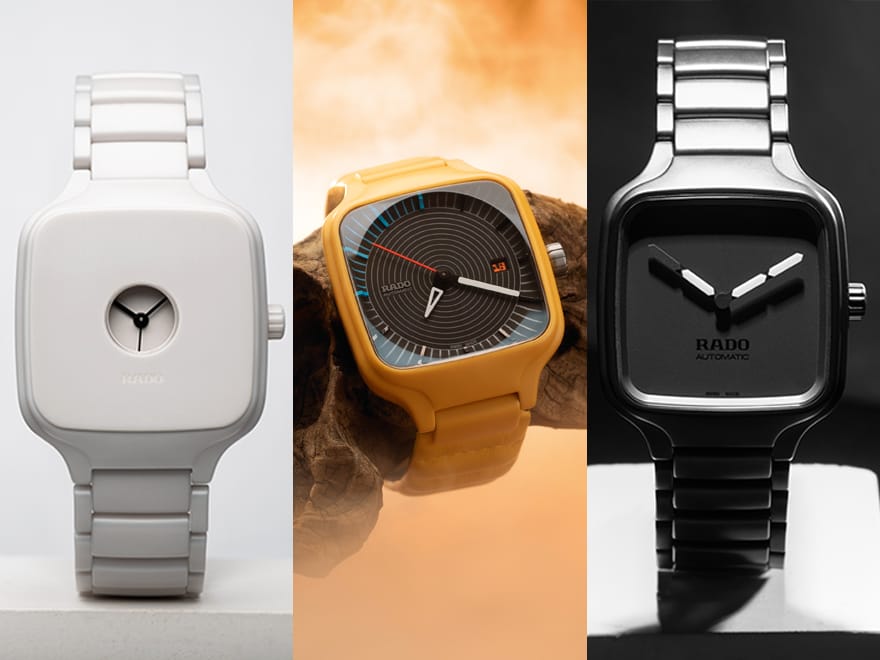 For years, Rado was recognised and renowned for the black, shiny square watch. The Ceramica — as it was affectionately known — was launched in 1990 as Rado established its status as the master of materials in horology. Three decades on in 2020, Rado embarks on a new adventure as it seeks to build on the legacy of the Ceramica with the launch of the Rado True Square collection headlined by the new True Square designer collection crafted in partnership with award-winning British industrial designer Tej Chauhan, Japanese design duo YOY and Italian-Dutch duo Formafantasma.
As its namesake suggests, the True Square is positioned under Rado's True umbrella which features watches made entirely in high-tech ceramic. Rado employs an injected monobloc construction method for the True Square case, a first for the brand. Rounded curves seen on the case edges accentuate the fluidity of the case construction as it flows elegantly to meet the matching ceramic bracelet. The properties of ceramic makes it feel almost alien-like, yet desirable for those who pursue it relentlessly — unparalleled lightness and wearing comfort combined with strength and the ability to retain its lustre seemingly forever makes it virtually indestructible.
—
Rado True Square x Tej Chauhan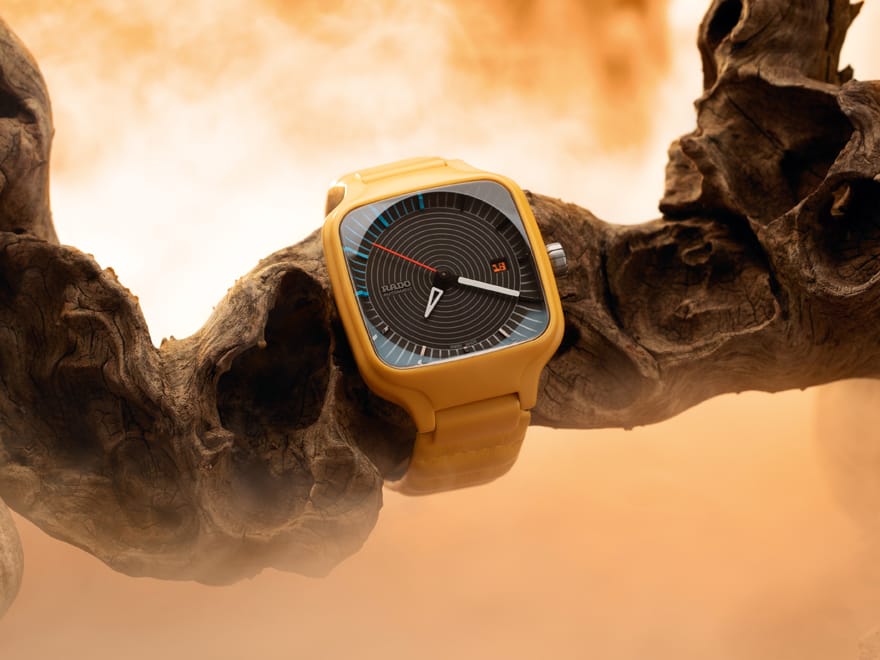 Chauhan's futuristic vision of pop culture in movies, typography and colour theory is manifested in a matte yellow high-tech ceramic case that highlights the unique texture of the high-performance material. The cheeky inclusion of a yellow cushion-shaped leather is a play of differing elements — both the hardness of ceramic and plushness of leather offers comfort on the wrist. A PVD-coated stainless steel case back on the rear features a special engraving of Tej Chauhan's signature while the date numeral fonts are Chauhan's own.
"Creatively, I was inspired by enduring futurist visions from popular culture, from movies to typography to colour theory. Kubrick, Syd Mead, Herb Lubalin; many of my references are over 50 years old but still feel fresh to me today and surely tomorrow. The timelessness itself is an inspiration, and this is something I also hope to bring to Rado."
—
Rado True Square Undigital
YOY's creation named The Undigital is an interpretation of the analogue watch influenced by the digital display and the square Rado ceramic watch that were popular in the 1980s. The seven-segment display of a digital watch makes its way to the analogue hands of The Undigital. Luminesecnt-filled pointed batons provide contrast against the shadowy matte black timepiece in both light and darkness. A black PVD-coated titanium case back brings the overall weight down further with its lightness.
"A variety of things in our modern world have become digital, including watches, and we thought we could find a new form of expression in this context by bringing digital items into the analogue world."
—
Rado True Square Formafantasma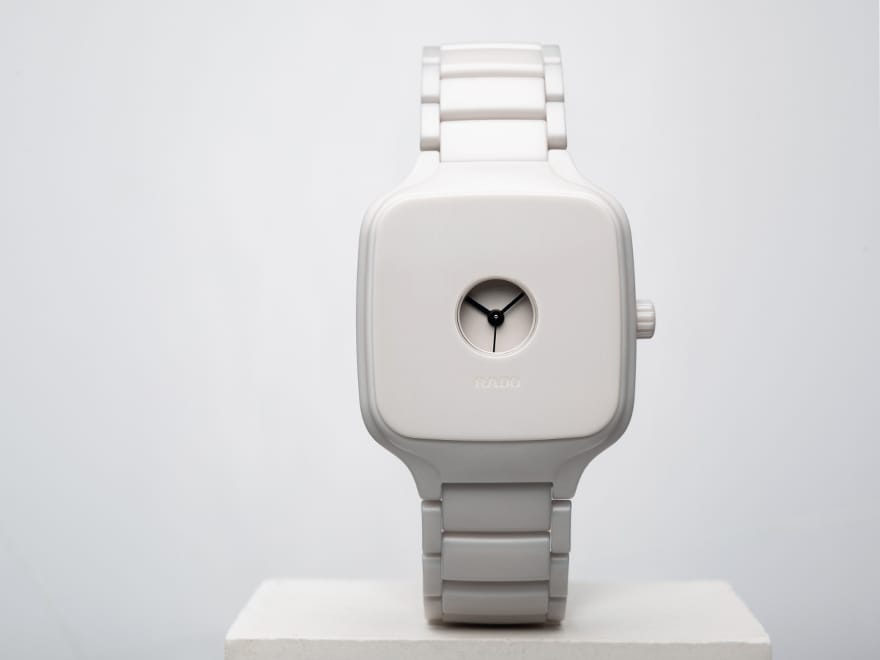 Formafantasma chose to approach the watch through mystery. Inspired by historical pocket watches, a small aperture opening reveals the watch hands and dial. The bold and impactful statement is a testament to the watch's ability to withstand the test of time through the use of two highly scratch-resistant materials — a high-tech ceramic case and sapphire crystal.
"Our design philosophy is difficult to elaborate in a few lines but let's say that we always want to challenge cliché. In this case, we were interested in the watch as a tool not as a status or a symbol of luxury. The watch we designed is very sober almost looking naked. We tried to do something radical in its simplicity."
This story about the Rado True Square Designer collection first appeared in the November 2020 issue of Men's Folio, if not check out their interviews here.
---