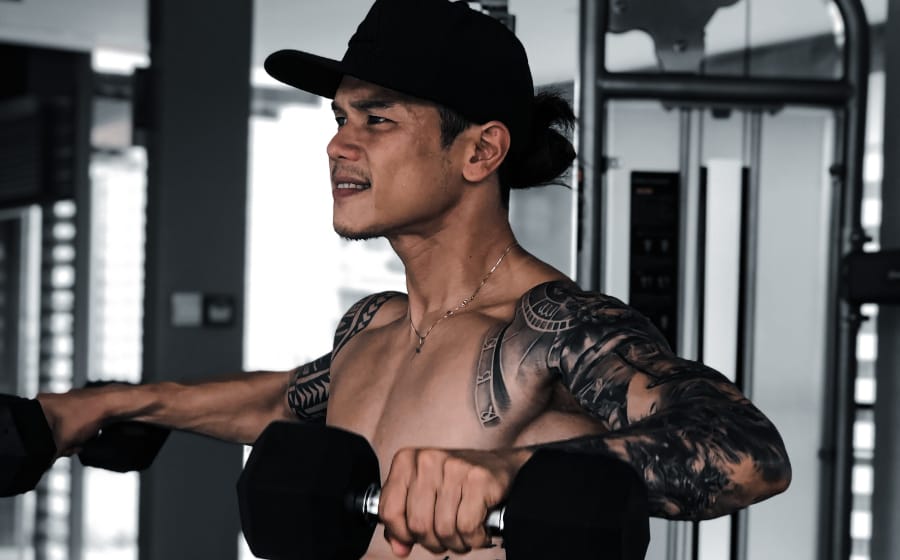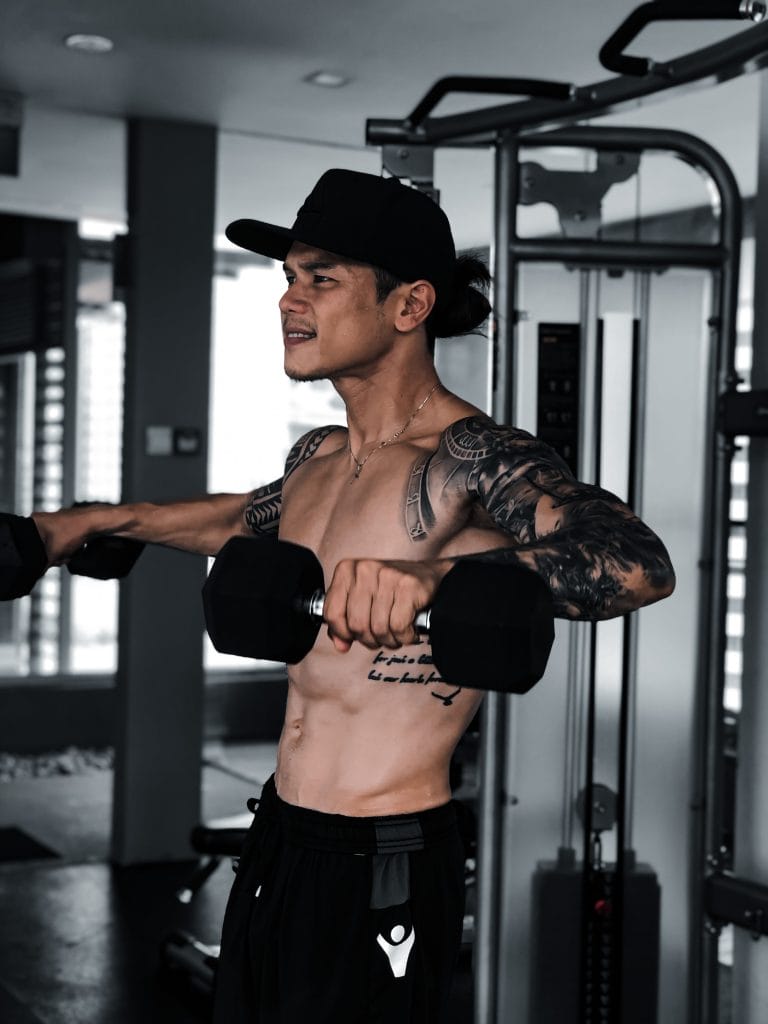 Terence Ong is not just a formidable Instagram hot bod. He's actually an Instagram hot bod with some pretty legit credits to his name.
He runs a football acadaemy for kids and youths called "Sporting CP Academy" (the parent club is in Portugal that has Cristiano Ronaldo housed under it), he's also a football freestyler and of course, he's a personal trainer.
If you're not impressed by now, read on to find out his advice on how to work out smarter. Or as some dudes call it, how to ace your swole goals.
—
How did you start your weight loss journey?
The first thing I did was to buy a plan online, having so many online fitness coaches available, I thought it will be good to have some sort of structure or proven plan that I can strictly follow. From exercise to diet, I religiously stuck to it.
—

What was the motivation for you to start?
I starting working out in the gym probably about 15 years ago. Like most, it all started with the aspiration to look good especially when seeing so many fitness enthusiasts with "Greek-like" physiques. And just like many out there, it went through phases of ups and downs where you train regularly with enthusiasm and move to a phase where you totally stop working out once that drive wears out.
Fast forward to 15 years later, I made a promise to myself this will be the last time I go through such phases and put dedication to meet my goals and not slack off mid-way like before.

I have many reason on why I started. The biggest reason for this is to be a role model for the kids and youths under my care as their coach and mentor.
In my daily exchanges with these youths, life lessons that I strive to place as priorities in their lives include values such as team work, discipline, perseverance, goal-setting, handling success and failure, time management, and keeping fit and healthy lifestyle.
This time though, using fitness, I would like to influence the older "adult" crowd.
At my age, the mid 30s, you do see friends lose control of their health and lifestyle as they run the corporate rat race and raise their families at the same time. It gives me great satisfaction to see these friends and family following in my foot steps and take control of their health through exercise.
And of course, I am a performer and football freestyler so I'd better look good on stage, tv and shows.
Currently I'm in the top 20 finalists in the Mr World Singapore 2020 competition and with this, I hope I will inspire more people out there.
—
What is your diet like?
I have cut two major things from my diet which we all know that's really unhealthy if consumed in large amounts — sugary sweet drinks and fried items using oil.
In terms of my diet phases, I went through these three phases.
1. Cutting phase – The objective of this phase is to burn excess fats and this is where you go on a calorie deficit; to eat less than what the body burns.
2. Bulking phase – This is the muscle building phase where you go on a calorie surplus; to eat more than what my body burns.
3. Maintenance phase – Basically, this is to just stay in shape where you eat enough so that you don't lose or put on any weight.
I typically have four or five meals a day and start off with my favourite black coffee that goes with my very own protein oat bowl.
As for my other meals, it's usually a mix of oats, white rice, sweet potatoes, lean meat (chicken, beef, or fish), all sorts of vegetables, eggs and some fruits. I try my best to prepare all meals on my own which is the best part as I can then adjust the calories that goes in depending on what phase I'm in.
—
What exercises do you do?
I am a soccer coach and I love doing a mixture of workouts while not limiting myself just to the gym. When I do use the gym, it's predominantly for weights training focused on various muscle groups.

Some exercises that I do for my upper body includes shoulders presses, bicep curls, lat pull downs, and for legs, it always include barbell squats and dumbbell walking lunges.
Outside the gym, I enjoy curating my own full body combo workouts. And as for cardio, outdoor or indoor (treadmill) runs are a staple, with skipping, sprints and even Muay Thai training added to the mix for variety.
—
Did you watch any documentaries or read any books to learn about weight loss?
Not books but lots of documentaries! Mainly to understand the why's and the how's. It's very informative and I'm still learning even to this point.
All of us are different and what works for me may not necessarily work for you, vice versa. So, it's really important to keep exploring.

Some shows that are game changes for me include Generation Iron, Fight World and Conor McGregor's Notorious. I love seeing how other people do it — from what they eat to how they stay motivated, and everything in between.
—
What are some small practices you did that had big effects?
Cutting out sugar and avoiding oily stuff was definitely a small daily change in my diet that had a big impact. Another practice which I started was to track what I eat which gave me an idea of how much I was consuming daily.
This definitely kept me on track with my goals.
—
Do you think cardio is efficient?
On its own, definitely not. You can be running a lot but eating back what you lost right after the run. It also depends on your goals. If it's about building a great muscular physique, then you definitely need to go big on weights training at the gym.

But if it's mainly about weight loss, cardio plus a good diet would be that concoction.
The saying goes, "Abs are made in the kitchen". I'm a firm believer of that.
—
What's the most important mindset to have?
I guess it's different for everyone, but personally for me, the most important mindset to have is consistency and patience.
---