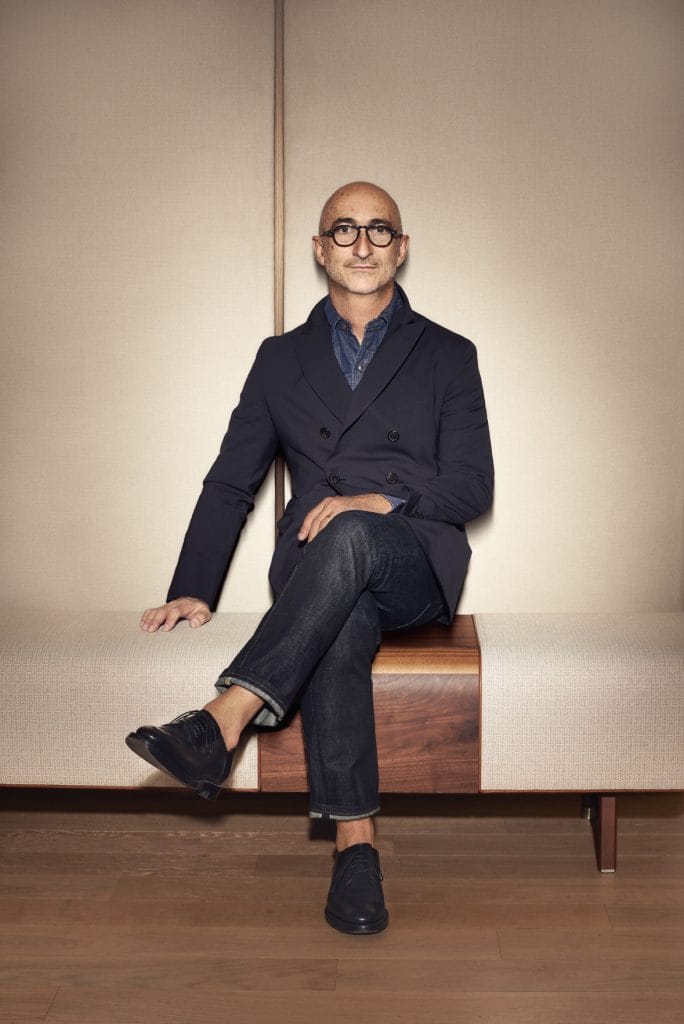 Beyond its humble origins in saddle-making, Hermès has come to be known as a Maison that epitomises quiet luxury, timelessness and craftsmanship for all lifestyle aspects. Every object crafted by the House heightens a man's appreciation for the finer things in life. They all undergo the Hermès treatment — luxurious, supple materials deftly handled alongside the saddle stitch.
It is said that upon initial meeting, the footwear is the first article of clothing observed of a person — the type determines the tone of the meeting, the condition determines the person's attitude while the style is his personal choice. At Hermès, Pierre Hardy, creative director for shoes and jewellery is tasked to offer men an arsenal of delectable shoes for every lifestyle need.
—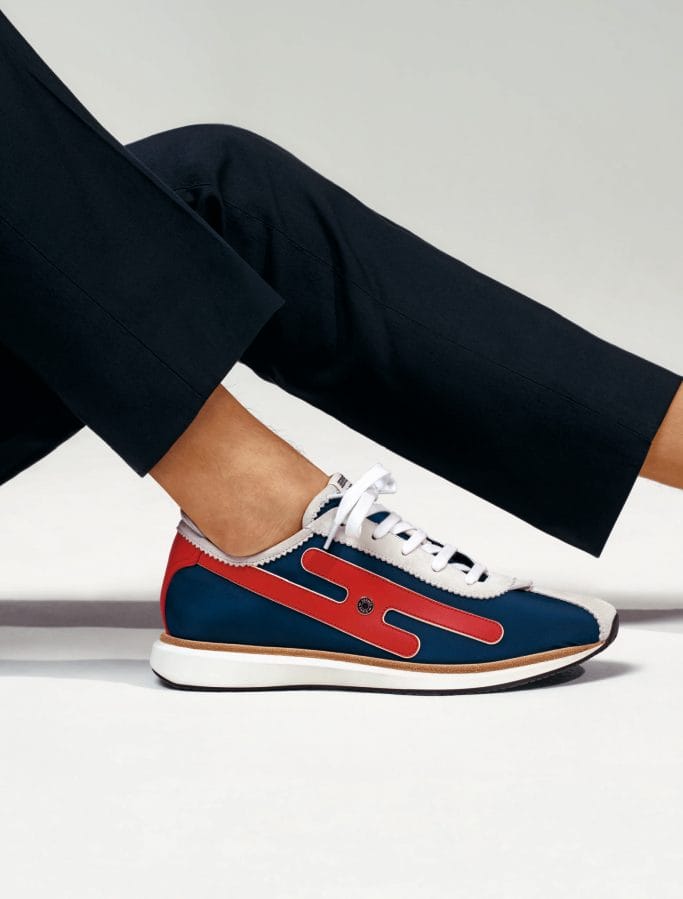 "Hermès is a lifestyle house — it's neither a fashion nor a couture house. It's a house that is here to accompany you in every moment of [your] life — the leather bags, the silk, the ready-to-wear, the jewellery — something that is present at many occasions in your life. So I tried to illustrate these different moments, different activities, different needs of life in a global but precise way," shares Pierre Hardy.

"I try to think about the different needs and desires you can have with the shoes but also be efficient and consistent. For example when we were designing the rain boots [in the Hermès Fall Winter 220 collection], it's really made so that you can walk in the rain with it — flexible and light in a technical material. I think Hermès is the perfect place for that and I think it is totally consistent with the brand to think about all these different moments of life."
Arriving at Hermès in 1990 as creative director for women's, and later the men's shoe collections, Pierre Hardy took on the portfolio of jewellery in 2001. This year, as part of the Hermès Beauty artistic collective, he is responsible for designing the Maison's beauty objects. Naturally, one wonders if Hardy's work approach has changed during his tenure in Hermès.
—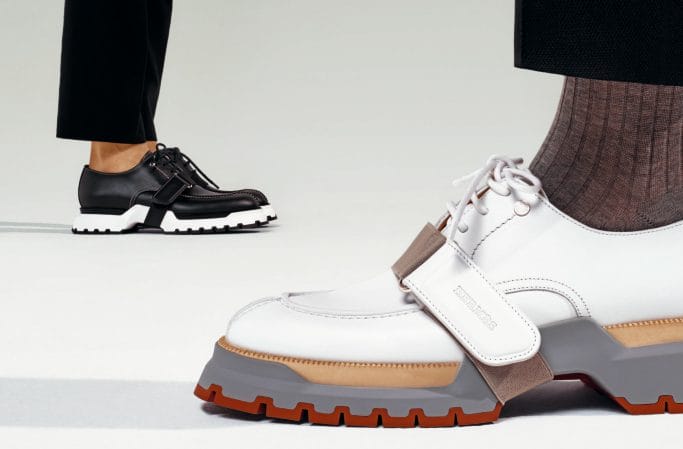 "It has changed quite a lot actually because it has been a long time. A lot of things in fashion — even Hermès and me — we all change together and grow together because the collection is quite different from what it used to be 30 years ago," reveals Pierre Hardy.
"I didn't change my way of creating and how I imagine the collection. Maybe the process itself — for example, in the very beginning, it's still a drawing but in the process (especially with the arrival of the sneakers), we had to adapt to the results and find ways to visualise and conceptualise. I'm doing 3D sketches, we do 3D proof and some screen-printing because the sneakers need to be visualised in a different way as each sole is different. For a classical shoe, a very simple drawing can explain almost everything, but for a sneaker I think it's a little bit different."
—


Hardy's obvious passion for drawing can be attributed to his attainment of the prestigious agrégation (a French competitive examination for civil service in the public education system) in visual art from the École Normale Supérieure where he later taught scenography. Beyond his love for visual art, Hardy's multitude of inspirations also helped create sustained collections over the years.

"It is a mix between something that I deeply love — something that attracts you sensitively. It's nothing intellectual. It's something that you feel. Then there are very tiny things that I meet on the streets every day — even though it might not be a beautiful thing but it makes me think that maybe it could be better if I do it this way. It's some little stimuli that come from the outside, from contact with people and there is a big part of influence that comes from Hermès."
Pierre Hardy went on to illustrate his point with the Hermès Fall Winter 2020 Men's shoe collections, "For men and for some boots, the equestrian world is very present — inside the Hermès world. So, I tried to find a new way to express the shoes with the strap over the feet with a sole that is quite technical. By classical definition, it could be regular winter boots but adding something more technical, sportier and a reminder of the harness of a horse, you find a new shoe. Inspirations come from many different areas of Hermès, for example my work on the jewellery collection was merged with shoes to also experiment with how it could work."
—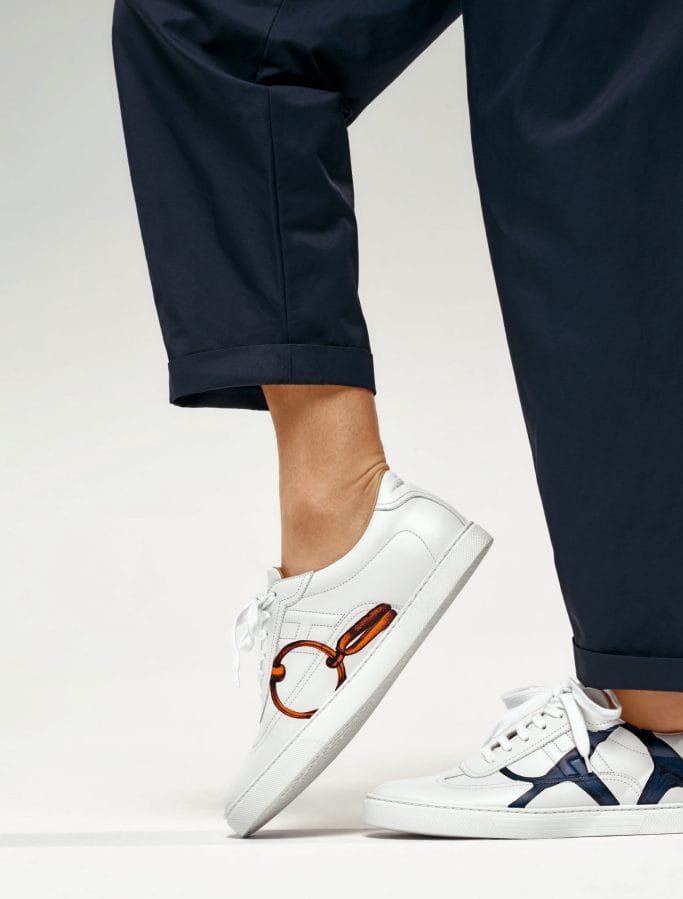 For the Hermès Fall Winter 2020 collection, this writer expressed his fondness for the "bowling" sneakers with their slick silhouette and vintage appeal but was told by Pierre Hardy it was not his intention to design a bowling sneaker, "I was not aware of [the semblance with a bowling shoe] when I started to draw this shoe. The "H" was barely inspired by the motif of a saddle with the stitching and the metallic stud [Hermès emblematic detail called Clou de Selle] in the middle. The oversized letter and the lining around come one by one and in the end when the shoe is done, maybe it looks like a bowling shoe, but it is not something that I predicted."

Hardy mentioned that his processes changed with the onset of sneakers and shared about the challenges of designing them, "The sneakers market is overwhelmed and there is a huge offer of shoes every season. I try to forget this and all that is existing. I try to make it as Hermès as possible and try to use the Hermès vocabulary."
"We make our sneakers in the same atelier, with the same leather as other Hermès objects, so it gives them a very specific aspect that you can't find in a mass market production. Even the sole is specially designed: I create a custom-made sole for each model so it's very exclusive," continues Hardy.
—


Pierre Hardy is also well tuned to the younger audience, "They are very aware of what's happening in the market and are able to notice the Hermès shoes. Hermès sneakers are custom-made, with a specifically designed mould for the sole thus the quality that we use is the topmost for the shoes. Obviously, it is a challenge to seduce them but I always try to give a new version of what people are thinking about Hermès — it's speaking Hermès in a new language and what people's image of Hermès is in a sneaker vocabulary."

As Hardy reveals, the Hermès men's shoe collection entails a myriad of different shoe types to accommodate every occasion. Moreover, they are exclusively-designed and made with Hermès' best quality so a good impression is guaranteed upon that first meeting.
This story about Pierre Hardy and the Hermès Fall Winter 2020 sneaker collection first appeared in the October 2020 issue of Men's Folio Singapore. 
---