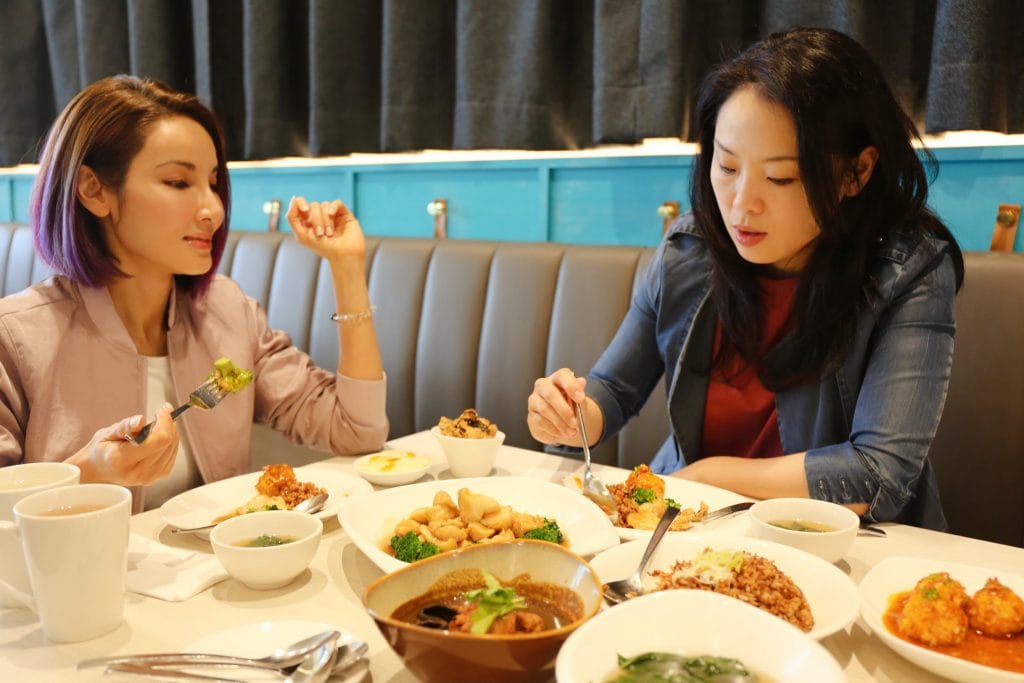 According to Anastasia Ling and Michelle Saram, starting afresh on a plant based diet is no longer exclusively reserved for hippies but the best thing one can do for their body, mind and soul.
—
Why did both of you start your plant based journey?
Anastasia: My plant-based journey started in 2016 from watching Food Choices randomly on Netflix with my husband. He was so inspired by Rich Roll, the Ultra Ironman that he started juicing fruits and vegetables the next morning for breakfast. We both felt an instant burst of energy and mental clarity, and that was the beginning of it all. I would say we are 80% plant-based now and take some meat occasionally so as not to impose on our loved ones.
Michelle: My plant-based diet consists mostly — not entirely — of food derived from plants including vegetables and legumes, nuts, seeds, mushrooms and fruit. As a child I always loved fruit and vegetables, and they formed a substantial portion of my family's diet, so my adult diet was a natural evolution from that starting point.
As I navigated my health issues through adulthood, I discovered that I function at my best and I'm at my most energetic, healthful and clear-headed when my diet consists of clean, plant-based food. I'm also extremely fortunate that being in Asia makes it easy to avoid dairy and gluten which I do not process well.

My current diet became built around eliminating what impairs my health and well-being, and keeping or adding what supports and elevates my health. And it continues to evolve.
While I'm not ideologically opposed to eating meat because I understand that animals are integral to the regenerative agricultural systems I believe in, I am horrified by and therefore opposed to the cruelty, toxicity and pervasive pollution endemic to the industrial system of meat production. In recognising the unsustainable and damaging practices of industrial scale meat and agricultural production, I do my best not to support these systems.
—
Is there a right age to start a plant based diet?
Anastasia: Age is less a factor than personal choice, no matter what age you are. My seven-year old nephew decided to be vegan when he was five as he felt that eating animals were cruel and he was extremely sensitive to the smell of meats. I have also heard of people choosing to be plant-based as they reach their 40s and beyond, although more commonly for health reasons.

Plants form the foundation of any diet — be it for the recovery from illnesses or any of the trendy ones like Keto and Paleo. However, like anything, there can be potential allergens to look out for — be it nuts or nightshades — people should be aware and check in with their primary physician.
Michelle: Choosing to be plant-based is a choice and the "right" choice for the person depends on why they are making that choice, what they hope to achieve with it and the context in which they make their choice — it can only be meaningfully evaluated by the person themselves. This also reinforces that they should make their decision mindfully and actively (as opposed to passively "accepting" or "following" someone else's plan or path) and take responsibility for making each food choice as positive, delicious, healthful and sustainable as possible.
—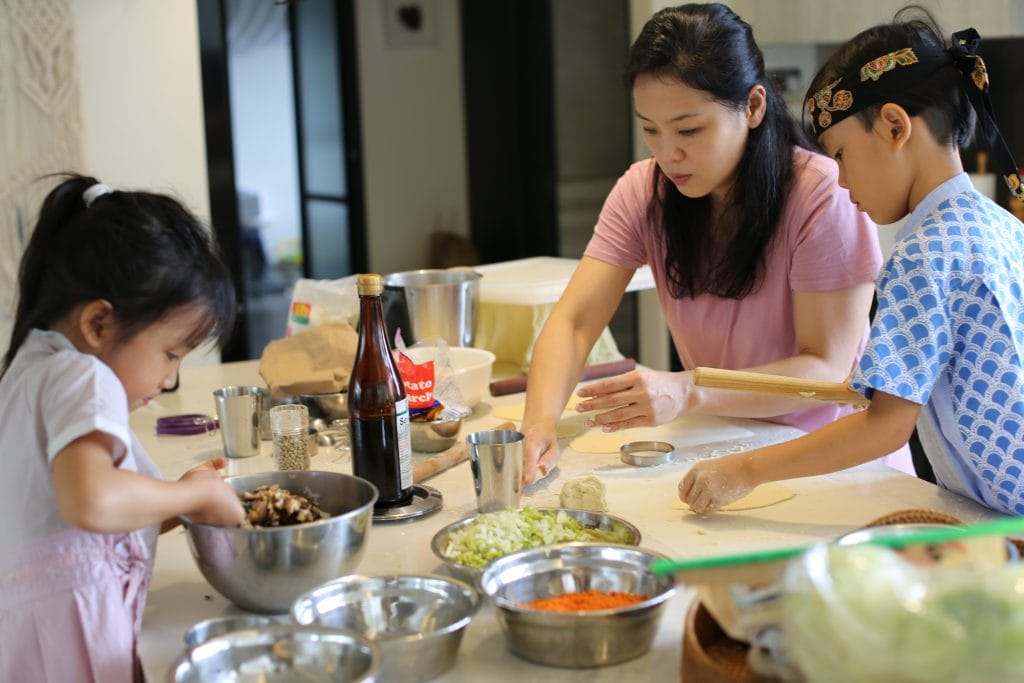 What is the number one myth when it comes to plant based diets?
Anastasia: The most common one is that you don't get "complete nutrition" from eating a plant-based diet, especially from the older generation who believes that children need meat to grow big and strong, and we need milk for calcium and strong bones.
I feel that plants are natural for the human body because it is more easily digested than meat. Human intestines are more similar to herbivores than carnivores — we have longer winding intestines versus a short one that carnivores have and our teeth structures are also more similar to herbivores for optimal mastication. Our ancestors ate a mostly plant-based diet with occasional meat and the human body hasn't evolved all that much in the past millennia or more, so go figure!
My bigger pet peeve is with refined vegetable oils that are found in a lot of dishes — vegetarian or otherwise. These poor quality oils are silently hurting people's health and are more deadly than factory-farmed meat or pesticide-laden produce. Most people don't realise that hexane (a petroleum by-product) is used in refining these vegetable oils.
Michelle: Another common misconception is that a plant-forward diet is expensive, but that depends entirely on the choices you make which means you are completely in control of your budget. You can choose to purchase expensive, exclusive air-flown vegetables on a daily basis or keep those choices as occasional splurges.
—
Where do you source for greens?
Anastasia: I get them mostly from supermarkets or wet markets, and organic where possible. I like apples, lemons and tofu to be organic, whereas others like bananas and avocadoes are fine if not. I do refer to the EWG (Environmental Working Group) for guidelines on the "Clean 15" and "Dirty Dozen" items. Pesticides, toxins and GMO are things I am concerned with because the conventional farming methods are questionable. However, eating conventional vegetables is better than not eating any at all.
I also prefer local sources where possible as the travel distance will be shorter and therefore ensure freshness and more nutrients — the cost is less exorbitant too. I also evaluate the country origin and the visual presentation of the produce to determine freshness. When I see some holes in the leaves of vegetables, I know it is a good sign that there are less toxins in it – if it is good enough for the insects, it is good enough for us!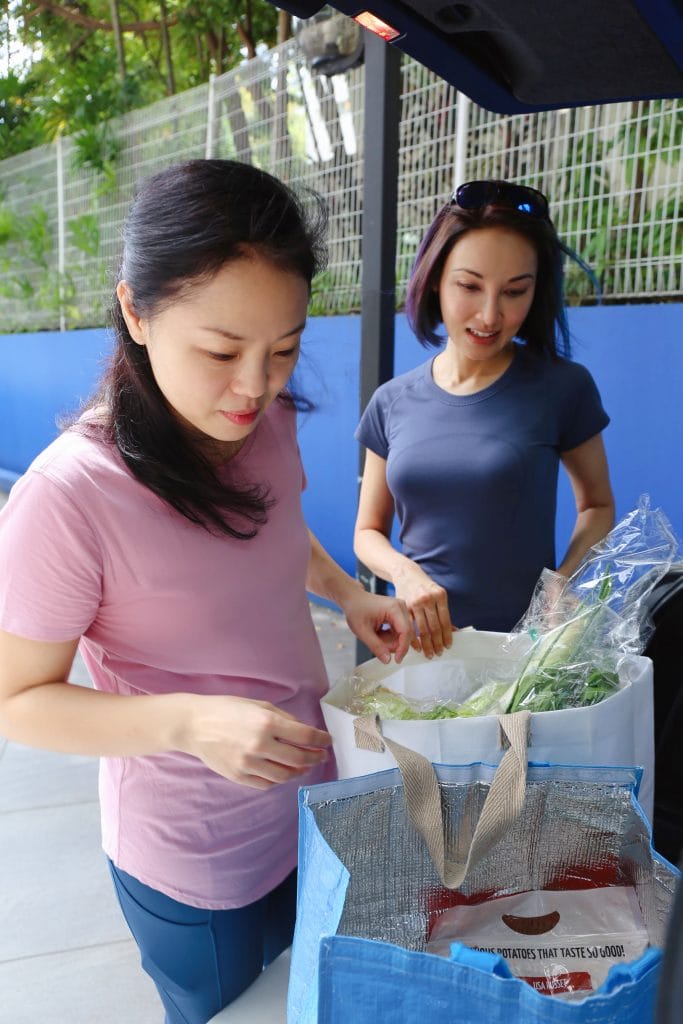 Michelle: Supporting small-scale, responsible farms growing nutritious food while replenishing the soil is much easier when we spend time in places that are surrounded by farmland. It is more challenging in Singapore where so much of our food is imported that we can't have firsthand knowledge of the farms and their daily practices. It has been heartening to see the growth of urban farms here and I do enjoy trying the locally grown produce. There is such a noticeable difference when produce is fresh.
—
What are the mainstays of a plant based diet?
Anastasia: Eating the rainbow and not just greens. Coloured vegetables and roots have lots of polyphenols, carotenoids, flavonoids that are good for our body. Also, it is interesting to have different textures and flavours by rotating produce. Nuts, seeds and legumes jazz dishes up while providing good fats and protein too.

Mushrooms and seaweed hold great versatility as a protein and they have natural umami that add depth in flavour. Tofu also absorbs the flavours of seasonings so you can get creative with the sauce — it can be prepared in a variety of ways and you can use it as you would for meat.
Michelle: I have most of my meals at home. I am fortunate that my family cook is happy to prepare meals that generally consists of lightly steamed or stir-fried leafy green vegetables accompanied by complementary or contrasting ones. My meals always begin with hot soup that range from clear broths to hearty, slow-cooked ones. I prefer Asian flavours and there is so much inspiration to draw from around the region but my favourite soups are predominantly Cantonese.

So many varieties of rice are grown in our region making it easy to alternate between short and long grained versions, starchier or fluffier versions to prevent monotony. I always choose the wholegrain versions and prefer the earthy flavour of red or black rice — both stand up well to robust sauces and flavours. There are also multitudes of noodles made from different plant-based ingredients to suit every mood, flavour or texture requirement.
In addition to the more common garlic, onion or ginger, we also have many fresh aromatics to play with — coriander, scallions, leeks, large green onion, Chinese chives, galangal, lemongrass, Thai basil, laksa leaf, curry leaf, kaffir lime leaf, pandan leaf or torch ginger bud. Used alone or in combination with each other — with dried spices or with toasted nuts or seeds — these elevate any dish by offering delightful layers of flavour.
—
What happens to the body when one decides to stop? Is there a way to gently ease off?
Anastasia: I was mostly vegan for a year and eventually became "flexitarian" where I do consume animal protein every now and then — mostly when dining with friends and family so as not to impose on them. However, I have not prepared meat at home since 2017.
When I first shifted back to meat, my gut needed some adjustments and I felt I had to "re-activate" the digestive enzymes for meat because of discomfort consuming meat during the first few meals I had. Nothing bad happens when you decide to stop it.
However, I do advise reintroducing meat in small quantities and one protein type at a time so that your gut has a more manageable load in the beginning. You don't need to eat protein for every meal as your body does store up so even if you are eating two meals a month with good quality meat protein of a reasonable portion, it is more than sufficient for the body. The body is an amazing machine and it does have an innate wisdom to do what it needs to do to get us balanced.
—
What are some activities or supplements to facilitate a plant based diet?
Anastasia: It helps to get some tests done to see if you have any nutritional deficiencies, and maybe even a GI test to check your gut health. Good diagnostics can provide a good snapshot of your health while providing insights on supplementing what is missing or hurting your health.

A good place to start is having a smoothie in the morning to kickstart your day as it's chock full of nutrients. As they are more easily absorbed, you can feel the positive effects almost instantly.
Michelle: "Start small" is one of the tenets of the Green Monday movement (started in 2012 out of Hong Kong by my friend David Yeung) that truly resonates with me and which is why I continue to be the movement's ambassador and champion to this day.
Green Monday's message is to start going plant-based at a rate that you can manage — whether that is one meal a day or one day a week — getting comfortable with that new normal and increasing that at a pace that is feasible for you. This can be applied to any new skill or technique you want to learn or good habit you want to instil. The key is to be consistent and take small steps towards your goal.

Movement and breathwork are equally important components of a healthful lifestyle regardless of your diet at the time. I love Gyrotonic for articulation and alignment; mindfulness practices incorporating breathwork; yoga for a combination of breathwork and flexibility training; and something fun for cardio like a Muay Thai class.
Since we live such busy, hectic and noisy lives, regular resets are especially important for our mental and emotional health. One of my favourite ways to reset is to enjoy a silent retreat.
These practices are an important complement to a plant-based lifestyle — providing comfort and support as you transition — and maintaining your balance in your new normal.
Anastasia Ling is a certified health coach and the founder of Re:Well Rebels whereas Michelle Saram is an actress, celebrity influencer, wellness advocate and a Green Monday Ambassador.
This story first appeared in the October 2020 issue of Men's Folio Singapore.
---