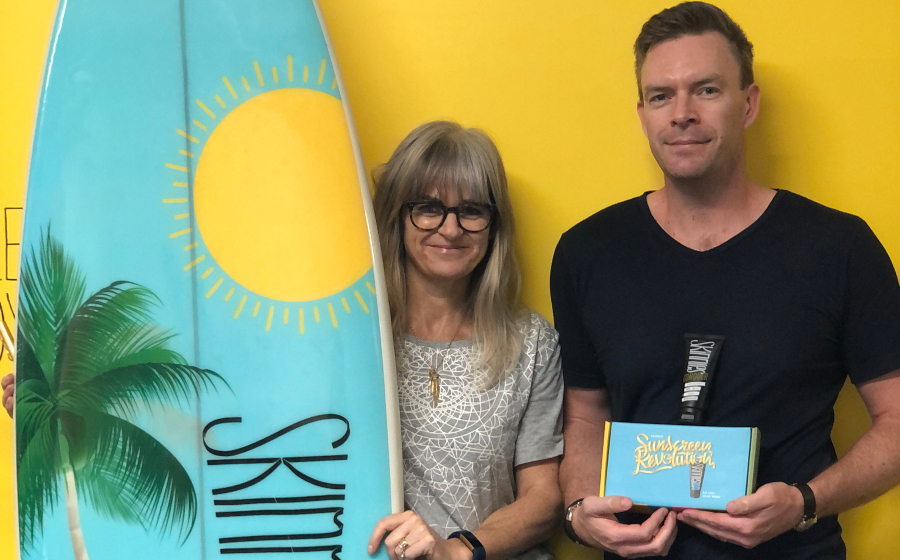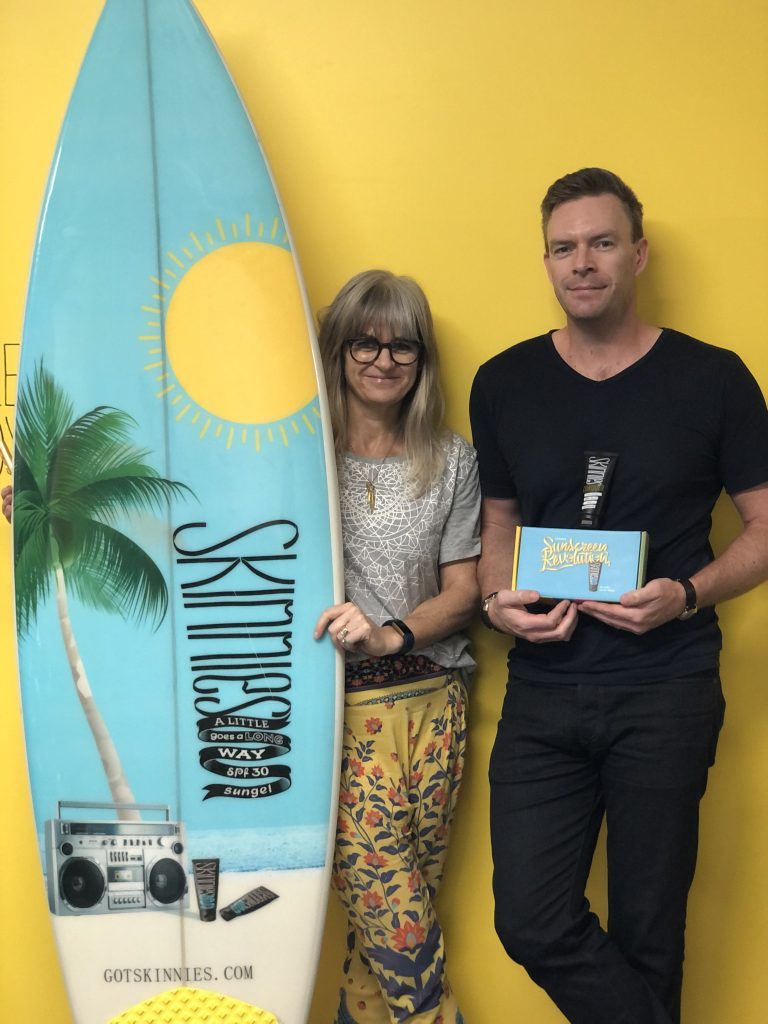 Considering how there are as many sunscreen formulas as there are Pokémon, it's easy to just grab one off the counter and go. In fact, it's even easier to forget that the sunscreen you've just applied might be polluting the ocean.
We're not being Kim-Kardashian level dramatic here. We're being factual according to the statistics by Marine Life, a marine conservation NGO. In 2015, it was estimated that around 14,000 tones of sunscreen are ending up in the world's coral reefs per year and eight-five percent of the Caribbean coral reefs died before 1999 or 2000. It ain't cause of global warming folks, it's pollution.
Thankfully, Martha and Olly Van Arts of New Zealand eco sunscreen brand Skinnies are here to nip this problem in the bud.
Skinnies isn't just your run-of-the-mill eco sunscreen brand. It's not diluted with water, it "holds" the UV filter onto the skin and best of all, all you need is one pea drop of it.
Here, we'll let the duo do the pitching instead.
—
All you need is a pea size blob — it's a clear formula  and this eco sunscreen brand feels pretty damn good on the skin, how is that all possible?
Totally. Sunscreen doesn't need to be white and sticky. Most people hate using it because of this reason!
This was the problem we wanted to solve with Skinnies, so we set about creating an alternative that people would actually love using.
When we lined up just about every sunscreen, we quickly discovered there is little to no innovation and the sprays, lotions, blocks or sticks are all essentially the same formulations.
So, this standard method of white sunscreen had sort of become the norm for consumers. We wanted to change that!
—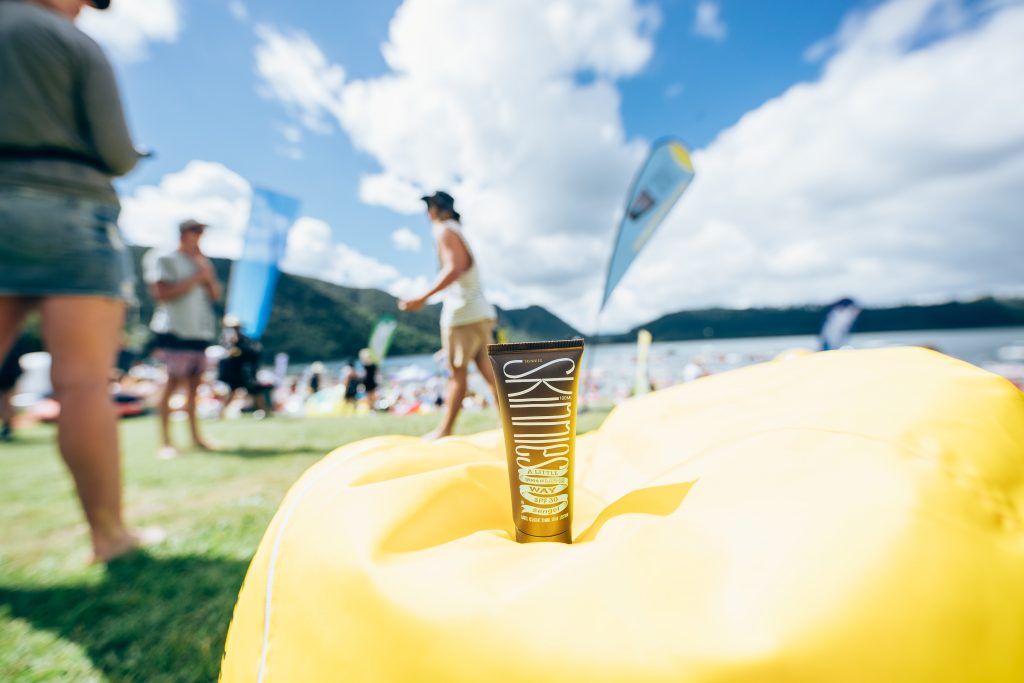 The fact that Skinnies Sunscreen forms a thin layer that bonds to the top of your skin is giving us Venom meets Spiderman vibes, how does it work?
The magic in the tube is pretty cool. So normal sunscreen is made using 50-70% water (and water doesn't protect you from the sun). In traditional sunscreen, water is used to dilute the formulation making it cheaper to produce. When you think about it, it doesn't make sense that water is the main ingredient for sun protection (well we don't anyway!).
So, we decided to take the water out, this meant developing a highly concentrated formulation that has no evaporation or dry down. This means you can put Skinnies on and be ready for the sunshine immediately rather than waiting the 20 minutes for normal sunscreen to dry.
Waterless is an extremely effective method for sun-protection, with higher UV actives yield and it's better for you (you use less) and the planet (we're not wasting water). Along with being waterless, and in conjunction with some PhD scientists, we've developed a pretty darn cool three phase gel formulation with lipid characteristics, so it bonds to your skin so the sunscreen does what it should.
It sticks like Spidey!
—

Lifestyle, Sport and Kids — what is the difference? What if we're just a bunch of kidult millennials who like the Kids packaging?
The Kids packaging rocks! It was designed by a Japanese Pop artist who creates the coolest illustrations, kids love it and we get thanked by many parents that we didn't do the typical cliché lunch box lid characters.
The main difference across the range is texture and performance. The lifestyle product, Skinnies Sungel SPF30, has a lighter feeling on the skin similar texture to a cocoa-butter and is 80 minutes water resistant. It's perfect for every-day.
The Skinnies Conquer is purpose designed for action sports, being four hours water resistant and reef safe. It's epic for prolonged sessions in the sun, it's a little thicker and like a balm texture.
The Skinnies Kids is a life saver for parents, it's like a soft honey colour gel and has a super yummy non-allergenic coconut fragrance. Kids don't fuss at all with it.
The main thing is that Skinnies is unlike any sunscreen you have seen before, it's not diluted with water so less is more, a pea size blob covers your face, neck and ears, it rubs in clear and adapts to all skin tones. Pretty revolutionary for an eco sunscreen brand and perfect for kidults.
—
How long do you think it is going to take to save 100,000 litres of water as per the brand's mission statement?|
Normally, one year for 100,000 litres of water, but on the back of all the buzz we'll get from this epic article it'll be two weeks!
But seriously, if a 100ml tube of Skinnies is equivalent to a 500ml pump bottle that's diluted with at least 50% water, 250ml of that pump bottle is water.
For every one tube of Skinnies we're making, we're saving 250ml equivalent of water. It's a responsible way to manufacture and we've been proudly doing it for 10 years, so that's a lot of saved water.
We can throw massive pool parties at Skinnies instead!
—
Assuming we're somehow able to travel next year, can you curate a mini New Zealand travel guide for us?
For sure, fly into Auckland then straight out for fish & chips — a Kiwi delicacy — at one of the local beaches.
Head down to Rotorua (Roto-Vegas) for a dip in the thermal hot pools and mud baths, followed by a quick stint down in the South Island experiencing Queenstown for the most stunning scenery this side of the Swiss Alps.
All with your Skinnies on of course.
—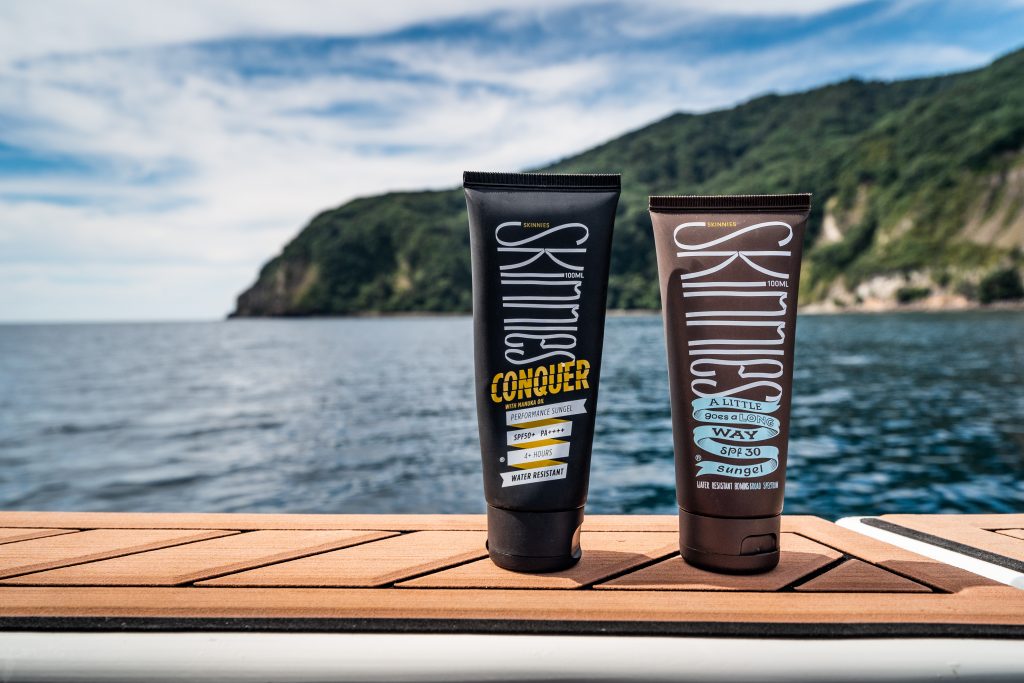 Circling back, how long can you wear Skinnies sunscreen?
Most people wear Skinnies once a day for general lifestyle. If you are doing sports, being particularly active or towel dry yourself off after swimming or sweating, then we say reapply.
It's always good to be sure.
—

If one tube lasts one summer but we're perpetually in Summer-mode (aka we might be literally roasting to death), how many tubes of this eco sunscreen brand do we have to buy then?
That's the great thing about Skinnies, we help reduce consumption as one tube will give you around 100 face, neck and ear applications.
For you lucky lot in Singapore basking in sunshine 24/7, you might need to reach into the wallet for a second tube, but hey, think of the youthful looking skin you'll have in your elderly years.
You can thank us later.
—
Fill in the blank — New Zealanders do ___ better.
New Zealanders do lockdown better. We've become pros at it! Hopefully we don't have to do much more of it but practice makes perfect right? Bring on the beach!
If you're bored, listless or sick of doing your job, click here to catch up with our September 2020 issue! 
---