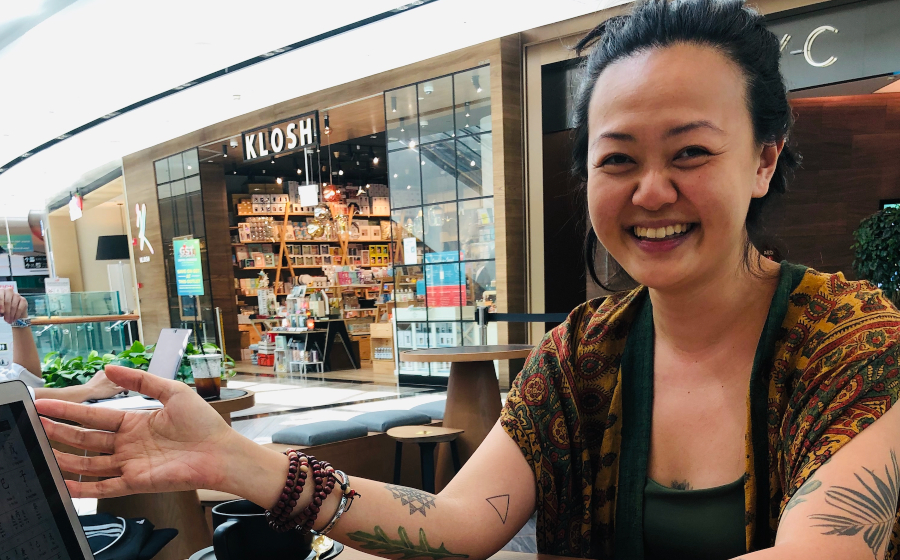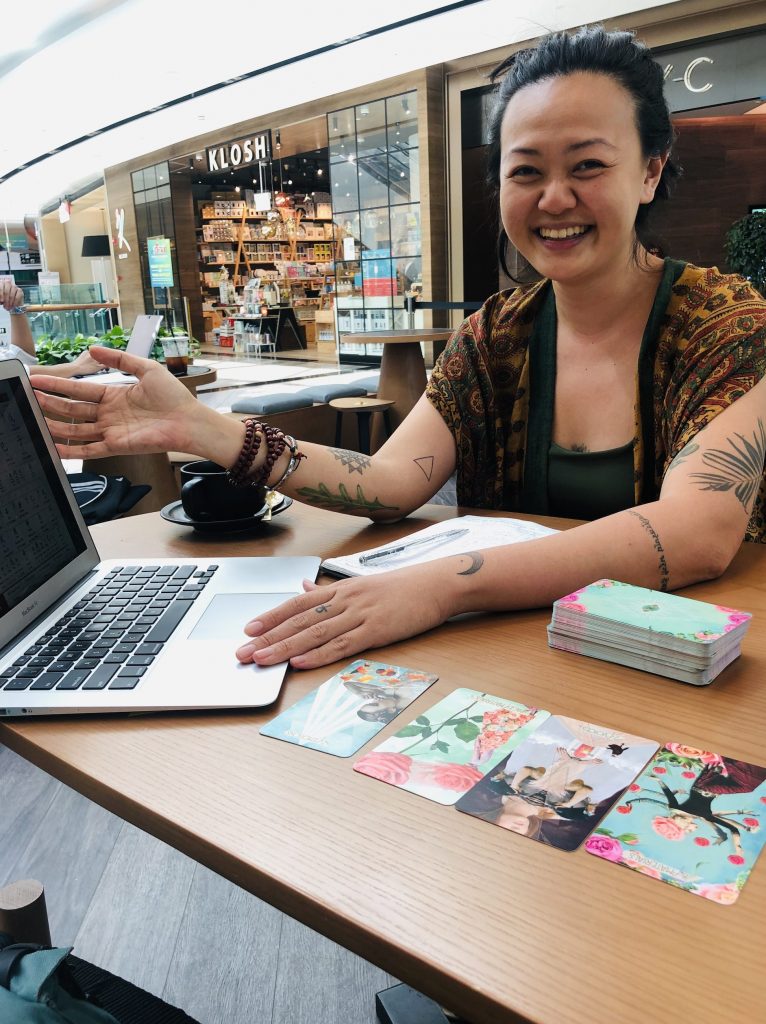 "I've been interested in astrology and tarot since I was 10 or 11 when a part of me knew that there was more to life than just the physical. At that time, I didn't have access to the internet, so I first plotted my natal chart with a ruler and compass using one of my dad's Western Astrology books. I got my rising sign wrong because I didn't account for time zones," says Serene.
Indeed, this mix of unbridled curiosity coupled with her extended family's superstitious ways has opened her path to a new way of mindful living (Serene was formerly in the public service sector) — one that seeks out a more meaningful way of existence while in turn, helping others do the same.
"Mindfulness is an integral part of the practice as it helps to tame the ego and also, to make sure that I don't bring it into my work with clients. I already knew from the start that I needed to serve others in order to lead a meaningful life, so I had to find a way which I could do so while enjoying it at the same time!"
"I never intended to read charts for a living. The path opened for me in an organic way. I have formal training in Chinese metaphysics, so that's what I lead with."
"I started out reading for friends and from there, I was approached through word-of-mouth by the friends of said friends. It was more of a progression rather than an intention. I'm definitely not complaining about that."
While reading one's emotions or feelings is fundamental and can (and should) be done on the daily, Men's Folio speaks to Serene on the full breadth of her work.
—
Why did you decide to focus on natal chart readings?
A natal chart is like a map of sorts of someone's life, with different paths and possibilities. It is a roadmap to destiny, or to use a less esoteric phrase, personal fulfilment.
Every chart is a map encompassing the universe of one's past, present and future. At the same time, there's space around a chart to navigate using choice or free will and that choice lies in how we respond to circumstances beyond our control.
The map shows easily accessible areas as well as obstacles and sometimes offers a glimpse of uncharted territory. Natal charts help us understand the cycles, timings and milestones we go through and certain patterns which tend to repeat themselves over in our lifetimes.
Natal charts can also be read in a predictive or deterministic way, but like most modern astrologers, I prefer to focus on potential and opportunities, rather than hand someone their fate on a piece of paper.
—

What was it about this practice that intrigued you?
Two people with similar charts go through similar events, but from their choices, experience very different outcomes. One may think that the chart is something permanent or set in stone, but it's really only a potential of what manifests in reality.
Astrology has also been my lens through which I view the world around me. When I was younger, I was never comfortable with interactions and I had difficulty understanding human emotions.
Natal chart readings are my way of understanding and making sense of the world we live in.
Of course, I'm now relatively well-adjusted and much better at coping with emotions and interacting with others!
—
Do you have any interesting customer journeys to share?
All readings are done confidentially so I'm sorry that I'm not able to share much. I have worked with a variety of topics, including business, health and legal issues. A considerable part of my work is helping clients with relationships, from dating, compatibility and conflict resolution to date selection for weddings and other events. The area of work which brings me the most fulfilment is when I'm able to help a client with spiritual growth and development.
My current focus in personal readings is to identify triggers, as a process of trauma response, especially those which stems from ancestral and inherited trauma, as I believe that the healing process starts from acknowledging and honouring our roots. We all carry that with us, whether consciously or not, and if we want to move forward into the future, we need to recognise and process the past.
At this point, I must reiterate that I'm not a "healer" or healthcare professional and would never claim to be.
When clients come in with issues I'm not equipped to handle, I would recommend that they seek advice from a healthcare professional.
—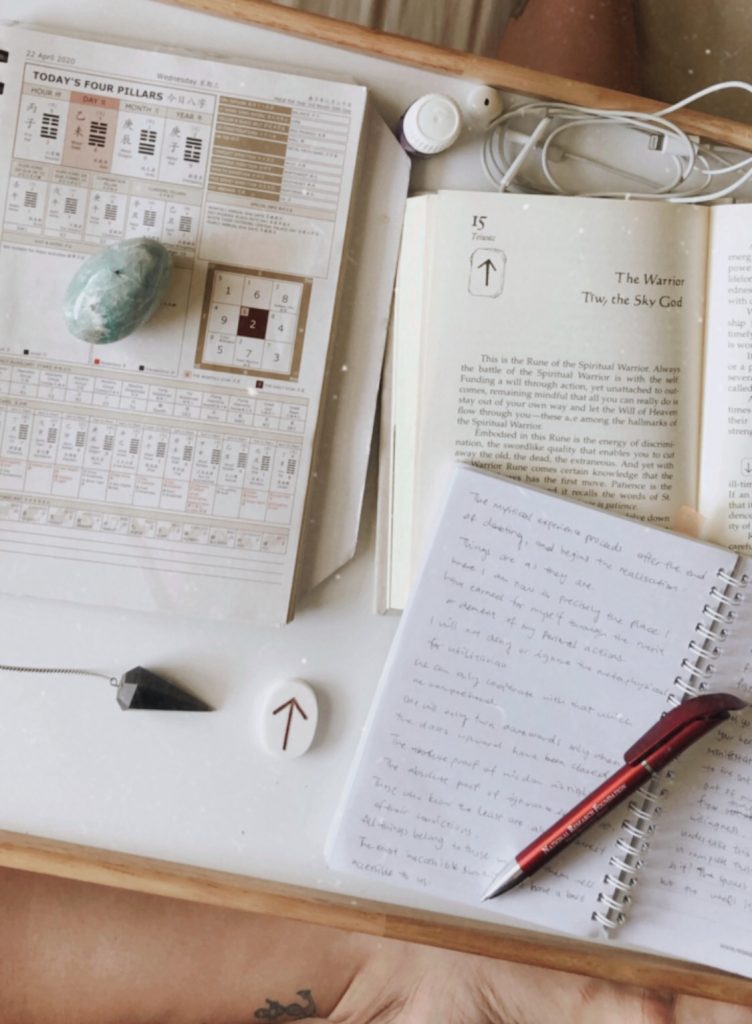 What is the process like?
When a client books a reading, they will be instructed to provide their birth details and prepare questions beforehand. A session typically starts with a simple guided ritual to clear out the energy field, to ground ourselves and invite higher wisdom to flow in.
Whether physical or online, it is important to enter a neutral zone so we can be more receptive to the messages that come through.
Sessions typically last 45 minutes to an hour, depending on what the client wants to know, and also whatever readings come in.
When reading one's natal chart, I use the Ba-Zi (eight characters) system from Chinese Metaphysics, coupled with a dash of Human Design, if required. All readings are conducted in English.
The whole process is quite casual like two friends hanging and chatting. I believe that we attract what we need at the moment we are experiencing. Hence, whoever crosses my path needs to hear what I have to say and vice versa.
An important part of the process is listening and being open to the experience.
One of the perks of this job is meeting new people and learning about different ways of living, as well as the various ways in which a chart is expressed.
—
Natal chart readings usually involve the time of your birth, how do you include human design and chinese metaphysics?
Human Design and Chinese Metaphysics are also based on one's birthdate, time and location. Those two modalities are linked, as they contain components based on the 64 hexagrams of the I Ching, the Book of Changes.
All the modalities I work with are tools which invite us to explore a deeper state of self-awareness and/or bring clarity to situations. We are not restricted to using only one modality.
Even though it may seem too general, I believe whatever works can be used. This is not to say that we should use all of the tools in one session — too many ingredients spoil the broth.
I use them to cross-check if something needs clarification, usually when there are technical disputes. For example, uncertainty in birth time.
—

What exactly is human design?
Human Design is a logical system that brings together principles of the I-Ching, astrology, Kabbalah, and the Hindu-Brahmin chakra system. Your chart, also called a BodyGraph, is calculated using your birth date, time, and location.
The BodyGraph tells us where and how to access your body's consciousness as a decision-making tool, and ultimately, how to live as your true self.
This map indicates how you are unique as an individual, and guides you in living in a manner that is in sync with who you are.
When we live in alignment with our true nature, we begin to experience a level of comfort and acceptance for who we are, instead of chasing who we are not.
It helps us to live out our real purpose in the world.
—
How does Chinese metaphysics come in? What constitutes Chinese metaphysics?
Metaphysics is a branch of philosophy that deals with the fundamental principles of things — being, knowing, identity, time and space.
The Chinese divide Metaphysics into five main subjects of study called the Five Arts, which is the fundamentals of Chinese Metaphysics. Based on concepts of Qi, Yin and Yang, the healing arts include practices such as Traditional Chinese Medicine (TCM), Qi Gong, Feng Shui and astrological concepts — such as "Ba-Zi", derived from a person's birth date and time which is said to determine one's destiny.
When reading one's natal chart, I use the Ba-Zi system.
—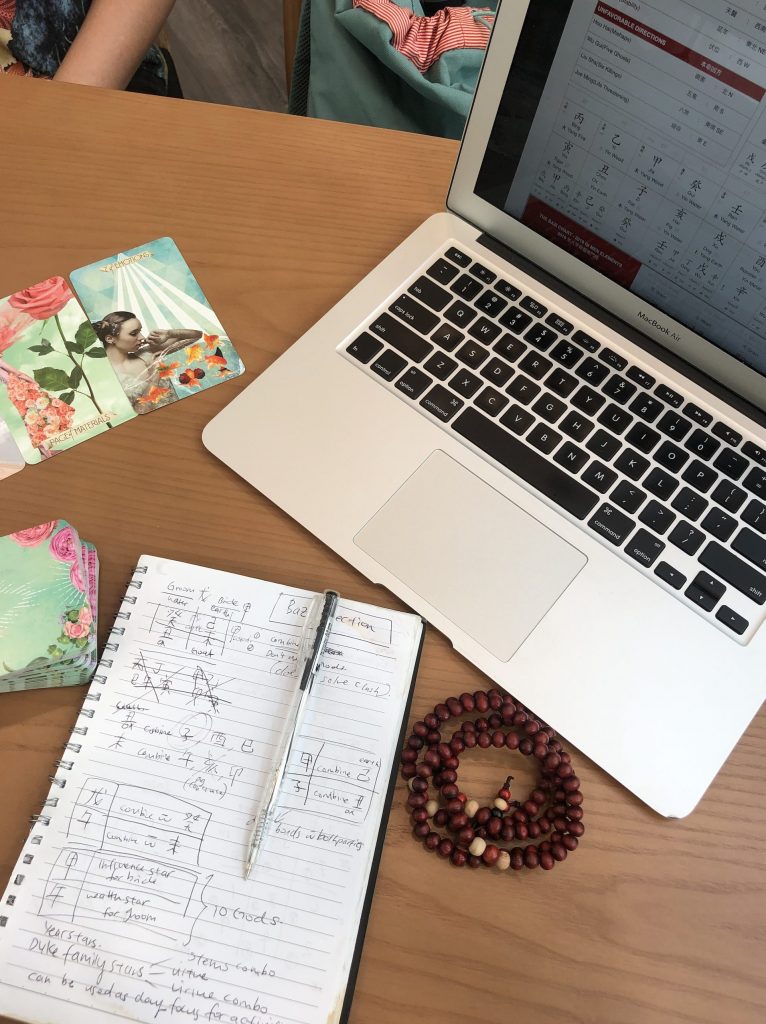 What are your customers' takeaways? How do they take your advice further?
Readings are designed to empower and equip clients with the knowledge to walk the path of higher purpose while showing them a more intentional way of living day-to-day.
Unlike traditional forms of fortune-telling where charts are read in a fatalistic manner, modern metaphysics identifies and focuses on the areas of one's life where opportunities for personal growth, conscious relationships and abundant creation flourish.
The spiritual wellness industry is definitely not all "love and light" as one who is unfamiliar may assume. We also work on identifying one's "shadow side" — certain aspects of the chart where trauma from conditioning is inherent — as well as the privilege which the person was given.
To deny that is a form of spiritual bypass, which can be dangerous.
As we move away from oppressive systems toward a more conscious and inclusive way of being in the world, the emphasis begins to shift from the old school way of individualistic profits to focus more on how we can impact the collective in a sustainable and meaningful way.
Spirituality is a form of escapism unless we can integrate our practice to the manifested world in a conscious and sustainable manner.
As a way of contribution to support indigenous communities and minority or marginalised groups, readings are offered at a lower price, no questions asked, as a personal act of solidarity.
Book a reading today with Serene here.
This story first appeared in the August 2020 issue of Men's Folio Singapore.
We are offering free Magzter subscriptions to Men's Folio so if you're bored, listless or sick of doing your job, click here to subscribe! 
---