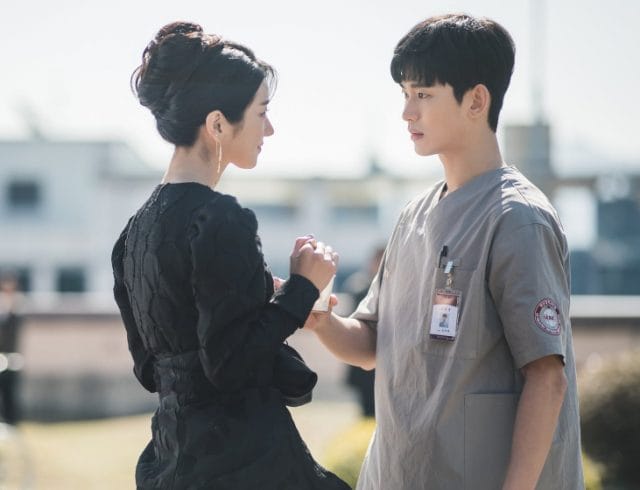 It's Okay to Not Be Okay's Kim Soo-hyun, Seo Ye-ji, Oh Jung-se are the latest faces to join Netflix's hit-list of Korean productions that include the releases of Hospital Playlist, Time to Hunt and Extracurricular.
Mun Gang-tae (played by Kim Soo-hyun) is a caregiver in a psychiatric institute. For years, he has devoted his life to taking care of his older brother Sang-tae (played by Oh Jung-se), who is on the autism spectrum.
"Gang-tae's story is heartbreaking, and I want to deliver it," said Kim Soo-hyun when asked what made him decide to work on this story, "I want to see how Kim Soo-hyun would change as a person in the process of portraying this role."
—


 Kim Soo-hyun as Mun Gang-tae

Tell us more about your characters.
Kim Soo-hyun: Gang-tae appears to be stronger than anyone else in front of people, but is in fact a character with a heart full of sentiments when he's left alone. Gang-tae is more like the older brother to Sang-tae; he gives in from time to time because he has no choice but to be the adult. It is Mun-yeong who brings out another side to him. He lets his guard down when it comes to Mun-yeong, and he is able to show his dark side.
Everyone in this show has their own story, and this is how It's Okay to Not Be Okay delivers different perspectives on life.

Seo Ye-Ji as Ko Mun-Yeong
Seo Ye-ji: It is heart-wrenching to look at Mun-yeong's incapability to feel empathy, and how her obsessions hurt the people around her and even herself. I'm so drawn to her. I know that she has a lot to offer, and I believe that if I'm able to deliver all of the things she harbours, it could be a very wonderful story.

Oh Jung-Se as Mun Sang-tae
Oh Jung-se: Sang-tae is pure and innocent, how he follows his heart instead of his head is his greatest charm compared to the other characters. Soo-hyun and his character complete Sang-tae in an emotional way, how we call each other "my brother" gives me a sense of belonging. [pauses] There's this scene where Sang-tae has a convulsion, and Gang-tae hugs and comforts him until he feels better.
Kim Soo-hyun: I get attached to that scene a lot! I feel grounded, and it was the most memorable one for me.
—


How did you prepare for your characters?
Kim Soo-hyun: Before we started filming, I met up with a caregiver at the ward. He has a sturdy body, you can tell how his job has left prints on him. And he seems tired, it is kind of like how the Hulk always looks angry. I noticed those physical traits that I don't have, and I knew I had to put more effort into portraying my character's feelings.
Seo Ye-ji: I did a lot of research into personality disorder, and looked into several antisocial characters. However, I came to the conclusion that Mun-yeong is extremely unique.
So I decided to enhance those qualities of her with what can be seen from the outside. How Mun-yeong dresses herself may come across as a little odd to other people, like "why would she be wearing something like that", and I think instead of being "fashionable", that's how well-expressive Mun-yeong is, she knows exactly what she wants.
—


Has your character changed your thoughts about anything?
Seo Ye-ji: People usually make quick judgments about others, but Mun-yeong doesn't have any prejudice towards people, and I began to learn from her.
Oh Jung-se: In an earlier interview, I said that Sang-tae is a character suffering from autism. I learned later that it was the wrong expression to use. Saying that you're suffering from something means you have an illness, however autism isn't an illness but something you're born with, so it's correct to say Sang-tae is a character born with autism. Even though I studied a lot about my character, there's still more I need to learn.
—
Growing up, what was your favourite fairytale?
Kim Soo-hyun: [thinks] Is Anne of Green Gables a fairytale? I've also watched the recent TV series adapted from the story!
Seo Ye-ji:  The Golden Axe and Silver Axe (a traditional Korean fable). I still think about it a lot. It's kind of relatable to our show – when adults get too greedy, they can lose everything they had in the first place. Playing Mun-yeong reminds me of this story.
—

—
Any words to Netflix audiences around the world?
Seo Ye-ji:  I hope all of you can enjoy this ride with the lovely characters in It's Okay to Not Be Okay, to feel the pain and get healed together with the warmth of this story.
Kim Soo-hyun: Despite our differences, we share the same emotions and value of love, and it's what this story is all about.
—
Photos courtesy of Chun Youngsang for Netflix. Catch It's Okay to Not Be Okay now on netflix.com.
This story first appeared on www.lofficiel-malaysia.com.
---