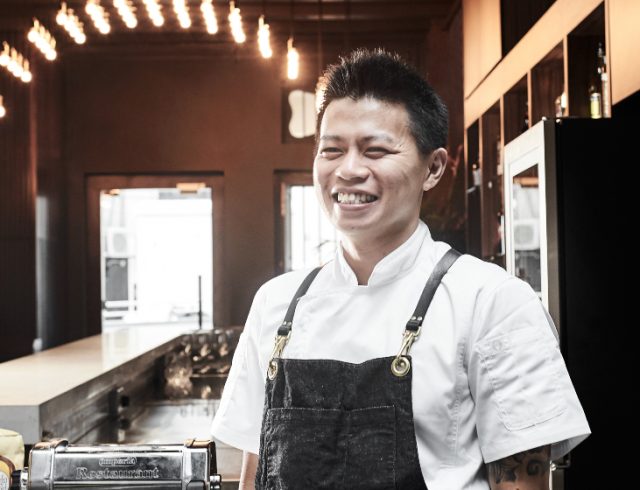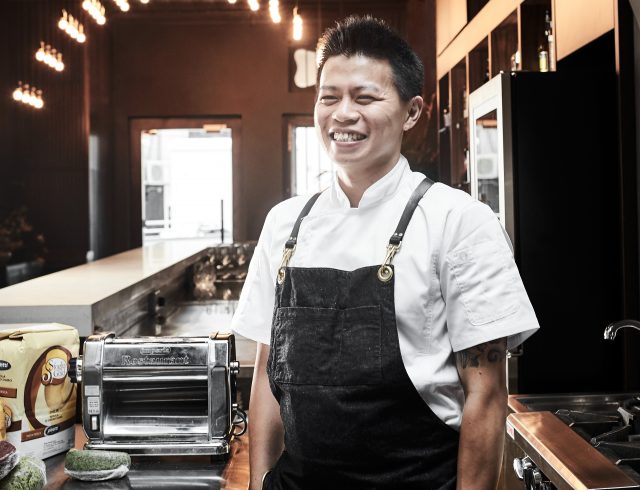 Welcome to #DeliveryDiaries, an initiative we have come up with to highlight the delivery menus of some of the gut-busting dining establishments we've been to.
In the twenty-second installment of this series, we have chef  co-owner Lim Yew Aun from Caffe Cicheti to review five of his favourites.
—

Burratina, $26++
It's hard to hate a Burratina anything, but our version tends to veer away from the standard tomato and basil combination, and has served us well over the years in standing out from the crowd.
Our Burratina is airflow from Italy and comes in silky smooth solid mozzarella pouches that hold a lusciously thick mixture of fresh mozzarella and cream. We lay it on a housemade burnt onion marmalade that is caramelised to a smoky sweetness, drizzled on with our own almond pesto and sprinkled with some toasted pistachio.
Slice into it and watch the creamy insides erupt and spill onto the pesto and nuts, leaving behind a pool of cream and cheese full of nutty nuance. We'll be monsters to not offer you some toasted focaccia to dredge it all up.
—

Diavola, $27++
You can't talk about Cicheti without mentioning its wood-fired Neapolitan pizzas. It's what I first fell in love with and frankly was all I wanted to sell when we first opened Cicheti.
The Diavola (Italian for Devil) holds a special place in my heart because of the simple authenticity of the ingredients and the heat it brings to the table.
Let's start with the crust — four simple ingredients, Caputo 00 flour, fresh yeast, salt and water — and three days of fermentation go towards creating the light and crusty base. We lay on our tomato sauce that we hand-mill for extra sweetness, fior di latte, salami, dehydrated chilli padis, basil and parmesan and let it crisp up in the wood-fired oven to create a pie that's tongue-tingling, meaty yet crisped in all the right places that will make most spice-loving Singaporeans sing.
—


Agnolotti, $31++
It comes in a simple three ingredient recipe but takes ten hours to braise the grass-fed beef cheek and two full days to prepare the dish.
The beef cheek is braised in a vegetable stock for ten hours, hand-shredded, cooked down with its own jus again and then blended to a silky texture. Parmigiana is stuffed in the pasta with the beef cheek.
The sauce is a simple butter sauce cooked using pasta water and butter, with a drizzle of beef jus before serving for more beefy flavours.
It's a labour of love that you'll understand the moment you pop one into your mouth.
—

Casarecce Nero, $30++
The "Nero" pastas has always been a hit since day one and it has since evolved thrice — the third and latest rendition being the Casarecce Nero that's available on islandwide delivery.
From our first Fusilli Nero full of uni and spunk, to a Tagliolini Nero that's essentially the ocean in a plate, our Casarecce Nero combines the best of its predecessors — short twists of jet black pasta made using fresh squid ink folded straight into the dough, tossed together with tiger prawns, housemade 'nduja, pasta and anchovies crumb.
An umami flavour bomb with the right hit of spice.
—

Pesto, $24++
​​I first discovered my affinity for pesto-based pasta when we knocked out a kicker of a jalapeño pesto pasta during Spring of 2019 in Bar Cicheti.
Ever since, we've been experimenting with different types of pesto, including a sun-dried tomato pesto for the Summer menu. When we opened Caffe Cicheti, I wanted a Pesto pasta to be a mainstay on the menu.
We opted for a simple spaghetti as the consistency of our pesto clung well to the slippery noodles, and for the pesto we travelled back in time to the first Cicheti where we used a fragrant almond-based pesto as components to various dishes, and made it the star of the dish.
It travels surprisingly well and has been winning over new fans islandwide.
Make your order today from Caffe Cicheti here https://caffecicheti.oddle.me/en_SG. 
---