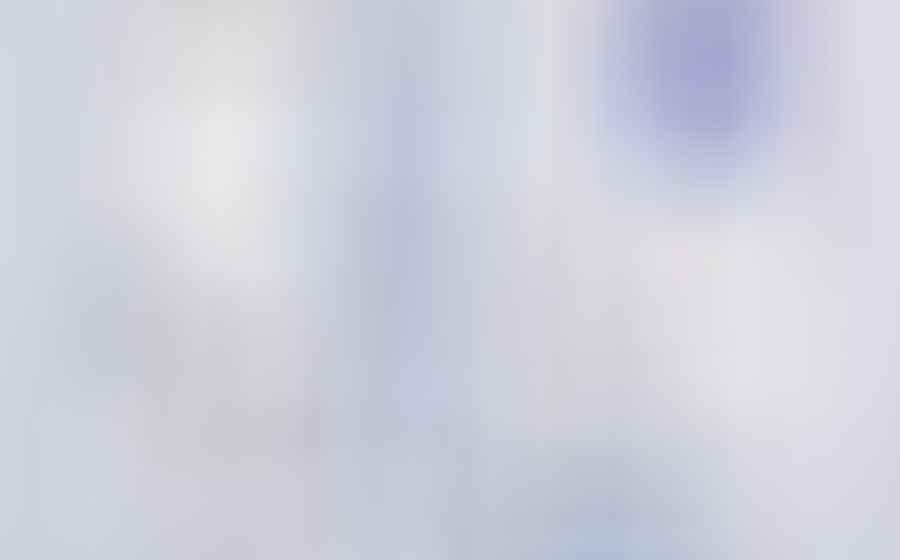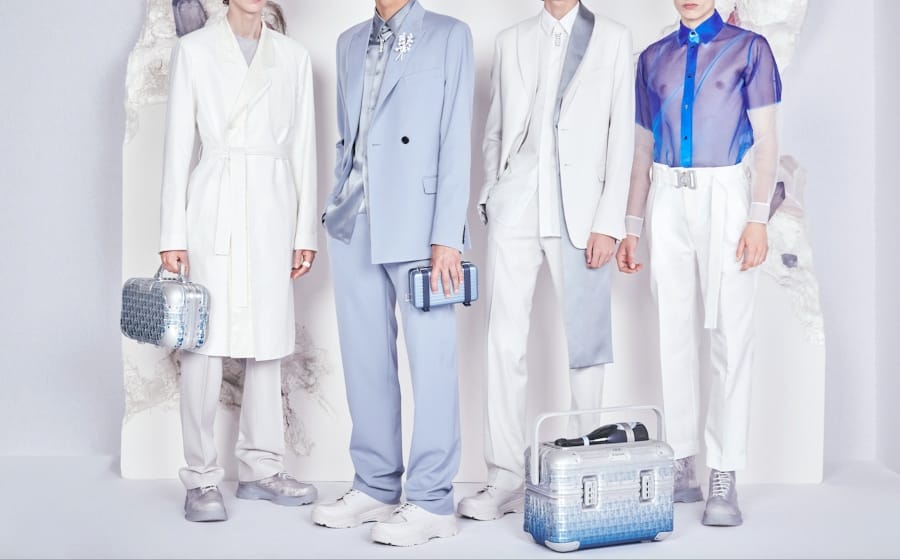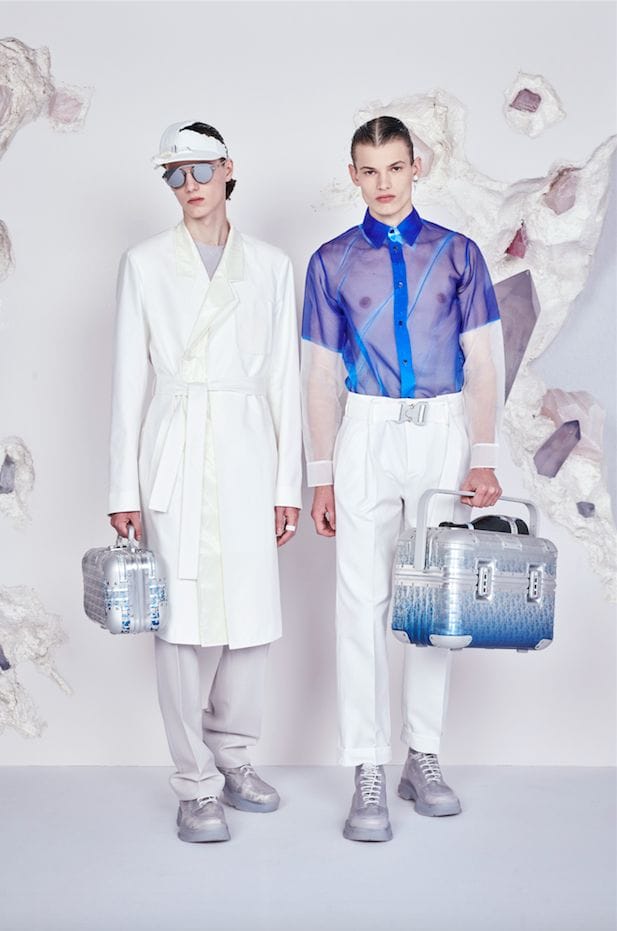 For the Dior Men Summer 2020 collection, artistic director of Dior Men's collections, Kim Jones explored the notion of relics – objects that can be transmuted into stories for evolution, investigation, and creation of history. The runway space was transformed into an archaeological site, where the maison's emblems and items drawn from Monsieur Christian Dior's studio – his clock and telephone – were cast in white by American artist Daniel Arsham, while models trod through pink sand.
The narrative is especially pertinent for the French haute couture maison, which in itself is a monument. It is a living, breathing connection that houses various contemporary designers to propel Dior's storied past into the present. To be seen as a poetic journey through the sands of time, travel also becomes a theme for Dior Men Summer 2020, and for the house, the best luggage to travel with is RIMOWA.
Found in the collection, the unique capsule range by DIOR and RIMOWA sees luggage, hand cases, clutches worn as sling bags, cabin suitcases, and champagne cases withstanding the passage of time – in terms of style and practicality.
—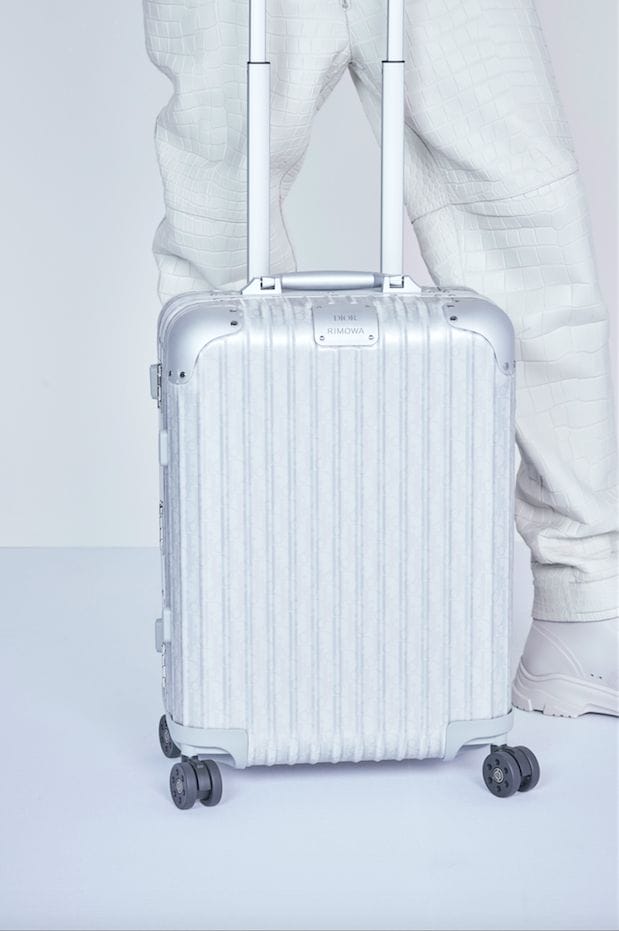 —
In the words of RIMOWA CEO, Alexandre Arnault, "A uniquely memorable collection, the DIOR and RIMOWA capsule collection celebrates the best of the two brands, serving to further highlight the shared, cherished values of excellence, innovation, and savoir-faire."
—

 Benjamin Kheng explores what makes Benjamin Kheng with the capsule collection.

—
The special edition DIOR and RIMOWA range centres on craftsmanship and expertise, features the Dior Oblique motif, and employs a novel anodising process that directly inscribes vibrant pigments of blue into the products' aluminium shell. Thus, the resulting luggage collection possesses a vivid, reflective appearance that celebrates the qualities of aluminium – lightweight, heavy- duty, yet malleable.
—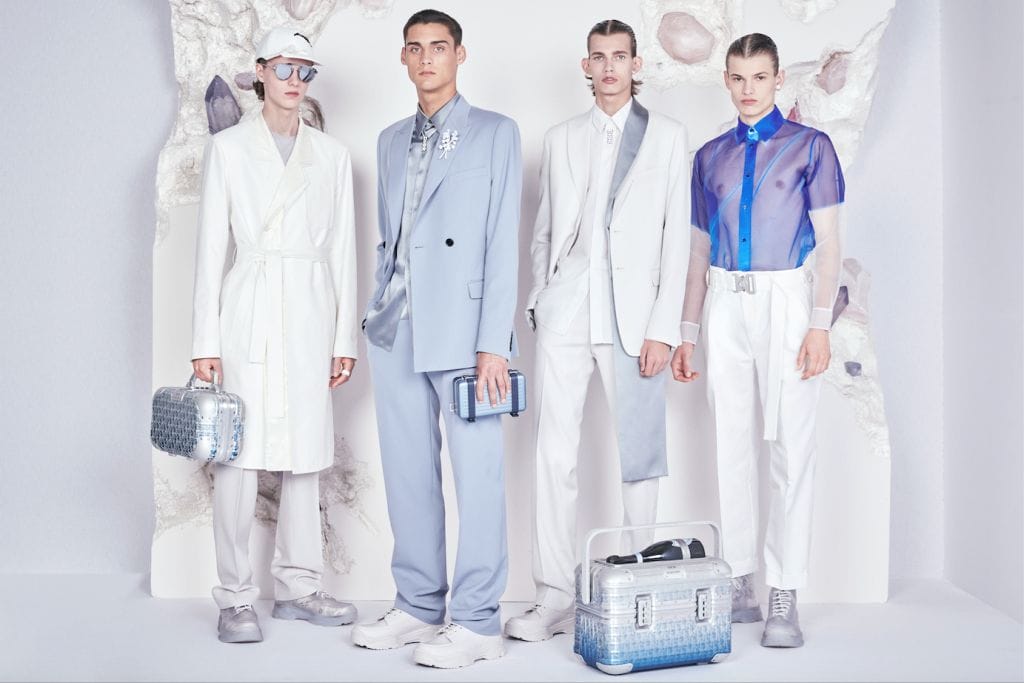 —
Usual suspects from RIMOWA, like the Cabin suitcase and Trunk luggage, have been emblazoned with the Dior Oblique motif, designed by Marc Bohan in 1967, and the pattern finds itself as lining for the interior as well. However, the German luggage manufacturer rarely produces travel accessories outside of the luggage categories, which makes the DIOR and RIMOWA capsule collection that much more desirable.
First up is the Personal, a debut design measuring 12.8cm by 22.6cm with a depth of 7.2cm. It holds up to approximately one litre of keepsakes and accessories. The interior houses a small cards compartment and a zip compartment for the Personal to double up as a wallet too. The accompanying interchangeable leather crossbody straps complete the Personal as the ultimate portable aluminium case for personal belongings.
—
View this post on Instagram

—
A size up from the Personal is the Hand Case – possessing similar interior features and removable crossbody straps – that measures 23.5cm by 36cm with a depth of 15.5cm. The Hand Case was inspired by a vintage RIMOWA case from the early 1990s, and this is the first time a small hand luggage is reintroduced into the current RIMOWA universe. Men will find this stylishly useful when he breezes through immigration without fumbling for his passport in his cabin luggage.
—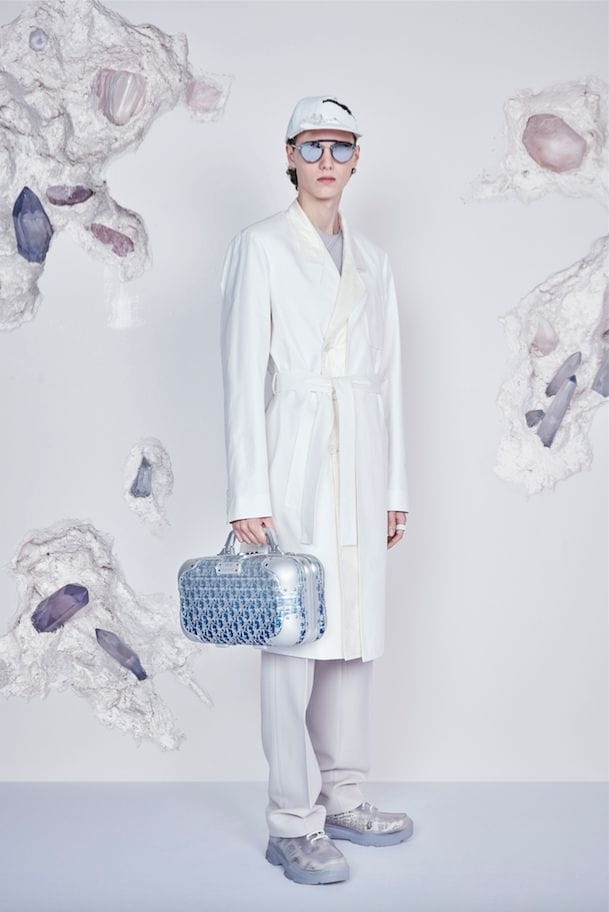 —
To reflect the spirit of Dior Men's modern luxury, an exceptional Champagne Case has also been designed. Described as "elegantly functional", it features an exotic crocodile leather handle, an exterior bottle strap, and a custom interior to hold six Dior Maison champagne flutes and coasters.
The collaboration between luxury couture house Dior and high-end luggage manufacturer RIMOWA is a natural one. Other than the fact that both brands share the same parent company, LVMH, they constantly pursue the reimagining and bettering of their well-loved icons, grounded by decades of history. Synonymous with an exploration of the notion of relics, travel is more than just an afterthought.
—

—
Jones's concept of travel is drawn from founder Monsieur Dior's ethos. Christian Dior is known for his love for travel, where he gets his inspiration and invited close circles of famous artists to his holiday villa to inspire each other. Coincidentally, Jones (who also happens to be a RIMOWA ambassador) shares the same love of travelling. "I'm thrilled about the collaboration with RIMOWA and to be able to have an amazing DIOR and RIMOWA suitcase to travel with as I set off on my global adventures," he says.
Not to be dismissed lightly as a necessary collaboration between DIOR and RIMOWA, the capsule collection provides an additional chapter and facet to the glorious legacies that the two maisons have built.
This story first appeared in the February '20 issue of Men's Folio Singapore. 
---