We live in an age now where — funnily enough — anything can be considered art. A random drop of paint on a blank easel? Some "indie gallery" might lap it up and market it to people for a five-digit sum. Want to be a performance artist who takes a piss in public in the name of "art"? Sure, if that floats your boat — we'll come to your show just for the booze and canapés. 
If you haven't guessed it by now, we sorta are talking about the world of fashion too — anything can and will be classified as fashion today because #democratic, #freedomofspeech, and #lovethyself. Hence, it's our duty to highlight the most evergreen bags of the season — the eye-watering, expensive ones that might cause a month of solely surviving on economical rice (Editor: Is it only two vegetable and one meat?) but the catch is: they match any outfit, style, and season. 
The techniques that pioneered each house to international leather goods fame are there — supple skins, impeccable craftsmanship, and durability  — but instead of stuffy briefcases, we've curated eight that will make you look like an artist himself. FYI, it's the cool I-hang-out-at-Joo-Chiat-and-do-street-art kind and not the I-suffer-for-my-art kind. You're welcome.
Pictured Above: Dior Men Safari Mini Roller black calfskin bag. 
The Arnolfi Portrait is rumoured to be a painting of an Italian merchant proposing to his peasant wife. We say, skip the fleet of cows and gold ring — Dior Men's Safari Mini Roller makes for better dowry instead.
—
Bottega Veneta Medium Calf Leather Tote


A Sunday Afternoon on the Island of La Grande Jatte requires a sturdy tote to pack a variety of tidbits, fruits, and anti-Polio medication (What can we say? The painting was set in 1884).
—
Ermenegildo Zegna Taccuino Leather Duffel Bag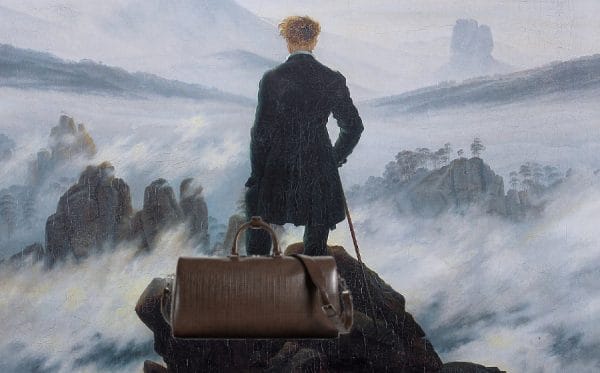 It takes thousands of men to move a mountain. It only takes one stylish gent to show them how it's properly done — he's carrying an Ermenegildo Zegna weekender of course. 
—
Givenchy Weekender Calf Leather Bag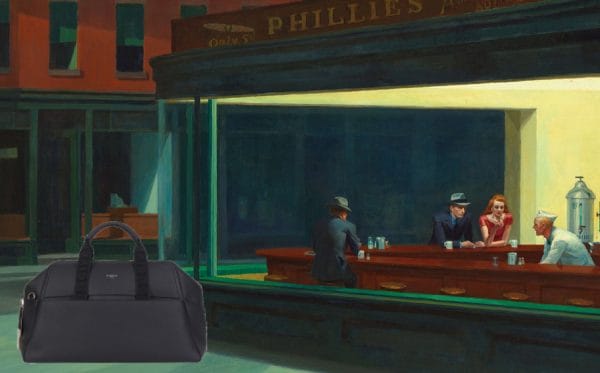 Givenchy's Weekender bag subtly blends into Edward Hopper's famous Nighthawks painting. As to what it can hold, it's obvious next to the mystery of the characters in the painting — basically everything.
—
Gucci Ophidia GG Canvas and Leather Backpack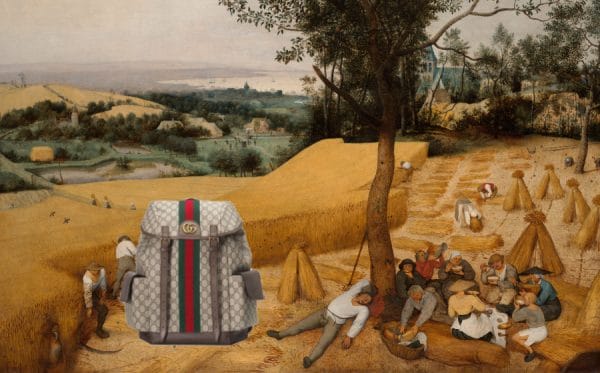 See the fella passed out next to Gucci's latest #soontobecultclassic backpack? Yeah, he wished he was carrying it to harvest wheat in the first place.
—
Hermès Steve Light Calf Leather Messenger Bag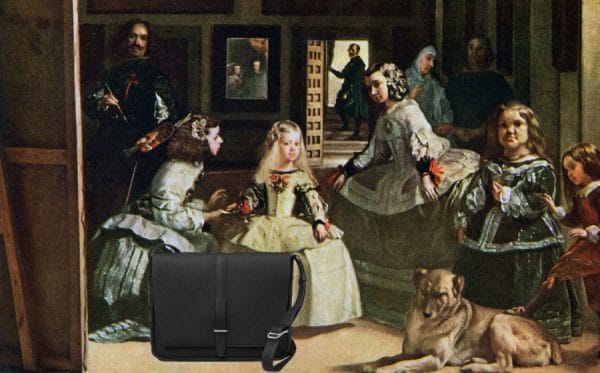 We're not sure what The Family of King Philip IV are looking at but we're glad that at least the family pooch is paying attention to Hermès' quietly luxurious crossbody of the season.
—
Saint Laurent Bold Shopping Calf Leather Bag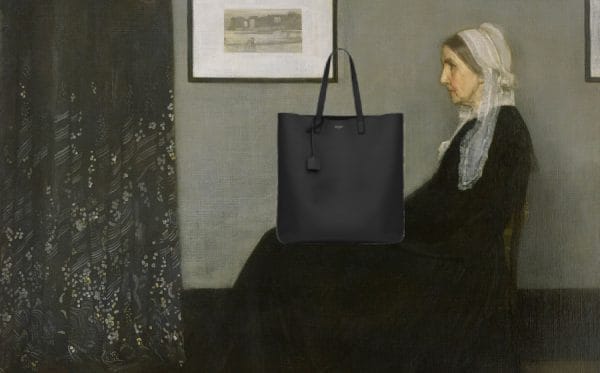 The woman in James Abbott McNeill Whistler's painting — Arrangement in Grey and Black No.1 — seems contemplative but she does not need to think twice about how much her Saint Laurent shopping bag can hold.
—
Versace Tribute Calf Leather Pouch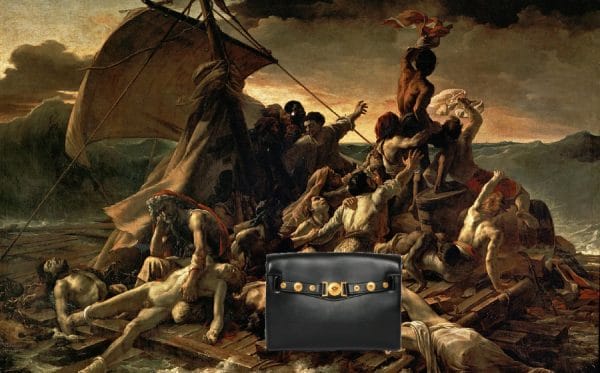 The larger-than-life canvas of the "The Raft of The Medusa" painting does not need a big bag to make it come to life — case in point, Versace's latest blinged out pouch.
---