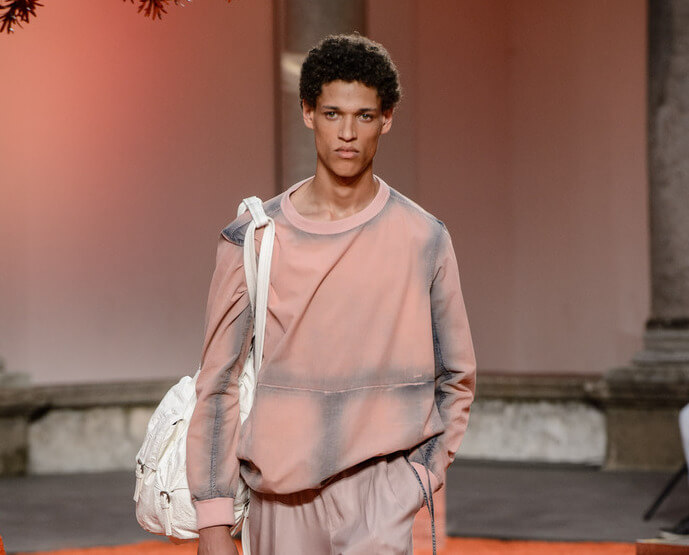 In an exploration of fantasy—both conscious and subconscious—artistic director Alessandro Sartori has unveiled a breezy collection for Ermenegildo Zegna Couture Spring 2018. Presented at a striking, tangerine-hued garden set in the historic courtyards of Milan's Università Statale—the backdrop of Sartori's carefree youth—the collection introduced a refreshing take on couture.  
Sartori channels an easygoing vibe into the garments, where fluid washed silks and pure mohair add an air of weightlessness to the delicate silhouettes of deconstructed tops and sport-inspired pieces. The clothes come in a palette of natural shades like walnut, geranium and signature Vicuna, with flashes of optical white giving the looks a modern finish. 
A seamless transition from indoors to outdoors is perfectly exemplified in the accessories: technical Triple-stitch sandals and the iconic maxi-logo TIZIANO sneakers add a touch of casual cool to the laid-back mood of the collection, while Zegna's signature Pelle Tessuta weave has been updated in a range of fresh new colours and knitted effects for bags and baseballs hats.
The collection also allows for freedom of one-of-a-kind personalisation: every item can be customized with handmade knotting, painting and embroidery by the skilled hands of Zegna artisans.
---