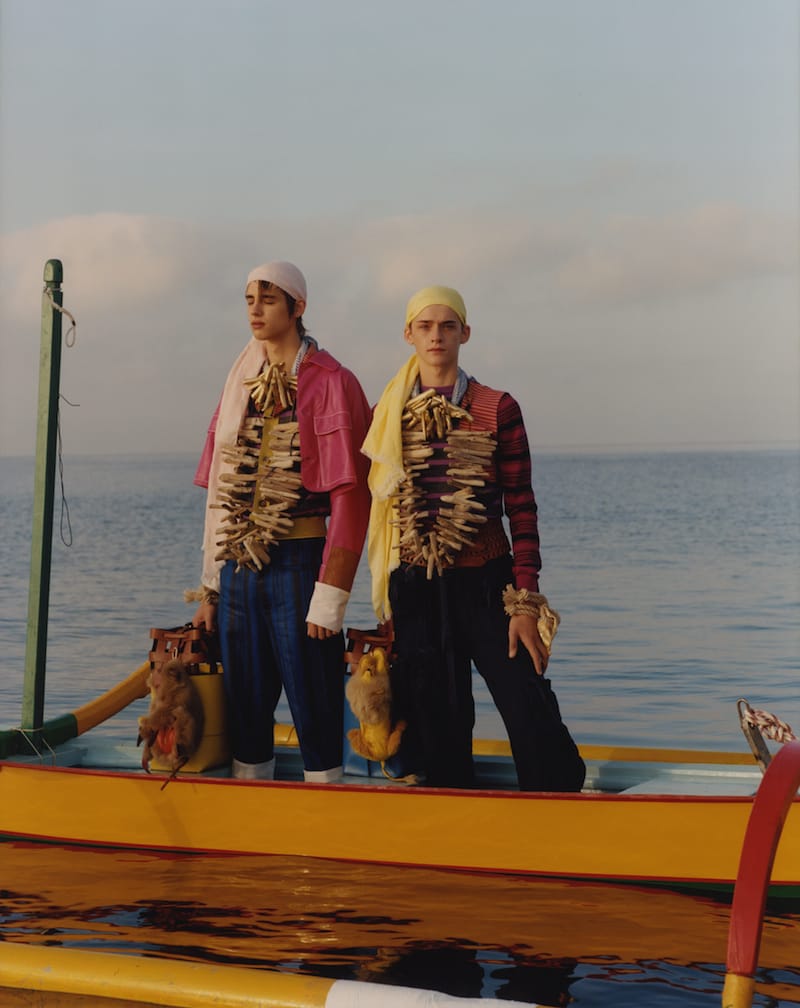 Shot on the Balearic island, which was in fact one of Jonathan Anderson's starting points for his re-imagining of Loewe, the brand's Spring/Summer 2017 visuals vividly imagine the adventure of two men drifting on a yellow catamaran, before getting stylishly stranded on the island with driftwood necklaces and rumpled linen shirts (some dangling with straps and multiple pouches).
The organic garment-dyed fabrics — linen, terrycloth and silk — enhance oversized, bohemian silhouettes. This collection isn't all rustic though — there's a breathable, water-repellent rain jacket for fans of technical fabrics. Prints and charms are also a highlight, and they recall illustrations found in children's books. A playful fossil motif adorns terrycloth totes and slings, and the brand's Anton backpack. Supersized bag charms take the form of monkeys and elephants — crafted in nappa, suede and fur.
Jewellery and embellishments are equally craft-like. Jeans get partially dipped in gold paint, and small accessories are folklore-inspired and made in driftwood and cork. There's even a spoon necklace modelled after a 14th century Welsh wooden utensil. Completing Loewe's seafarer looks: sizable bucket bags with open basket weave tops, and crocodile slip-ons in brown or black.
---