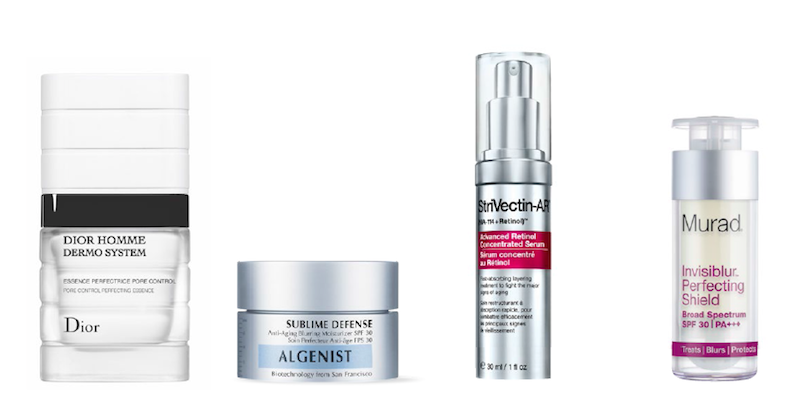 Instagram-worthy complexion takes work, but it's not far from reach with these new skincare products for men in Singapore, which promise to minimise pores, blur lines, boost radiance, and help prevent blemishes.
Dior Homme Dermo System Pore Control Perfecting Essence
Combat greasy skin with this light formulation that contains extracts of liquorice, ginseng and pepper to help minimise pores, regulate shine, and boost radiance. ß-ecdysone and vitamin E help repair, soothe and strengthen your complexion, and maintain its youthful look. In addition, high-tech blurring agents correct imperfections and absorb sebum without dulling the skin's glow.
Algenist Sublime Defense Anti-Ageing Blurring Moisturiser SPF 30
This cream provides a protective veil while hydrating the dermis. Alguronic acid and Extremophile Algae Complex work together to reduce the appearance of fine lines and wrinkles. Containing yeast extract, this moisturiser with an SPF of 30 also protects the skin from UV damage and air pollution. Finally, the cream's optical diffusers refract light, softening the appearance of imperfections.
StriVectin Advanced Retinol Concentrated Serum
Retinol is our best friend when it comes to fighting wrinkles. Unfortunately, the ingredient is not friendly towards sensitive skin. This serum strengthens skin texture with its NIA-114 technology, and helps deliver retinol to the epidermis without disrupting its balance. Besides keeping your complexion healthy, the optical diffusers in the serum work on the skin's surface to enhance its radiance.
Murad Invisiblur Perfecting Shield Broad Spectrum SPF 30 PA+++
Suitable for all skin types, this innovative three-in-one treatment reduces the appearance of blemishes, and signs of ageing and UV damage. Mushroom peptides diminish the visibility of fine lines and wrinkles, and a soft-focus complex "blurs" imperfections, improving the skin tone. Formulated without parabens, surfactants and phthalates, the velvety cream has a matte-finish.
---