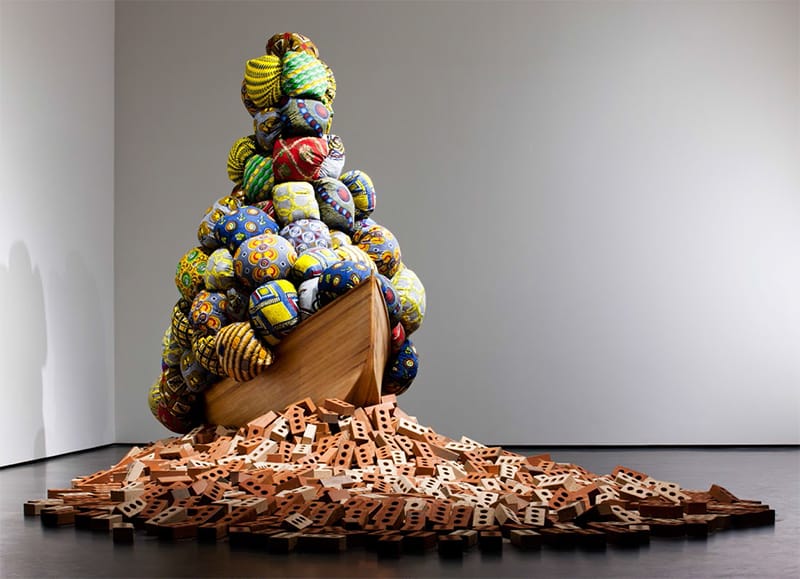 The 15th edition of Korea International Art Fair (KIAF) took place in Seoul from October 12 to 16, 2016. At this edition, the spotlight was shone on the Taiwanese contemporary art scene through 11 participating galleries from the country.
At the same time, there were two related talks: one introducing emerging Taiwanese artists Kuo Chih-Hung, Lin Yu-Ching, and Wei Hsing-Yu, and the other a bicultural discussion about the new generation of Taiwanese artists between Emerson Wang, executive director of Art Taipei 2016 and Kim Sang-Chul, professor of Department of Paintings, College of Art, Dongduk Women's University. Talks were a significant part of the fair's programme, which also included a spotlight on the art business, from looking at new trends and developments in Korea and other Asia Pacific art markets to collaborations between artists and businesses in designing products.
Spreading over two halls, the sprawling art fair had a distinctly domestic feel to it. Out of 170 galleries, nearly 120 showcased works from Korea. There were a good number of booths in which information was available exclusively in Korean, which made it difficult to find out more about the artworks if one did not understand the language.
Among the galleries that stood out was Gallery Shilla, which was an enclosed space rather than a conventional open one. The gallery exhibited artworks by Daniel Buren, Alan Charlton, Tadaaki Kuwayama, Kishio Suga, Lee Dong-Yub, Suh Seung-Won, Park Doo-Young, and Nam June Paik. Speaking about the gallery's focus on Kishio Suga at the fair, director Lee Kwang-Ho says: "Kishio Suga is known for his Mono-ha movement artworks that show the differences between two materials, using raw industrial materials to show new perception and connection to his philosophy."
Nam June Paik's works were seen throughout the fair in various media. At Gallery Shilla, his paintings from the 1980s and robot works from the 1990s were shown. 2016 was also the 10th anniversary of the luminary's death, and a retrospective was held at the Dongdaemun Design Plaza. Oh Se-Yeol was another Korean artist whose works were found in multiple booths, including Hakgojae Gallery, Baudoin Lebon, and SM Fine Art Gallery.
Some galleries presented both established and emerging Korean artists. Johyun Gallery featured Dansaekhwa artists such as Park Seo-Bo, Lee Ufan, Yun Hyong-Keun, and Chung Chang-Sup. It also introduced up-and-coming artists such as Lee So-Yeun and Ahn Ji-San. The gallery had a positive experience at the fair, citing the connections made with existing and new clients. "KIAF 2016 was a great opportunity to meet new both home and worldwide collectors, and also to build relationship. It was very important to present Korean contemporary arts to collectors from Asia-Pacific such as China and Indonesia," says Park Soo-Young, the gallery's assistant sales director.
Generally, the galleries were pleased with the art fair. The Page Gallery in Seoul praised the fair in its capacity as both exhibitor and visitor. "We presented artworks [by artists] from and outside of Korea at different stages in their career and in a variety of media. It was generally a great fair to see wonderful works of art." The gallery brought artworks from American artist KAWS, British artists Julian Opie and Mustafa Hulusi, and Korean artists Chang Yeon-Soon and Kim Tschoon-Su.
A gallery booth that was unlike any other was Salon de H, which paired artworks with design furniture made from aircraft pieces from Sky Décor, a design corporation of household and office furniture, founded by Khan Key and Samuel Omondi. On show were also works from artists Woo Kuk-Won, Han Kyung-Woo, and Kang Sukho. Han's work plays on the viewer's conventional perceptions of items, such as in Plastic Rorschach, in which he creates a beautiful sculptural print from purple and blue-green plastic bags.
Galerie Marie Lund from Paris participated for the eighth time at KIAF and brought an interesting range of artworks, including the stunning organic glass artworks of Danish artist Pipaluk Lake. "This year, the artists presented were met with great interest. We almost sold out the works of Paris-based Korean artist Lee Jin Woo, and work by Pipaluk Lake, whom we presented for the second time at KIAF, was sold to a very important international collection," says Lund. "The photos of Swedish photographer Helene Schmitz drew the attention of press and visitors, and many were happy to discover totally new works by Danish artist Peter Martensen that we had shown in the 2008 to 2011 editions of the fair. [It was an] altogether very, very positive experience in terms of communication, networking and sales."
There was also a "Special Hallway" with nine sculptures and installation works. These works, from Carole A Feuerman, Chung Hyun, Barthélémy Toguo, Park Seungmo, Bernar Venet, Shin Sang-Ho, Park Jo-Yoo, Dietrich Klinge, and Jim Allen Abel, commanded attention as one meandered through the two halls in the sprawling art fair. Feurman's Monumental Brook with Beach Ball, a hyperrealist sculpture presented by Galerie Bhak, depicted a young woman wearing a swimming cap, resting against a colourful beach ball, around which her arms are wrapped. Another mixed media work, presented by Wooson Gallery, was Road to Exile by Barthélémy Toguo, featuring a wooden ship resting precariously on a pile of bricks, piled high with bulbous bundles in a variety of cloth coverings, in a commentary about cultural and social inequality and the inherent vulnerability that everyone feels.
Held in conjunction with KIAF was Gallery Weekend Korea 2016 featuring art tours and talks at 20 Korean galleries, as well as Korea Art Week 2016, with the theme "Art in Life", which saw a plethora of activities in art spaces throughout the country, including Seoul, Gwangju, and Busan. Of note was the The Man Who Fell in to Art: Collecting as a Form of Personal Narrative exhibition at the SongEun Art Space, which featured young Indonesian collector Tom Tandio's personal collection of contemporary Indonesian art, with numerous Southeast Asian gallerists, artists, and collectors present at opening night. The Leeum, Samsung Museum of Art was a must-visit for its stunning collection of art from around the world. At the museum was also the special Olafur Eliasson: The Parliament of Possibilities exhibition. Altogether, Korea Art Week provided an interesting crash course on the art scene in Korea, its pride in its own artists and galleries, as well as its pockets of effort to link with art from other parts of the world.
This article was written by Nadya Wang.
---