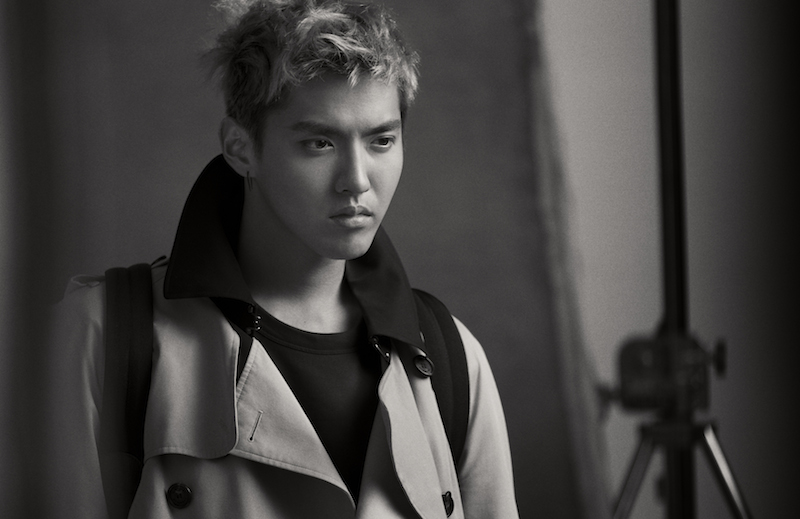 The whelming wave of Korean culture continues to bestride the world. Men's Folio Editor Ian Lee puts Korean fashion front and centre with his picks.
Kris Wu (above)

You know the former EXO member as a singer and actor. Now, he's a bona fide campaign model too. The 26-year-old fronted Burberry's collection last November – making him the first Asian to be the face of the British luxury brand. Burberry even dubbed the range "The Kris Wu Edit". More recently, Wu was named Bulgari's ambassador in China, and rocks the jeweller's Octo watch, Serpenti Eyes On Me pieces, B.zero1 ring, and Monete necklace in the campaign images.
Juun.J
The label, which single-handedly made neoprene a trend in 2014, celebrates the big 10 this year. Based in Seoul, and shown at Paris fashion week, it's synonymous with avant-garde silhouettes, streetwear savvy, and futuristic tailoring based on deconstruction and reconstruction. For his Spring/Summer 2017 collection, the designer unleashes his fresh takes on 1950s anti-gravity pilot suits, saying he's got you "covered".
Taeyang
What style icon G-Dragon is to Chanel, Taeyang is quickly becoming for Fendi. After being snapped street-style in the house's fur moccasins and coat, the famously cornrowed Big Bang member was seated next to Fendi CEO Pietro Beccari at the brand's recent Fall/Winter 2017 showing in Milan. Predictably causing a paparazzi frenzy at the show, we'd say the love fest between Taeyang and Fendi has just begun.
Solid Homme
Commonly mistaken to be Wooyoungmi's diffusion label, this was actually one of the designer's first fashion forays in 1988, making her Seoul's first female ready-to-wear menswear designer. With the popularity of her eponymous brand, Solid Homme has experienced a recent resurgence, getting stocked at MrPorter.com and Woo's flagship stores. Less technical, and more understated, it's one K label for the minimalist at heart.
Wooyoungmi
The 15-year-old label, helmed by mother-daughter duo Woo Youngmi and Katie Chung, has developed into a go-to for staples with a twist. Pushing menswear ideals closer to womenswear, it is often inspired by art and architecture. Its Spring/Summer 2017 collection reflects on late American
artist Sol LeWitt's wall paintings with high waisted balloon pants, long fluted shirtsleeves, and sartorial shorts-and-pants combinations.
KYE
Kathleen Kye's label of American-influenced pop streetwear is favoured back home by both male and female celebrities. Stocked at Opening Ceremony, the five-year-old brand can't help but draw inspiration from social media of late – the Spring/Summer 2017 collection features a "sorry not sorry" slogan and street-style-tuned bomber and military jackets.
Ordinary People
A relative newcomer to the scene, Jang Hyeong-Cheol's three-year-old brand has rapidly become the gentleman's choice at Seoul Fashion Week. Championing relaxed elegance, Jang's collections are often composed of slouchy suits, pyjamas-influenced robes, and smart, sporty separates that are put together with sartorial sensitivity – ironically not what the everyday man can pull off.
Kim Seo Ryong
Fine suits are what this 10-year-old label is best known for, and unlike his fellow Korean designers, Kim Seo Ryong's isn't all sweeping monochromatic silhouettes (he designed Psy's outfits for Gangnam Style, after all). Expect some K-style rock star flair in his Spring/Summer 2017 collection too: bold baroque prints, ruffled shirts, metallic finishes, and thigh-skimming mini shorts.
---