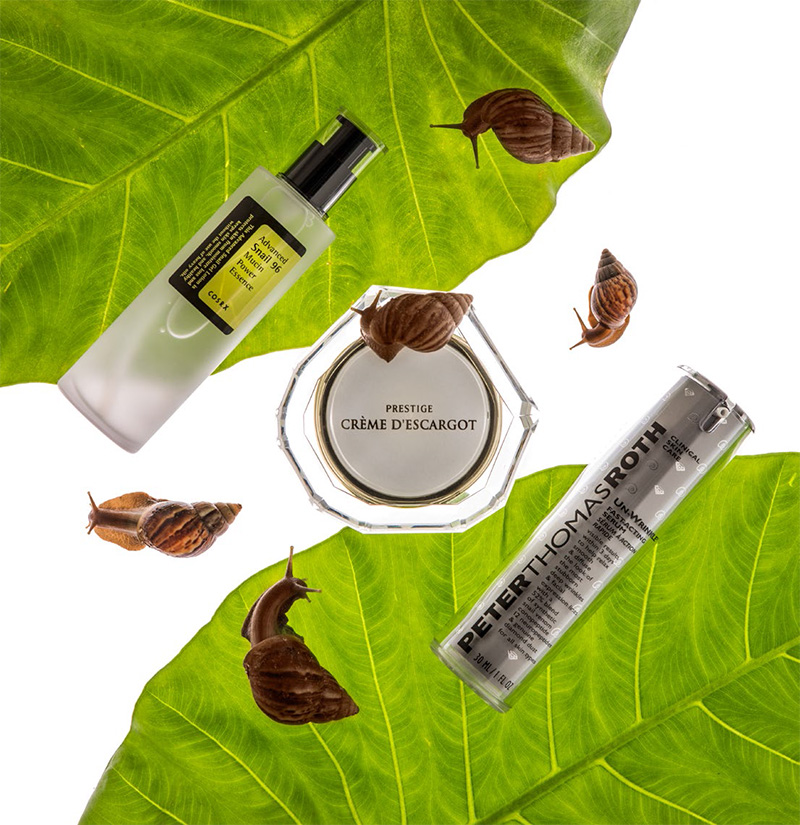 Korean skincare has become such a phenomenon that even its ingredients are trends in and of themselves. Here are four that are delivering great results for Asian skin.
SNAIL TRAIL (above)

Featured: Cosrx Advanced Snail 96 Mucin Power Essence; It's Skin Crème D' Escargot; Peter Thomas Roth Un-Wrinkle Fast-Acting Serum
Snail slime is packed with proteins, glycolic acid, and elastin, the last of which helps to quickly heal cuts on their soft, squishy bodies. When incorporated into skincare products, the mucus is excellent for firming, hydrating, and supporting cell regeneration, which means we can now enjoy supple skin without having the garden mollusc secrete directly onto our faces.
PITCH PERFECT
Activated charcoal has wonderful detoxifying properties. Used as a remedy to treat alcohol poisoning and drug overdose, it works by attaching to toxins in the stomach and absorbing them before the bloodstream can. Likewise, when applied on the face, it attracts and absorbs dirt and oil on the epidermis.
SUPER SUCCULENT
Move over argan oil. Prickly pear seed oil, otherwise known as barbary fig seed oil, is the latest Korean skincare ingredient that holds even more vitamins and antioxidants. The miracle oil contains plenty of linoleic acid (that stimulates healthy cell regeneration), vitamin E, and anti-inflammatory flavonoids. Most importantly, it feels light and is absorbed quickly into the face.
SERPENT SPITTLE
It sounds daunting to smear snake venom directly onto your skin (rightly so, seeing as it's one of Nature's most effective killers), which is why skincare researchers have formulated a non-hazardous synthetic derivative called Syn-ake. Touted as an alternative to Botox, the ingredient is found in anti-ageing products as it helps smooth out fine lines and wrinkles by reducing muscle contraction and cellular movement – in other words, controlled paralysis.
Photography Munster + Long Fei
Art Direction Jeremy Ang
---