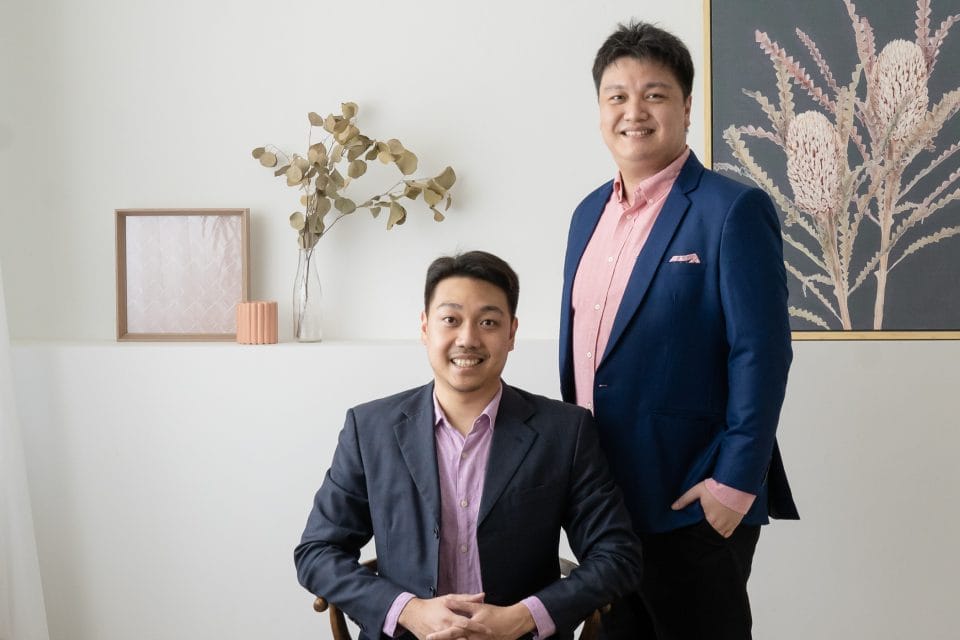 Meet the two men above who are helping you sleep better, Daniel and Ryan of Weavve Home.
What if we told you that you could actually buy your way to better sleep? What if we also told you that the cost won't cost an arm, leg or a ligament required for mobility? What if we added a cherry to the top to let you know that while you sleep, you're also saving the planet? Lest we get overboard, here, an interview with Ryan and Daniel who are the brains behind Weavve Home: a brand that has launched Singapore's First 100% TENCEL™ Lyocell Duvet.
Hello Ryan and Daniel, what I usually like to do with first time interviewees would be to ask them to pitch their business in 10 words or less. So, if you could humour me.
Ryan: Best sleep ever. Money back guarantee.
View this post on Instagram

I'm going to get this loaded question out of the way: how is it exactly possible for Weavve Home's products to help its user really sleep properly?
Daniel: Getting good sleep is about staying comfortable through the night. Whether you prefer to sleep in an air conditioned environment or just with a fan on, everyone sleeps differently. We are either a warm or a cool sleeper. Our duvet and sheets have temperature regulating properties that allow both warm and cool sleepers to sleep in comfort, without chills or sweat.
As a warm sleeper myself, I've got to turn the aircon down to an icy cold temperature to enjoy my duvet. One of the most frustrating things is to wake up constantly pulling the duvet up or taking it off as I alternate between being too warm or too cold. My wife gets cold more easily, so it's hard to find a temperature where we both feel comfortable. 
Many bedding brands advertise the importance of sheets with high thread count, but most people don't realise that that number is not as important, and may be exaggerated. What's most important are actually the fibres and threads. The higher the yarn count, the better the threads – our yarn counts are high, that's why the textiles are made to order.
Our cotton threads are 100s yarn count, made with extra-long staple cotton, and our Lyocell threads are 80s yarn count, made with Lenzing's TENCEL™ Lyocell fibres. Our sheets are really comfortable – don't take our word for it, our customers have left reviews saying they don't want to get out of bed.
Ryan: We also offer a range of blankets that appeal to various types of sleepers. Whilst our latest 100% TENCEL™ Lyocell duvet, is a lightweight duvet with thermoregulating properties we also carry Weighted Blankets that can help people who don't sleep well fall asleep faster and sleep more deeply. Dan and his wife absolutely swear by it.
View this post on Instagram

How important is it that the Weavve Home duvet had to be made of TENCEL™️Lyocell fibres then?
Daniel: It is absolutely critical, as we wanted to maximise the benefits of TENCEL™. Hence, we decided to offer the first duvet to use 100% TENCEL™ Lyocell on the outside and inside. It is also worthwhile to note that any brand can label their products TENCEL™️as long as they use 30% TENCEL™️Lyocell, but Weavve Home's Lyocell products use 100% TENCEL™️Lyocell. This takes the comfort and thermoregulating properties to the absolute maximum.
So even though it's a light and cool duvet at 250gsm, it can still keep you warm and snug under the air conditioning or on cold nights.
Ryan: TENCEL™️Lyocell is naturally gentle and hypoallergenic, making it great for sensitive skin — which is something not a lot of people consider when buying duvets. It is also anti-bacterial and anti-odour, due to the fibre's great moisture management properties. However, as this was a duvet that we wash much less frequently than bedsheets, we treat our duvets with Dupont's SILVADUR™ Advanced Microbial Control technology.
This eliminates bacteria and fights mould and fungi that cause odour, discoloration and degradation of the duvet. 
Out of curiosity, what was the most ridiculous thing you noticed about expensive bed sheets and duvets?
Daniel: Before we started Weavve Home, Ryan and I tried countless brands, trying to find a set of good sheets to get that "hotel" feel. We were frustrated that even the most expensive bed sheets still did not feel comfortable! The most ridiculous thing about them is that the marketing around high thread count is often misleading and has little or no correlation with the comfort and quality of the sheets. 
Ryan: That was when we decided that if the perfect sheets did not exist, then we would make it ourselves. We embarked on a year-long journey into the world of bed linen during which we learnt all about the raw materials, production techniques and more. It took many rounds of prototyping with different materials, techniques and specifications in order to arrive at the "ultimate" bed sheets we've always wanted. 
View this post on Instagram

How gentle are the Weavve Home bed sheets and duvet then?If you could somehow quantify it…
Ryan: As smooth as silk! Did you know that Lenzing's TENCEL™ Lyocell is the latest and best technology in man's quest to produce silk like fabrics for the last 100 years?
Can you quantify it in a humorous way then?
Ryan: It's like sleeping on cloud nine.
View this post on Instagram

Are you able to chuck the duvet into the dryer?I know that TENCEL™️Lyocell fibres are pretty hardy but how hardy exactly are they, in your opinion?
Daniel: As TENCEL™ Lyocell is made to feel like silk, it is also a delicate fabric that has to be treated with a certain amount of care. We do not recommend using a dryer, but instead machine or hand wash below 20°C , and then hang or flat dry.
TENCEL™️ does require a little more care than cotton or polyester, but a bit of care will allow you to sleep better and feel 100% during the day!
Ryan: You're right to say that TENCEL™️ Lyocell fibres are pretty durable as compared to other materials that came before like silk and Modal. Made from eucalyptus wood cellulose, they are able to keep 85% of their strength even when wet unlike its predecessors.
In addition to that, TENCEL™️ Lyocell is produced by innovative sustainable technologies and is less prone to common issues like wrinkling, fading, shrinking and thinning over time. 
View this post on Instagram

To be honest, there's only so much you can do with the design of a duvet. But is there something about the duvet that one might not notice just from pictures?
Daniel: The perfect balance of weight, comfort and thermoregulation performance. It took many iterations for us to get the duvet to where it is today. Each time, we had to tweak the technical specifications and see how each part changed.
We're really proud of the result — you can't see the work from the pictures!
Ryan: It's also a more sustainable option, as the duvet is produced from 100% sustainably sourced eucalyptus wood, and it recycles more than 99% of water and solvents in its closed-loop production process! So you can sleep cooler, fresher and deeper while knowing you're doing your part for the environment.
Lastly, out of curiosity again, what is the #1 song on your Spotify this year?

Daniel: 萬國覺醒 by 鄧紫棋 .

Ryan: I don't use Spotify but my #1 song on TIDAL is Learn to Fly by Foo Fighters.
Once you're done with this story about Weavve Home, click here to catch up with our December/January 2022 issue!
---
RELATED ARTICLES