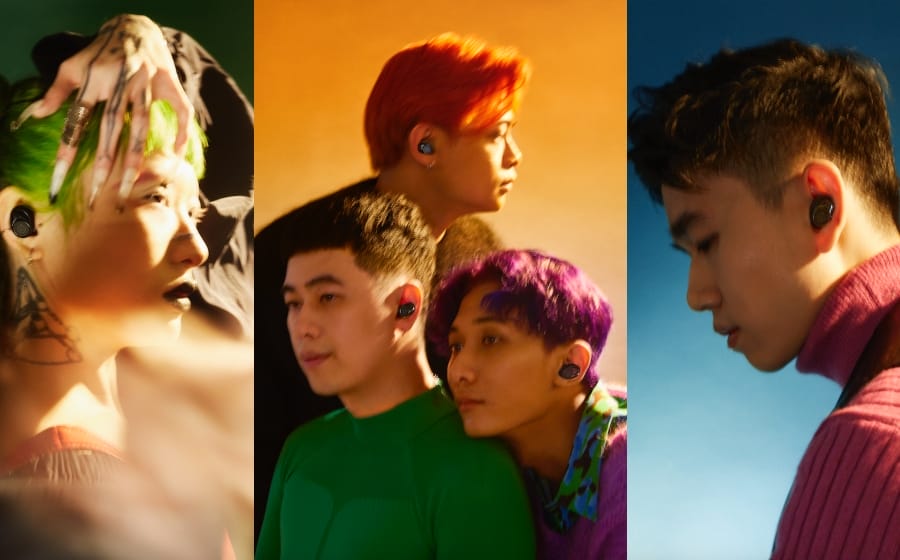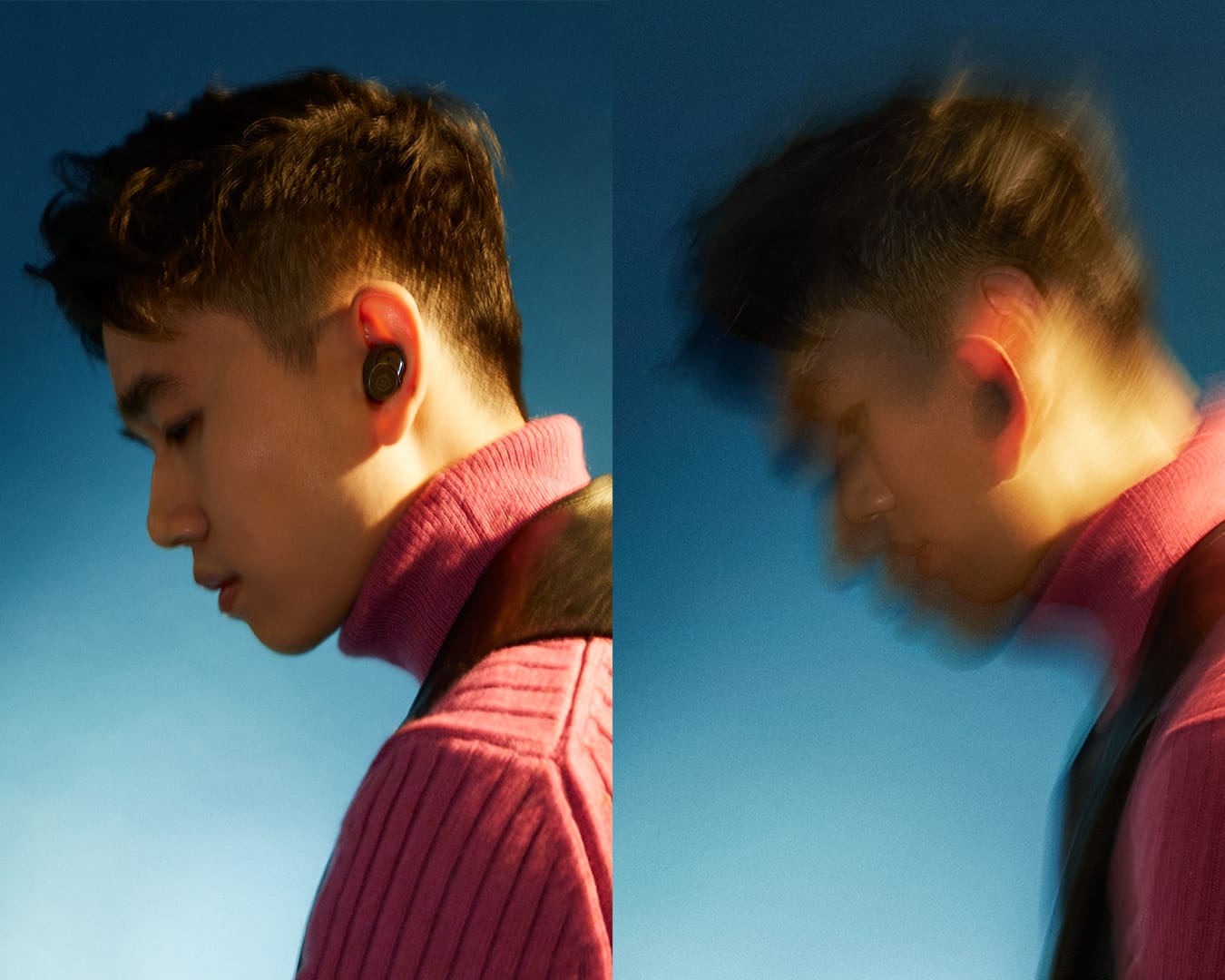 Jason Yu is wearing a Salvatore Ferragamo Leather vest and a Coach wool ribbed sweater
For three artistes, music is everything — reticent busker turned professional musician Jason Yu found a voice to express himself; it has provided R&B trio brb. with the means to interpret the warm nostalgia of the 1990s in new and exciting ways and it has even allowed synth-pop artist YEULE to create the safe space that she never had as a teen. Armed with their Devialet Gemini, they share how they have created new worlds out of music — for themselves and for others.
JASON YU — Music was not just an obvious career path for passionate 26-year old singer — it has also been invaluable to the self-professed introvert in overcoming his anxieties. He talks about how he uses his work to connect with others who feel the same way.
As an independent artiste, you are in complete control of the production and mastering of your music — what do you look for in a pair of true wireless earbuds?
When I first tried Devialet Gemini, they were great but didn't blow my mind. I realised I was just listening to the wrong song before picking something more bass-heavy — a fuller-sounding track — and hearing the difference. In terms of the frequency response, it's a much wider spectrum and you can really feel the bass. It hits a lot harder than the conventional Active Noise Cancelling wireless earbuds.
The noise cancellation is also really effective — I could not hear a word when people were talking in front of me.
What is it like being a performer during the pandemic?
Recently, the National Arts Council set up a pilot programme for buskers. We would have to set up behind a drum shield — a piece of clear acrylic plastic — and I felt like a zoo animal. [Laughs] They do it so people keep their distance, but I felt it really took away the live performance. I've also done a lot of virtual performances since the pandemic began but singing a song in your room alone, with no one watching, is a very different experience from performing outside.
The attention and positive reaction from the crowd drive me.

How has busking helped you as a musician?
Before I started busking, I had no practice as a performer. I was always too reserved to approach spaces like bars and ask if they had a spot for me to play at. With busking, the barrier of entry felt low enough — you're singing to yourself, and people come to watch you. There wasn't any stress or pressure. Now, all the time I spent busking has helped me develop a kind of stage presence — it helped me learn how to interact with a crowd and banter.
Do you consider yourself an introvert?
I'm an introvert, really but my work forces me to be an extrovert in a way. When I was in secondary school, I was so introverted it was almost a handicap — I just felt like I couldn't speak up. Growing up, I felt like a people pleaser. I just wanted people to like me. I felt like I was losing who I was and I realised it was very unfulfilling to just keep working towards what other people want of you. Music has always been a big part of my life — now, I'm trying to reflect on why I was always so drawn towards it.
I think it is because I started doing it from a young age and got a lot of validation from that. The first time I went onstage to sing, I was probably 5 and at 14 I joined a band competition with some friends. All that external validation definitely had something to do with me wanting to become a musician.
I wouldn't say that was the only reason but I'd be lying to myself if I said it wasn't a reason.

How has your music helped you work through some of those anxieties? There's this song I released last October — "Anyone". There's a line that goes, "Can anyone hear me, can anyone see me." The song describes a general sense of not feeling loved or appreciated. It wasn't a romantic sort of thing but a feeling of being misunderstood. It does seem super self-absorbed — like I'm making everything about me — but I just wrote how I felt then.
After I released that song, people came up to me and said that they loved it, or that they felt relieved that someone knows exactly how they are feeling. A lot of people actually resonated with it, which was surprising because I thought that not a lot of people might understand that feeling of being misunderstood by everybody.
I felt like I wasn't alone and that actually, we are all in this together.
Grooming & Hair for Jason Yu by Sha Shamsi using Chanel Beauty & Keune Haircosmetics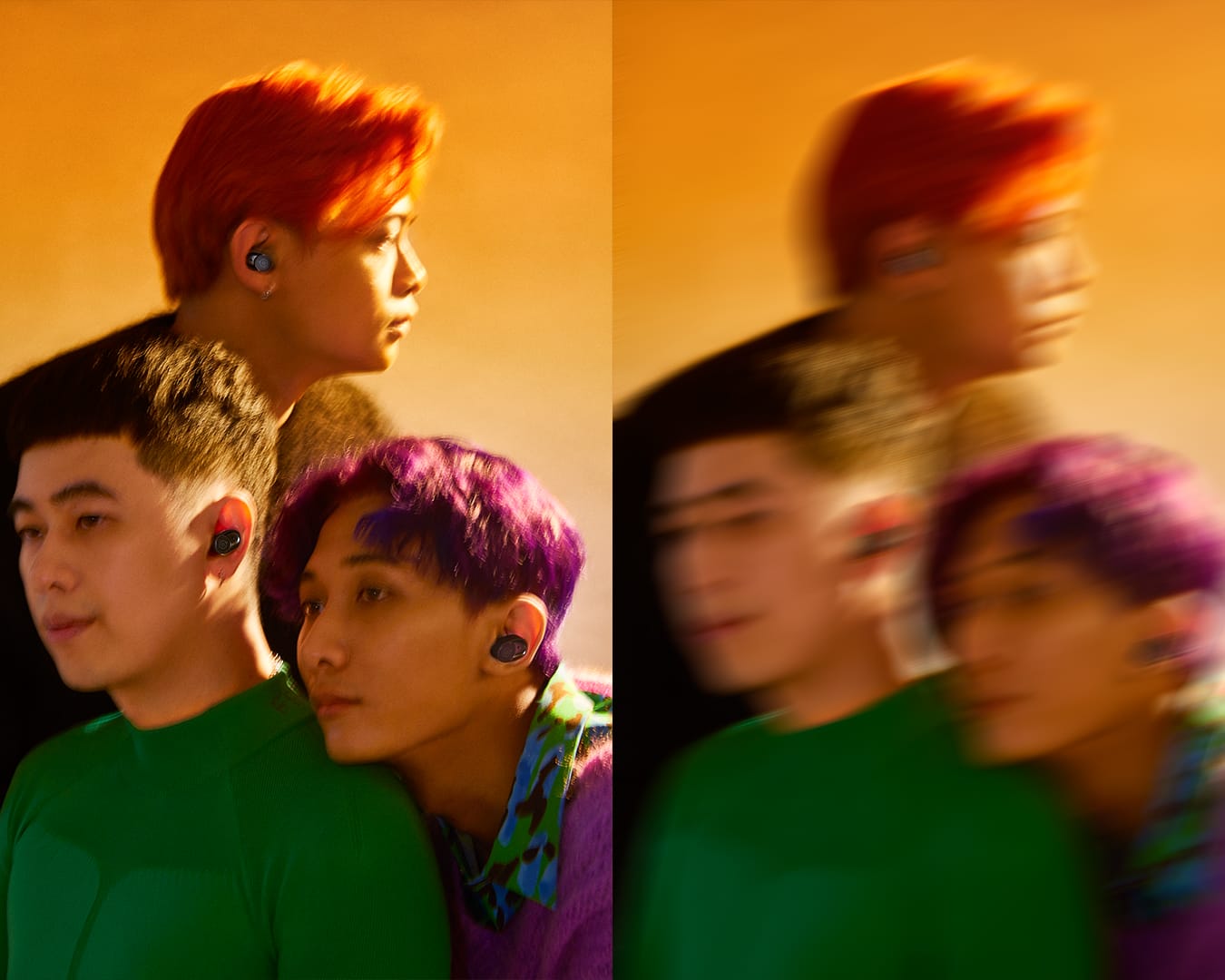 BRB. — Consisting of Clarence Liew, Auzaie Zie and Marc Lian, brb. is an ever- evolving music project that draws inspiration from a hodgepodge of genres, but at its core is a desire to pay tribute to the "warm and comfortable" nostalgia of the 1990s.
(From left to right) The boys of brb. are wearing an 2 Moncler 1952 Wool mohair sweater; Salvatore Ferragamo Nylon-blend turtleneck sweater, mohair sweater, silk-blend shirt.

You have all showed up to the shoot with your own earphones, what was it like trying devialet gemini out?
M: I was surprised actually because when you compare the sound between the two, it was so different, I wasn't expecting that at all.
Z: I use Apple Music and they recently launched Dolby Atmos. I tried it on the AirPods Pro and it was just okay but when I tried it on Devialet Gemini, the sound completely changed. I tried it out on a lot of pop music — which is generally quite standard — and the sound is fully immersive which gives an intimate listening experience. It takes you somewhere else and becomes an experience.
C: I was listening to Masego, and he uses very interesting plugins and weird instruments that you wouldn't normally hear on other true wireless earbuds, and they stood out on Devialet Gemini — it all sounded so crisp.
Z: I love the app too — the whole EQ system and all that. The noise cancellation is great as well.

For your latest album "Fleur", you changed things up somewhat — what is the new sound?
C: We are looking for a vibe. I think that's how we kind of write as well. When we make music in the studio, we listen back to what we've created and look for a certain feeling — like how music usually does. The new sound is quite chill because that's how we are.
Z: We always write in the night too. So I guess that's part of the atmosphere — the whole, dark, moody vibe, like when you're trying to get sexy with somebody. [Laughs]
Why is it so important for you to keep reinventing your sound?
Z: We don't want to keep coming up with the same type of beat and we always want to explore and experiment. It's not just for listeners, it also has to be fun for ourselves. The nature of our band is very collaborative — we each do our own thing and come together to share. It's like an exploration of sounds.

Given that your sound changes so often, what would you say is the core of brb.?
M: We were looking at some upcoming projects and listening to them — they felt like so many different genres. From indie rock to R&B to rap… We were thinking, what is the thing that anchors everything together? I think that one thing is Clarence and his voice.
C: Our 1990s influence also plays a big influence on our sound, throughout all our tracks. M: Yeah, whether we know it or not. We grew up with 1990s pop, boy bands — that nostalgic era. Those things always seep into the melodies we write or the sounds that we choose — that era of MTV, being glued to the screen watching music videos, sitting in my parents car listening to the radio and the pop songs they played.
Z: Just simpler times. M: Yeah, it feels warm and comfortable — that's what nostalgia is to us.
How would you say Singapore's music scene has changed in the last decade?
M: There are definitely more artistes coming up. Now with technology, it's so easy to record your own music in your home. Z: The kids are getting more talented. [Laughs] It's sad to say but it's the truth. When I was their age, the stuff I was putting out was nowhere near what they put out today. It's crazy, but that's how it works — it just gets better.
M: There's more appreciation now, too. Back then there wasn't as much diversity in terms of acts and genres.
Z: You can find local music on many different platforms now, not just local radio stations. There's lesser gatekeeping.
What keeps you going?
M: We can't deny the fact that seeing statistical success — like numbers on Spotify — hits a sweet spot. It does fuel us to know that the music we make is appreciated by people, and it gives us a reason to keep doing it. At the end of the day, we enjoy what we do.
Grooming & Hair for brb. by Sha Shamsi using Chanel Beauty & Keune Haircosmetics

YEULE — Growing up, Yeule — real name Nat Ćmiel — felt like they never fit in. Music was their sanctuary. Eventually, it became an outlet and a safe space to explore their identity — something they hope to provide for teens today who are just like them.
YEULE is wearing an Alexander McQueen Leather corset biker dress.
You have had Devialet Gemini for a while now, how did you test them out?
I tested it out on a bunch of different things. I called my best friend in Singapore, Kin Leonn and I told him, "Try to scream." He did and the low ends were really good! I have a really specific method when I'm testing out new gear — I listen to Jon Hopkins because his music is extremely complex and tethers onto many different frequencies. If it sounds like how I remember it sounding at my friend's studio in London, then I know it's good headphones.
Devialet Gemini passed that test with flying colours.

What is new with your upcoming album, "Glitch Princess"?
I'm known for my very dreamy, melodic synths, but I think the new record is going to be something that is a bit more noise oriented — like the dreaminess got sucked out and is gone. There will always be a level of dreaminess in my work because I'm obsessed with utopias. Now that I've seen so much of false utopias, I'm ready to go deeper into my own dystopia — to find beauty in the most ridiculous sounds, in the ugliest of noise.
Just like how you come to terms with your ugly sides.
Gender and self-identity have always been prominent themes in your music, why is that so?
Some people might think I'm just confused or that I'm trying to get attention from coming out as non-binary, but I truly believe that I have so many personas that some of them are male, some of them are female, some of them don't have a gender. So many different kinds of people exist in this world. You shouldn't have to tone down for someone else, for culture or your upbringing. Pure expression is the main catalyst for a lot of my beliefs about gender fluidity.
I used to be afraid of putting up my work because of the way I would be perceived. Now that I've come to terms with understanding who I am — that I'm a fluid, non-binary person — I'm more comfortable and more in touch with myself.
It's comforting to know that there are people who also feel and behave the same way, and grew up in similar situations.

Your aesthetic draws from classic manga and anime, but with a distinctly macabre slant — what is it about that look that draws you in?
I draw my influences from ero guru manga: erotic grotesque. It's that subversion of normality, about looking for eccentricity in the mundane. It sounds so cringy and cheesy, but I feel like I've never fit in — I've always felt like an alien. My life has always been very mundane — I grew up in an extremely religious background, I attended local schools and an all-girls school.
When I was a teenager, I was a very boring looking teenager. But inside I felt like I had these fiery burning things that I needed to release — especially with my identity — and I felt I wasn't in touch with it until I found a common place through these mangas and animes. It was like I had finally found my people.
How important was it for you to find people like you, to create that sort of safe space?
The words and the meaning in my music allow me to say things that I would not normally say. For example, one of my songs "Pretty bones" is about addiction and I would never have talked about addiction, outside of music. I grew up in a really conservative household — getting psychiatric help is not a thing, they just think you're having a "phase". Once I released that track, many people came up to me to talk about their experiences with addiction or a partner with addiction — which was my experience too. It felt like everyone had a safe space to talk about these things. I have a Discord server, because I stream a lot, so I made a whole community for my fans.

We have almost 3,000 members and I have a lot of fans that are from Singapore as well. I always read about their discussions with each other — for example, about their experiences with gender dysphoria, which is a huge thing that's not discussed openly in Singapore. It's a support system and it's not just for me, the community is specifically meant to be a safe space for everyone — like the moment we see toxicity, we get the moderators to kick them out. Also because I never had that — I never had a support system until I started my career and I met people like me, which was honestly a blessing.
If I didn't do music, I wouldn't have met who I know now.
How important was it for you to find people like you, to create that sort of safe space?
I started as a painter before I did music. I was always taking snapshots of my reality and abstracting them. Music does that sonically — I chose music over visual arts because of how shapeshifting and volatile music is. If you listen to music multiple times — even on the same day — I noticed that it becomes different and there are specific moods for different things. Like one day all I want to listen to is this, or another day I would not want to listen to a specific genre because it hits somewhere too close to home.
I think that's a beautiful thing — especially when you meet people in your life that relate to this feeling.
Hair for Yeule by Teppei | RuleR Japanese style Hair Salon
Photography Mun Kong
Art Direction Izwan Abdullah
Styling Manfred Lu
Production Bryan Goh
Interview Hillary Kang
This story about Jason Yu, brb. and YEULE and their Devialet Gemini first appeared in our September 2021 issue. 
---