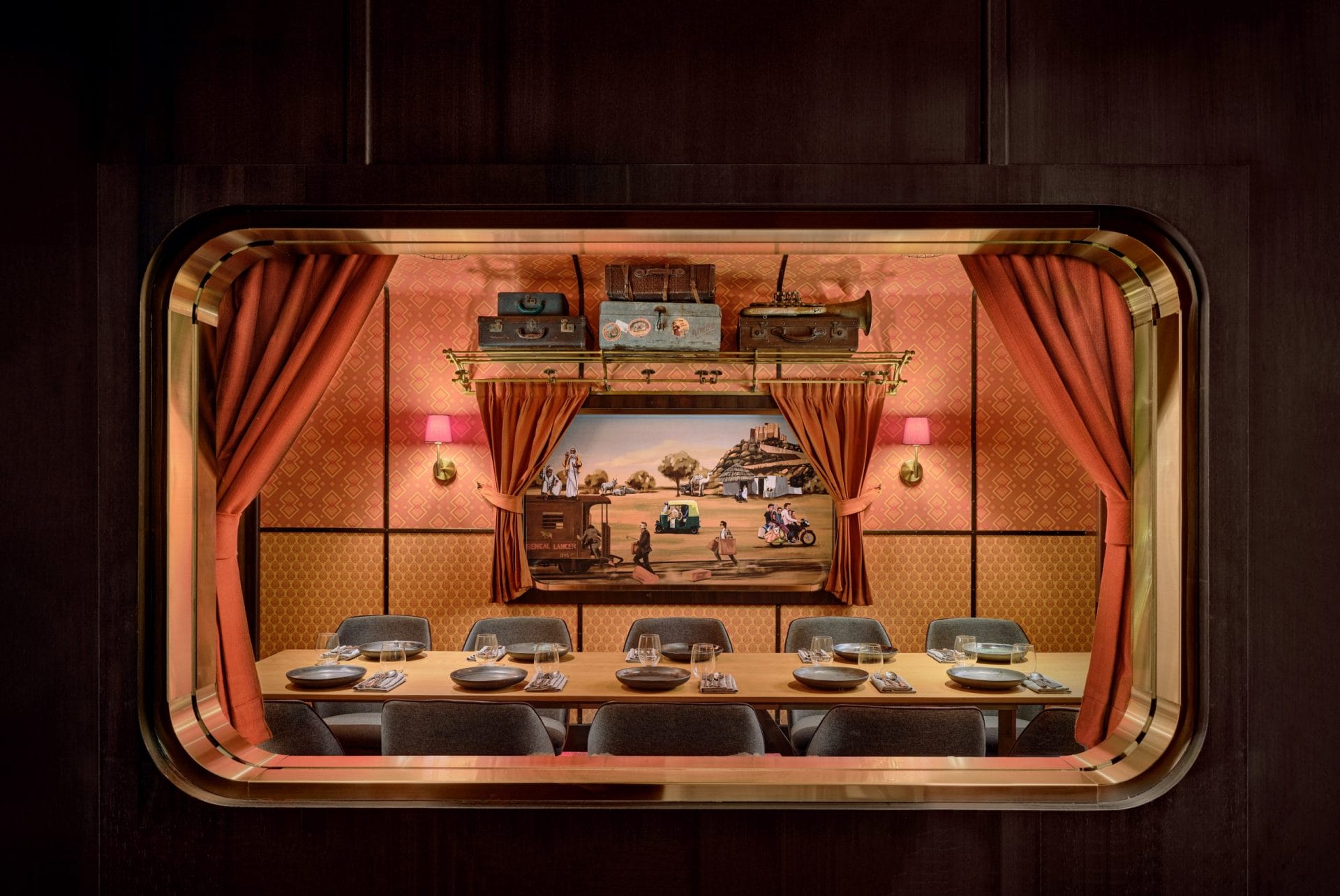 Firangi Superstar — the latest concept by The Dandy Collection — is a cinematic trip to the land of colours where past meets future.
Like our August issue's theme titled "Heroes" and the people featured in the pages, the art of restaurateuring — which is essentially the creation of social spaces — is also very much worthy of celebration. This is especially pertinent at a moment when the dining scene in Singapore is wilting like a field of flowers — sorrowful despite some of its pretension, obnoxiousness and inanities — that when one notices a fresh bloom amidst the demise, it is so momentous and in delicate need for nurture.
It may hard to remember, but in the days of yore before social distancing became a policy, restaurants were already confronting the siren call that is food delivery services — akin to how filmmakers have been grappling with Netflix. Thus, the launch of Firangi Superstar, an "exuberant, soulful, whimsical love letter to India" requires a standing ovation. Not just because it seats a whopping 93 people (quite an anomaly in recent months) and nor the fact that its interiors display kaleidoscopic creativity. The reason for applause is its ambition, a motto held to heart by the bartenders, servers, line cooks, dishwashers and floor managers — Firangi Superstar has to engage all of one's senses (again, no mean feat) the minute one walks through its doors. 
View this post on Instagram

In truth, there is no setting in Firangi Superstar where head chef Thiru Gunasakaran's  simultaneously comforting but challenging food would not feel special. Beirut Bhatura — a tongue twister in itself — is a punch of spicy heat-with-hummus with Punjabi spices like pomegranate and green mango powder and black cardamom. This Is Not Aloo Gobi presents cauliflower in three ways — as a couscous freed in ghee, mustard seeds and curry leaves before being pureed and complemented with a spiced compote and deep-fried layered potatoes. 
View this post on Instagram

There is a carefully calibrated thrum of spiciness in these small dishes that is neither dull nor overwhelming. Under Gunasakaran's hands, it is just food that is done right to leave one's lips tingling in a satisfying way. However, his crowning achievement is a roasted pumpkin dish called Salvador Thali, a surrealist take on the vegetable that has it steeped, roasted and charred in a tandoor before being smothered in lime pickle, fried salted chilli flakes, quinoa and pumpkin seeds. The reference to the Spaniard artist is in its presentation — two halves of the pumpkin painted over with quenelles of a mint and coconut paste, reminiscent of Dali's "Desert" painting. 
View this post on Instagram

Equally thrilling is also the Indian Saddle with its sweetness and heat, and its fat and funk. A slab of lamb porterhouse (the tastiness is in its thickness) has been marinated in spiced yoghurt before intensely heated up in the tandoor. Lashings of an Indian-inspired chermoula (a marinade and relish) and its side serving of a sweet and nutty confit garlic sauce cuts the gaminess. Gunasakaran has done it right again, one's fingers will be too messy to reach for his phone and that is a satisfying pleasure.
While it can be said that Firangi Superstar is one of the most well-thought out developments of recent months, it can also be said that it has liberated everyone from the humdrum of the ruthless economy of restaurant dining. Starters start at $12 and mains range from $41. Chalo, mera dost.
This story about Firangi Superstar first appeared in our August 2021 issue. 
---